With the 2007-2008 Toyota AMA Arenacross Series opener in Des Moines, Iowa, just a few days away, the talk and internet hype has been a little quiet as of late. Being a major arenacross fan and supporter, I decided to liven it up a little and get this out to all you "Arenacross bashers" (Matthes) and those of you who DO follow and enjoy the tight, bar-banging, arena-motocross action.

With a competing arenacross series now in the books and not making a comeback, this year's series will be stacked with riders. It will consist of 13 rounds, making for 23 main events, many heat races, semis and lots of practice. That still makes for an easy chance of injury in such a short season. Making it through a season of arenacross is not easy, and former champs Jimmy Gaddis, Robbie Reynard, Cliff Palmer, Josh Demuth, Buddy Antunez, Chad Johnson and Darcy Lange can all attest to that. The riders this year will all compete on 250Fs (even in the Arenacross class!), and with former champs Josh Demuth and Darcy Lange not lining up in Des Moines, the series is shaping up to be one of the best ever, with a possibility of multiple winners. Here are this year's players.
TUF Racing/Cernics Honda
Danny Smith #1, Chad Johnson #35
Reigning champ Danny Smith will have a big target on his back this year. With his first AMA professional title coming in arenacross last year, he will be the man to beat. But he did it on a 450. Danny has been on many teams throughout his career, including factory Suzuki, but he never did shine once he climbed aboard a 250F. I am betting that preseason testing has gone well and that Honda is fully supporting the quiet Idaho native.

Wisconsin's Chad Johnson won the arenacross title in 2006 and, after a recent fallout with a Suzuki team in Texas, got snatched up quickly by his old friends Dave Antolak and Andy Stacy up at TUF Racing in Illinois. Johnson still lives in Texas with his family, but he is no stranger to the cold climates of arenacross and how things are done indoors.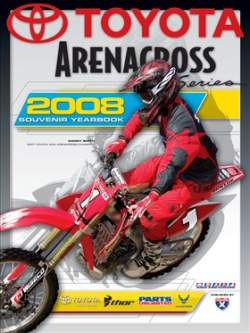 Defending champion Danny Smith is on the cover of the souvenir program.

Monster Energy/Babbitt's Kawasaki/ Moose Racing
Kelly Smith #69, Brock Sellards #18 and Patrick Boyle #465
Michigan's Kelly Smith is stepping away from supercross this fall after a long and solid career at the big show. He will be a title threat coming in, as he has been on the smaller bikes for quite some time. He was even thinking about arenacross last year, but he was offered a one-year deal from Suzuki that turned out to be less than stellar. Smith is comfortable on the tight tracks, as he raced arenacross in his early pro years, and he is sure to come out swinging.

Brock Sellards is now in his third year of arenacross. In 2006, he was one point away from winning the title. Over the past years, Sellards has done very well on the 450 both in supercross and arenacross. Can he be a threat on the smaller bike? Think FMF Honda days!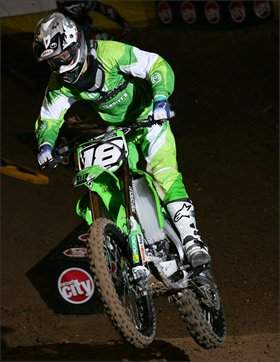 Brock Sellards

photo: Simon Cudby

Fiber Wise Pasta/Rock River Powersports/FLY/Sano/Yamaha
Tommy Hofmaster #110, Keith Johnson #4, Ryan Beat #131
Arenacross veteran Tommy Hofmaster has been a mainstay in the tight arenas for over 10 years now. Yet to win a championship, he has finished second twice, third twice, and fourth last year in the "other" series. Over the summer, Hofmaster handed his team ownership duties over to Andy Moore from Phoenix to take a big weight off his shoulders. With a little less stress, Hofmaster is sure to be in the mix this season.

New Mexico's Keith Johnson is coming off a third overall last year in the Toyota AMA Arenacross Series and had two wins. The '04 supercross Privateer of the Year favors the 450 a bit more as well, but he also knows how to bang bars with the best of them in the tight arenas.

California's Ryan Beat is in his second year of arenacross. He finished 13th last year indoors and recently finished in the top twenty of both 250 motos at Glen Helen and is quietly making a name for himself also. He rips on a pit bike too!
Keith Johnson

photo: Steve Bruhn

Rockstar Suzuki/No Fear/Reynard Mods/Spy
Robbie Reynard #17, Cory Green #480, Brandon Jones #316
Oklahoma's Robbie Reynard is a motocross legend who is still competing. He had the most wins last year (7) but missed winning the championship by 17 points. With a major bike change happening over the last few months, Reynard is sure to come out swinging. The last time he was aboard a Suzuki, he beat Ricky Carmichael straight-up in a moto at Unadilla. He is also the 1994 arenacross champion, but times are a little different now, and so is his size.

Cory Green and Brandon Jones make up the rest of Team Oklahoma. Green won two regional Lites-class arenacrosses last year and is very strong on a 250F. Don't be surprised to see him on the podium occasionally. (I just want to know if the Rockstar girls will be in their pits every week!)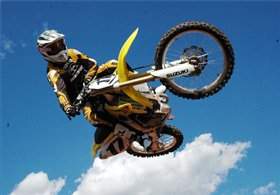 Robbie Reynard

photo: Courtesy of Reynard

GPSracing.com/Cannon Falls Honda/Club24x7/FXR
Jimmy Nelson #84, Dennis Jonon #436
Nevada's Jimmy Nelson is in his second year of arenacross, and after winning two mains last season, he is looking to be a front-runner this year. He is a two-time Canadian Lites Western Regional champion and knows how to get the job done.

Kansas native Dennis Jonon has raced arenacross here and there, but he has never put an entire season together. With the help of George Hodgkinson's GPS team, here is hoping that Mototalk's DJ236 can reach the podium several times this year.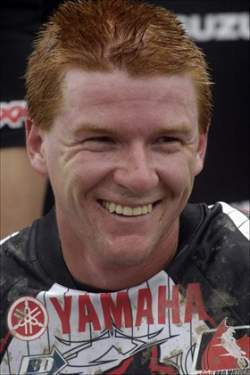 Jimmy Nelson

photo: Allison Kennedy

Team Faith//FLY/Michelin/Bobby J's Yamaha
Kevin Johnson #3
Keith's younger brother Kevin won four main events last year and also had some solid rides in the 450 class at supercross after the arenacross series was over. He has been paired up with Team Faith's Brian O for some time now, and the two make a great team. Kevin also shows off his aerial skills in the Jump-Off show as part of the U.S. Air Force Freestyle team, but it's the racing that gets him going. This one-man team effort could be the upset of the season.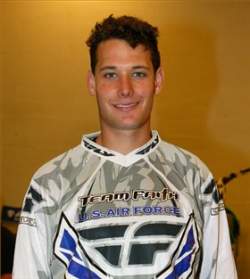 Kevin Johnson

photo: Steve Bruhn

Carolina Express Suzuki/Foremost Insurance
Jim Neese #7, Tyler Bright #21
North Carolina's Jim Neese was the AMA Lites East Arenacross champion last year with four wins. He has been racing Arenacross for a long time and is another veteran who hopes to show the kids how it's done. Tyler Bright raced some arenacross last year and was up front in a heat race at the Detroit Supercross with the top dogs. He now plans on showing arenacross's top dogs what he can do there also.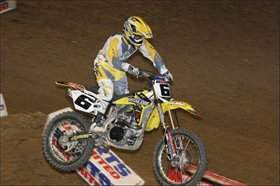 Jim Neese

photo: Jason Hooper

Ti-Lube/ Moto XXX /Storm Lake Honda/BooKoo/Moose
Brad Ripple #304, Teddy Maier #5, Kurt McCabe #567
Indiana's Brad Ripple heads up this Iowa-based Honda team and is always a threat. Ripple can be the fastest rider on the track at any given time, but he has had a tendency to throw it away as well. With solid bikes underneath him and some guidance from Moto XXX's Allan Brown, Ripple could be the sleeper of the series.

Iowa's Teddy Maier is quite similar to Ripple. A little quieter and more reserved, this farm boy rips indoors. Maier is overdue for some big wins. He took two wins last year and could very well be a championship contender. Iowa's Kurt McCabe made several podiums on the BooKoo tour last year and is a big boy. Don't get in his way.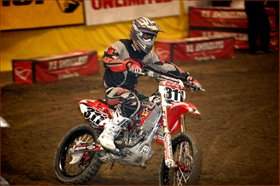 Teddy Maier

photo: Courtesy of Ti-Lube

Team MDK Speed Equipment
Tiger Lacey #221, Billy Jurevich #68
Not sure what to expect out of Tiger Lacey or Billy Jurevich. The races that they do show up to, they usually do well in. This will be MDK's first AX effort, but how ready are the riders? Check out this press release issued today about this team.
Team GPF/ Babbitts Online/Yoshimura/Kawasaki
Zach Ames #596, Travis Sewell #927, Shane Sewell #351, Dave Ginolfi #461
Ohio's Zach Ames came on strong at the end of the BooKoo Arenacross Series last year and finished the series in fifth. The kid goes fast and is not afraid to rub paint. The Sewell brothers have also had some solid rides and Travis was the 2007 AMA Arenacross Rookie of the Year. All four riders are looking to make a statement in 2008.
Team Triple Effect/ PR2/MB1/FLY
Gray Davenport #916, Beni Williams #92, Dacoda Sorochuk #53, Rudi Williams # 94
They could be called Team Utah. Gray Davenport heads up this team and has been racing select arenacrosses for a few years now. He got the call last year to ride on Team Babbitt's for the injured Jeff Northrop, but he was injured before his night began. With a little focus, Davenport can reach the podium.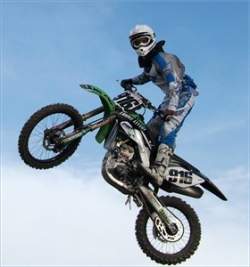 photo: Courtesy of Team Triple Effect
A shout-out needs to go to arenacross regulars
Darcy Lange
and
Josh Demuth
. Lange was diagnosed with lymphoma over the summer and is in the recovery stages, and he decided to take the season off. We all wish him a speedy recovery, and we know he would be the favorite to win the championship if he was racing. Demuth has apparently made the switch to supercross after being picked up by Carey Hart's Hart & Huntington/Rockstar team. Here is wishing him luck in the big show, and we're happy he did switch, because he belongs there with the stars. He's that good!
For more information on the 2007-2008 Toyota AMA Arenacross Series, please visit www.arenacross.com.