Bench Racing Ammo: Digits
Yesterday, my colleague Andy "Car of Tomorrow" Bowyer did a piece on the new AMA National Numbers in his always entertaining Shift Number Cruncher. Since there were no big races over the weekend for Bench Racing Ammo, I wanted to take a look back at some of the numbers that have changed.
The biggest change, of course, was Ryan Villopoto electing to take #2, the number that Jeremy McGrath had claimed back in 2000 when the numbers went permanent for the top guys. The rule always stated that a rider had to gain points each year, or their number would be up-for-grabs. Jeremy did not enter any AMA Supercross or AMA Motocross races in a while now, and while it may seem like sacrilege to some that McGrath's number would be claimed, Jeremy himself told me this week that while he had mixed feelings about it, he couldn't think of a better person to take it than Villopoto.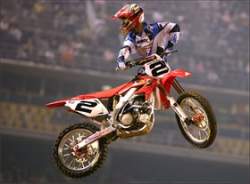 MC throws a Nac-Nac.
photo: Simon Cudby
"You know, a portion of me is like, Well, that kind of sucks, but if anyone should have it, I suppose Ryan should have it," said the all-time King of Supercross. "He's a really cool kid, he's got a good family, he represents the sport well, and I think he'll represent the #2 well.
"However, I'm not going to stop running #2 just because he has it now!" laughed Jeremy. "Or maybe I will have to switch back to #1 now."
Mike Brown
held #3 based on his one-off race at
Glen Helen
, where the new British MX2 National Champion acquitted himself well in the 450 class. And RC's #4 is on hold for the next few years.
But two family numbers were not issued this time:
Mike LaRocco
's #5 and Steve Lamson's #6. Both are happily retired from racing now, though LaRocco just won the Alpinestars Legends race at the Rockstar Energy Drink U.S. Open two weeks ago; he also broke a thumb and a wrist last Thursday riding in California, so any lingering thoughts The Rock might have had about racing pro again probably disappeared the first time he tried to take a shower.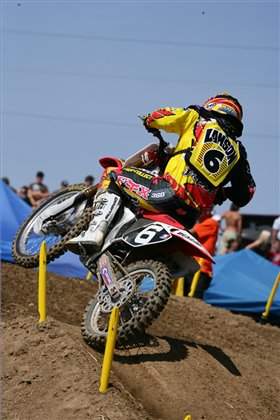 Steve Lamson went from racing the Hangtown National to managing the MDK KTM Lites team in 2007.
photo: Simon Cudby
As for Lamson, he did ride the
Hangtown
Classic last May on a CR125, but he didn't gain any points, and he said that's it—he's a full-time team manager now!
Why didn't anyone claim the #5 and #6? Because single-digit numbers are reserved for AMA Motocross/Motocross Lites and AMA Supercross champions only. And since RV held #51 this year in order to grab #2 once MC was fully done, and SX Champ
James Stewart
(#7) and AMA MX Champ
Grant Langston
(#8) already have numbers, they will not be seen in 2008.
Another name that was missing from the number sheet was Ernesto Fonseca, who held #10 until his career was cut short last March with a terrible crash. Ernesto will never race again, but someday, someone is going to likely ask him if it's okay if they wear #10, and I imagine Fonseca will be proud to see it out there again.
#19 Doug Henry, on the other hand, did not score a pro motocross point this year, but his back injury from a supermoto race in Florida only happened this past spring. He's still rehabbing, trying to get himself standing and walking again.
Doug's old NESC partner-in-crime
John Dowd
is 42 now, and he still wears the #16 because he continues to earn it with absolutely amazing riding—seventh overall at
Southwick
this time! He's the Vinny Testaverde of pro motocross! (NFL fans know what I mean there.)
Josh Grant
is now #20, which means that Damon Huffman is going to have to look for an entirely different number if he were to pop back in for a supercross or something. Huff Daddy was doing real estate up until recently, and now he's back on the bike racing EnduroCross and teaching motocross schools…. You never know!
And then there's the curious case of James Povolny. He went to
Millville
hoping to gain enough points to earn a two-digit number for the 13th consecutive career. With four laps to go in one of the 450 motos and Povolny teetering on the brink of earning some points, the Speed TV helicopter that was filming the race for same-day coverage of the event got a little too close to the ground and blew a giant banner off the fence alongside the second turn. The banner got wrapped up around Povolny, forcing him to stop. "I had to pull off the track b/c by the time I stopped, I needed help getting the banner off me and my neck was hurting, 7 people had passed me and it was too much to try and finish the race," he explained in a letter. "I was in 17th place and had four laps to go."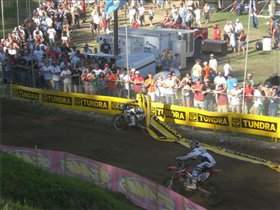 Did this incident at Millville cost James Povolny a national number?
photo: Courtesy of Povolny
Having never experienced such a strange matter—Do you red flag the race at that point? Do you give points for where he was when he got caught up in the banner?—the AMA told Povolny they were sorry, it was just one of those things out of everyone's control.
So James Povolny did not make the list; the #98 he wore last year will be worn instead by Kentucky's
Jacob Saylor
. As for #99, that number will be used by Star Racing/Lucas Oils Yamaha's
Wil Hahn
, who scored a total of 9 points riding the last two nationals; Povolny's total for the three races he rode was 3. Whether or not he would have made it up to the 15th spot that would have needed to tie Hahn in points and thus keep a national number will never be known.