Number Cruncher: 2008 National Numbers
Welcome to the Shift Number Cruncher. One of the most significant occurrences in the changing of the calendar year is the release of the AMA Pro Numbers. I used to always be stoked when Cycle News would show up with the new list. I'd check to see who got #77, or who was dumb enough to earn and run the #13. Since the advent of the permanent number system this has lost a little steam as most of the top 25 numbers have been swept up. This has kind of created a couple cool things such as guys like John Dowd and Doug Henry coming back every now and then to earn some points to keep their digits. The big hoopla this year seems to be the move of the infamous #2. McGrath has held that permanent number since 2001, and after earning points every year since then, he has held onto it until now. Thus, Ryan Villopoto will be #2 if he races the East Coast SX series. We found some other interesting odd facts with a lot of the new numbers.

2 Villopoto, Ryan
3 Brown, Mike
4 Carmichael, Ricky
7 Stewart, James
8 Langston, Grant
9 Tedesco, Ivan
11 Preston, Travis
12 Vuillemin, David
13 Voss, Heath
14 Windham, Kevin
15 Ferry, Tim
16 Dowd, John
17 Reynard, Robbie
18 Sellards, Brock
19 Henry, Doug
20 Grant, Josh
Josh Grant was #24 last year and earned #20 for 2008. With Damon Huffman leaving the #20 having earned no points, it looks like J-Grant takes over the number that men like Johnny O'Mara, Jeff Matiasevich, and Doug Henry helped made famous.
21 Lawrence, Jason

Jason Lawrence earned #21 which brings back memories of Jeff Matiasevich and Sebastian Tortelli, but Lawrence will surely use his familiar #338 when the gate drops in 2008. I also recall Robbie Reynard had a good year in 1998 as #21 on Suzukis, almost winning the U.S. Open of supercross, then beating RC at Unadilla.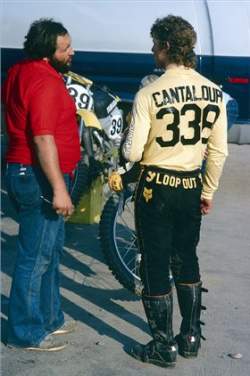 Donnie Cantaloupe
photo: Courtesy of Moto Verte
22 Reed, Chad
23 Lewis, Kyle
24 Summey, Josh
25 Ramsey, Nate
26 Byrne, Michael
27 Wey, Nick
28 Dungey, Ryan

Ryan Dungey
is #28. Brian Deegan was #28 on a Moto XXX-backed Suzuki RM125 when he won 125cc '97 LA SX and ghost rode it over the finish line. Ryan Huffman also had a brief stint with Suzuki in 1998 on a #28 RM125.
29 Short, Andrew
30 Weimer, Jake
31 Metcalfe, Brett
32 Hahn, Tommy
33 Gracyk, Gavin
34 Davalos, Martin
35 Tickle, Broc
36 Chisholm, Kyle
37 Thomas, Jason
38 Mcfarlane, Andrew
39 Clark, Ryan
40 Hill, Josh
41 Goerke, Matt
42 Carpenter, Paul
43 Gibson, Jeff
44 Adams, Troy
45 Kiniry, Robert
46 Alessi, Jeff

Jeff Alessi
is #46 and will no doubt use #801
47 Rodrigues, Joaquim
48 Canard, Trey
49 Boniface, Steve
50 Gosselaar, Chris
51 Stroupe, Austin

#51 holds some almost twilight-zone level odd facts. As the number
Austin Stroupe
wore in his last Loretta Lynn's appearance, he also earned the digit for his rookie season. At first glance, and after the news of his broken collarbone, it would seem this number is not very lucky. Look closer: #51 was also
Ryan Villopoto
's number his rookie season. As you know, Ryan finished 3rd in the 2006 west coast SX series and won the outdoor title. He also broke his collarbone right before the season began. (ghost sounds)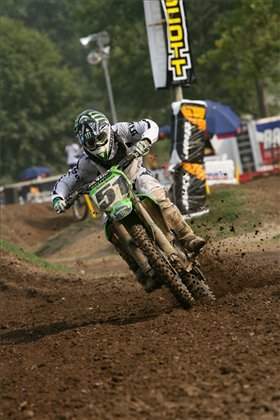 Austin Stroupe ran #51 at Loretta Lynn's this past summer.
photo: Simon Cudby
52 Lemoine, Matt
53 Siebler, Cole
54 Izzi, Nico

Nico Izzi is #54, which is exactly what Broc Hepler should have gotten had he not crashed in the second moto in the season-ending moto at Steel city in 2003.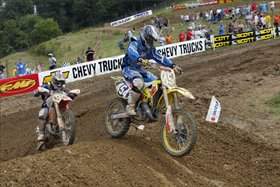 Hepler running #454 as a rookie.
photo: Steve Bruhn
55 Balbi Jr, Antonio
56 Skinner, Shaun
57 Sipes, Ryan
58 Cunningham, Kyle
59 Laninovich, Billy
60 Hepler, Broc
61 Sani, Daniel
62 Sorby, Eric
63 Klatt, Dusty
64 Evans, Tyler

Tyler Evans is #64 again.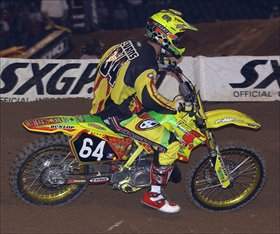 #64 loves Tyler Evans.
photo: Steve Bruhn

65 Morais, Ryan
66 Marsack, Jacob
67 Johnson Jr, Bryan
68 Mace, Kyle
69 Smith, Kelly
70 Mills, Ryan
71 Keylon, Kyle
72 Johnson, Kevin
73 Chatfield, Adam
74 Blose, Chris
75 Renner, Ricky
76 Osborne, Zach
77 Jesseman, Branden

#77 is a number I always look at. Hopefully it will be good to Branden Jessemen.

78 Johnson, Keith
79 Sipes, Justin
80 Lapaglia, Michael
81 Garrison, Bobby
82 Moss, Jake
83 Boni, Matt
84 Whitcraft, Chris
85 Ainsworth, Billy

First career national number for Mr. Ainsworth, who hails from Connecticut. Look for him to be up front come Southwick.

86 Willard, Michael
87 Hibbert, Tucker
88 Oehlhof, Joe
89 Marshall, Robbie
90 Simon, Scott
91 Owens, Ritchie
92 Dement, Jeff
93 Summers, Kyle
94 Rookstool, Kevin
95 Partridge, Kyle
96 Dehaan, Doug
97 Hadsell, Tyson
98 Saylor, Jacob
99 Hahn, Wil

Then we have Wil Hahn bringing up the rear with #99, which is his amateur #66 upside down. Look for Wil to surprise some people. He gets good starts and is a hell of a jumper.


Ok, your turn guys. Take a look at the new numbers and send me any odd facts you have of your own. E-mail me at andy@racerxill.com.