It's Friday in the motocross world, which usually means it's time to either start packing your riding gear or start bench racing about the coming weekend's national, supercross or Grand Prix. However, the schedule is kind of light this week, unless you're an East Coaster who makes the annual trek to New Jersey's Raceway Park in Englishtown for the annual Kawasaki Race of Champions, or out there in Oklahoma thinking about spending your Saturday night watching guys ride over logs and concrete barriers at the second round of the Maxxis EnduroCross Series.

Or you could be Andy Bowyer, who is a few offices over, sweating like Paris Hilton in a spelling bee because little brother Clint is racing at Talladega this weekend as the third-ranked driver in the Chase for the Nextel Cup. (Clint hasn't done well there in his young career, so Andy's a mess.)
But that's a car race; we're here to talk motorcycles, but we do have a racecar tie-in: here is a brief update from David Evans and Gibbs MX, located in the Charlotte, NC, area:
"
Josh
Hansen
is here and training hard. Hanny is a blast to have around, and he and Summey are training with our trainer, eating specially prepared meals, and riding together.
Mark Barnett
just finished our supercross track, hauler is on order.
Coy
is doing great. We are close to finalizing all of our sponsors so we are waiting on that and then we can get some pics of graphics, etc. We need just a little more time there. Troy Lee Designs is designing one-off gear for us—for the first time the gear manufacturer's logo will be secondary to the sponsor logos with our gear."
Hanny is not the only one eating better. Ryan Hughes has been cracking the whip on Jason Lawrence out in California. Ryno told me he took the Yamaha of Troy wild child to a good supermarket and showed him what kind of foods were good for him and which ones weren't. He also told me that J-Law is a good listener and seems really serious about reaching his full potential this year.
Speaking of El Ryno, Hughes' Made episode on MTV will be on this Sunday. This is where he teaches two girls to ride motorcycles at a track in Delaware, then takes them over to Steel City National to check out the final round of the 2007 WMA Championship. If you're looking for dirt bikes on TV this weekend, look at MTV on Sunday.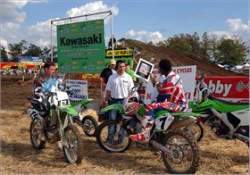 Tim Ferry and James Stewart will be at the annual Kawasaki Race of Champions in NJ this weekend.
photo: Carl Stone
Oh, and speaking of Englishtown, make sure you tune into Racer X Films this weekend for videos from the 31st Annual Kawasaki Race of Champions by
Matt Wozney
and the HG Films crew. Also, check out this
interview
we ran online earlier this week with E-town's track manager,
Rich Schmidt
.
The news is already out that Gavin Gracyk has signed himself a deal. He will join Chris Gosselaar on the newly formed Troy Lee Designs supercross team. The thing is, this team will race SX-only, then go to AMA Supermoto—a racing genre close to Troy's heart. That means Gracyk will likely be looking for a ride for outdoors, no matter how things go in supercross.
Gracyk raced last weekend at the Montreal Supercross but tangled with Tyler Bowers in the main event. The big winner? Team Solitaire/MB1's Ryan Clark, our longtime Racer X columnist (and second was Racer X contributor Jason Thomas of the Butler Brothers MX/DNA Energy Honda team). The Montreal SX is always a good time, and by the looks of the Racer X Canada SixSixOne Photo Report, it looked like is was way more packed than the World SX races have been up there in the past.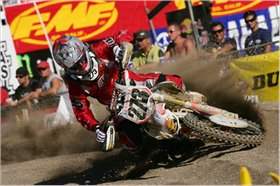 Gavin Gracyk will be aboard a Troy Lee Designs Honda in 2008.
photo: Simon Cudby
Why does Montreal draw more with less star power than Toronto does or Vancouver used to? The event has been happening for years and is a big local festival, with quads and trucks and freestyle and more.
So why doesn't the world tour go there? The building has been locked up with this event for years. And making it a world or AMA race means getting rid of some of the other facets of the show, like the trucks and quads. Hopefully, with Toronto being in the middle of the SX schedule, that event will continue to grow this time around.
Back to Ryan Clark. Follow this link to view a Motocross.com video interview with Clark filmed during the AMA Motocross National Championship Finals at Glen Helen last month.
Simon Cudby went out to the high desert above L.A. to meet up with Jeff Alessi at the AR Facility - see the film here: www.racerxfilms.com. Jeff was riding the 2008 Honda 450 very well, and off-camera, Tony said that Mike Alessi's first day on the Suzuki was Wednesday the third at the Corona SX track. Tony commented on the level of professionalism of the Suzuki crew, and it sounds as though Mikey is going to have a great year on the yellow bikes.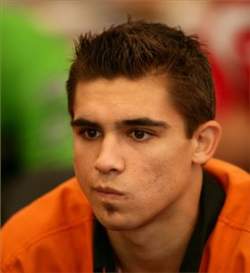 Jeff Alessi will also be on a Honda in 2008.
photo: Simon Cudby
In the film, Tony Alessi hints that Jeff may be signing with a team soon for the SX season, and that the team would be riding Hondas. That narrows it down somewhat; we're guessing that Moto XXX would be the most likely possibility.
Anything else going? Ivan Tedesco just started riding his new Honda, but his clothing deal may not be inked yet.
Switching gears, ever since the AMA announced that they were going to be getting out of the racing business, there's been talk about who might take the reins of AMA motocross, AMA Superbike, dirt track, etc. (Only AMA supercross is off the table, as Live Nation has a deal through 2019.) The AMA will still sanction each series, but leave the marketing and management up to a single group, which is what works so well for SX.
The Italian magazine Motocross is reporting in its digital English version that while the "the news is something sensational, and if it turns out to be true it would be a real atomic bomb for the whole international motocross world…" It goes onto say that the AMA has asked Italy-based Youthstream and Giuseppe Luongo to take over and re-launch the AMA Motocross Championship, and that a proposal had been made at Budds Creek.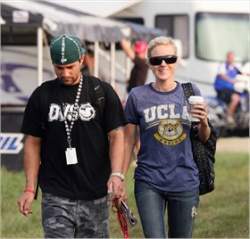 Ivan and Teresa Tedesco are headed to the Honda truck in '08.
photo: Simon Cudby
Did this actually happen? I don't really know. What does this mean? Guess we'll see soon enough. The article, titled "AMA National to Youthstream?!?" does offer this: "The individual organizers of the National events find it difficult to make decisions, they simply do not agree on anything." I think the NPG, which has worked closely together for ten years, would take exception to that.
The MXoN was a fantastic race, on a fantastic track (thanks to Greg Atkins), with some fantastic rides by Ryan Villopoto, RC, Tim Ferry, Chad Reed, Ken De Dycker and more. If you were there and want to relive it, or if you missed it all together and what to see what all of the buzz was about, a new movie is coming that will lay it all out. Troy Adamitis, the mastermind behind The Great Outdoors motocross collection, was at Budds Creek with a crew of 12 shooters (including that chopper we saw flying around). Our own Eric Johnson has been helping with the script, and the "dailys" we saw were just amazing. Next week, we'll tell you more.
Here's a link for the Best of the '07 Nationals by GuyB.
Etnies/Racer X Photography Contest! etnies and Racer X Illustrated are giving all you aspiring moto photographers the opportunity of a lifetime--for the second year in a row! It's the Second Annual etnies/Racer X Photography Contest, where you can send us your best Motocross, Supercross, FMX, or any moto-related photos, for the staff of Racer X to judge. They will pick the top 10 photos to run in Racer X, with the full spread going to the first place winner. The winner will be picked out of the top 10 photos through an online vote right here at etniesmotox.com.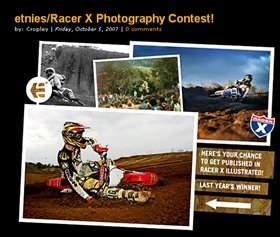 Check out the etnies photo contest!
Prizes:
* The Grand Prize Winner will have a full spread published in Racer X and will receive a prize pack with a ton of swag from etnies and Racer X!
* The Top 10 will all receive a free pair of etnies and a Racer X Digital Subscription, in addition to having their photo published in Racer X!
You have until Monday, November 5, 2007 to submit photos, at which point the judging begins...now get out there and start shooting! Enter here.
Earlier I mentioned Moto XXX. One of their "backing bands," Strung Out, learned a tough lesson in Philly: Don't leave anything in the van! Here's what happened, as posted on the band's message board (by way of Mototalk):
"So our van and trailer just got stolen from our hotel here in Philly around 7:30am. We had just checked in and no more then 20 minutes later, Chris happen to look out the window and see our van driving out. Sure enough, it was skidrown mother (&%#@&) ripping it off. So we have lost ALL of our equipment, all of our merch, tons of personal stuff and we are pretty much (&%#@&) and stuck in a shitty Days Inn in a (&%#@&*) up part of town in Philly. There was a double homicide 2 blocks down the road that we were watching about on TV so ya, not a nice part of town at all. Anyhow, if you live in Philly, please be on the look out for our van and trailer. It's a light blue ford E 350 15 passenger van with a white trailer with white rims. There is a bull skull mounted on the front of the grill. We are trying to think what to do. We will figure out how the show must go on though because we for sure dont want to or are we thinking about canceling the tour. We have a lot to figure out here….."
The band played early in the week in Atlanta, and B.J. Smith of Chet Burks TV said it was a great show.
Subscribe Digitally for a Piece of History!
ATTENTION U.S. RESIDENTS: Subscribe now to the Racer X Illustrated Digital Edition and reserve your copy of the sold-out Motocross of Nations event program and a collectible 2007 MXoN Budds Creek sticker, FREE with your paid subscription. (These stickers were so popular at the race that we've decided to do another limited run of them for this promotion.) For only $14.98 USD you will receive 12 issues of your favorite magazine in digital format, plus these cool Motocross of Nations collectible items.
Our digital editions are exact digital replications of our print editions, from cover to cover. No more waiting by the mailbox for your new issue — Racer X will be delivered to your computer the day after the issue leaves from the printer. You can either read the pages online or download the entire issue for offline reading.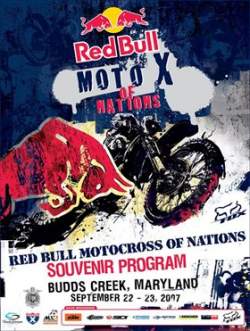 Get your MXoN program today!
You've probably heard by now, but
David
Pingree,
our Supermoto-ing editor, crashed last weekend and threw away his points lead in the AMA Supermoto Championship: "I crashed in an over-watered section of the track on the first lap of the main this weekend while leading. Broke both bones in left forearm, navicular in left wrist, and fractured my right wrist."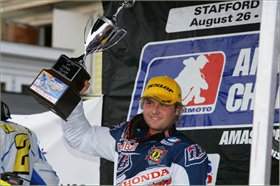 Get well soon, Ping!
photo: Paul Buckley
Ping had surgery, and he will typing slowly for the next eight weeks.
Also, Andy Bowyer stepped in to add some info for Racerhead:
Moto got quite a good bit of coverage in the newest issue of ESPN the Magazine. Brian Deegan in featured posing shirtless and wielding a battle ax in a full-page picture in the opening spread for the "Eyes on X" feature in the EXPN portion of the publication. Ricky Carmichael is also pictured and listed as the gold medal winner in the Moto X Racing event.
The largest motocross coverage in the issue was a large feature on the ongoing distance jumping drama where the feud between Trigger Gumm, Robbie Madison, and Ryan Capes. From the sounds of it, it's getting pretty spicy. Trigger and the Crusty crew are claiming themselves as the world-record holders even though Capes has eclipsed Gumm's Guinness-recognized distance of 277' 6". Gumm had set the benchmark on May 15, 2005, at the Crusty Demons Night of World Records, then Capes waited five months to blow right past it with a 310' 4" super huck. Gumm is quoted as saying, "Capes' jump never happened. It's not in Guinness so he didn't do it."
The article also touches on the breakup between Capes and Seth Enslow which spawned the ensuing and current Capes-Crusty beef. The entire debate could be settled next March at the second Night of World Records. While Capes has signed up, it is yet to be decided if he will be allowed to compete. To that threat he offers that he will set up a ramp of his own the next day and break whatever records Maddison and Gumm set. Capes adds, "I'm the best," and "I will be a legend."
Adding to the long-distance drama, some guy out in the desert apparently just went 321 feet! His name is Jason Bird and he hails from Bakersfield, CA. On Tuesday morning, at Honolulu Hills Raceway in Taft, CA, he jumped a reported 321 feet, though no state-certified surveyor was there. So he did it again a couple of days little, with the winds were a little higher, according to the report we got, but he still pulled off 313 feet and recorded the record for "a natural terrain, man-made ramp to dirt landing." Here's the video.
Think about it: On the right slope (like one of those Castillo Ranch valleys) and the right take-off, you could go 500 feet down a hill and never really be that far off the ground.
That's it from Andy; good luck to Clint this weekend.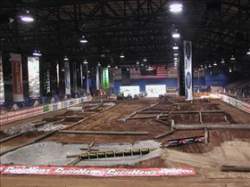 Here's a look at this weekend's EnduroCross track.
photo: Sean Finley
We mentioned this weekend's EnduroCross in Guthrie, OK, up above.
Dirt Rider
publisher
Sean Finley
is already there, and so is
Chris Hultner
from
Amateur MX
(which is based in Oklahoma). Sean offered this brief preview:
"With a floor much larger than the Orleans in Vegas, the track is much longer and provides some new options. The pool will actually have a 180 degree turn in the water and there is a huge step up and step off mound that should be pretty interesting. David Knight is out walking the track as I write this and last years Vegas runner up, Nathan Woods will join the field this week. We will also hold the first ever ATV EnduroCross here on Sunday on a reconfigured track. Tickets are still available for both events at www.endurocross.com."
If you've never been, check out one of these races—it's a good time, whether you're riding or watching!
Speed Channel is gearing up for HD! That's the word from the network that airs both AMA Supercross and Motocross, as well as AMA Superbike, MotoGP, and more car racing than Andy Bowyer could list on a road trip to Talladega. What did Simon Cudby have to say about this? "Looks like the Speed Channel is playing catch-up with Racer X Films, which has been HD since day one!"
And speaking of Andy, here's more:
Fall is upon us which means that teams for the upcoming arenacross series are gathering resources for a full assault on the tour. We received this from Kevin Johnson:
Here's the new cover of Moto X.
"I am going to be riding for Team Faith again this year. Our focus in on the AMA Toyota Arenacross series, but we will be doing the last six rounds of the Supercross series as well. Team Faith is also doing to the U.S. Airforce freestyle show at each of the rounds of the Arenacross series. Our confirmed sponsors are Western Powersports, Fly racing, Michellin, Pro Circuit, Enzo suspension, Tag Metals, RK, Wiesco, CV4, and VP. We are trying really hard to land a potential title sponsor, but they have not confirmed yet. It will be good if they do because we have not made our budget yet, but we know it will all work out.
Justin Buckelew
is going to be our second rider for the Arenacross series, but we are going to need to get some more help to be able to run all the Supercrosses. We still need an oil sponsor, boots, and goggles for the Team.
"I am also scrabbling to get a bike together for the U.S. Open. I am going to race my 250F and use it as a practice race for the Arenacross series. But my bike is a frame sitting on the floor in my shed right now. Pro Circuit is trying to get me a motor in time and Enzo has a my suspension and I am supposed to put it all together the Thursday before the race. So that should be fun."

Ayearinmx.com's David Bulmer is wrapping up his stay here in the States and is headed back to England in a few days, but he'll always have this very cool video to remember his trip, which was put together by GK Films' Wes Williams.
We got this note from Texas MXer Todd Kirby:
"My good friend and local Houston MX icon, Lloyd Hassett, was severely hurt a few weeks ago and no longer has use of his legs. I wanted to do something cool for him, so I painted a get well card and had a lot of his friends in the Houston MX community sign it. In order to sign it, they had to make a donation. I am attaching a link to a local forum which has pics of the helmet and a story attached. I just though you may be interested and may know a way to help create awareness for him. "
Donations can be made here.
Regarding our Motosport Outlet Bench Racing Ammo on Brand Un-Loyalty:
Dear Racer X,
Not sure about bikes but when it comes to clothing Larry Ward takes the gold medal as the least loyal of them all. Not sure if you remember but in one season on Suzukis, either '91 or '92 I think it was, he went from Answer clothing to JT then to RS-Taichi and from Scott to Smith to Oakley goggles. I think he may have done some boot switching in there as well! Holy Moly, that's more clothing changes than a high school girl on prom night!
Oh, our own [England's] Jamie Dobb did some switching. Honda U.K to Yamaha Europe to Kawasaki Private G.P Team to Pro Circuit Kawasaki to Suzuki SX-only factory bike deal to Honda of Troy to Suzuki U.K to KTM Factory to RWJ Honda then retired. Phew!
Cheers,
Sean de Gruchy
Racer X,
I'm hoping you can help me with a couple things. When I was at Budds for the MXoN, I met a very interesting guy named Jon (not sure of the spelling but it's pronounced "Yawn"). He lives in the U.S. now but he used to race and was a team manager of several different teams in Europe from the '50s till the '80s. He specifically talked about being a Maico team manager in 1985 because we were talking about them being M-Star in the U.S. but still Maico in Europe. Do you have any knowledge of a gentleman named Jon from that era? Also, he had several old-school MX videos that we watched including the 1958 and 1964 Motocross des Nations. Do you know of any place that sells old videos from that era? I've checked the typical MX stores (Motosport Outlet, Chaparral) and also the AMA Museum store but haven't had any luck. Thanks for your help with this.
Regards,
Tom Erickson
Anyone know anything about the foreign gentleman and the old videos? Email Letters@racerxill.com.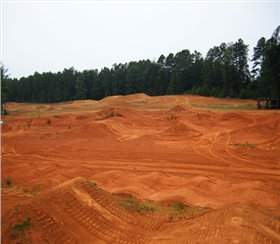 The Trettel farm in NC is for sale!
photo: Courtesy of Trettel
The
Trettel
family are selling their 30-plus acre farm in Graham, North Carolina. It has tracks and garages and everything a motocrosser would want. You can download this Microsoft Word document and read more about it right
here
.
From the desk of David Brozik:
Yowza! What a great, great first week for the DB Scholarship Fund (formerly known as the DB Scholarship/Beverage Fund, but later realized that could get tricky with our younger authors even though I have no idea the age of our entrants). Congrats to Josh Phillips who killed it with 50-percent of the votes! Josh's wordsmithery gets him $25 of my karaoke moolah from Wednesday night and puts him in first-chair for the final four showdown in a couple weeks. For those of you who missed the essays this week, click here.

And now for next week's elements: peanut butter, Vohland brothers, air hockey, old Van Halen, traction, trickery, CR250, navicular, holeshot, osmosis, and amoeba. Remember, get your 500-word essay in by Tuesday at 5:00 PM to be eligible for next week's $25 and to be in the running for the big bag of swag. Send your essays to contest@racerxill.com with "Essay" in the subject area.
I'd like to thank Racer X, Pro-Action, Ogio, igotfumoney.com, Moto Tees, and Cernic's for their swag donations.
Have you checked out
www.predictify.com
yet? Do it!
And be sure to check out the Racer X Brand Fall Clearance Sale which is going on right now. Click
here
for more.
That's it for now. The Rockstar U.S. Open is next week, and there should be a lot going on before, during and after the race. The new AMA Toyota Motocross Series schedule should be out, and we may even know the name of the new sponsor of AMA and FIM World Supercross by then. So get ready for Ricky's last race (again) and possibly a few big surprises coming out of Las Vegas. Stay tuned to Racer X Online for news, previews, links and more.
Thanks for reading Racerhead.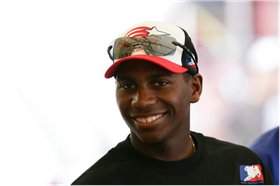 Will we see James in Vegas?
photo: Simon Cudby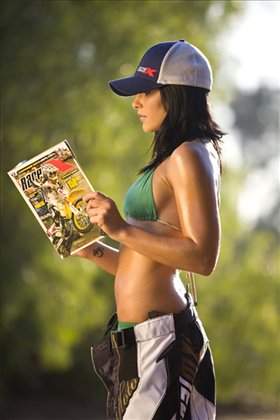 That's a great magazine!
photo: Eric Perlman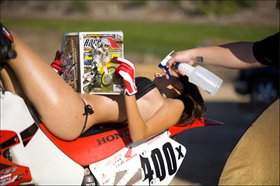 photo: Eric Perlman