Between the Motos: Rich Schmidt
This weekend marks the 31st Annual Kawasaki Race of Champions at Englishtown's Raceway Park in New Jersey. This is one of the premier motocross events on the East Coast every year, and besides a national or supercross, it's one of the few places where you'll get to see James Stewart on a motocross bike. To get the scoop on this year's event, we got in touch with track manager Richard Schmidt for this week's Between the Motos. For more information on the event, check out www.racewaypark.com.
Racer X: Rich, we're only a few days away from the annual Kawasaki Race of Champions. How's everything coming together for the weekend?
Richard Schmidt: Everything is coming together really well. It's been a lot of work, but so far, so good. We got James Stewart and Tim Ferry all set to come out and do an exhibition aboard the 2008 Kawasaki KX450F, and Team Green riders are scheduled to race the event, as well as many other top pro riders. We also have three bikes to be given away: one bike to the 65cc riders, one to the 85cc riders, and a winning amateur rider on Sunday will go home with a brand-new KX250F.
And that's for the Ironman race, right?
Yes, that's for the Ironman Classic. It's the top 10 riders from the 125 B, 250 B, 25 Plus B and 30 Plus B. The top 10 from Saturday qualify for Sunday and compete for a brand-new bike.
Well, you surely have a lot of stuff going on this weekend. Is this Raceway Park's biggest event of the season?
It sure it, by far. We had a Loretta Lynn's qualifier earlier in the year, but unfortunately, we got hit with a Nor'easter, so it didn't turn out too good. But this is our 31st Annual Kawasaki Race of Champions, and we do a lot of advertising on the radio. We're located right between New York City and Philadelphia, so we typically bring in 3,000 to 5,000 spectators, in addition to 700-800 racers. And the forecast for this weekend is for temperatures 75 to 80 degrees, so things are shaping up.
So why is it the Kawasaki Race of Champions, instead of the Suzuki or Honda or Yamaha Race of Champions?
The prior manager, Ken Landerman, had a real good relationship with Kawasaki, and back in the day he and some of the top sales managers around the area got together and pushed for Kawasaki to send some of their racers out, and since then we've seen guys like Jeff Ward, Johnny O'Mara, Jeff Emig, Mike Kiedrowski, Mike LaRocco, John Dowd, Ricky Carmichael and James Stewart come out. Raceway Park and Kawasaki forged a real good relationship and they push this event and keep it going. All the local dealers really contribute to the event. We have over 60 local dealers that participate in the event and support it, and I guess it's a good area for Kawasaki, and it's a way to give back to the dealers and the fans and the riders.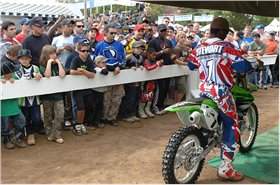 Stewart sets up his KX450F at last year's KROC.

In the past when the factory riders would come in, they would actually race, right?
Yes, they did. I'm not quite sure what happened or why they don't race anymore. Nowadays the riders get paid so much money, and they really are a valuable resource to the manufacturer. And with races like the Motocross of Nations, which is a couple weeks before, or the U.S. Open, which is typically the week after our event, the teams really can't risk their riders getting hurt prior to a big event like that. So they don't race anymore, but we do the next best thing and we get them out their on the bikes and they have the track all to themselves. They go out and put on a good show and the fans just love it.
Switching gears, how long have you been involved with Raceway Park, Rich?
Well, this is actually my third year of managing the track, but I've been involved with Raceway Park since probably 1997, when I started doing motocross schools here. I was working as an instructor for Jay Irwin's motocross school, and then around 2002, Jay decided to give up the schools, and at that point he kind of handed them over to me, and I've been doing the school on my own since '02, so that was sort of my foot in the door. And when the prior manager, Ken Landerman, retired three years ago, the owners had come to me and asked if I would be interested in taking over for him, so that was something I couldn't pass up.
So you were a rider and racer yourself?
Yeah, I actually started racing back in the late '80s, and I turned pro in 1994. I qualified for a good deal of nationals and got to race all over the country. I used to teach Tony D. motocross schools, and I was trying to get through college full-time, so being on the road with Tony D. for weeks at a time didn't work too well when I was going to college full-time, so unfortunately, I had to quit with Tony so I could get through school. I actually got my elementary education teaching degree, and I was a sixth-grade teacher when the track had approached me to become the track manager. So I gave up my teaching career for something I love to do, which is being involved with the motocross community, and here I am now. It definitely was the right choice.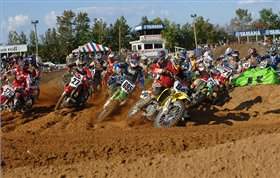 Hometown hero Barry Carsten (84) grabs the holeshot in 2006.

Besides Tim Ferry and James Stewart, can we expect to see Barry Carsten out there?
Most certainly! Barry is our local hero and probably the winningest riders at Raceway Park. Even though he's in his 40s now, I'm sure he'll be giving the youngsters a good battle. It's his home track, and although it's undergone some major changes, I'm sure Barry will have it dialed in.
What kind of changes can riders expect?
The riders aren't going to recognize the track. Hats off to Mickey Kessler and his crew, and he Lertch family, who own a local construction company. They donated some equipment for us to use this week, and we moved a lot of dirt, so our whole center section and layout has been changed. Riders who were here at the last race are not going to recognize the track. Things are really shaping up.
You've been to this event more than most as both a rider and now the track manager, so are there any years that really stick out in your mind?
Every year is unique. I can literally remember back in the day when James Stewart was riding a 65 and doing a triple jump in front of our grandstands doing a nac-nac. I remember Ricky Carmichael, I believe he had a chrome KX85 one year, back when he was riding for Pro Circuit. I remember in the racing days racing with Jeff Emig. I got off to a good start and I remember battling with Jeff for half a lap or so with him. Just riding with that caliber of rider was really memorable.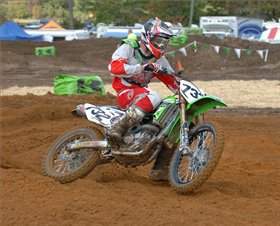 Kyle Chisholm was a big winner at last year's Kawasaki Race of Champions.

There are going to be a few really happy amateur riders at the end of the weekend as they will be going home with a brand-new Kawasaki. Who are the dealerships that are helping out with the bikes?
Well, we have three dealers that are giving bikes away. The Ironman Classic race, which is for the amateurs, giving away a KX250F, is Monmouth Cycles. This is their second year they're participating with giving a bike away, and they're one of the major sponsors throughout our series. They even stepped it up a bit and created a series within our Raceway Park series. So they're giving away jackets and trophies to the winners in their series, so they're definitely a great dealership to have on board with Raceway Park. Another dealer is Mt. Holly Kawasaki/Suzuki/KTM. They've been on board with us for many years, and for as long as I can remember they've been giving this bike away. Steve Lewis and Bob and Taylor are the people are really responsible for it, and they go above and beyond as well. They also give $2,000 bonus money for the pro riders on Sunday. They give a bonus to the first-lap leader, as well as the top two overall finishers in both the 125 and 250 classes. So Mt. Holly Kawasaki really has their heart in the right place when it comes to the Kawasaki Race of Champions. And the third dealer that's helping us out is Town and Country Cycle, who give a KX85 away to the top 65cc rider. It's called the Kessler Cup event, and the top 65cc riders compete on Sunday to go home with a new bike. Eventually they're going to be stepping up to the 85cc class, so the winner gets a new bike to get them started.
Where can riders and fans learn more about this weekend's Kawasaki Race of Champions?
They can check out www.racewaypark.com, and on the left-hand side there is a link for "MX Race." Click on that and they can find all the race details there.
In closing, do you have anyone you want to thank, Rich?
First and foremost, we want to thank Kawasaki for all of their efforts. Thanks to Kawasaki sales, including Bill Jenkins, John Rathyen and Pete Wilson; Team Green's Jeff Chambers and Dave Gowland; Monster Energy Kawasaki's James Stewart, Tim Ferry and Mike Fisher; Mickey Kessler and family, and the Lertch family! Without all of these people this race really wouldn't be possible.