Number Cruncher: Larry Brooks
Welcome to the Shift Number Cruncher. It's a gnarly week around here for me so I have a quick one for you this time. If you recall Racerhead a couple weeks ago, we ran a letter that Larry Brooks sent us expressing his displeasure with our inability to remember him when we ran some of the numbers he raced with during his long and successful career. He did forget we ran him in the #36 cruncher, though. Brooks has played a huge role in the sport for the better part of the last three decades. He was a super-fast racer and an even stronger team manager for some of the biggest names in the sport. We felt we owned him a little payback so we dug up some pictures and history. This one's for you, Larry!
The 1985 Pasadena Supercross was a wild one. It had a turning whoop section that claimed Ron Lechein in practice and featured a two-moto format. It was none other than Larry who won the 125 class. He must have been pumped for the win because on the last lap he decided to uncork the huge double on the front straight away! He got kicked on the lip and pulled it off after a huge panic rev.
Most of my memories of Larry Brooks were during this season. He rode a Pro Circuit-backed CR250 into most of the supercross main events and was in
Motocross Action
all winter long. He wore #16 this year and almost earned the first, and only, outdoor national win of his career at Anderson, South Carolina. He was leading moto two and had the overall in the bag when his bike let go, handing the win to Donny Schmit.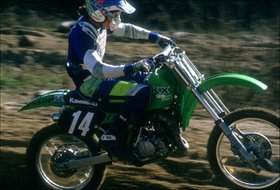 photo: Paul Buckley
Here we have an old-school shot of Larry during his tenure in the 1988 125 outdoor nationals. He rode a Pro Circuit-backed KX125 and had a pretty good year. Earlier in the season he raced the 250cc class for SX and what I remember from that year was the over-the-bars endo he had that made all of the SX highlight reels. He wore super cool "Hallman" motocross gear and had one of the baddest Troy Lee paint jobs on his open-faced lid.
In 1989, Larry earned the highest number of his career and wore number twelve. He wore the blue and white Thor gear on the #12 Honda CR250.
After not scoring any points in 1990, Larry went with #230. This is a good picture as it clearly shows that Brooks was one of the few guys that raced with his glasses under his goggles.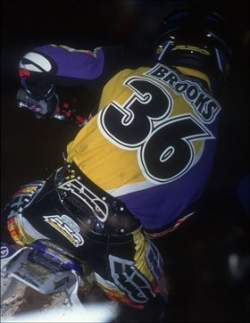 photo: Paul Buckley
Larry wore #17 in 1993, then earned #31 and raced a Noleen YZ250 in 1994. As the 1996 season rolled around a big opportunity arose with the emergence of Team Chaparral. If you recall, the team consisted of Brian Deegan, Jimmy Button, and Larry himself. Larry was still fast, but it was becoming clear that his riding days were coming to a close.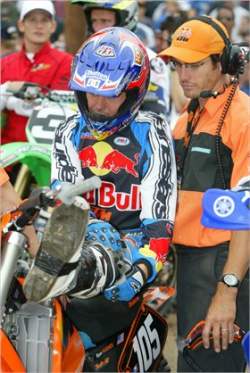 photo: Steve Bruhn
Larry has seen some dramatic moments during his tenure as a team manager. This afternoon at
Southwick
he spent with Ryan Hughes has to rank near the top. Ryan broke his leg in practice but still tapped it up and somehow finished the motos. I promise you he saved this story to use for a youngster that was complaining to him that he wasn't feeling well for his motos.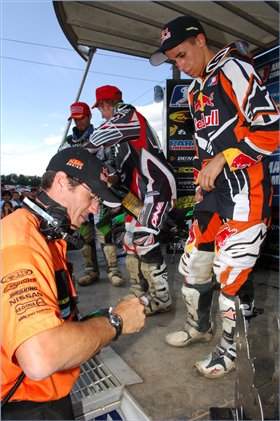 photo: Steve Bruhn
It will be a long, long time before we forget about that crazy afternoon at
Glen Helen
. Larry entered into a shoving match with Mike before the motos to try and get him fired up. It must have worked because, well, as you remember, Mike was ready and willing to win at all costs. Major emphasis on, "at all costs."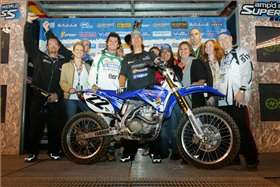 Brooks now manages the San Manuel L&M Yamaha team.
photo: Steve Bruhn
It's been tough being a team manager in the premier supercross class over the past three years unless your name is Roger DeCoster or Mike Fisher. But Larry and his Team San Manuel Band of Mission Indians/L&M Racing Yamaha were able to stand on the top of the steps at San Diego with a big win.
Larry Brooks is another shining example of how our sport gives back. He wasn't going to be able to go for long once his racing days were over if it wasn't for his transition into team manager status. I was able to stop Mr. Brooks in the pits at the MXoN last weekend and talk to him for a bit. He was a super mellow guy who was easy to talk to with no ego for miles.
We tried to find some picture of Larry riding his rocket ship R&D RM80s but I ran out of time and just couldn't find any. If any of you have any of those or any more pictures of Larry send them to me and we'll do a Redux.