Between the Motos: Scott Taylor
September 26, 2007 1:31pm
Behind every winning MXoN team is a man that makes everything happen. It's his job to gather all of the team apparel, organize all of the travel, and make it all come together on race day. Egos run fairly supreme in a sport like motocross as it is very much not a team sport throughout the "regular season." But for the annual MxoN event things are different. The goal isn't simply personal victory--it's all for one, and one for all this time around. And every year the teams call upon a man to pull it all together for team USA. For the past three years, that man has been Scott Taylor. Scott has been around the sport for almost three decades and has pretty much seen it all. He is also Ricky Carmichael's agent, travel companion, and all-around right hand man. We spoke to Scott today and asked him what it is like bringing three of the fastest American riders, and their teams, together for the common goal. Here is what he had to say.
Racer X: First off, Scott, congratulations on leading Team USA to another victory. You're three-for-three as a co-team manager now, right?
Scott Taylor: Yeah, so far I am! I don't know how much I have to do with them winning, but three-for-three is pretty cool.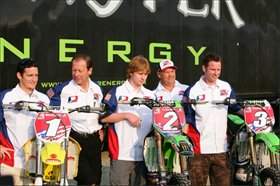 Team USA - 2007

photo: Simon Cudby

How many MXoNs have you been to?
That was my ninth one. I've been to quite a bit; I think I started going to them in 1987, so I've been hit or miss since then, but I've been to every one that Ricky has been to.
So how did Budds Creek rank against the others you've attended?
I think it was great! Actually, I thought that the team and everybody got a long really well. The plan really came together. What made it easier is the last few years we've had some great sponsors of the team that makes the comfort level a lot better. Between Loretta Lynn's, Monster Energy and Fox—those companies all contributed money over the years and now we have hospitality areas, etc. You don't have to worry so much about gathering funds or getting people to do things with money out of their pockets, but it's been a lot easier these past few years.
How did all the riders get along on the team this year?
This year was really good. It's the same thing every year for three years in a row now where the original team isn't the one that we race with because of injuries. But everyone really came together well. The guys race against each other for 51 weeks a year, and for this one week they all are on one team. I think that's where I've been able to help Roger [DeCoster] a lot, because he's the team manager for Makita Suzuki every other week of the year, and he doesn't feel like he could go cruise in Mike Fisher's Kawasaki rig, or over to Mitch. So I think I can help bridge some of those gaps. All of the riders were MXoN veterans, so everything turned out great.
There was a little bit more pressure than normal because this was RC's last outdoor race. He did really well, obviously, but he crashed in the first moto and was unable to win it. How was he all weekend, and all upset was he after that first moto?
RC was really good. He knew that Ryan was out in front, but I think he was more pissed that he didn't beat Chad Reed when he caught him. But, he wasn't going to take any crazy chances. I was proud of the way he did things. I think his schedule has been so scattered this past month with the car racing and all that he feels that maybe he wasn't as prepared, but there's nothing he could've really done to prepare himself anymore, save for maybe racing those last few nationals. So, he was fine. He was really happy to win his second moto. At that race, you'll be surprised, guys truly do put their own egos aside and they really want to win for the whole team. James Stewart did it last year, and Ricky was pumped for Ryan and Timmy.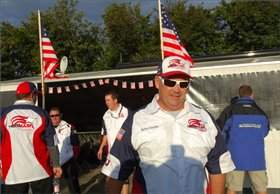 Scott at the 2006 MXoN in England.

photo: Steve Bruhn

You've seen some amazing rides and performances in this sport, but Ryan Villopoto really showed up to race on Sunday. What did you think about his performance?
Dude, I was amazed! That track was deep and loamy, and that's a testament to a lot of things. One, his ability to check out and keep that pace, which was great. And two, Mitch's ability to build a fast 250F, which was awesome. But I never saw a performance that dominating at an event—he was gone! Mitch and I were talking about how fun it would've been if Ryan and Ricky would've been out front together. But I'm pumped for Ryan. He deserved it and he showed that he's definitely a huge part of the future of American motocross.
Absolutely! I don't know if you read Cairoli's interview the other day, but he said he wasn't used to the track and had a few excuses.
Yeah, I read that, and I think Ryan kind of summed it up by saying, "We didn't race Matterley Basin before last year and we still won." There have been several times where Ricky has never been to a track, like in Belgium or France, and he just destroyed everybody. The guys are professional athletes. That guy is a world champion, so he should be able to adapt to anything. I know we wouldn't accept that as an excuse from our guys, so I don't put much credence on it. It's not like they were even close. Forget comparing him with Ricky—comparing him with Ryan, there is no comparison—Ryan just devastated him.
The guy that a lot of people aren't really saying much about but who really impressed me is Timmy Ferry.
I think Timmy did great. I think he broke out of a stereotype. People were tending to say he couldn't handle pressure because he wasn't getting good starts during the last few nationals. When he fell in the first moto, he didn't panic. In our team meeting that morning, they talked about what to do in that situation. And he got up, he didn't panic and rode a great pace and pushed the whole time and did awesome. And in that last moto, for him to pass those guys, including the new MX1 World Champion, is awesome. Timmy is a great rider, and I think it benefited him to be on a good team with Ricky and Ryan who both are at the top of their game. I think he raised his level for this race, and he definitely sent a message out that he got the talent and speed and he was able to use everyone around him for motivation. I think everybody does that. His dad was there and was so excited. I think he fed off of everyone's energy, and that's the thing about having Team USA all together. Everyone feeds off of everyone's positive energy and we all help each other.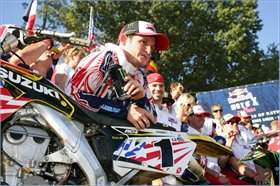 RC savors his last time atop the MXoN podium as a rider for Team USA.

photo: Simon Cudby

From my point of view, man, everything with the team looked great and you deserve a big pat on the back. As good of a job you've been doing, your main deal is being Ricky's guy, but at this event you're everyone's guy. Have they approached you about maybe helping with Team USA in the future?
Actually, I was asked already about that. Steve Whitelock asked me before the event if I would do it for the next couple years. People don't realize that we start planning for the MXoN during the last few nationals. The gear is already being made by the week of Loretta Lynn's. When they announce the team, the gear is immediately getting made. Well this year, we were finalizing our sponsorship agreement with Monster, and that came down to the wire. It's just arranging the paddock, working with the FIM, etc. Basically I get entrusted to handle everything other than making sure the motorcycles are ready to go. I work with Youthstream, I hire security, approve team t-shirts, arrange team meetings, etc. That stuff is great, and Ricky is awesome to just let me go and do that stuff. He finds a way to not need me as much that week. It has really been a nice honor, and I can't wait to go to Ireland. Things went really well this year, and we got to back it up!
Thanks for your time, Scott! You're a busy man, so I'll let you get going.
Thanks a lot, Andy.