Monday Conversation 2: Antonio Cairoli
September 24, 2007 1:12pm
The showdown of the year was supposed to be FIM MX2 Champion Antonio Cairoli vs. AMA Lites Champion Ryan Villopoto, but it wasn't to be. Simply put, the world champion wasn't ready for a track prepared like Budds was, the more American-style track that is cut deep, or "ripped." He was off the pace in the first practice and off RV's pace in his motos.
He tried changing bike settings and watching and learning new lines, but the weekend was pretty much a disappointment, and the great Cairoli/Villopoto showdown didn't happen.
Cairoli likes to hang around after the races with the Italian press and check the internet, so we took advantage of the situation and got in one more interview:


Antonio Cairoli had trouble adapting to the Budds Creek circuit.

photo: Matt Ware

Racer X: Tony, tell us how your weekend went.
Antonio Cairoli: It was a good weekend but I was disappointed for sure about the race, for my team. In the first heat, and also yesterday, I was not fast enough. I didn't have a good feeling with the track and the bike on this type of track.
My speed was not so bad for second or third. In the second moto before I crashed and I was behind and watched some lines. He was faster than me but not as much as before. To beat Ryan [Villopoto] in the U.S. we need to practice on this type of track and set the bike up for this type of track.
In the second moto I was behind Ryan and made a mistake and went off the track. When I came back on I was behind Michael Byrne. He stopped in the corner when he made a mistake and I didn't see him and bumped him and broke some spokes.

Were you surprised with the American's speed after the first practice?
Ricky [Carmichael], I know he is fast, and the first moto when I was behind Ricky, I watched his lines and he is faster - okay - but not as much as Ryan. Ryan was faster for sure than Ricky today and that surprised me. I know that he knows the track and he rides nationals like this where the track is really fast and has many lines, and the ground was really soft. He rides this track enough to have confidence to know how the ground feels, the corners, and setting up the bike.
Here the mentality is different because the ground is softer, especially when the track is flat. Ryan and Ben Townley were really faster than me Saturday because they have been practicing on this kind of ground and you can gas it and cut your lines and they know what you have to do on this ground. For us it is different.

So in Europe you don't race on tracks that are ripped deep and soft like this one?
No. We ride on hard tracks like Matterley Basin. That was one of our more soft tracks.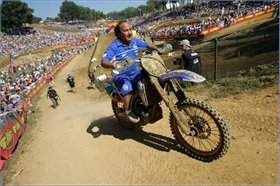 Cairoli DNFed the first moto.

photo: Steve Bruhn

So hard like St. Jean in France, the surface does not give?
That is why I don't have a feeling for the corners. Ryan is very fast at the start of the race. It's different for us. We start slow and get a feeling for the track and make many lines. Here the first three laps are very fast.

So you noticed their sprint speed early in a race?
Yes. I have to come here and learned this. We never ride on a track like this and we have to learn. Now I know my speed on a track like this is not that good.

Were you prepared enough?
No, for sure. I didn't have the speed to beat Ryan this weekend. For sure if I got good starts and didn't make mistakes I could finish top three at this race, but for sure not win because Ryan had the feeling for everything. He knows the lines and this track and the bike settings for it. Yesterday we worked on my bike to give me some more confidence with the track but it was not enough. We have to test for sure.