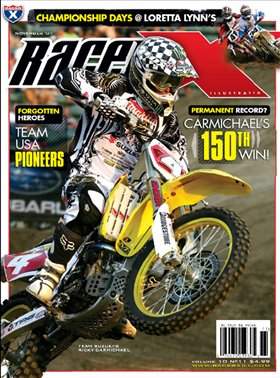 The November 2007 issue is out, and you can read it right now! Click here for more info.
Let's start with
Rob Dingman
's
message
about the evolving mission of the AMA and the association's decision to get out of the promotions business. I have known Rob for maybe two years and have found him to be a very smart and capable man. I think this is a great step forward—allowing true promotional companies to organize the various AMA pro racing series while continuing with the officiating and rules-making aspects of the sport—though there will be some bumps in the road.
Just look at supercross, with the way Live Nation has taken AMA Supercross to new heights in the past ten years since they brought the whole together under what was then the PACE Motorsports umbrella. There were some huge obstacles along the way (Jam Sports, anyone?) but now the series is looked at as THE premier motorcycling tour.
I'm biased here: My hope is that the NPG will be able to step up and be that group that runs the series its promoters have created since its inception in 1972, and that we can continue to work with the AMA and Live Nation to push our beloved sport further along and benefit the riders, the teams, the sponsors and the race fans.
Cut Mr. Dingman some slack here: He knows what it's going to take to move motorcycle racing forward and he's moving towards accomplishing that task with this extraordinary move.

Next week, the motocrossing nations of the world will be in Budds Creek for the 61st Motocross of Nations, but the pits will look like a pro national to some degree. Even though Factory Connection and Moto XXX do not have any of their team riders on anyone's roster, they are loaning out their trucks to their motocross brothers from afar. In the case of the SoBe No Fear/Samsung Honda team, they will be the base for the Erick Vallejo-led Team Mexico. And according to Allan Brown of Moto XXX, they have stepped in at Honda's request to help out Brazil.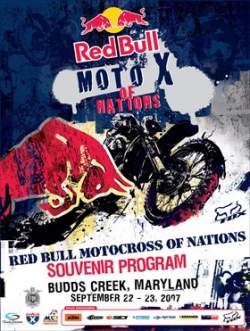 Here's the cover of the 2007 MXoN souvenir program.
"Honda USA approached us about it after Honda Brazil approached them, and we said 'Sure, we'd be glad to help out,'" said Brown. "Honda Brazil is helping out with the cost of driving the truck out from California to Maryland and back. Obviously, there's a huge cost involved with the fuel and providing our mechanics and staff with airplane tickets and lodging and all. It's not cheap by any means, but it's worth it—it's going to be a fun event for everyone."
Check this out: KTM will be working with 23 racers from 18 different countries next weekend, and all 23 of them will use the Merge Adjustable Leak Jet. Here's
more
.
And finally, my longtime friend from PA MX,
Dean O'Dell
, and his family have offered to let any team that's having a hard time come up with a work place at the MXoN to use their Fun Mover. Dean says he doesn't care where they're from or how fast they are, he just wants to help out. So if you're reading this from, say, Lithuania or the Czech Republic or Chile, and are still looking for help at
Budds Creek
, email
online@racerxill.com
and I will pass it on to Dean O'Dell.
The MXoN has lost a few top names to injuries—
James Stewart
,
Josh Coppins
,
David Vuillemin
,
Kevin Strijbos
,
Chris Pourcel
—but there's also a few nations that just plain aren't coming. Finland, the land that gave us
Heikki Mikkola
and
Pekka Vehkonnen
and finished third at the '03 MXoN in Belgium, couldn't apparently come up with a sponsor to cover the trip.
Also, the Netherlands, which hosted the MXoN in '04, is not coming, which means no
Marc De Reuver
. The reason is unclear, though it may have something to do with the fact that Team USA did not show up over there in 2004.
If you want to watch the 2007 Red Bull Motocross of Nations from your own couch or coffee shop on your computer, you should sign up now for the Media Zone Moto pay-per-view coverage. The cost is $19.99 to get the MXoN delivered directly to your computer, or you can purchase your MXoN viewing as well as the entire 2008 FIM World MX Championships for just $39.99. Go to
MediaZone.com/Moto
and simply enter the coupon code: moto3999 when ordering to receive their special offer.
Racer X Illustrated is proud to have been selected to do the souvenir program for the MXoN and we packed it full of really cool stories about the riders, the teams, and the history of the "Olympics of motocross." Look for your program everywhere at the event, and if you're not going, you can order one at Racer X Online and get one after the race—we'll set that up for next week.
You can read this feature right now!
Also, you have to read
Eric Johnson
's amazing tale of Team USA's forgotten heroes: "The Lost Teams" of the 1970s that went to Europe time and time again and came home empty-handed before our breakthrough in 1981. It's in the brand new issue of
Racer X Illustrated
, but you can read it right now if you sign up for a Racer X Digital subscription! Here's
how
.
The question I've been getting all week is this: Will Racer X and Motocross.com have any coverage from Budds Creek of the 2007 MXoN?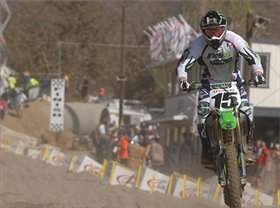 Tim Ferry will represent Team USA in the Open class at the MXoN.

photo: Carl Stone

Yes! Starting on Monday, we will profile one of the contenders each day, beginning with Monster Team USA's Tim Ferry on Monday. And then on Saturday, with the cooperation of the gang at Media Zone, we will present the Racer X Motocross Show on Motocross.com, direct from the Team USA pits at Budds Creek. We will give you an early look at our boys, plus the ridiculously fast Tony Cairoli, off-the-couch-and-back-on-track Chad Reed, England's top prospect Tommy Searle, newly-crowned MX1 World Champion Steve Ramon, and many more. That's next Saturday night, on Motocross.com!
There will be NO audio webcast from Racer X—the only way to get the live action is to watch on www.mediazone.com --but we will be back with a Monday morning wrap-up show, direct from the Monster Team USA pits, which will either be a joyous occasion or the absolute saddest spot in Maryland! We're betting on the former.
And I really can't wait to see that Carmichael guy from Florida race a dirt bike one more time. I hear he's still pretty good….

Here's a good place to let Ping take over: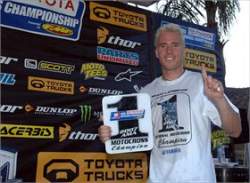 Langston is number one!
photo: Carl Stone
Last Friday was the final round of the Java Monster celebrity crossover challenge at
Glen Helen
. I'm sure you've heard all about
Langston
and
Villopoto
winning their titles but there was a championship being decided on Friday that not many people heard about. There wasn't any money involved in the wins but the guys involved have as much of a passion for motocross as anyone: the Monster Energy
Glen Helen
Crossover.
BMX star
Aaron Cooke
grabbed the win Friday and edged out all the other action sports athletes to take the top honors overall. One of the best alpine skiers the U.S. has ever produced,
Daron Rahlves
, got stuck in the gate the first moto but rallied in the second round for third.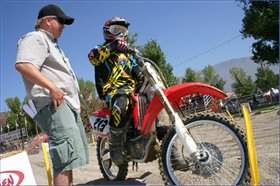 Crossover mastermind Pat Schutte and skiing legend Glen Plake.

photo: Eric Johnson

Shaun Palmer
also crawled out of his hiding spot in Tahoe and showed up with a Honda 250 two-stroke. Palm still has some speed and he absolutely crushed the field in the first moto, even on the underpowered two-smoker. He didn't say much about his arrangement with Yamaha of Troy to race the nationals that he didn't follow through with. But he did say he is planning on racing the world cup boarder cross events this winter as well as the Winter X Games. And he still has his eye on the Olympics coming up in Vancouver, British Columbia in 2010.
Glen Plake
was another skiing legend that showed up to support the event. Plake is an icon in the skiing world and he is easily recognized by his enormous Mohawk.
Monster Energy Glen Helen Crossover Results:

1st Aaron Cooke, BMX
2nd Steve Martin, Snocross
3rd Daron Rahlves, skier
4th Gunnar Newquist, skier
5th John Dadak, skier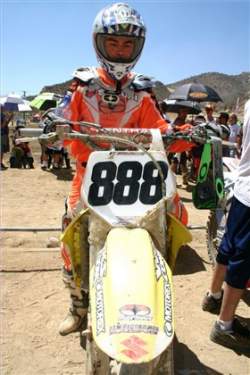 Ross Robinson has produced records for such bands as Korn, At the Drive-In and the Cure.
photo: Eric Johnson
Other notable athletes competing in the Monster Energy MX Crossover @
Glen Helen
included:
Josh Sleigh
(surfer),
Igor Reoutt
(wakeboarder),
Ross Robinson
(record producer),
Dwayne Taylor
(BMXer),
Jim Rippey
(snowboarder),
Buster Akrey
(musician),
Will Lacheuaer
(skier),
Keith Hutchins
(snocross) and
Jordan Burns
(musician).
Speaking of crossover athletes; I want to send out my best wishes to
Tara Llanes
, one of the world's best female downhill mountain bike racers, who was seriously injured in a crash last weekend. Tara is one of the friendliest faces in the pits and I'm sure that whole industry is reeling from the news right now. Get well soon, Tara.
Monday night was the second annual Dirty Hairy's Backyard Bonanza. This is turning into an end-of-the-season classic.
Launi DiMaggio
organized for ten identical 50s to be delivered to her house with only taller bars added. She had
Randy Mennenga
, a popular track builder in the area, sculpt a scaled-down mini Supercross track in her back yard and invited everyone in the industry to come race, party and hang out—some were doing all three things at the same time.
Some of the big names that were there hanging out included new AMA Toyota Motocross #1 Grant Langston, Jason Lawrence, Josh Grant and Nathan Ramsey. Jeremy McGrath was also there with his wife and daughter but he was actually racing along with guys like Ronnie Renner and his brother Ricky, Kyle Krause, Kyle Engle, Michael Willard, Brock Sellards, myself and others.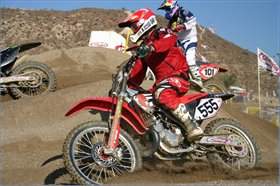 Ping (101) goes to the inside of Shaun Palmer.
photo: Eric Johnson
There is no purse or grand prize so it doesn't really matter who wins. This event is more about having a good time and it always is. Ronnie Renner got so far behind in the main he decided to turn around and go backwards on the track. It definitely threw an extra challenge into the course. Nice work, Ronnie. And best wishes to his brother Ricky who smashed his ankle and was headed to the hospital to get an X-ray at the end of the night. The after-party was at a local watering hole where a karaoke jam took place. I didn't make it there but I hear
American Idol
has scratched Lake Elsinore off of their list of places to look for talent this season.
Next Friday night, September 21st at 5:30pm, the
Chris Ackerman
poker tournament gets underway. Chris has generously offered to split all the proceeds with fellow action sports star,
Stephen Murray
, who was injured at the Dew Tour this year. Check out the flyer for details.
That's it from Ping.
Now this from
Andrew Langston
, Grant's uncle: "Just so people know. Grant has tried the Leatt Brace, but with having a previous broken collarbone together with how it was fitting him at the time, it was uncomfortable for him to ride with one on."
That's in response to the threads on Mototalk where people have criticized his decision not to wear the neck brace.
From Bad Billy:
So I stop at a gas station in downtown Morgantown on Tuesday night on my way to the Fishbowl, and I see some random guy walking across the parking lot wearing what appeared to be a motocross jersey. Upon closer inspection, I realized it was a Yoshihide Fukudome jersey!!!! I couldn't believe my eyes! Moto XXX was kind enough to hook me up with one of his jerseys earlier this season, so there are now officially two people with Fukudome jerseys in Morgantown. I bet there isn't even that many Grant Langston jerseys around here…

Also, I want to give props to Frank Ippolito from Paint Bombs for doing up this custom helmet for me. Believe it or not, it's my first custom-painted lid! Now I don't want to get it dirty! Check out more of Frank's creations at www.paintbombs.net or on his MySpace page.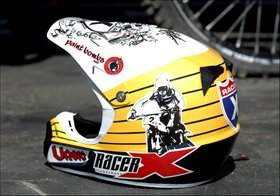 The custom-painted helmet is making a comeback!
photo: Carl Stone
As usual,
Steve Matthes
did a good job of both summing up the
Glen Helen
National and also pissing a few people off (almost double-digits this time!). If you missed his review of the last round of the 2007 AMA Toyota Motocross Series, here's a
link
.
All year long, Carl Stone has been helping us out with great race photos while managing to piss off absolutely no one. This week, he added his own observations on the race. Here's CStone's Cwords:
Observations from Carl Stone:
The final race at
Glen Helen
had arguably the best weather that race has seen in years, even when it was the first race of the year. Clear blue skies and temps in the low 90s. The major changes they made to the track were cool, though really, really scary (and some downright dangerous). Still, it was nice to not see the same ol'
Glen Helen
course. What made this race even more spectacular was the fact that we were going to crown champions in both the Motocross and Lites class. And although the points leaders in both classes had a pretty good cushion. as we know especially in this sport, nothing is a sure thing and anything can happen.
Villopoto showed up to the race in his brand new luxury and well-deserved RV. Yup that's right—a new RV for RV! RV's grandparents had me laughing saying that even though he had that big state-of-the-art motor coach, he and his cousin Spencer came to their little RV and ate breakfast, lunch and dinner and cleaned them out! But I can't blame them; Grandma Villopoto is one awesome cook and when she offered me a plate of her pasta and meatballs how could I refuse!
At the end of the day Ryan did what he had to do to secure his second championship and Monster Energy/Pro Circuit Kawasaki swept the podium yet once again. And as it looks, not much is going to change next year even with Townley leaving and the addition of Chris Pourcel—yet another MX2 world champ who wanted to be in America and on Mitch's team.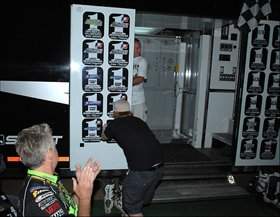 The Monster Energy/Pro Circuit Kawasaki trailer is going to need bigger doors!
photo: Carl Stone
Later that evening Mitch gets the whole team together for the mounting of the new #1 plate to the doors of the PC rig—and what an impressive set of doors that is. Looks like they are going to have to be adding some bigger doors to that trailer real soon if they keep winning championships at this pace!
Before Ryan would mount his new #1 plate to the door Mitch made a speech to the team. One of the many things he said was how proud and happy he was for how hard the team had worked together and what they had accomplished. He also said that this year was one of, if not the most difficult year he ever had as a team owner. Two of the best riders in the world in the Lites class trading moto wins each weekend, working out of the same rig? That's too close for comfort. Mr. Payton also stressed how proud he was of Ryan and Ben for racing hard, racing clean and not, as he put it, having any bullshit go on between them between motos or the races.
After Mitch made his speech it was Ryan's turn. He also thanked everyone and then proceeded to mount his 3rd #1 plate to the door. Congratulations, Ryan, and thanks Ben and the rest of the contenders for giving us such great races to watch this year.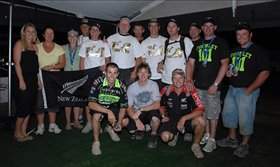 The Kiwi posse pose with Ben Townley and Cody Cooper.
photo: Carl Stone
Next was the Motocross class (I still can't get used to these names). When is the last time we had four riders that close in points coming into the final round? Who would have thought just four races ago that Langston would be taking home the title?
But with James Stewart getting hurt and unable to continue and Ferry and Short having their share of bad starts and crashes, it sure helped change the course of the championship. But that's not to take away from Grant's hard-charging and solid rides. He for sure did what he had to do.
And you just had to be super-pumped for him with all the bad luck he has endured in the past with last-lap mishaps and the unforgettable last lap exploding rear wheel that cost him the championship at Steel City.
And although he did win the Lites championship against Ryan Hughes in 2003, they cancelled the Troy, Ohio, race not once but twice the same year, so he never got to ride that victory lap as champion—he was notified by a phone call while he was at Brock Sellards' house. So as sweet as it was for Grant to get that national championship, this had to be much better. I am happy for Grant that at least this time he was not denied that glory and his moment in MX history.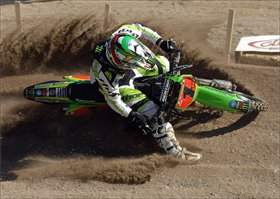 That's just a killer shot!
photo: Carl Stone
After the race and hanging out over at the PC truck celebrating with everyone, most of the Yamaha crew with GL came over. Also in the mix, and I have to say I was surprised to see, was none other than Shawn Palmer with his longtime girlfriend
Nikki
.
Shaun and Mitch were have a great time talking with each other and shortly after I spoke him for a while to catch up on what he has been doing. As we were talking he just looks at me and says "How bout that Gracyk kid? He's pretty awesome huh?" I was like, Yeah, he really has riding incredible this year despite all the stuff he has gone and is going though. Palmer said when he got to the race this weekend he made it a point to go and meet Gavin and introduce myself and as he put it, "I just wanted to shake his hand."
Lastly, I got to talking to Townley and noticed that with fellow Kiwi Cody Cooper pitting next to him there were a lot of friends and family around so I offered to get everyone together for a group shot. So I said to him, "Ben, round up your Kiwi posse and let's do this shot."

He just kind of looked at me funny and said "My what?" I was like, "Your posse, you know?" He's like, "Um, no I don't."
His girlfriend
Lucy
was standing there and I said, "Do you know what I mean?" She said nope. I was like, Oh well, in that case get all your Kiwi friends and family together for the picture! Then had to try and explain to him and her what a "posse" was. I hope I did a good job!
What an awesome end to an outdoor race season. I can't wait till Hangtown '08!
Carl shot everyone of the holeshots for Racer X and Mototees at the AMA Toyota Motocross Championships. Here's the final tally:
Racer X Holeshots
Ryan Villopoto- 7
Ryan Dungey- 5
Ben Townley- 4
Josh Grant- 4
Chris Gosselaar- 1
Broc Hepler-1
Trey Canard- 1
Austin Stroupe- 1
Moto Tees Holeshots
James Stewart- 7
Mike Alessi- 5
Davi Millsaps-4
Andrew Short-3
Gavin Gracyk-2
Kevin Windham-2
Ricky Carmichael-1
Here's a note from Shasta Johnson: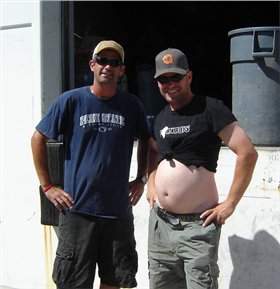 Can you guess which one lost the bet?
photo: Shasta Johnson
One of
Cam
's (Shasta's husband) coworkers,
Greg
, is a big Notre Dame fan, and
Pat
is a huge Penn State fan. Greg wanted to make a bet with Pat on the football game last Saturday. So Pat started throwing out ideas like someone has to shave their head or wear something embarrassing. Greg was thinking more along the lines of a buying the winner a can of Coke or something. Cam started harassing Greg about not having any stones to stand up for his team. Cam then said, "I'll take the bet just because."
Pat gave me $40 bucks to buy something embarrassing for the loser to wear from vendor row on Saturday. Since I was sick on Saturday and worked on Sunday, I never got the chance. I ended up pulling out one of my "I (heart) MX Boys" tees for the loser to wear. Cam happily stepped up to the plate and wore that shirt while working at the warehouse on Monday when they took everything back to Toyota!
Make sure you check out Glen Helen on TV!

Glen Helen Raceway Park, San Bernardino, California – AMA Motocross Championship – Saturday, Sept. 15, 9 pm (SPEED)

Glen Helen Raceway Park, San Bernardino, California – AMA Motocross Lites Championship – Tuesday, Sept. 18, 3 pm (SPEED)

Glen Helen Raceway Park, San Bernardino, California – AMA Motocross Championship – Tuesday, Sept. 18, 9 pm (SPEED)

Glen Helen Raceway Park, San Bernardino, California – AMA Motocross Lites Championship – Tuesday, Sept. 18, 10 pm (SPEED)

Glen Helen Raceway Park, San Bernardino, California – AMA Motocross Championship – Thursday, Sept. 20, 3 am (SPEED)

Glen Helen Raceway Park, San Bernardino, California – AMA Motocross Lites Championship – Thursday, Sept. 20, 4 am (SPEED)

Here's Weege: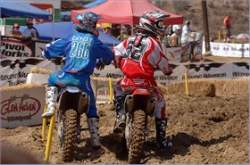 The Hahn brothers.
photo: Carl Stone
Don't forget that the Air Nautiques/AMA Amateur Nationals from Loretta Lynn's will air on Versus again this year, with a full hour of coverage debuting Sunday, September 30th at 4:00 p.m., and repeating Wednesday, October 3rd at 3:00 p.m., and Thursday October 4th at 4:00 p.m.. Now that you know
Stroupe
,
Izzi
and
Canard
have arrived, see how they got there with exclusive in-depth profiles and interviews with all three—as well as future superstar
Adam Cianciarulo
, Women's Champion
Tarah Gieger
and all-time LL's champ
Kevin Walker
.
Twenty years ago, the Motocross des Nations was held in the U.S. for the first time at the legendary
Unadilla
Valley Sports Center in New Berlin, NY. The race is back in the States this year, but it's coming to
Budds Creek
instead of `Dilla. But that track still rages on, with the Can-Am GNCC Series rolling in this weekend. After
David Knight
's DNF at the last GNCC race in Pennsylvania,
Barry Hawk
is now right on his heels in the points with just four "markers" between them.
Unadilla
always draws a gigantic crowd for the GNCC, as the 2005 and 2006 events there are the two biggest GNCCs ever. With good weather forecasted for this weekend, there is a chance the race will draw 2000 riders. Who will be first overall? Knight thinks he can be--check out the
5 minutes
with we posted with him earlier today.
And
Paul Carpenter
also had a great year: 7th World SXGP, 10th AMA SX and 1st Canadian National MX Championship (first American to win the title since 2000)—all in his rookie season on big bikes. What's he doing next year? He'll be riding for a private team called Atomic and he'll be on Hondas with MDK motors and Kayaba suspension. He'll be competing in both the AMA Supercross and AMA Toyota Motocross Championships in 2008.
Here's some feedback from some of our online features this past week.

Dear Racer X,
Well, I must have pissed someone off there. I was #16 in 1987 and finished second at a few national's and almost won a national that year in South Carolina. You guys ran a bunch of #16 riders and for some reason left me out of the Number Cruncher. You even ran a quad guy in the article, so there must have been room left. I shouldn't say anything, but after racing the nationals for 13 years and not see my name added to the list of rider that had #16 on the AMA circuit kind of hurts. Can you tell me why I wasn't added to the list? It's almost like I never raced.
Disappointed,
Larry Brooks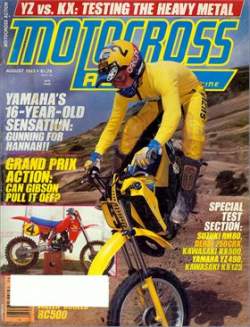 Here's Larry Brooks on the cover of the August 1983 MXA.
Larry, I promise you that we did not miss you on purpose—in 1987 I was rooting for you because you were riding a privateer Honda, wearing really cool blue AXO gear with the Scott Venturi facemask, and beating a lot of factory guys every weekend! It's impossible for Andy to include every #16 ever, and when we couldn't find a photo of you from that year (I was still in college and didn't make it to many races) we moved on to the next set of guys. But how about this as a make-up call? We will do a Larry Brooks Number Cruncher and do every number you ever wore—from the #2 on the R&D Racing Suzukis at Ponca City to the #230 you were running as top privateer in '91, and even, what, 911 or 957 in 1985 on that Honda support ride? Again, sorry for the oversight. --DC

I just read the Bench Racing Ammo on Langston's gear, and it made me think of Larry Ward in 1990. I know he wore Answer, JT, and Fox gear at different times during the season, as well as Smith and Oakley goggles (I believe JT even wanted him to wear their goggles at one point). Was there perhaps another company involved? Yoko maybe? Then, the following year he wore that horrible Taichi gear that Chicken and JMB had. If we came up with a list of ugliest riding gear, that stuff would be right near the top. I'd rather wear the THQ gear from MX Unleashed!
Brian Godwin
Des Moines, IA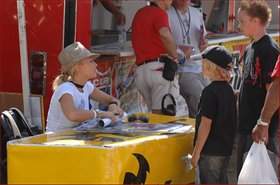 Vote for Miss Motocross!
photo: Carl Stone
It's time to vote on the final round of the Maxim 2008 Hometown Hotties competition and Miss Leticia Cline needs your votes again! This time it's really easy. All you have to do is log onto www.maximonline.com and click on the Hotties page, and choose Leticia!

And speaking of Leticia, here are some of her #1 fan Hammertime's favorites on his laptop:

www.leticiacline.com
www.myspace.com/leticiacline

Oh, you may want to check out this brand new Racer X Film by Simon Cudby featuring 2007 AMA Motocross champion Grant Langston, running the red number plate and numero uno!

And this just in: OTSFF has teamed with Biloxi, MS, motorcycle dealer Suzuki City for an assault on the AMA Supercross East Lites series this winter with Jimmy Albertson, Willy Browning, Freddy Karrle, Tyler Medaglia, and Justin Sipes. Read the press release.

Finally, Andy Donahue just sent us this:

If you're not busy September 23, check out the fundraiser for Ogio's Jason Fischer and the Slednecks 10 video premier being held at The Hotel/Elevate.
155 W 200 S
Salt Lake City, UT 84101
Please help with donating product to auction off. Proceeds will go directly to Fisch's recovery fund.
Donations can be sent to:
Jason Fischer Recovery Fund
23623 N Scottsdale Road Suite D-3420
Scottsdale, AZ 85255
Or credit card donations can be phoned in here: 480-276-1131.

This just in: Clint Bowyer just took the pole position for Sunday's Nextel Cup race in New Hampshire--which is the first race for the Chase for the Cup. Good luck 07!

Okay, that's it for Racerhead—but that's a lot! Okay, time to start praying for good weather and time to focus on the Motocross of Nations! Thanks for reading, watch us all next week on Motocross.com and Racer X Films, and see you in the beer tent.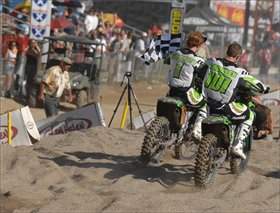 That's sportsmanship!
photo: Carl Stone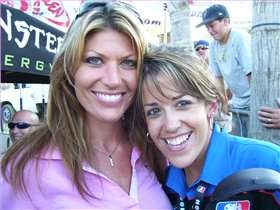 Erin Bates and Karen Myron
photo: Courtesy of Myron