Welcome to the Shift Number Cruncher. Most of the coolest things we experience in our lives occur during the 365-day span we spend being 16. Do you remember what it was like being 16? Remember the first time you cruised Main Street and just waved at the cops? Most of us riders were getting on 125s and the only other things as cool as that was the way girls began looking in the pits. We actually dedicate this number to a couple of things. For starters, Monster Energy/Pro Circuit Kawasaki's Austin Stroupe has been a revelation since turning pro after Loretta's. In the six outdoor national motos he raced in 2007, he placed in the top five three out of six times, including two runner-up finishes. That's pretty salty considering this year's stacked Lites division, and he is only 16 years old. Secondly, Grant Langston won the championship in the Motocross class with a 16-point lead. With that, we hunted down some pretty sweet 16s. Enjoy.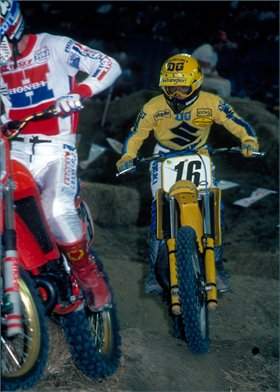 Warren Reid
photo: Dick Miller Archives
Here's some old-school for you. Check out
Warren Reid
's thousand-yard stare running 16 back in the day. Here he chases David Bailey in what we believe to be the 1982 SX season. Warren was another Southern California hotshoe that eventually worked all the way up to a Honda factory ride.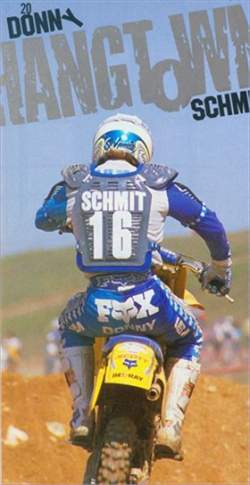 Donny Schmit
Check out this old school ad
Fox Racing
ran of
Donny Schmit
. The gear those guys put out during this timeframe was some of my all-time favorite. Nobody has ever made silver/gray and blue look so bad ass. Schmit always had one of those sick Serrano paint jobs as well. Schmit won three outdoor nationals in his career, including two in a row at his hometown race at
Millville
.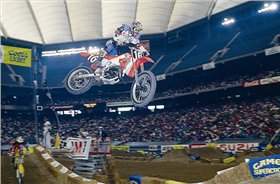 Doug Henry
photo: Courtesy of Moto Verte
1993 was the beginning of
Jeremy McGrath
's "Showtime" and also marked the official arrival of Doug Henry on his #16 factory Honda. Team Honda took a chance on the wild rider from Connecticut, but in the next two years Doug would deliver consecutive outdoor titles and a divisional SX championship.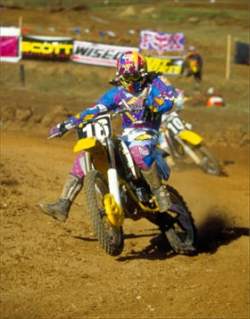 Steve Lamson
photo: Fran Kuhn
Steve "Serpico" Lamson
was having a tough go of it during this portion of his career. He broke his leg at the beginning of the 1992 season but made a comeback riding a wicked-fast RM125. He had already been around quite a bit at this point and it's hard to believe that it would still be three years before he would fully hit his stride. When he was finally through, the scoreboard read 21 125cc outdoor national victories. He is still fourth on the all-time 125cc win list.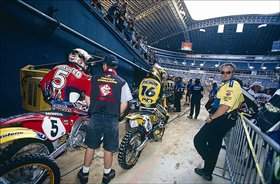 Mickael Pichon
photo: Courtesy of Moto Verte
OK, his Dad didn't do him any favors, but
Mickael Pichon
's riding was phenomenal. Through consecutive east coast SX titles, his highlight had to be eating it so hard at Atlanta that his, survey says - goggles flew off!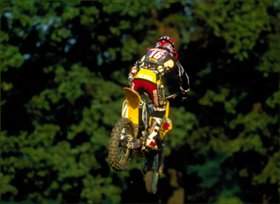 Greg Albertyn
photo: Fran Kuhn
The story of
Greg Albertyn
's 1996 season was reminiscent to the ominous speech Al Davis used to give his defensive line. It read, "The quarterback will go down, and he will go down hard." Substitute #16 with quarterback and you have the three-time world champ's 1996 season in a nutshell.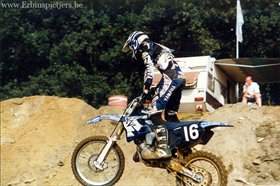 David Vuillemin
photo: Courtesy of Daniele Sinatra
DV16? That's right, one of our European Cruncher fans sent us this jewel of
Le Cobra
back when he was more like Le Garter Snake. Pretty sure that is an aluminum gas tank pictured here.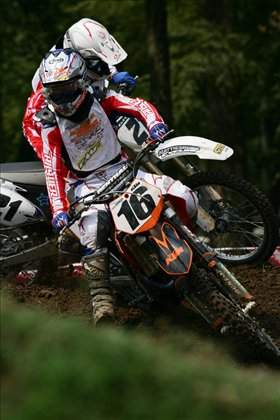 photo: Simon Cudby
Here we have one half of the Wharton brothers.
Tyler
ran the sixteen in the Four Stroke class at Loretta's this year, where he took the title. He had the Motocross A Pro Sport class handled with a 1-1 going onto the final moto where he suffered a mechanical. He and his brother, Blake, will soon be on the national scene doing damage.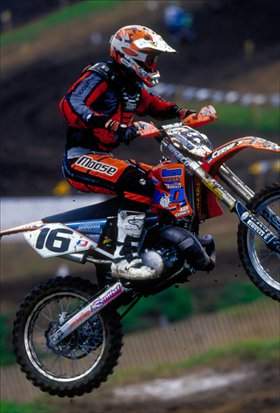 photo: Simon Cudby
John Dowd
is one of the coolest stories in modern motocross history. It's actually kind of a legend, I suppose. He didn't start racing till he was, like, 30 and still managed to beat all of the heroes of his era, including Jeremy McGrath and
Ricky Carmichael
. He can still grip it and rip it and will probably hold on to AMA permanent #16 till he's 50.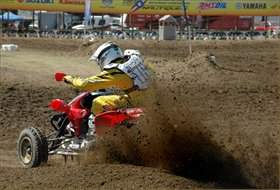 Jeremy Lawson
photo: Jenn Sheppard
I'm going to keep running an ATV guy till I lure Pingree out of his nice guy closet. Just kidding. The ATV stuff is actually blowing up pretty big right now. We leaned on the latest "F.N.G." in the office, Jenn Sheppard, for a little ATV info.
"Jeremy Lawson is a soft-spoken Kentucky kid who recently hauled his Factory Honda TRX450R down to Live Oak, Florida, where he lives and trains with Walsh Race Craft. Jeremy took the first professional win of his career in 2007 and finished second overall in the 2007 AMA Pro ATV Championship series."
Other #16 stuff
-Keith "Bones" Bowen ran it in 1991
-Doug Dubach was national #16 in 1989
-Jo Jo Keller held the number in 1986
-Rex Staten raced with it way back in 1978
-Casey Johnson wore it riding for Yamaha of Troy
-Age of James Stewart and Robbie Reynard winning their first nationals.
-Kevin Windham is 16th on the all-time supercross/motocross win list
-Career win total of Johnny O'Mara and Guy Cooper
-Number of 500cc outdoor wins for Pierre Karsmakers and "Bad" Brad Lackey
-Jean-Michel Bayle won 16 career supercrosses
-Jeff Emig won 16 250cc outdoor nationals
-The Chase for the Nextel Cup begins September 16th.
-Marty Tripes was #16 in the 1974 Inter-AMA series on a 250cc Husqvarna
-16 rounds in the AMA Supercross series
-Micky Kessler wore it in Trans-AMA 1976 250cc Support
-Danny LaPorte was #16 in the 1977 125cc USGP at Mid-Ohio
-Ricky Carmichael has 16 AMA #1 plates in his trophy room
That's all, folks. We realize there are other famous #16's that we didn't cover. Send me some of your favorites to andy@racerxill.com and we'll try to post them up in the Redux.