Chaos A.D.
Disorder unleashed
Starting to berm
Starting to launch
Silence means death
Stand on your feet
Inner fear
Your worst enemy
Hello, everyone, and welcome to the Rev Up. Before we get going here let's all stand up and give the outdoor nationals a round of applause. (YEW!!!) The 2007 AMA Toyota Motocross Championship presented by FMF was simply as good as any of us could have hoped for. Five different winners in the AMA Motocross class, five instances of James vs. Ricky, and the BT and RV show came right at us throughout the 12 race series. Every single moto was a fair-and-square opportunity for the riders to show the world what they had. The boys were going for it with each drop of the gate and it kept the t-shirts swinging every single lap. Typically the season kind of dies off a little after the last pyrotechnic explodes at the Las Vegas supercross. Not anymore, folks. It's funny, a year or so ago an "insider" told me the outdoor nationals would be dead by 2008. I thought about that guy on my way home from RedBud this year. Yes, supercross has grown into a beautiful animal, but there is so much more to the season when it's through. Oh yes, there is copious amount of drama after the light goes down in the stadiums. In my opinion that's when the real shit goes down. Let's call it Chaos A.D. and let's go back and run through what was simply an astonishing summer.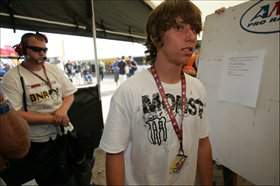 338 had a lot of fight in him at Hangtown, but it faded.
It all started with a fist fight. When RV Park and
J-Law
dropped the bikes and threw down at
Hangtown
you kind of got a sense that we were in for quite a summer! And so it began.
Hangtown
was another barn burner with Carmichael and Stewart riding like the Gods they are. They brought the NorCal faithful to the fence lines and kept them there. Accompanying the war assembly was the emergence of another almost equally intense match up between Villopoto and Ben Townley.
The boys carried the conflict to High Point for a gorgeous four motos. Chaos all around on this Memorial Day weekend. This is where RC showed the world why he is simply the baddest son of a bitch to ever throw a leg over. Ole boy came from way back in moto one, brought out the fishing pole and reeled in the fastest rider he has ever faced. He was leaving it pinned off the finish line and sailing it out 100-feet to the flats. High Point was a huge showing for Josh Grant as well. In moto one Villopoto was catching him, but he grit his teeth and dropped the hammer all the way to the finish line.
On to the sands of
Southwick
and the green valley of
Budds Creek
where RC ate Stewart's roost for the better portion of four motos, but still came away with both wins. Nutty stuff going down at
Southwick
. Remember Dungey and Grant smashing frames, fourth-gear pinned? How about RV going berserk down the hills? Then at
Budds Creek
RC just about ended his summer when he clipped the hay bale on the infield table. Good thing he saved it, otherwise we never would have got to see what I will call the most astonishing pass ever. It was a whole moto in the making when he somehow shifted his weight at the last minute, cracked the throttle to the stops, squared the turn, and left a black mark around the inside of Stewart. No way he pulled that off. Pure chaos.
Then came that glorious day at RedBud. Hands down, the best outdoor national I've ever been to. Perfect track met perfect weather and a gigantic crowd was there to take it in. Dungey went down really, really hard. James rode his butt off and just about had RC handled, while Alessi finally showed up. This was the race where Villopoto first displayed his now patented mid-race charge. He rode behind Townley till the cross flags, both of them absolutely flying, then just goes, "oh the hell with it, I think I'll just drop two seconds a lap and gap this guy." Dude's incredible!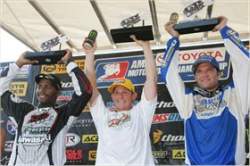 Riding the couch is better than this?
Chaos arrived in a big way at
Unadilla
when
Bubba
got TKO'd in practice for the second time in as many years. All the sudden the championship was blown wide open – in both classes because RV blew a radiator. Ah, the plot thickens.
So, they headed to the Rockies for a huge dust up. It was a race that anybody could have won, then in the end a 70 percent James Stewart persevered. The Millsaps camp is still scratching their heads after that one. #800 makes it clear that he is up front to stay.
The championship would get decided the next weekend at Washougal. Hard to imagine saying that with four rounds remaining, but with #7 blew out a knee and Grant Langston suddenly became a house of fire. Think about it; Grant never lost for the rest of the season (RC doesn't count) after Washougal. He got his 2008 YZ450F at Colorado, got it dialed at Washougal, and when Stewart went down, Grant got gnarly. How about RV Park's windmill-style crash in moto two of the Lites? That was sketch.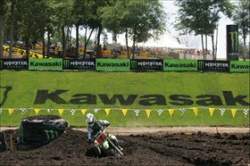 RedBud was beautiful, but RV's charge was ugly.
Not much chaos at
Millville
save for DV12 making like a set of railroad tracks for the 450cc express. Man, he got punished. Did we see Ricky ride his last national? How 'bout him giving us one last swap through the whoops? Only he and Chuck Norris could have saved that one.
Chaos was back in a big way for Steel City. Alessi showed up ready to blow up, while Windham and Zulu had air traffic control issues. The event signified the arrival of Austin Stroupe and suffice it to say, he was unbelievably fast. It was also the beginning of the end for BT101.
Texas had everyone nervous. Would the hurricane hit? Was the track a cow pasture? Would people make a wrong turn and run into the Hewitt family? Not that one, the other one. None of the above. It was a grand weekend of racing enjoyed by a strong contingent of fans. Highlights included Stroupe somehow passing Hepler on the outside of the whoop/hoop-de-doo section. How did he do that? They were two feet taller out there…wow. Grant all but wraps up the title.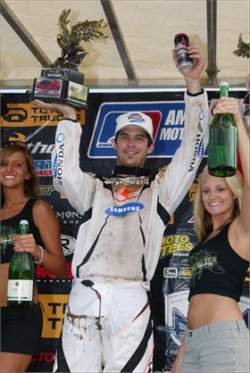 Thanks for the memories, Kevin.
Finally
Glen Helen
. Seeing the aerial shots of that track made it look like something out of Dr. Seuss' worst nightmares. Seriously, man. Tad heavy on the "let's really test the guys" effort. Full blown four-alarm chaos. The track design did its job. It separated the men from the boys, which meant nobody was beating Langston and RV1, except
Kevin Windham
and Ben Townley, which was kind of poetic justice for Ben's stellar season and KW's strong career. That was probably the last time we'll see #14 make everyone look like novices. Thank you Kevin, you're one of the all-time greats.
Well, that was just about it in a nut shell. It was a series that we will never forget. 20 years from now we'll be sitting on a cooler talking about the summer we saw #4 and #7 doing the man dance for the last time. How about seeing the first-ever live internet broadcast? Pretty neat, huh? Never mind the fact that we got to see complete pre- and post-race coverage where Wes and Weege put forth Pulitzer-worthy efforts. The chaos after the supercross series was an immaculate buffet that tens of thousands stood on their feet and devoured all summer. Just wait till next year. BT101 and Ivan on Hondas, Langston with a red plate, the return of Bubba, and a snarling pack of Lites contestants. The nationals are dead, huh? Yeah, right.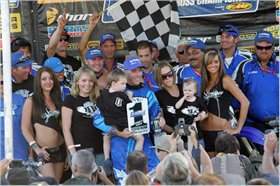 Good work, Grant.
Thanks for reading, see you next week.