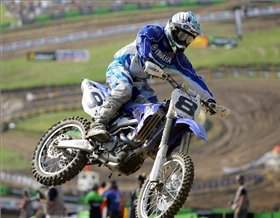 photo: Steve Bruhn

Welcome to the Shift Number Cruncher. When we started this band all we needed, needed was a laugh, years gone by I'd say we've kicked some… Oh, excuse me, in lieu of this week's number I was taken back to these decadent lyrics of Motley Crue. We knew a time would come when we would repeat a number we have already crunched and after the events of last weekend's race at Steel City, we thought we would dedicate this week's column to #8.
Something occurred to me while I watched Mike Alessi, Grant Langston, and Kevin Windham dance inside the six-sided ring of fire in that glorious second moto. The tie that binds between all three riders is the magnificent number eight. GL carried it on the charge to victory, Kevin wore it in 1998, and Alessi is of course #8… hundred. That is what got the gears churning and, before long, I had a pretty cool gaggle of correlation to numeral eight. Before we get rolling, press rewind and check out the one we did previously right here.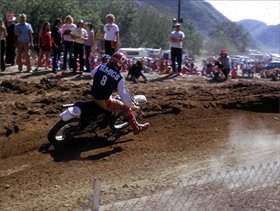 Gary Semics
photo: Dick Miller Archives
Let's kick start your heart with a little old school, shall we? Here we have a really cool shot of
Gary Semics
. Check out the black, left-side straight pipe! Can't you almost hear that heavy, drummed-braked beast as he notches this loamy right hander? Gary won three 500cc nationals between 1974 and '76, he won the '75 500cc SX title, and he rode for Team USA in the late 1970s. Oh, and he can still ride faster than most of you reading this!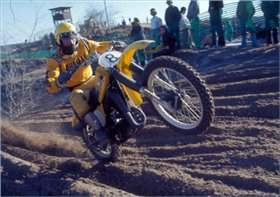 Rick Burgett
photo: Dick Miller Archives
Here we have 1978 500cc National Champion,
Rick Burgett
hard on the gas on a #8 Yamaha. Number eight….Yamaha…national champion…hmmm.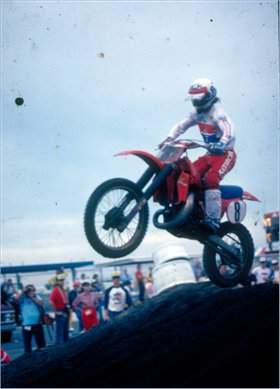 Jim Gibson
photo: Dick Miller Archives
We had a tough time identifying this one. The gators and short stocky stature offer hints of one Danny "Magoo" Chandler, then I had thoughts of maybe Steve Wise, but I knew it wasn't those guys. Thus, we had to go to the Captain. DC can identify guys like this in an instant. Alas, it was
Jim Gibson
. He usually knows what stickers they had on their helmet and what color Gatorade they drank that day too.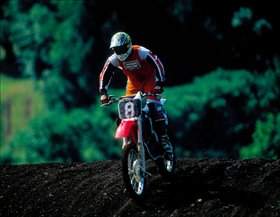 DC
photo: Racer X Archives
This is
Davey Coombs
running the eight while putting in some laps back in back in 1997. That is the first year Shift made riding gear coincidentally. Davey also placed 8th in the 125 class at the '85 Daytona Supercross, then he thought college was a better option.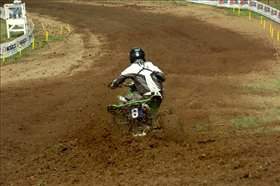 Jason Luburgh
photo: Jenn Sheppard
Steel City
was also unique in that it hosted the first ever Pro ATV Open on Saturday. And you know what? I thought it was pretty freakin' rad! Those guys haul serious ass and several were hucking the sketchy uphill triple-double-rhythm section. Could have been the beginning of something really cool.
Jason Luburgh
was out there running #8 and came in 13th.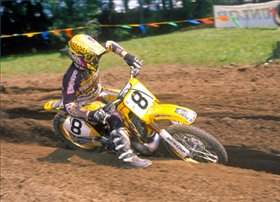 Greg Albertyn
photo: Steve Middlesworth
Two of the more popular questions being asked this week were, "When was the last time we have seen a three-rider battle for the lead in the big boys' class?" And "When is the last time we have seen five riders win in the premiere class in the outdoor nationals?" Ok, check this out: The answer to both of those was the year this man with the immaculate elbow positioning,
Greg Albertyn
, the three-time FIM World Champion who won the 1999 250cc AMA Motocross Championship. He did it wearing #8 as well. Pretty cool, huh?
If you are one of the first five readers who know who won 250cc nationals in 1999, Shift will hook you up with something sweet. Send your guesses to
andy@racerxill.com
and I'll make sure you get dialed if you guess correctly.
It's been a while since I've gone all NASCAR on you but with #8 being the order of the day, we have to give a nod to the turmoil surrounding the biggest proprietor of the digit of all-time. When Jr. up and decided to leave DEI (Dale Earnhardt Incorporated) at the end of the 2007 it sent shock waves through the NASCAR community. A gigantic bidding war broke out, which Rick Hendrick won, but it was Dale's old boss that ended up having the last word. You think motocross guys are particular about their numbers? Consider NASCAR has a 72 million-count fan base, of which about 35 percent are Dale Earnhardt fans to the bone. On any given weekend at Talladega there are around 50,000 red #8 t-shirts and hats. There are also about half as many #8 tattoos. Well, those cats are going to have to buy some new gear and hit up the parlor because Teresa told Hendrick Motorsports and Dale Jr. that the #8 is staying right where it began at D.E.I. This was a bitter pill for Jr. to swallow as it was not only the number his Granddaddy raced with, it is virtually his entire identity. Nothing like a step Mom scorned, huh? Right now it looks like
Ricky Carmichael
's driving coach, Mark Martin, and Aric Amirola will share the number in 2008.