Between the Motos: Kristen Oehlhof
Kristen Oehlhof is a lifelong motorcycling enthusiast, as well as privateer racer Joe Oehlhof's better half. Kristen manages Competitive Edge Raceway, and she also helps out with the Women Motocross/Supercross Foundation, and that was the reason for today's Between the Motos interview.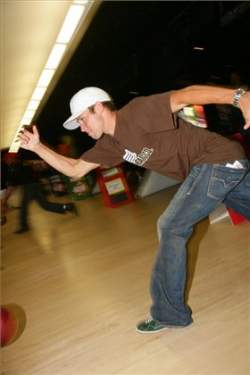 Come bowl with the stars at Motobowl.

photo: Simon Cudby

Racer X: Kristen, it's time for another MotoBowl, which means the summer motocross season is almost over.
Kristen Oehlhof: Yeah, it's crazy. It kind of sneaks up on us every year. This is the fourth annual MotoBowl we put on, and every year we've had success and it keeps growing and growing. So it's way more than we ever anticipated, and we're very happy to be a part of it and bring the industry to the fans.
I know a lot of people do different fundraisers to support the industry, but I have to say, this is one of my favorite events, and it's not because I'm like a 140-bowler, but because it's a real neat environment and a great deal of riders show up. And maybe partly because it's the end of the season and everyone is really relaxed and it's a lot of fun.
It is. The first year we started doing it we had to basically pull teeth from the guys, and now they're calling us wanting to be a part of it. Like you said, it's a really fun atmosphere for everybody. The fans get one-on-one with the riders and are able to hang out and take pictures and get autographs.
And golfing is a lot of fun, if you're a golfer. Otherwise it's like you say hi and then you see them in five hours.
It's funny, when we ask the guys about the Motobowl, the first comment out of everyone is "Well I suck at bowling." I say it doesn't matter, it's just being a part of the whole atmosphere, hanging out and having fun.
As far as you can recall, which motocross-industry folk know how to bowl?
If I recall correctly, I think Rick Johnson has showed up the past few years with a specialized bowling shirt he had made.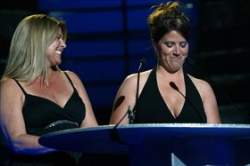 Kristen Oehlhof (right) is the driving force behind Motobowl.

photo: Steve Bruhn

He's like Jesus in The Big Lebowski!
He is! It's kind of funny, some guys roll in ready to go, and other guys come in thinking that a gutter ball is good!
You should see Ryan Hughes bowl. His wrists are so messed up from racing that he actually shotputs the ball and he can't spin it in any way, shape or form. Watching him bowl is like watching someone with a cast try to kick a field goal. Beyond getting to see all the riders and get to bowl if you're lucky enough to win the bid, what are some other good reasons to come out to Motobowl?
It's a great experience because not only do you have the opportunity to bid on a bowling team with those celebrities, but the other part of it that's unique is the silent auction. And what we do is we have all kinds of sports memorabilia, tickets to local tracks, tickets to upcoming supercross events, the U.S. Open, etc. There's all kinds of events that we have that allows us to have not just a bowling atmosphere, but an auction where the fans have the opportunity to get some Kevin Windham gear and then have him autograph it for them. They really enjoy it because they get to see the riders up-close, because they normally don't have that chance.
Where does all the money raised through this event go?
What's unique about our foundation is we started it out to help out injured riders, and what we've been able to do is now we help out the entire industry of professional mechanics, riders—just anyone affiliated on that side of the industry. If they're out of town and get injured, we call the family members and ask if they can get a ride there. We will then help them out with travel expenses, rental cars—whatever it takes for the family to get there to the injured rider. Just the odds and ends things that they have to worry about, we enable them to worry about other things. It's an opportunity for the industry to help the industry. This year we were able to donate $10,000 to the Asterisk Mobile Medical Unit, which is the first time we've been able to do that, because the last few years we've only been able to donate $5,000. So our organization is growing, and we couldn't be more proud of that because we all volunteer the time to do it, and to now see where it's going is really rewarding.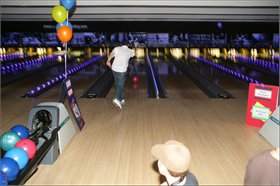 There's another gutter ball...

photo: Simon Cudby

Beside the Women's Motocross Foundation, I know there are some other people involved. First of all, where is Motobowl and who are some of the people who help put it together?
The Women's Motocross Foundation is kind of created to do just the fundraising within the industry. We have all kind of guys throughout the industry, as well as some skateboarders and extreme athletes that can kind of help us out. This year we've been able to pull in some guys within the industry, and we're trying to get some NHRA drag racers. We just want kind of an extreme-sports atmosphere. There will be a total of 76 celebrities, and I'd be lying if I told you I could read them all off to you.
And the internet doesn't have enough room.
Exactly. So anyone who wants to know who is a celebrity bowler can go online to our website, which is www.wmxf.org, or go on to eBay and search "Motobowl" and check out the latest auctions that are listed there and still available.
You realize that if both Erin Bates and Leticia Cline are there, you're going to have to call extra security, because I think Rupert X. Pellet is coming, and he's an equal opportunity stalker.
[Laughs] I've known him for quite a while, and I understand that totally.
That's right, he's from the same mean streets of Ohio that you and Joe are.
Good old Ohio! I think Erin might be able to take him; I think she's a little bit taller than him!
Is your father-in-law coming out, because I was lucky enough to get to bowl with him a couple years ago, although I let the whole team down because I didn't realize you were going to turn off the lights and make it "Rockin' Bowl." I was on a six-strike run, then I couldn't see, but I did get Lasik since then.
That might help!
I'm looking for a 150 game!
Yeah, unfortunately he won't be out this year. But that's a unique part that we do. We leave all the lights on and feed everyone dinner, but then when the game starts the lights go out and we start bowling!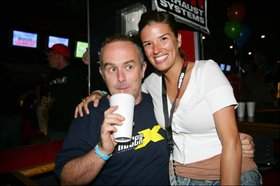 You can get Simon Cudby's autograph!

photo: Matt Ware

It seems like a Friday night in Junior High when everyone goes to the bowling alley. Only it's everyone from Tim Ferry to Grant Langston and Ryan Villopoto. So if people want directions, that's also on the website?
Yes, it's on our website. The event is happening on September 6 in Anaheim, right off the 91 freeway. It's happening at Concourse Bowling Alley, and you can get the information on our website. Doors open at 4:30 p.m., and we ask that anyone who is bowling be there between 5:30 and 6:30 p.m. We do feed everybody dinner, and that's part of them coming as well as anyone who comes in and pays at the door. So bowling starts at 7:00 p.m., and the silent auction goes on that whole time.
Sounds good, Kristen. I'll see you there.
Thanks, Davey.