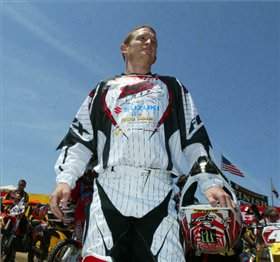 RC is going for 150
photo: Steve Bruhn
Contrary to what the ads said for the X Games, what we saw last Saturday night was not
Ricky Carmichael
's last race. He will be at
Millville
, MN, this weekend for what will be his last AMA Toyota Motocross National (and in September he will race in the 2007 Motocross of Nations, followed by a possible appearance at the Rockstar U.S. Open, and then for sure the Paris-Bercy Supercross in November). RC is 5-and-0 in his five outdoor races this year, and if he wins on Sunday, it will make it an even 150 race wins for his career. Amazing.
Carmichael looked like he was having a lot of fun last weekend in what appeared to be more of a supercross exhibition than an actual race. The X Games brought "Moto X" in for the first time, and while there were some holes here and there—who knew there was a "rabbit" in six-lap supercross races?—it was an entertaining program (and being live on ABC was pretty cool too). For an alternative look, check out Racer X Canada's Steve Matthes' X Games Observations.
So will Ricky have more competition this weekend in the form of James Stewart? People have been scratching their heads, wondering and worrying about whether or not the injured points leader will be at Millville. As I write this on Friday morning, heading to the Pittsburgh airport for a flight to Minneapolis, I still don't know.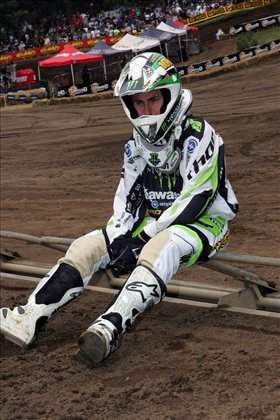 Ben Townley is sitting on a two-point lead over RV1
photo: Steve Bruhn
Either way, we now have a big points battle on our hands in AMA motocross, and the AMA Motocross Lites battle between
Ben Townley
and
Ryan Villopoto
is even tighter! It's been a good summer for American motocross, even if it is the GOAT's swan song. Will he go out with yet another win? Watch and listen live to the Racer X Motocross Show on Motocross.com and find out.
Switching gears, the Chad Reed interview Eric Johnson conducted on the eve of the X Games and posted here at Racer X Online has caused a small stir. The Australian superstar was vocal about his dislike of the AMA Toyota Motocross Championship, specifically the tracks. He said he was more comfortable on his couch this summer, enjoying the spoils of his racing success, though if he were out there, he would be winning….
Reed is a supercross-only guy now. He is sponsored by a Southern California casino that doesn't really care about the nationals but loves supercross—in large part because there are seven SX races within driving distance of their slot machines, and only one national (Glen Helen) is nearby. But Reed has long disdained American motocross. He has had little outdoor success here—one win back in 2002—and he put this team together with the intent of quitting on motocross. His agency (The Familie/WMG) found the perfect sponsor for him in the San Manuel Band of Mission Indians and their giant casino. He's the third-best supercross rider in the world, and if he can make $5 million for doing half the season, more power to him. He's also working on some of his own SX promotions in Australia, as well as a future entry into that country's major car-racing tour.
Reed has every right to pick and choose where and when he races, but I think it was unfair to insult the nationals—"the tracks are getting worse and worse"—when he hasn't actually been there this year. The one race he did,
Budds Creek
, admittedly had some problems with track prep, and that had more to do with the upcoming Motocross of Nations than anything else (and that was the only reason he went to Maryland: to get ready to ride for Team Australia). I have been to every national this year except for
Unadilla
and
Washougal
, and the races I saw all had excellent tracks, improved facilities, and very good events. But then again, I am a lifelong outdoor motocross fan, and my family runs two motocross races, so I'm seeing it from a whole different perspective.
Regardless, there's no doubt that the TV deal of the last two years really set outdoor motocross back. Races were delayed for weeks at a time until the Tour de France was over, and many people didn't have that channel on their system. But the NPG and the AMA and new network home Speed are all working hard to turn that around. We have started live internet coverage of selected races—don't forget to watch Millville on Sunday on www.motocross.com—and hope to have an even better TV deal soon. (I know all of the GPs are live—for a fee—online but they offer no purse money to the riders, using the funds instead for the TV package.)
But the biggest problem AMA Toyota Motocross faces right now is the burn-out of the athletes from the long SX/MX schedule. For the last five years the season has really started the first week in December, with World SX, and stretched through mid-October with the U.S. Open. We all need to make the schedule tighter—putting the December SX races on hold is a good start, and the national weekend schedule is in serious need of an overhaul—and help make the riders/mechanics/industry personnel a little better.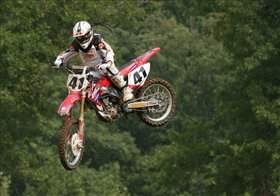 Trey Canard will be running #140 under the SoBe No Fear/Samsung Mobile Honda awning this weekend
photo: Simon Cudby
The other reality we face is that a few guys are making so much money that they can afford to only race half the season. Reed pretty much says he has enough money to do what he wants and enjoy a more relaxed lifestyle, and he's lucky for that. He's worked hard, given up a lot growing up, and has some truly great talent. He's just not interested in winning an AMA championship in motocross. He's made enough money in SX/MX over the last half-dozen years—Australia's fifth-highest-paid sportsman—to now set his own schedule now and leave the AMA Toyota Motocross out of his personal equation.
The nationals need to keep working hard. Supercross sets the pace in this sport, and we need to come up with ways to make the outdoor series more attractive, get more exposure for the guys who do care about winning championships, and keep improving the experience for the riders and fans. A ten-month schedule is ridiculous, but there are ways to fix it if everyone works together. (Starting on Memorial Day and ending in mid-August would add a month to the off-season.… It's just a thought.)
Chad Reed is not the first person to elect to ride supercross only, nor will he be the last. But the future of motocross in America needs a vibrant supercross series and outdoor national series, and the NPG and AMA need to deliver that to them. The hard work has already begun. If and when Chad ever comes back, I hope he sees the improvements and gives the fans more opportunity to see him.
Back to Millville. As I mentioned above, the first set of motos will be shown live via the Racer X Webcast on Motocross.com. That begins at 1 p.m. (Central time) and will pick up the live Speed TV feed. The second moto will be shown later that afternoon on Speed TV. We will also pick up the Racer X Webcast for the second motos for those of you who don't get Speed.
Also, look for Saturday's Racer X Pre-Race Show on Motocross.com, as soon as we get the practice highlights and interviews edited down and loaded up. Then on Monday morning, we will show you all of the highlights, exclusive interviews and more.
There will be two new faces out there this weekend: SoBe/Samsung Honda rider
Trey Canard
and Makita Suzuki's
Nico Izzi
. Both of these kids were highly impressive at Loretta Lynn's, along with Team Green's
Austin Stroupe
, who will sit out
Millville
and likely join the tour at
Steel City
(the same race where Carmichael came on board in 1996). How will these two teenage prospects do? It's anyone's guess.
Last year's graduates, Ryan Dungey and Josh Hill, have had decidedly different rookie seasons. Dungey won three SX mains and has been a steady contender outdoors on his Makita Suzuki; Hill did well in West Coast SX but has struggled to finish on a problematic Yamaha YZ250F. Dungey is no doubt hoping that Millville—basically his homecoming race—will be the site of his first AMA motocross win. Hill certainly has it in him, but he needs a boost of confidence in himself and his motorcycle.
Speaking of motorcycles, Mike Alessi—the latest Racer X cover subject—looked better on that KTM 450 at the X Games than he did on the 250 SXF in the real supercross tour. Next year he will be 450 full-time at Makita Suzuki, according to his dad. By the way, Millville also marked Mike's debut back in 2004—the much maligned "Believe the Hype" race.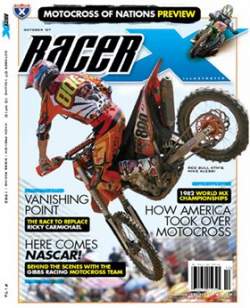 The new Racer X is out! Subscribe to a digital edition and you can read it right now!
Alessi is joining Makita Suzuki, and
Ivan Tedesco
leaving. Ivan might be leaving Texas too. The New Mexico native is thinking about moving to Tallahassee and basing himself out of Ricky's private track, where he would be able to ride more with future Honda teammates
Ben Townley
and
Davi Millsaps
(who is also working more and more with RC now). Tedesco wanted to ride the X Games, by the way, but Suzuki and
Roger DeCoster
apparently said no.
From what I'm hearing, Alessi will be released early and riding yellow by the Rockstar U.S. Open, and Tedesco will likewise be aboard red. And a press release just went out that David Vuillemin will be riding his new yellow bikes too.
Let me turn this over to our bronze-medal-winning columnist David "He Was a Great Supercross Rider" Pingree….
I made a trip through San Diego this week to visit some industry friends (and no, I wasn't wearing the medal—it was hanging off the rearview mirror in my pickup truck). I got some pretty good stories and gossip on my way through.
At Maxima, Ron "The Dogger" Lechien had just returned from an AHRMA vintage race in Lexington, Ohio. He was invited to race with an impressive list of other motocross legends: Ricky Johnson, Jimmy Weinert, Marty Smith, Donnie Hansen, Brad Lackey, Billy Liles, John DeSoto, Danny LaPorte, Gary Jones, Andy Stacy, Graham Noyce, Gary Semics, Mickey Kessler, Tommy Croft, Rick "Super Hunky" Sieman, Marty Tripes, Jeff Smith, Dick Mann, Mike Bell, Rex Staten, Mark Barnett, Ron Pomeroy and Steve Wise.
The Dogger says he was pissed, though, when RJ started cutting the track and eventually passed him in the same section. The event was obviously just for fun, but I guess some things never change—especially when the gate drops. It was cool to see the pics of Ron on an old CZ in the Vintage race and a 1982 CR250 in the post-vintage class. The "Epic Rides" crew was there filming so keep an eye out for that event on the tube.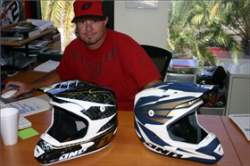 Danny Dobey with some new lids
photo: Bronze Dave
The Thor guys were all in Colorado in the middle of a ride that I really want to do someday: the Colorado 500.
Jeremy McGrath
and
Chad Reed
are leading big groups of riders through the Rocky Mountains outside of Denver. Wonder if it was a supercross-only ride.
One Industries is getting a little too big for their collective britches. The graphic/helmet/casual clothing company has outgrown their current building to the point where they have to pull pallets out of the warehouse in the morning just to make room to work. They also have some really cool looking new lids coming out next year.
I also dropped by Universal and KTM in Temecula. I wasn't sure what the KTM factory semi was going to look like, but apparently, Nick Wey will be joined by one other 450 rider along with Martin Davalos (in his second year of a two-year contract) and Billy Laninovich on 250Fs. The team will be called the MDK/KTM factory team. Then there is the MDK/KTM Lites team, in a separate semi, which will consist of Justin Brayton, Matt Goerke, Ryan Sipes and one other rider.
Missing from the KTM motocross teams is longtime sponsor Red Bull. MDK will partner with Rockstar Energy Drink as a sponsor while Red Bull is rumored to be moving their support to the factory Honda camp.
That's it from Ping, who's still making victory laps around Troy Lee Designs with his X Games hardware hanging from the mirror
Bobby Kiniry's 2007 outdoor season is over after a hard get-off in the second moto at Washougal, resulting in a broken collarbone and wrist for the New York native. With the Motosport Kawasaki team folding, that looks to be the last time Kiniry will be with the team.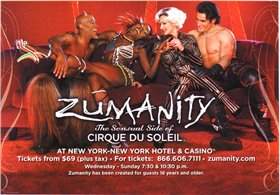 Those are Sidi boots he's wearing!
Check out the boots on the
Roger Federer
-looking model on the right—those are Sidi! "Sidi is big in Vegas!" wrote
Bill Berroth
, president of Moto Nation, when he showed this to us. Not sure what kind of boots "Pan" on the left is wearing, but here's betting those aren't Sidi.
Want to take a really cool trip down memory lane? Check out Tom White's bitchin' site. There is a slide show in there with some of the best images of motocross I have ever seen.
Canadian star Dusty Klatt has parted ways with Star Racing/Lucas Oil Yamaha—things just weren't right with that relationship, as the lack of results showed. That means a spot opened for the rest of the series, and they're filling it with Australian prospect Jake Moss. He will be riding the #903 bike at Steel City.
We were running out of Bench Racing Ammo ideas that involved Ricky Carmichael until Billy Ursic came up with one amazing stat—check it out.
RC is racing cars tonight in Florida, then jetting up to Millville in the morning for one last rider on the #4 Makita Suzuki in his AMA Motocross career.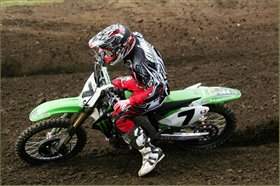 This just in: James is on his way to Minnesota!
photo: Steve Bruhn
Okay, just got word that
James Stewart
is on his way to
Millville
tomorrow. He's been on crutches for most of the last two weeks. Let's keep our fingers crossed. (And no, that did not come from anyone involved with the Monster Energy Kawasaki team.)
Racer X contributor and all-around good guy John Clark of Hammerhead Designs is a finalist in the Red Bull Illume contest, a worldwide action-sports photo competition. Over 8,000 photos were considered, and John's was one of 50 that made the final cut. It's a shot of AMA Supercross Champion and AMA Toyota Motocross points leader James Stewart, and it's the only motorsports photo in the final. So help a moto brother out—and check out some very cool photos.


Want to catch a glimpse of the track being put together for the 2008 Motocross of Nations? Moneyglass Demesne has a great name and, by the looks of it, great soil too. Check out this link. The track will be used for this weekend's Grand Prix race and next year's MXoN. The rack about 25 minutes from Belfast
Looking for an electric motocross bike?
How about an electric street bike?

Check out this cool 360-degree camera from the X Games!
Finally, sadly, our condolences go out to everyone at ASV. This week, a terrible swimming accident saw two close friends and co-workers, Chris Palmer and Ryan Reid, drown in the Pacific Ocean near the Huntington Beach Pier. They were among a group of five friends who jumped into the sea for a late-night swim. The tide and its undertow ended up having terrible consequences for them both. Godspeed to Chris and Ryan.
Thank you for reading Racerhead. See you at the races.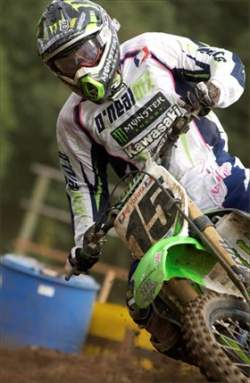 Tim Ferry is only seven points down...
photo: Jackie Mims