Bench Racing Ammo: RC's Losses
As much of the focus of this weekend's national will be on Ricky Carmichael breaking the 150-win mark in outdoor motocross, we've decided to look back at his career and highlight all of his losses. Throughout his astonishing career, Ricky Carmichael has only lost a total of 25 AMA Nationals, and below is a list of the winner of each of those races. If you're name is on this list, congratulations, because for one day you were able to top the Greatest of All-Time.

Race RC lost/Winner
1996 – 125cc
Steel City Kevin Windham
1997 - 125cc
High Point – Scott Sheak
Red Bud – Kevin Windham
Unadilla – Kevin Windham
Troy – Damon Huffman
Steel City – Kevin Windham
1998 – 125cc
Hangtown – Steve Lamson
Southwick – John Dowd
Broome-Tioga – John Dowd
Steel City – Robbie Reynard
1999 – 125cc
Budds Creek – Tallon Vohland
Washougal – Brock Sellards
Millville – Nick Wey
2000 – 250cc
Hangtown – David Vuillemin
High Point – David Vuillemin
Red Bud – Sebastien Tortelli
2001 – 250cc
Glen Helen – Tim Ferry
Hangtown – Sebastien Tortelli
High Point – David Vuillemin
Washougal – Kevin Windham
2002 – 250cc
Perfect season
2003 – 250cc
Unadilla – Kevin Windham
Washougal – Kevin Windham
2004 – 250cc
Perfect season
2005 – 250cc
Perfect season
2006 – AMA Motocross
Hangtown – James Stewart
Washougal – James Stewart
Glen Helen – James Stewart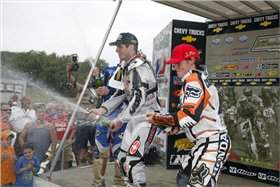 Windham put a stop to RC's streak at Unadilla in 2003
Add that up and you will find 13 different riders that were able to stop The GOAT during his 12-year outdoor career. Look closer and you'll see that only
Kevin Windham
and David Vuillemin were able to do it consecutively. Now, that's something to tell the grandkids about.