Welcome to the Shift Number Cruncher. With the 26th running of the AMA Air Nautiques Amateur National Motocross Championships getting underway this weekend, it's impossible for us not to dedicate this week's column to the two-six. And as per the norm with most of the digits we break down, a glaring association arose. As we began researching the number, we saw a huge number of Suzuki riders that have worn the number during moments in their careers. And wow, this number may have more ties to 125 SX championships than any motocross number in history. Please forgive me for the Coldplay reference, but this one is definitely called, "Yellow."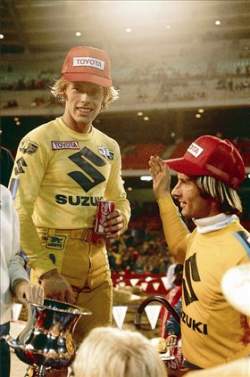 Kent Howerton
photo: Courtesy of Moto Verte
Hailing from Texas, "
The Rhinestone Cowboy
" stands as the 10th most winning rider in American motocross history. He won almost all of his titles on a Suzuki and earned number 26 for the 1983 season—when he rode a Kawasaki. Howerton took his last-ever AMA National that year (500cc class at Gatorback) wearing #26.
Jeff "The Chicken" Matiasevich
remains one of the most colorful riders in motocross history. He wore #26 during the 1989 season riding a Kawasaki and, after earning the '88 and '89 125 west SX titles, he would go on to win a 250 SX while wearing #20 in 1990.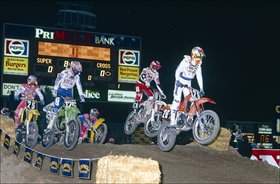 Ty Davis
photo: Courtesy of Moto Verte
After being let go by Team Suzuki,
Ty Davis
ran the 26 on his way to the 1990 125 West SX title on a privateer Honda. "Zip Ty" is one of the most versatile riders I have ever seen. A 125 SX champ, "King of the Mountain" at Mammoth, and an off-road legend, Davis is one bad dude.
Here we have another off-road legend in
Rodney Smith
. Smith has almost seen and done it all on a dirt bike: GPs, supercross and AMA motocross, GNCC, ISDE – you name it. Like Davis, "El Rod" is ranked among some of the most versatile riders to ever throw a leg over. He is also a long-time Suzuki rider and he wore #26 in 1991.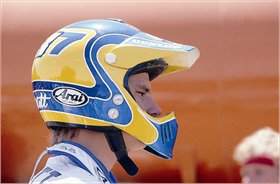 Willie Surratt
photo: Courtesy of Moto Verte
"Wild" Willie Surratt
is yet another 125 SX specialist that rode for factory Suzuki. Willie dominated the 1986 West Coast SX series, winning four rounds and the championship. He would later earn #26 for the '93 season. But way before that, the Valencia, CA native was a terror at Loretta Lynn's, winning titles in '83 and '84 before sinking a canoe and forever earning a place in the Loretta Lynn's Hall of Shame as "Willie Canoe."
Tallon Vohland has raced and won all over the world. And in case you've noticed a pattern here, he was at one time a factory Suzuki rider that won a supercross, (Houston 1991) and earned #26 (1992) but he wouldn't wear it: By then Tallon was headed to Europe for a long and successful career on the FIM World Championship circuit.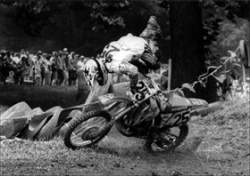 Todd DeHoop
photo: DC
When
Todd DeHoop
rode out on the Legend's Lap at
RedBud
it brought back some good memories and some not so good memories. I used to think he was the coolest running the factory RM125 on his way to the 1988 East Coast title. He even wore Gear Racewear like I did. Then I ended up racing him in the arenacross series in the late 90s and he took me out several times. That's okay, I got him back and we joke about it now. DeHoop earned #26 for the 1994 season. Check out this
Where Are They Now
we did on him a while ago.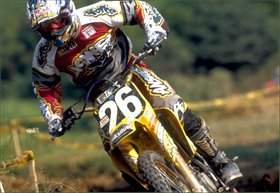 Scott Sheak
photo: Fran Kuhn
Scott Sheak
was a badass New Yorker that never got the right breaks at the right time. His crowning moment was winning the 1997
High Point
National for Team Honda, which was one year after he wore #26 on an RM125.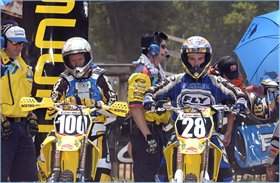 Buddy Antunez
photo: Steve Bruhn
Buddy Antunez
was a long-time factory Suzuki racer, winning three main events during the 1990 West Coast SX season. Although, he rode a Great Western Bank-sponsored KX250 in SX and a KX125 outdoors to earn #26 for the 1998 season. He is still the all-time arenacross main event winner. He is also the team manager for this guy…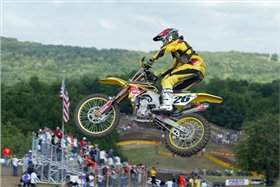 photo: Steve Bruhn
With so much history behind #26 and the color yellow it is only fitting that AMA permanent #26 belongs to Rockstar Suzuki's
Michael Byrne
. The Burner has yet to win in the premiere division but has been on the podium and has a lot of potential to stand on the steps again.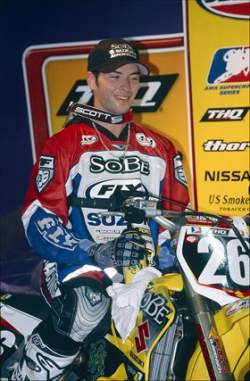 Branden Jesseman
photo: Courtesy of Moto Verte
The 2003 AMA 125cc East Region SX Champion was none other than
Branden Jesseman
of Fombell, PA. He wore the #26 to three wins on the Blimpie Suzuki, but when he took the number off to wear #1E at the Las Vegas East-West Shootout, he broke his thumb and began a four-year run of bad luck that lasted until he won the '07 Orlando SX on the #121 Motoworld Racing.com Yamaha.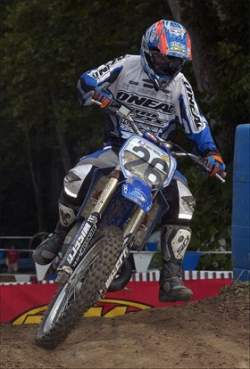 photo: Steve Bruhn
This longtime Suzuki rider is most often associated with #27—his permanent number that he wore once on the cover of
Racer X
—but he's been #26 a couple of times, too. But somehow,
NYK
never managed to win a 125 SX!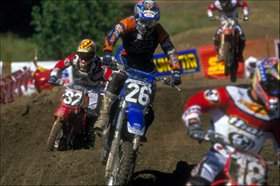 Stephane Roncada
photo: Fran Kuhn
And don't forget about yet another 125 SX champ/one-time Suzuki factory rider,
Stephane Roncada
. He wore the #26 to the 2000 AMA 125cc East Region SX Championship while riding for Yamaha of Troy, then would go on to ride for both Team Kawasaki and Team Suzuki. Roncada is retired now, but he remains one of our favorite guys of the last ten years.

Other #26 stats
-Factory Suzuki's Ricky Carmichael's career 125 outdoor win total
-Ron Lechien's all-time AMA win total (absolutely no Suzuki association, but notable)
-Team Suzuki team manager, Roger DeCoster's Trans AMA win total
Ok, that's all we have for you this week. If you can think of any current associations with #26 please send them to me at andy@racerxill.com.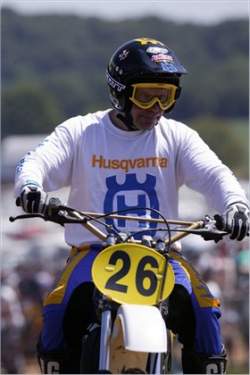 photo: Steve Bruhn