Where Are They Now: Todd DeHoop
November 10, 2006 10:33am
Michigan's Todd DeHoop is an American motocross success story. He began racing motorcycles when he old enough to walk and went on to have a pro career that will always remembered.
DeHoop had a stellar amateur career that peaked in 1985 with a win in the 250 A class at Loretta Lynn's. After eleven years aboard Yamaha machinery, he switched to the potent Suzuki RM125 and competed for the 125 East championship, coming up just short in '87 to Ron Tichenor and Keith Turpin. He would return a year later as a factory rider and win the title in 1988.
Todd's professional career came to a crossroads of sorts as he graduated to the premier supercross division and lost his factory status. His new contract was merely a support deal with virtually no safety net in the event that he struggled. He didn't have the best of year in 1989 and found himself on the budget chopping block at the conclusion of the racing season. "Nineteen-ninety through '92 were some tough years," Todd explains. "At one point, I found myself asking myself if I should keep racing."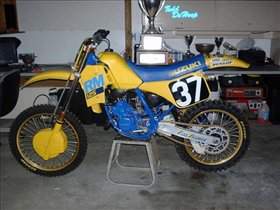 Todd still has his championship winning RM125
photo: Courtesy of DeHoop
Just when things were beginning to look bleak, opportunity came knocking. "At the end of the 1992 season I was talking to Jeff Stanton, asking him if he had any ideas on where I should look for a ride. Jeff put in a good work about me to Phil Alderton, and suddenly Honda of Troy was born."
Todd's career got a much-needed boost, and soon he was riding strong and putting in some impressive finishes. One of the highlights of this time period came at the muddy 1995 Dallas Supercross, where he pulled the holeshot and led more than half the race. Todd recalls, "I thought I had that one. I was way out in the lead, but I tensed up and stopped doubling a few things. Right then, Henry started tripling a few things and I faded to fifth."
Then Todd ran into another crossroads of sorts. He had lost the ability to run at the front of supercross races and began looking at the arenacross series. Meanwhile, Honda of Troy had grown exponentially, and with Todd looking for a ride for the arenacross series, he and Phil got together once again to form Yamaha of Troy.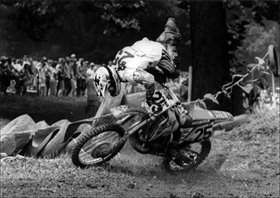 Dehoop flying over the bars of his Honda of Troy CR250
photo: DC
While Todd was not able to win the championship, the bullring circus of the rough-and-tumble arenacross tour fit his riding style and racing demeanor and he was able to make a decent living. DeHoop was one of the most aggressive arenacross riders ever. Take it from this writer when I tell you he wasn't afraid to knock some plastic off of your bike if it meant making the main or going home. Todd was a tough customer.
But as the story tends to go with motocross, a big injury was right around the corner, and with it came the end of his career. Todd shattered his leg at the Battle Creek Arenacross and decided to hang it up and focus on a different career and his family.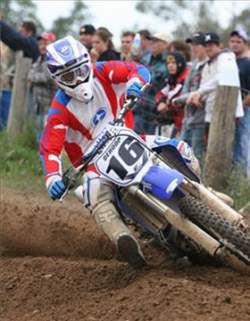 2006
photo: Courtesy of DeHoop
Today, Todd works at a truck parts company called Western Michigan Freight, where he does sales and warehousing. Todd says he likes his job. "I'm actually pretty good at sales," he says. "Never thought I would be into it, but it's pretty cool." Todd isn't just having success in the workplace; his home life has also grabbed a couple gears. He and his wife, Robyn, are the proud parents of two beautiful girls, Mariah and Kennedy. The five- and seven-year-olds keep him busy. When asked if the girls had their eye on dirt bikes, Todd laughed, "No way! They're into dance and girly-girl stuff. I have two little princesses, man."
It isn't all dance recitals quite yet for DeHoop, as he still keeps a couple bikes in the garage. "I've been taking karate classes with a buddy of mine to stay in shape," he explains. "We spar at the gym all the time. I can get on my bike and do 30-minute motos no problem now…. It's funny, about a month ago there was a big money race here at a local track and a bunch of the fast teenage kids were there. I went out and smoked them and they were all pissed at me! I just told them not to forget that the old man still has it."
Keep an eye out for Todd DeHoop at Loretta Lynn's 2007.