Welcome to Racerhead. Davey is flying to Denver as you read this, so I'm taking the controls of Racerhead this week for him. DC missed last week's race at 'Dilla due to a wedding, and now I'm returning the favor by skipping this weekend's Thunder Valley National to go to a wedding myself (and I have to go because my girlfriend said so. I go to 28 races in 29 weekends this year and now she expects me to go to a wedding with her? Boy am I whipped).
But since I'm not flying like DC today, I can do some writing—so here is Racerhead.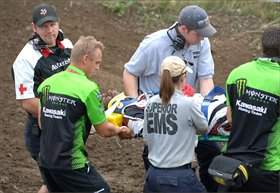 This was a very scary moment last Sunday
photo: Carl Stone
Even though
Ricky Carmichael
wasn't racing for the first time since 1996, things didn't seem that out of sorts Sunday morning at
Unadilla
. Everyone had prepared for this weekend.
James Stewart
was going to skip Saturday practice, allowing someone new to log the fastest lap in the AMA Motocross class (
Grant Langston
,
in this case), but everyone knew when Stewart hit the track on Sunday that he would quickly dominate the lap charts. And that's what he did, putting in the fastest lap of the session by only his third lap of the entire weekend. Carmichael was gone, and AMA Toyota Motocross was settling into, yes, a new beginning.
Then, all of a sudden, NPG announcer Rob Buydos yelled over the PA system: "James Stewart has gone down!" All of the team personnel that was watching practice from the announcer's tower quickly moved to one side to try to get a look at Stewart, who was moving but seemed to be in major pain. This was not what anyone had prepared for.
I ran down to the track to try to figure out what was going on—Stewart was already being attended to by the Asterisk crew and his Monster Kawasaki team. Knowing information would be hard to get, I drafted behind Erin Bates, since she seems to have some extra elements of persuasion that I can't match. We heard that Stewart hurt his back but did have movement and feeling throughout. But it was still very scary.
Practice was red-flagged, Stewart got a ride on a backboard, and then the day continued. Stewart's lap time would stand as the fastest of the session, but it didn't matter because he was soon being put into an ambulance (intense back pain is not something you take chances with). By now it was obvious that Stewart was out for the weekend, and the possibilities were endless.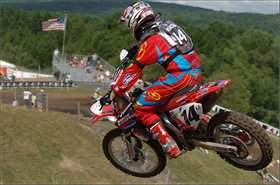 Props to K-Dub for stepping it up when needed
photo: Carl Stone
In fact, not knowing Stewart's condition at the time, it became realistic to think not just about this afternoon, but possibly the whole season. Riders like
Tim Ferry
,
Grant Langston
,
Andrew Short
and
Mike Alessi
could suddenly be thrust into National Championship contention. Speed TV producer
BJ Smith
did a quick check of the points, though, and everyone realized amazingly that Stewart had more than a 50-point lead over all of those riders (and even more amazingly, this meant Carmichael would still be the points leader at the end of the weekend!).
Now it appears Stewart is going to give this weekend's race in Lakewood a try, so the championship possibilities for everyone else may be iced. But for one weekend, the dream we've all had of watching five or six 450 riders evenly matched on speed and confidence battling for the win became a reality.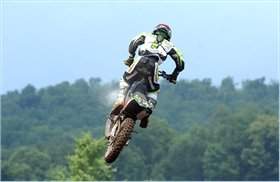 RV's bike ran out of antifreeze in Moto 1
photo: Carl Stone
The motocross gods were acting really strange at 'Dilla. The Lites class, which should have been the more predictable class for the weekend, saw points leader
Ryan Villopoto
crash twice and DNF the first moto when a rock damaged his cooling system.
Ben Townley
went from 20 points down to the points leader in one race, and riders who were supposed to be working their way back up to speed after big injuries—
Ryan Dungey
and
Broc Hepler
—finished second and third.
Then the 450 pack did their first-moto parade lap, and indeed Stewart and Carmichael were not a part of it. Then, for good measure, just as the riders started heading back to the gate after the parade lap, the skies opened and it started raining. Could it get any weirder?
Perhaps it's fitting in the end that Kevin Windham won the race. Windham had been in the doldrums ever since the first moto of the year at Hangtown (he finished fourth there and battled Ferry hard. He had been way off the pace ever since), and it looked like the end was near for Windham's motocross career. So on a crazy, unpredictable day, it makes sense that the guy who was supposed to be done wins the race!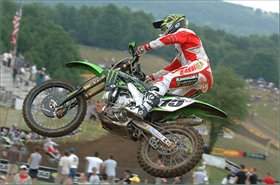 A Monster Energy Kawasaki rider still managed to win the second moto
photo: Carl Stone
It's tempting to think that Windham got motivated again as soon as Stewart and Carmichael were out, but we had interviewed him for the Racer X webcast on Saturday (before Stewart was out) and KW told us he was feeling better already. Here's a snip from the interview:
"I felt like, midway through the year, I started feeling a little burnt out," said Windham. "I'm just trying to find ways to keep this fun. I don't like the feeling that I've been suffering through. I have found ways to change things up and get a little more motivation back and find a way to charge through the rest of the season. But it kind of has that feeling to me like '02 did, when I crashed out and went through my retirement phase. I don't like that at all. I'm trying to be more proactive instead of reactive this time before getting myself to the official burnout stage."
To hear the whole thing, check out the archive of the Racer X webcast from Unadilla at www.live.motocross.com, and scroll to the 1:20 mark.
Windham, one of the most well-spoken riders to ever take to the AMA tour, summed it up again after he had won the race in the press conference, saying winning is awesome, but hanging out with his daughter on Father's day is awesome too (but Kevin was racing at Budds Creek instead).
Kevin still doesn't have a real answer to his 2008 question. By the end of the weekend he seemed to be leaning toward a partial schedule of the Nationals at least, perhaps like Carmichael has done.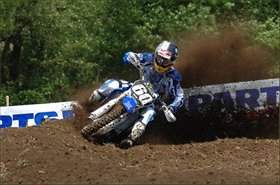 In his first moto back this season, Broc Hepler carded a third on his Factory Yamaha YZ250F
photo: Carl Stone
Then you've got that crazy Lites class. Just when it seemed like
Ryan Villopoto
had it all under control, trouble hit in that first moto, and now he and his teammate are tied for the points lead. Tied halfway through the series and riding on the same team. Can it get any closer?
Broc Hepler and Josh Hill were feeling racy at Unadilla, and they were factors up front, which surely was what Yamaha envisioned when they were offering those boys factory contracts a year ago. Check our 250 Words from Monday for more on that.
We had Jammin' Jimmy Weinert on the webcast Sunday, and we got to chatting about Jason Lawrence. Jimmy just couldn't stop himself from saying this:
"Jason Lawrence, he's a little radical. He has long hair, and we had long hair back then. I'm going to unleash it right now. Me and Bob Hannah, we talk back and forth. Bob said, 'Jimmy, I would love to train Jason Lawrence.' My first response was 'Bob, what are you, crazy?' But I see the same thing he does. It's a young Bob Hannah, without some of the craziness. Bob was very serious and focused, but very outspoken. He said he really wanted to work with Jason and asked me to talk to him. I did. Oh my Lord, if we could put it together, it would be incredible!"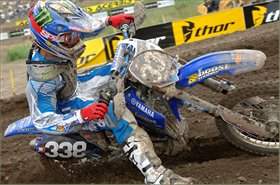 J-Law = Bob Hannah?
photo: Carl Stone
Yes, Jimmy is saying that Bob "Hurricane" Hannah himself wants to train
Jason Lawrence
. It sounds crazy, but then, the more you look at it, maybe it isn't. Jason has gotten a lot of press for being "radical," as the Jammer says, but I asked Jimmy if there were any radical riders like Jason back in the '70s.
"Yeah, like the top ten? Maybe the top 12!" he said.
Meanwhile, Ping broke on our Racer X Motocross Show that Roger DeCoster is talking to Lawrence about a spot on the Makita Suzuki team next year. With Suzuki comes not only DeCoster, but you would presume some influence from Carmichael. Could you imagine J-Law working with Hannah, DeCoster, and RC? That's Mount Rushmore right there!
Despite all of that, I think Lawrence is the perfect fit for his current team at Boost Mobile/Yamaha of Troy, and I wouldn't be surprised to see him stay there.
It seems early to think about supercross right in the middle of the AMA Toyota motocross tour, but Live Nation has announced some big news over the last few weeks regarding the Rockstar Energy Drink U.S. Open that should really make for a fun event. First, Chad Reed will be back competing for the first time since 2004, as shoulder ailments have forced him out for the last two years. As always, Reed will be a contender. Also, this week Live Nation released the track designs for Friday and Saturday night's events, along with some analysis from David "Mega Pumped" Vuillemin. Check out the track designs at http://www.ussx.com/track07.asp.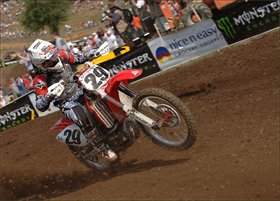 Shorty will be up front this weekend
photo: Carl Stone
One other big change to the event this year: the format is now essentially run-what-ya-brung. Riders can race 250Fs or 450s, and it should be quite a challenge picking one on a tight track like that.
Or maybe 250Fs are just as good on any track—even a fast one. Check out this letter:
Regarding the Sign of the (Lap) Times from Unadilla, I don't understand it…I don't understand why everybody makes a big deal of how fast and powerful a 450 is when it is clearly comparable to a 250F. It is almost sickening that RV51's best lap time at 'Dilla was just under three seconds faster than Shorty's. Obviously RC and JBS weren't there to dominate the charts like they normally do.
Here is my suggestion….why not have the Motocross class run the 250F's, and the Lites class run 125 2-strokes? This would also greatly help the amateur level as most people can't afford to have a 250F that can compete, but most people can get a 125 to zing pretty good. Something has to change…..
Brian Colegrove
Good point, Brian. Late into Saturday's qualifying, Villopoto had the fastest time of the day, and only in the waning moments did Langston beat that time on his YZ450F. Everyone in the tower was impressed by RV's speed, but then I asked out loud, "Yeah, but is a 250F really a disadvantage at all?"
Roger DeCoster himself then said, "It depends on the rider."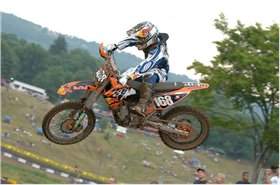 Red Bull KTM's Zach Osborne returned at 'dilla but didn't have the results he was hoping
photo: Carl Stone
You'll definitely want to check out Speed's coverage of this epic race at
Unadilla
. Here are broadcast times.
AMA Toyota Motocross Championship presented by FMF, Unadilla Valley Sports Center, New Berlin, New York – AMA Motocross Championships – Saturday, July 21, 8 pm (SPEED)
AMA Toyota Motocross Championship presented by FMF, Unadilla Valley Sports Center, New Berlin, New York – AMA Motocross Lites Championships –Tuesday, July 24, 3 pm (SPEED)
AMA Toyota Motocross Championship presented by FMF, Unadilla Valley Sports Center, New Berlin, New York – AMA Motocross Championships –Tuesday, July 24, 9 pm (SPEED)
AMA Toyota Motocross Championship presented by FMF, Unadilla Valley Sports Center, New Berlin, New York – AMA Motocross Lites Championships –Tuesday, July 24, 10 pm (SPEED)
AMA Toyota Motocross Championship presented by FMF, Unadilla Valley Sports Center, New Berlin, New York – AMA Motocross Championships – Wednesday, July 25, 3 pm (SPEED)
AMA Toyota Motocross Championship presented by FMF, Unadilla Valley Sports Center, New Berlin, New York – AMA Motocross Championships – Thursday, July 26, 3 am (SPEED)
AMA Toyota Motocross Championship presented by FMF, Unadilla Valley Sports Center, New Berlin, New York – AMA Motocross Lites Championships – Thursday, July 26, 4 am (SPEED)
Also this weekend, there is some big road race going on in California if you're interested. If so, keep your browser on www.roadracerx.com.
Here's something cool DC forwarded on: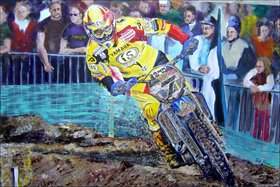 Now that's art!
Just finished my latest painting in the Motocross des Nations Collection for my Exhibition at
Budds Creek
MXDN. It's of 10 time World Champion
Stefan Everts
in his final race of his career at the 2006 Motocross des Nations Matterley Basin England. I've tried to capture Stefan's unique riding style, stood up railing around the berm on his Rinaldi Yamaha as he dominated both moto's.
Let me know what you think of it? Limited Edition prints will shortly be available through my website
www.robkinsey.com
.

Let's turn it over to Ping for a bit:
The Unadilla facility made a bunch of changes to their track this year. They leveled the start straight, made a huge staircase of step-ups across the back straightaway, and threw in a chicane and some whoops where the fast right-hand sweeper used to be. Some liked the changes while others didn't. The big mystery is still: What happened to all the topsoil? Check out pictures of this track from the early 1980s and you'll see what I mean.
I got stuck in the airport with a bunch of the Factory Connection guys and it looks like their team is finalized: Weimer, Grant, Reardon and Trey Canard will make up the squad next year. The Pro Circuit team is also sealed up with Villopoto, Stroupe, Metcalfe and French rider Christophe Pourcel.
Nick Wey has been in talks with the Joe Gibbs race team but it doesn't look good for the Michigan rider. His current team, MDK Racing, has him under contract for another year. They let David Vuillemin out of his deal, but they really want Nick to stay. The entire MDK program will be on KTMs next year, so at least Nick won't have to worry about kick-starting a bike for a while.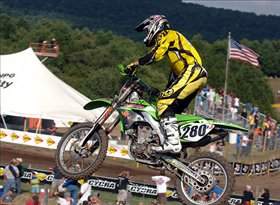 That's former Husky factory rider Damien Plotts
photo: Carl Stone
Team Tamer is done. The privateer Kawasaki team wasn't scheduled to race the nationals, but they decided to go for it at the last minute. All of the team riders were informed the week before
Unadilla
that the team would not attend any more races after that weekend. No word on whether or not they will be back for supercross next year.
I'm headed up into the mountains for a little vacation. If you need to get in touch with me, well, that's just too bad. Where I'm going there is no cell service, no television, and no internet. Can you imagine that such a place still exists?
Thanks, Ping.
Also, DC checked in with Mike Gosselaar to see how his first "off-weekend" went, and the Makita Suzuki mechanic for Ricky Carmichael was right there at Unadilla—only this time as a fan. With his two boys Chris and Drew racing, Mike and his wife, Cherie, flew across the country to cheer them on.
"I was going to show up in the pits halfway through the day, with my shirt off and a beer in my hand and say to the other mechanics, 'How's it going?' but I couldn't bring myself to do it," joked Gosselaar. As for asking his rider if there was any chance he might come back out, we couldn't get the question out before Goose laughed, "I know exactly what you're going to ask, and believe me, he's not coming back. He made a plan and his sticking to it, and I commend him for that."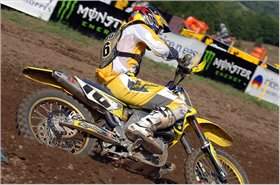 John Dowd showed up in NY and went 12-12 for 11th overall in the Motocross class
photo: Carl Stone
Hard to imagine, but we're just over one week away from Loretta Lynn's—in fact I heard some vehicles are already headed that way. By next weekend, the ranch will once again transform into Motocross City, and if you've never seen it, you really, really need to experience it once. I remember my days long before I worked in this industry, and people would ask me if I was going to Loretta's. I'd always say, "Why would I take a week off to go watch an amateur race?"
Well, now that I've experienced it, I don't want to skip it ever again. If some high-level exec at a major TV network catches my stuff on the Racer X Motocross Show an offers me a bazillion-dollar deal to move into another sport, I may jump, but I will make absolutely sure I get to keep going to Loretta's. For everyone involved—racers, families, sponsors and the workers who put it on—it's the hardest week of the year, and it's also the most fun.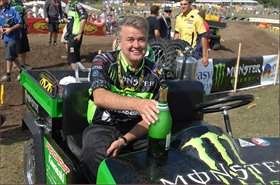 That's champagne bottle #2,423
photo: Carl Stone
If you can't make it, at least check out the TV coverage, which comes up on Versus in September. Commercial space is still available if you want to get in on the sponsorship ground floor The event will be televised on Versus this September 29 at 3:00 PM with a full one hour show. The show will re-air on October 3 at 3:00pm and October 4 at 4:00pm. For advertising or television sponsorship please contact John Ayers at
john@gearracewear.com
or 724-333-3838.
If you love the old school like we do, you're going the words, photos and products available on www.elrodracing.com. That's the site Kenny Alexander (of A Day in the Dirt fame) and friends have been working on. The T-shirts and jackets available range from Saddleback Park to the Catalina Grand Prix (and DC wore his Hopetown shirt in to work yesterday). We're going to be sending some stuff super-rare stuff over to those guys, including this amazing photo of the late Marty Moates from what we're guessing is the 1979 Sears Point National.
Finally, check out the weather for this Sunday in Colorado. Combine the altitude with the high temperatures, this weekend is going to be brutal.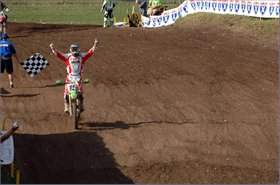 Congrats, Red Dog!
photo: Carl Stone
Well that's it for this collaborative Racerhead effort. Be sure of course to catch all the updates from Lakewood this weekend, as DC and DMXS Radio's
Kevin Kelly
will be hosting the Racer X Motocross Show and the Racer X webcast, all on live.motocross.com We'll have the video shows up Saturday night and Monday morning, and the webcast rolls at 12:30 pm Mountain time. Good luck out there, boys (Kevin, you've got my Shaq-sized shoes to fill. Ha!).
See you at the races.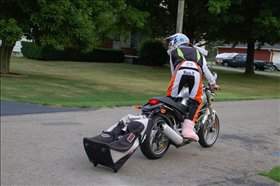 Rupert X on the Annual Ride to Work Day
photo: Pellett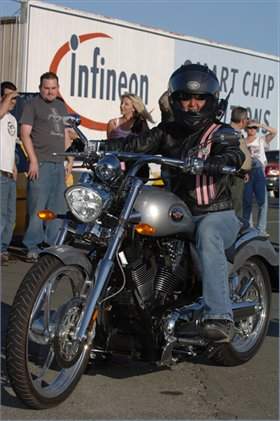 That's Troy Lee Design's Sheri Ridenour is on an upcoming episode of Epic Ride
photo: Courtesy of Ridenour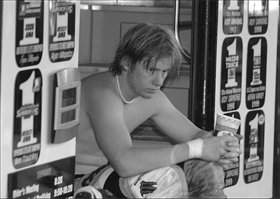 Will RV1 rebound in Colorado?
photo: Carl Stone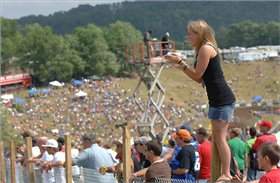 See you at the races!
photo: Carl Stone