This was the week of the French. Actually, it's the weekend of the French, since Bastille Day is tomorrow. First, news leaks out that David Vuillemin has pulled off a "Tim Ferry" and is headed back to the factory level with a signed contract for 2008-'09 with Makita Suzuki. DV12, who writes a column for Racer X Illustrated, never let us in on the secret, but when it became obvious that Ivan Tedesco was headed to Honda and RC was headed to NASCAR, Roger DeCoster had to find someone to handle the new fuel-injected RM-Z450 that RC himself says is the best bike he's ever rode. That person was David Vuillemin.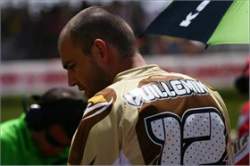 DV is looking forward to racing the new fuel-injected RM-Z450 in 2008
photo: Simon Cudby
Funny thing is that DV's week didn't start out so good. After coming home from a long off-weekend trip to Spain to win a supercross there, I tried to do the Monday Conversation with him twice. The first time, the phone line was not plugged into the tape recorder; the second time, it was plugged into the ear phone jack! But
Simon Cudby
did speak to the man while he shooting an Answer advertisement in his studio for this pre-Suzuki-signing
Racer X Film
.
So having messed up that, I was too embarrassed to call David back a third time, so we spoke to another Frenchman, two-time world champion Sebastien Tortelli, instead. Sebastien, who wore #13 late in his career (and this IS Friday the 13th) has joined forces with Ricky Johnson at Perris Raceway to host their Champ Factory Motocross Academy. The first camp starts this weekend, so if you want to get faster and ride smarter, visit www.perrisraceway.com for more info.
But that wasn't all from France. Just as Moto Verte was celebrating its 400th issue by putting together a list of the Best Motocross Races of all time with RC on the cover, the gang over there was able to announce that Carmichael will return to the Paris-Bercy Supercross this November for the first time since in nearly decade! Needless to say, the French fans are going berserk.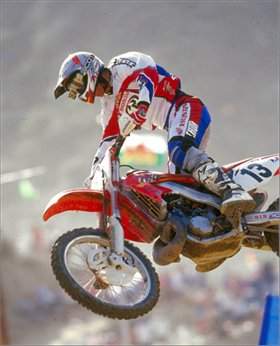 Sebastien Tortelli is now part owner of Perris Raceway
photo: Simon Cudby
How did they get RC over there? According to
Xavier Auduoard
, the
Moto Verte
group (which hosts the race) had been talking to Ricky at length, hoping to persuade him to return to race in their country one last time (he did lead Team USA to the win at the 2000 Motocross of Nations in St. Jean D'Angely and then again '05 at Ernee). They even changed the format of this grand event so it's a run-what-you-brung type deal for 250s and 450s, and RC will likely pilot the '08 Suzook there.
And speaking of the Motocross des Nations, Allison Kennedy just informed us that Canada has announced their 2008 team. Check out the Racer X Canada website to read who it is.
So now Paris-Bercy looks like Carmichael's last SX race, the Motocross des Nations at Budds Creek look like his last outdoor race, and we're hearing whispers that he just might go ahead and race the Rockstar U.S. Open one last time as well. Add it all up and it means that RC is going out on his own terms, just like he said he would…. It also means those X Games commercials about dedicating his last race to his twins can be recycled for use later on in France.
By the way, some jerk stole the RM250 that Ricky's been riding in the Legends Tour before the nationals at High Point and Red Bud. It got nicked last weekend from Andrews Cycle in Salem, Ohio. If you see someone goon-riding it around—and it's not Vuillemin—please tackle them, then call Phil Andrews at (330) 332-8534.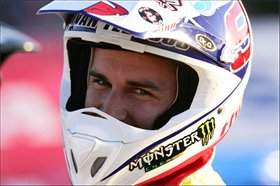 Ivan Tedesco is leaving Makita Suzuki on his own terms
photo: Simon Cudby
Vuillemin's signing led the
Ivan Tedesco
camp to let everyone know that while he is leaving the Makita Suzuki team, it's on his terms. "I have signed a two-year deal with a factory team. I want to leave the press release up to them but I can say that I am very excited and feel like it will be the thing that I need to get my career heading back in the right direction ," he told
TFS
for a
Racer X
Five Minutes With...
Check it out, as Ivan has some interesting things to say.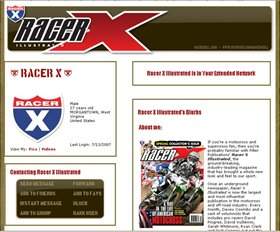 Racer X is on MySpace!
We're happy to say that we've finally gotten around to creating the official Racer X MySpace page, at
www.myspace.com/racerxill
. We're just getting started with it, but we hope you'll take the time to swing by and, if you're a MySpacer yourself, add us as your friend. We want to make our page more than just an advertisement for the other stuff we have going on; we plan on doing some exclusive content there and really making it an interactive experience. For starters, we're posting fan photos and some of our films. Every now and then, we'll troll through our friends and randomly pick a few profiles. If we see a
Racer X
shield somewhere on your profile—preferably as one of your top friends!—we'll hook you up with some cool
Racer X
swag and we'll feature your MySpace page on ours. And if you have any suggestions for ways that we can improve our page, just let us know at
letters@racerxill.com
.
Okay, after a weekend off, the 2007 AMA Toyota Motocross Championships presented by FMF gets rolling again with a visit to Unadilla. This is a track that the pros either love or hate—RC was never kind about his disaffection for the place, while Vuillemin told me he really likes it there (well, except for the roost).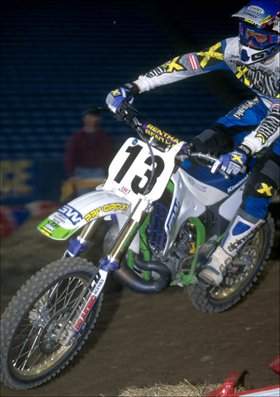 Factory Phil Lawrence
photo: Racer X Archives
The Racer X Motocross Show on Motocross.com will air Saturday evening, with exclusive footage and interviews from the track, as GK Films'
Wes Williams
and his sidekicks
Rob Swiatek
,
Matt Wozney
and
Travis Steward
all shoot it out around New Berlin's
Unadilla
Valley Sports Center (also keep an eye out for our latest Team USA commercial).
You can listen to the Racer X Webcast of the Unadilla National on Sunday, hosted by Jason "the one-armed Banshee" Weigandt and David "Supermoto Lites" Pingree. Also, make sure you click on the official AMA Timing and Scoring, which runs on AMAMotocross.com and, hopefully, Motocross.com this weekend as well.

And a tip of the visor to Cliff Talley and Brendan Lutes and the whole gang at Motocross.com on getting that new and much-easier-to-maneuver website up and running.

Set your TiVos, because you can catch this weekend's race on SPEED Saturday, July 21, at 8:00 p.m. EDT. The Motocross Lites class airs Tuesday, July 24 at 3:00 p.m. EDT.
Also, if you're having trouble watching any of our videos, Wes Williams suggests this fix:
First off, click this link, click "Download Now" and just follow instructions to install. That should fix the problem and allow everyone to watch.
Of course
Unadilla
will be the first AMA Motocross race since August 1996 to not include
Ricky Carmichael
. The series points leader is parked until at least
Millville
, where he will hopefully return. By then his rival
James Stewart
will likely be way out front in the points and feeling confident enough to maybe beat RC one last time. No one will benefit from Carmichael's absence more so than Stewart, but knowing James, he probably wishes it were just the opposite and that Ricky would stick around. He looked like he had
RedBud
in the bag until that unfortunate crash with maybe three laps to go.
Assuming James wins at 'Dilla, who do you think will finish second? That's this week's Troy Lee Designs' Racer X Poll question. Vote HERE.

This race was supposed to be the professional debut of Kentucky's Tyler Bowers, but unfortunately we heard Bowers broke his arm while practicing a few days ago, and will miss out. Bowers was signed up in the AMA Motocross class and was going to be wearing #391.
In the Lites class, Michigan's own Ryan Villopoto (okay, just for the summer) is taking his four-moto winning streak to New York, where he expects even more of a challenge from Ben Townley. This track is one that would see to suit Townley's Grand Prix experience better than pretty much any other track on the AMA circuit.
The two Kawis will be chased after by a pair of newcomers to the '07 series, Team Yamaha's Broc Hepler and SoBe No Fear/Samsung Honda's Ryan Sipes. And Makita Suzuki's Ryan Dungey is planning to race after his brutal crash two weeks ago in practice at RedBud.
Here's a good place to turn this over to Ping…
We should all be looking for ways to quiet down modern four-strokes. If you ride on your own property and have noise issues with your neighbor, or you just want to do the right thing and keep the decibels to a minimum, check out
www.ignitionproducts.com
and click on the link for the
DB Dawg
. This universal plug mounts easily onto any production or aftermarket exhaust and drops the sound of your bike 10 decibels! The company claims that no power loss will be noticed, but even if it is, this could be the product that bridges the gap between you and your neighbors. The best news is that it is relatively inexpensive at around $25.00.
FMX star Drake McElroy and Supercross regular Eric Sorby joined the AMA supermoto championship in Detroit, MI last weekend. It was round four of the series and both of the new recruits did well. Sorby finished third in the Lites class while McElroy crossed the line in fifth.
As for the premier class, Mark Burkhart took the win and the lead in the series from defending champion, Jeff Ward. Wardy struggled a little on the weekend finishing third and now sits four points behind Burkhart in the championship. Last year's Lites champion, Cassidy Anderson, finished in second with Chris Fillmore and Micky Dymond rounding out the top five. The unlimited class has been dominated by Aprilia rider Ben Carlson and the Lites class is now tied between myself and Brandon Currie at 94 points a piece. The X Games is the next event on the Supermoto schedule (it does not count for AMA points) on August 4th in Los Angeles and then Hartford, Connecticut on the 25th.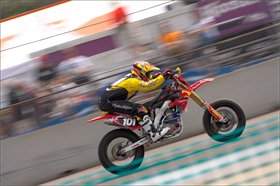 Ping won the AMA Supermoto Lites class
photo: Jeff Kardas
Congratulations to
Tucker Hibbert
for getting his first win in Lites class competition at the Calgary round of the Canadian nationals. I'm still not sure if he's Canadian or American but it's good to see him stand on top of the podium and I'm happy for him. While I'm on the subject I have to give props to
Paul Carpenter
as well. Pauly has been kicking butt in the MX1 division in the Canadian Nationals and is still in control of the points race up there. Keep it up, Paul.
Mike Metzger is officially signed up for the X Games supermoto event. The Godfather of Freestyle Motocross is just now recovered from a brutal crash while filming a segment for a television program called Stunt Junkies. In the segment, which might be found on YouTube, Metz was jumping from one barge to another in a local harbor here in SoCal. He hit the ramp a little too fast and overshot the landing. The impact crushed three vertebrae in his lower back. After having two rods placed in his back and having part of his spine fused, Mike struggled to get back to health.
"I was super-lucky that it wasn't worse," said Metzger. "That low in your back the cord turns into nerve endings and it squeezed those pretty bad. I had to learn to walk all over again. It was the worst injury I've ever had, and I've had some pretty gnarly crap happen. But, I've been cycling and getting back in shape and I feel pretty good now. I'm going to get back into supermoto and then see how I feel after that. I'm not sure what will happen with freestyle yet; it all depends on how I feel."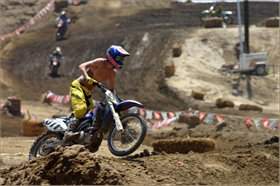 Andy Bakken will do anything to win a bet...
photo: Ping
I, for one, had no idea that the injury he sustained in that crash was so bad. It's good to hear that Mike is recovered and getting back in the saddle.
I love it when guys make bets with each other. Seeing Erik Kehoe in hot-pants at the Vegas SX was awesome and this week, Nate Adams and Andy Bakken did a little negotiating of their own. Andy realized he forgot his wallet as the two pulled up to Perris Raceway. Nate spotted him and later told him that if he could get on the track and ride two laps without his jersey on he wouldn't have to pay him back. After finding a hole in the fence, Andy put in his two laps and was promptly black-flagged by the Perris staff. It was funny. Nice work, Bacon. That's $25 in your shirt pocket—if you actually have one on.
I also want to wish Jeff Dement a speedy recovery. It sounds like he took a beating at the race in Calgary but is going to be alright. My thoughts and prayers are with you guys.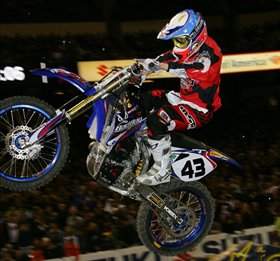 Keep Jeff Dement in your prayers
photo: Simon Cudby
That's it from Ping. David barely mentioned his Supermoto win in Detroit, but a
Racer X
reader was there and offered to turn in an eyewitness account:
Racer X Guru tops the box at Detroit Supermoto
By: Matthew Day
David Pingree had a great weekend in Detroit by winning the main event in the Lites class handily. Pingree seemed to be hooked up on the track from the initial practice on Saturday. At the end of the day Pingree said it was a fast track that would prove to be hard to pass on. Those words would prove to be true yet irrelevant to Pingree when it came time for the big show.
Pingree is a full time member of the Troy Lee Designs, Red Bull Honda team. Pingree was asked to join the team for the Lites class. After riding limited events last year he was more than willing to sign up.
After all of the timed qualifying and heat races it was time to line up for some championship points. Ping found himself on the pole and in good shape to start the race. When the track went green and the bikes roared towards the first turn it was Pingree, Currie and first-time Supermoto racer Eric Sorby out front. By the end of the sweeping fast first turn Ping had taken the point and led Currie into the dirt. Ping continued to post fast laps and was able to keep Currie at bay, never giving him the idea he may have a window of opportunity.
Just past midway in the race Ping had stepped out to a comfortable lead where Currie was no longer in the hunt for a win. When the checkered flag flew for Ping he crossed the finish line with both fists in the air as he earned his second victory in a row. The finish of the race was just as it was after the start with Pingree, Currie and Sorby one, two, and three.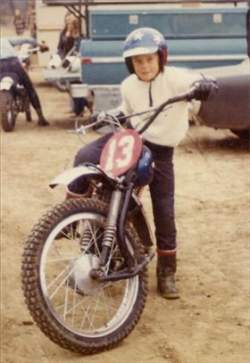 Scott Wallenberg
photo: Wallenberg Archives
As for the points, after four events it's Ping and Currie tied for first. In the four events Currie started out strong, winning the first two events with Ping following in second. Now the table has turned and it is Ping who has won two in a row with Currie following for second.
An author's note: To everyone who has not been to a Supermoto event I would highly recommend that you attend. You will be truly amazed at what a show you will see. The racing is phenomenal and, paired with some of the additional performances put on by the promoters, you will surely have a good time. Plus, where else will you get full access all day long to motorcycle greats like Jeff Ward, David Pingree, Mark Burkhart, Micky Dymond or Troy Lee?
That's it from Matthew Day!
Here's a note from Bad Billy Ursic:
If there are any Texas Hold 'Em fans out there, check this out. Last October, on the same weekend as the Rockstar Energy U.S. Open of SX, the Road 2 Recovery Foundation held a Texas Hold 'Em Poker Tournament to benefit the foundation. The winner of the tournament then got a $10,000 seat into the 2007 World Series of Poker! The winner of the tournament was PPG/Motoworldracing.com Yamaha's team manager, Paul Lindsey, who recently joined 6,357 other poker players at this year's World Series, which is being held inside the Rio Casino in Las Vegas. Did I mention the winner of the tournament gets $8.25 million dollars?
I told Paul to keep us updated with what's going on, and after the first day of play he told us things were going great. "My brother and I did some calculations last night, and I think I'm in the top 10 percent right now, but the next day is going to be tough."
We then got another update from Paul on Wednesday morning, but unfortunately it wasn't a good one.
"To make a long story short, we started with 6,358 people and I was 13 people away from being in the top 700 on Tuesday night. I had 172,000 chips, which put me in about 180th place, so I was in great shape. The first paying position was 621, so that means on Thursday all I had to do was patiently post my blinds till we got to 621, then I would've started playing. 621st place paid $20,000 dollars! So, I thought I was in. I called my wife on my break and I told her to start packing, because I was going to bring her and my daughters out. All I had to do was be smart for 15 more minutes, and then we were going to call it a day. So we came back from the break and the first hand I was dealt pocket Kings, and I didn't want to mess around and slow-play them, so I raised like $48,000, and this guy came over the top of me because he thought I was bluffing, so I went all-in. He had the same stack size as me, so I was like 'Dude, why are we beating each other up here with 15 minutes to go?' But I had Kings, so I was like screw it. He calls me and he had pockets twos! He then caught a two on the flop and I was done! I wanted to cry. I walked out of there like I had just been in a car accident. It was so violent. I was the picture of patience and I was very methodical about my play, and then that happened. I just couldn't believe it."
Nonetheless, Paul wants to thank Jimmy Button and everyone over at the Road 2 Recovery Foundation for giving him this opportunity to play in the World Series of Poker. "I can't wait till next year," he says. "I just have to find a way to buy-in again!"
This from Scott Wallenberg:

This week FLY introduced their 2008 gear for dealers in the Northwest at the Owyhee Motocross track in Boise. A nice groomed track was there as a reward for those coming out in the 90-plus degree heat. Plus, the air conditioned Fly semi became a mobile showroom with clothes racks inside. You can look for new '08 Fly gear at your dealer soon. Also there with new products were Scott USA, LeoVince Exhaust, No Toil filters and Pro-Moto Billet.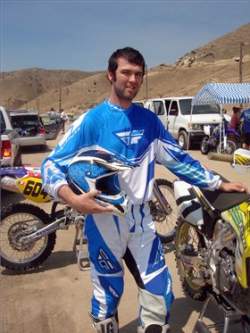 Ryan Picard in the 2008 Fly gear
photo: Scott Wallenberg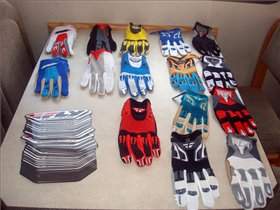 Fly gloves
photo: Scott Wallenberg

Believe it or not, people are already lined up outside the Ponca City track in Oklahoma for next week's NMA Grand Nationals! Chris Hultner (himself a Sooner now) stopped by the historic park to check in with race founder Ron Henricksen for this Ponca City preview film right here.
Racer X was on hand at the recent Tucker Rocky rep show and saw a lot of cool items on display. Former MX Team owner Michael Holigan and race engineer Jim Lewis have formed a new company called Merge and were showing a new anti-bog carb mod.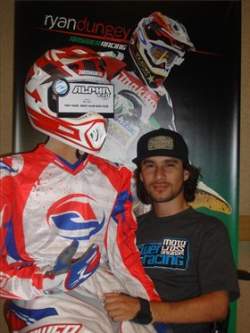 Answer had new hire Ernesto Fonseca there to talk about the new line of gear he designed
photo: Scott Wallenberg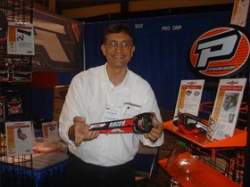 Pro-Grip's Vince Marazita sporting a custom Racer X goggle strap!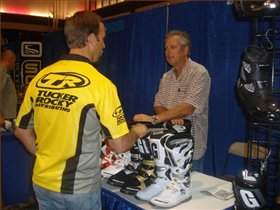 Gaerne USA's Bob Rathkamp shows off their new line
Mark Phares from Smith with their all new design
Here's a note from Tim Wallace down in Texas:
We are planning to release a few photos of Freestone Raceway in progress over the next few days. At the end of the month Holeshot Magazine will have a feature story on the national in our issue we are taking to Ponca and Loretta's so everybody can get the rest of the story.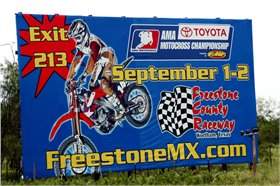 photo: Tim Wallace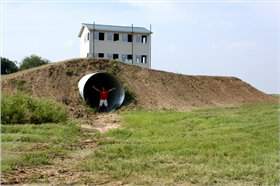 Holeshot Magazine editor John Willis in the shadow of the three-story score tower and huge finish line step-up
photo: Tim Wallace
Freestone new mega three-story score tower
photo: Tim Wallace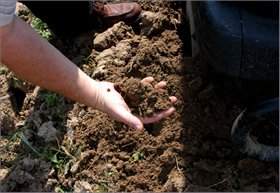 Nice dirt
photo: Tim Wallace
Did you see where we tapped Moto XXX veteran leader Kyle Lewis as this week's Rider of the Week? Check out the feature film right here.
We got this from Racer X reader Michael _____. (He didn't sign his last name.)
What do Glen Campbell and Kent Howerton have in common? Their cosmic link is the the fact that while we all consider Kent Howerton a Texan, he was actually born in Wichita, Kansas. The hitch is that "Wichita Lineman" and "Rhinestone Cowboy" were hit songs for Campbell. Howerton's nickname was the Rhinestone Cowboy during his Suzuki days in the 80s.

In closing, what happened with Silly Season? The Factory Spectator Steve Bruhn gives us the scoop:
Until yesterday silly season looked like a card game with teams and riders holding their hands close to them, with hands made up of a combination of contracts, offers, rights of refusal, and promises. It seemed that for the spots and riders in question, a lot of things had to happen at once and depended on if this or that happened.
Cards hit the table yesterday, but things got fumbled.
Suzuki confirmed that David Vuillemin would join them at Makita Suzuki, and that MDK agreed to release him, pretty cool since he regretted leaving the factory life a couple of seasons ago. They also confirmed what was reported here before Hangtown, that Tedesco would be leaving, but they didn't say where. Okay fine, but what didn't happen was Tedesco's new team confirming at the same time that he would be there instead, and it's a factory team. Both press releases were supposed to be timed to confirm things at once.
Who cares why really, it just didn't happen right and cell phones were on fire Thursday morning. Just looking at the PR record, it looked like Ivan just got dumped. In reality, he had his new spot ready for a while and was playing it cool while his manager negotiated what to say and when, and it just went to hell. Now he's got people thinking he was released and his new team's PR was not ready at a moments notice. All of a sudden, Ivan is available for interviews, just don't mention Honda "ahem." Okay whatever, so Ivan cleared things up with a 5 Minutes with...interview where he made the point of saying he's trading one factory deal for another, he didn't get dumped, and he's going to ride it out this summer giving 100 percent, that kind of thing.
Suzuki found out about Ivan leaving between Vegas and Hangtown anyway, and the search was on for replacements. All kinds of interesting options came up, like why not move DV and Nick Wey and MDK over all together (MDK ended up going with KTM instead), or move Michael Byrne over. Byrne is widely rumored to be going with Gibbs, but since he is Rockstar Suzuki now, they have a right of refusal card to sit on too.
DV is known as a good test rider, and he missed the factory life, and even though he had a year to go with MDK, things got worked out between them and DV became Suzuki's newest factory guy. They still have one more spot to fill, and they at least should have some grip on Byrne, but the other rumor that is about to start is the other guy is Mike Alessi.
If that card gets played, the next reshuffling will be interesting.
Well, that's about it for Racerhead. Happy Friday the 13th, and we'll see you at the races!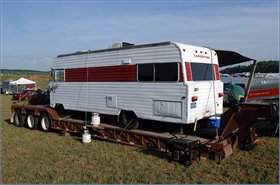 Only at RedBud....
photo: Carl Stone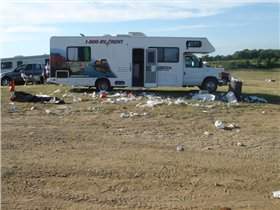 This too....
photo: Andy Bowyer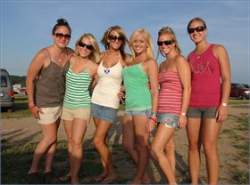 See you at the races!
photo: Carl Stone