Monday Conversation: Sebastien Tortelli
Sebastien Tortelli is a two-time FIM World Motocross Champion who retired from professional racing last year. Now the popular racer has joined forces with Rick Johnson, the seven-time AMA Motocross/Supercross Champion, to take over Perris Raceway and expand their Champ Factory School. With no AMA Toyota Motocross Series races on the calendar, we thought we'd check in on Seb to find out more.
Racer X: Sebastien, congratulations on your new venture with Rick Johnson as the new proprietors of Perris Raceway. How did that all come about?
Sebastien Tortelli: Thank you, we've been talking with Ricky a lot about it over the last couple years and we wanted to do something together. I retired last winter and that's the same moment that Perris Raceway became available. We started talking about it. I always wanted to do something in the sport, and so did Ricky—we both wanted to be able to do something with the knowledge that we have and give back to the sport. So we took over the racetrack and started the Champ Factory School there also.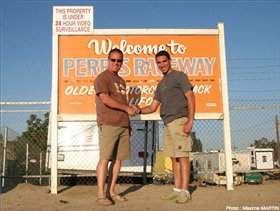 Ricky Johnson and Sebastien Tortelli are the new owners of Perris Raceway

photo: MX Max

When you were growing up in France in the late 1980s, early 1990s, would you have ever guessed in your wildest dreams that you would one day own Perris Raceway with THE Ricky Johnson as a partner?
[Laughs] No! It's something I didn't even think was possible. I mean, even being in the U.S. was something far away from what I was dreaming of—I dreamed of racing in Europe. But when the opportunity came to race in the U.S., that was a big step, and then being able to work with RJ after I am done racing? I didn't even think about it because it was not even possible. But with the experience we gained together working with Suzuki on the factory team, we developed a strong relationship there.
When you're together and you're telling people about your two world championships, does he ever big-time you with his seven AMA titles?
[Laughs] Well, when you talk to someone who is not in the industry, they think the two world championships are bigger!
Back to the Champ Factory School. You came up through the "Cadet" program in France, right?
Yes, that was the program set up by the French federation for junior riders. It was held by Yamaha at the time, and Jacky Vimond was hired as the trainer. David Vuillemin was in it, Stephane Roncada, Luigi Seguy…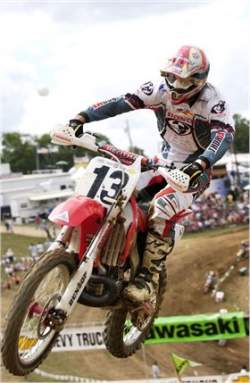 Seb with the unlucky #13 as a Honda factory rider

photo: Steve Bruhn

Were there things you learned then as far as being a student that you still remember and will teach your students?
Oh yes, I was 13 at the time, and that's where I developed all of my skills in motocross, and that is what I want to now teach. Jacky was able to give us his knowledge and go through the process of it, and I went on to work with him for many years. His teaching basically became something I integrated into my life, and when I came here and worked with RJ in the U.S., it was basically some of the same things, so for me it was easy to get the information and transfer it, and that's something I think I will be able to help our students with, which is to receive and then actually act on the knowledge. I want to give them all of the information about what they are doing on the bike and what they can do better.
When will you and Ricky hold the first Champ Factory School at Perris?
The first school will be on the 16th, actually.
Are you nervous at all?
No, not at all—I did some teaching already in the past, so I know where I am going. I feel like I have a strong base. I have worked with RJ in the past also, so I am not really stressed about it. Besides, I don't have time! The racetrack is something that keeps us very busy. We have a few races in a row right now going on with The Hot Summer Nights Series, so I don't even have time to stress about the school yet.
Wow, welcome to the world of motocross promoter!
[Laughs] That's right, you know by experience! Everything needs changes, getting the track ready, making sure everything is safe and ready to go, getting everybody happy—it's a lot of work.
Well, I can tell you from my experience and perspective from what my parents have done, it's hard work, very time-consuming, but also very gratifying—you get to be around motocross all the time, and motorcycle people are wonderful people to be around.
For sure. We are still on the learning curve. Jeff Nordstrom came with us from Competitive Edge and that helped us a lot with the organization and with the track and all. It's important for us, as pro riders, to be able to give something back to the industry, like a great track to ride on—to make it like you're going out on a national track the first lap out there every time because it's so prepped up and perfect.
And Perris is one of the oldest tracks in California, right?
Actually, it is the oldest—this is the 50th anniversary. We're going to redo the big race in December that Goat Breker used to do to kick off supercross, and just a lot of other fun events. The track had lost some of its glory, and we are going to build it back up. That's our main goal: To give back to the people what they used to have.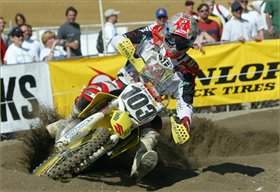 You can learn that World Champion form at the Champ Factory School

photo: Steve Bruhn

Is the first school limited in size or skill level?
It will be pretty open, as far as the skill level goes, and we are going to limit it to just 20 to start out. We put this together late, but Ricky and myself want to get started, so it will mainly be a small school to get everything rolling. We will have some new sections of the track, plus a whole new Intermediate track, and the people in the school will be the very first to ride on that.
So the people who sign up for this school will be the charter members of the Ricky Johnson/Sebastien Tortelli Champ Factory School?
Exactly.
Heck, I might have to get a plane ticket for that!
Please come, it will be fun!
If I didn't have to go to a wedding in Minnesota, I would be there, I promise. So how can people get signed up for the Champ Factory School?
They just need to go on the website, www.perrisraceway.com. They have the information and schedules for the schools and camps and race schedules and everything. We will have different levels and different lengths of schools, plus some physical training and things that will help people to get a good base and to progress to the highest level in the sport.