Monday Conversation 2: Ryan Villopoto
Defending Lites champion Ryan Villopoto is having a "harder-to-defend-it-than-to-get-it" season this summer in AMA Motocross Lites. It took until round 4 at Budds Creek for him to get his first overall, and it was a convincing 1-1 that left him with a slim points lead over his teammate Ben Townley.
Villopoto liked the track at Budds, the same track that was unpopular with fast 450 guys like RC. He rode well all weekend and earned an important early gate pick, since getting on the inside of the newly-designed start was critical. In both motos he got great starts and just checked out.
We sat with Villopoto after the press conference to get his thoughts on winning an overall (finally) and what's going on in 2007:
Racer X: It's round 4, but you got the win and it was a 1-1. What changed for you?
Ryan Villopoto: I liked the track last year here. The weekend went good for me. I have been struggling sort of, either on Saturday or Sunday at the last few races. I didn't struggle Saturday and I didn't struggle today. I think it helped out, not having to worry about anything. I thought I had it covered somewhat. Two good starts helped out huge.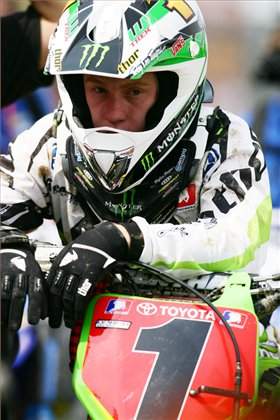 Can RV keep the momentum rolling at Red Bud?

photo: Simon Cudby

What do you think made you faster this weekend, anything in particular or was this a weekend when everything just clicked?
For one, I liked the track. I don't know. It wasn't smooth but it was choppy and had some acceleration bumps, but not very many lines. You had to pick and chose your lines. They watered a lot, and you had to ride the cushion. It was just like a swamp in some areas – the first moto a little bit, but the second, it was bad. I will probably have a talk with Jay Mitrowitz (AMA) and that other dude to figure out what we can do.
Ricky made comments about dirt leaving this place; can you comment on the surface?
I can't speak to that because this is only my second year. I don't know what it was like. It was pretty much like it was last year. It had a slippery bottom and some rocks. I think they do need to put some sand into it or something, to make some better lines and to get some traction back into the dirt.
How are things at Pro Circuit now with the top two in points as teammates? Are you hanging out and comparing notes or keeping to yourselves?
I think it's a friendship or whatever, but it's obviously not something where we say "hey you are slow here so you can pick it up…" no. It's a good atmosphere. No one is going "I'll kick your ass," or anything like that.
Where are you riding and training now?
After Southwick I moved to Michigan to live with Nick Wey, so I think that helped too. There are different tracks, better dirt, a whole different place.
So will this help you build some momentum for the next few races?
I for sure would like to. I think this was our first 1-1 in this class. Last year was a lot easier. Mike [Alessi] wasn't near as strong as Ben. Ben is going to be solid every weekend. He is going to be on it and going for it.
Having gone through the experience of the Motocross of Nations last year, can you envision transferring that atmosphere here?
I don't know. I have never seen one of our races have that many people as the des Nations had. It's going to be hard to do what they did. Motocross over there is like football or baseball on our side.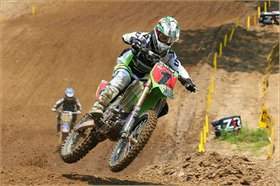 Villopoto checked out both motos for his first overall of the season

photo: Zak Lowery

Have you heard anything about the makeup of Team USA yet and will you be on it?
I haven't heard. I am going to do my nationals and if I am picked, I am going to do that, then take some time off. I am going to go to Africa and do some hunting, and then go back home and hang out. If I do east coast, then hopefully I will get some time off.
Are you going to go hunt some big lion or something?
Myself and Bobby Nichols are going to go over and get some different animals. I have never been over there, but Bobby has been. It should be good. I get to try something new.
Thanks again and see you at Red Bud.
Thank you, Steve.