This weekend is going to be big. Really big. Speed TV is showing same-day coverage of the Budds Creek National on Sunday at 6 p.m., a move that bodes well for the future of the AMA Toyota Motocross Championships presented by FMF. Brian Drebber and Jeff Emig will call the action, with pit reporter Erin Bates down on the floor.
If that's not enough to put a smile on every American motocross fan's face, maybe this will: In what we hope will be another breakthrough, Racer X and Motocross.com will be showing the first motos at Budds Creek LIVE on the internet. Live and free! With the help of the gang at Speed TV and Chet Burks TV Productions, we will pick up the satellite feed beginning just before 1 p.m. EST and show the first AMA Motocross Lites moto and then the much-anticipated RC vs. Bubba (and maybe Chad Reed) duel in the first AMA Motocross moto. We're still working through the logistics of it all—if something goes wrong, we'll blame it on the satellites—and we don't know if you'll be hearing Drebber and Emig or our own Jason Weigandt online for the video feed, but either way, it's something that's never been done before from a U.S. national. This is also a good opportunity for the rest of the world to get a look at the track that will be hosting the 2007 Motocross des Nations, so you can bet on Josh Coppins, Antonio Cairoli, Christophe Pourcel and the rest of the GP boys tuning in. Check it out on www.motocross.com on Sunday afternoon. Wish us luck!
Why only the first motos? The bulk of Speed's coverage will be based on the second motos. But we won't shut down the Racer X Webcast completely; Weege and I will make the call of the second motos like we always do.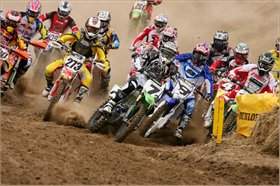 This weekend, you can watch the first motos live on Motocross.com
photo: Simon Cudby
Also, look for tomorrow evening's Racer X Motocross Show on Motocross.com when we preview
Budds Creek
, check out practice and the WMA race, and check in with
Grant Langston
and more. That should be up sometime around 10 p.m. Saturday, and it will certainly be up on Sunday when you get ready to watch the first motos on Motocross.com
Before we get too far into the news of the week, I want to talk about what happened at Southwick with James Stewart's family and the ignorant, stupid, and obviously hateful fans who were hassling James every time he came around one tight corner at MX338—with his mom, Sonya, and his little brother Malcolm standing right there! I wasn't aware of this until I saw Guy B's disturbing photo and description of the events on www.vitalmx.com. When I did see the photo, I don't remember feeling this bad about the sport since Ernesto's crash.
Where the hell do these people come from? There's never been room for racism in motocross: As James Stewart himself said, "We all look the same with our helmets on." If someone pulled this kind of disgusting behavior at an NBA game or a college football field, they would be immediately evicted from the premises.
And that's what we must do at the motocross track. If someone leans over a fence and calls James a "n-----" we as motocross people should immediately find security, explain the situation, and throw the idiot out. We've come too far as a sport and a society that let some hateful failure of a human being show up and disrespect any of our racers or fans with that kind of hatred. It's not fair to the riders, the families, or the fans around them. Let's all work together on this and make sure it doesn't happen again, and if it does (and sadly, it will) we need to remove that person from our tracks or grandstands.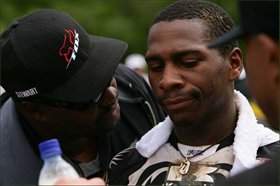 Big James and son
photo: Simon Cudby
One more sad thing: Big
James Stewart
told me this week that it happens more often than we know, but it was bad enough (and ongoing) at
Southwick
that the family said something to the AMA and the NPG's
John Ayers
about it. The patience and restraint that Mrs. Stewart showed was admirable. She's a much better human being than that sorry piece of trash hanging out over the fence giving her son the finger.
James Stewart is the AMA Supercross Champion, the FIM World Supercross Champion, and a member of Team USA. He is also likely to be our next AMA Motocross Champion. If you don't like him, root against him—that's sports—but if you don't like him because he's black, and you feel strongly enough about that to flip him off and call him names meant to hurt him, just stay home. He's our champion, and he will likely be that for some time to come.
I guess we all know now why James seemed so down all weekend. The fact that he came to the press conference and never mentioned the whole sordid episode also speaks volumes for him. He's grown into a champion, both on and off the track. Big James and Sonya raised him well.
This weekend marks Father's Day, and Erica Vuillemin and her kids came up with a really cool present for #12 David Vuillemin: a hand-painted custom helmet!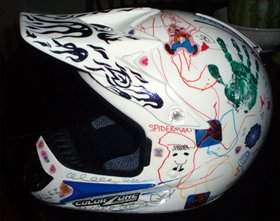 DV 12's Father's Day lid
photo: Erica Vuillemin
Here's an early Happy Father's Day to all of the dads out there, on and off the track.
As far as the racing goes at Southwick, I think I have now literally emptied the thesaurus from any words to describe just how impressive Ricky Carmichael is. He laid the wood on everyone—including James—while battling his recurring stomach issues. Sick gut and all, he even complained afterward that the track was too smooth in the second moto! This is a guy who's retiring four motos from now?
Carl Stone pointed this out: RC is going for his 100th AMA National win this weekend at Budds Creek, which is the same place where he scored career win #100 (counting SX races) just three years ago. Can you believe 50 more wins in three years?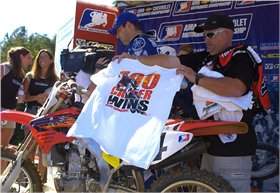 Scott Taylor at Fox Racing can recycle these shirts by changing the color of the bike and adding "national" in front of his total wins!
photo: Carl Stone
RC, by the way, has a chance to win his tenth
Budds Creek
National, which is exactly what he did last weekend at
Southwick
. In ten visits to date, the only time RC lost here was on a rainy day on a 125. Back in 1999,
Tallon Vohland
got the win riding a Splitfire/Pro Circuit Kawasaki.
And hats off to Grant Langston for getting back on the right track with his solid 3-3 rides, and for Stewart for fighting back when the Yamaha rider gave him a somewhat surprising battle in the second moto. Langston has always gone well at Southwick, but that was always on a 125 or 250F. To do it on a big bike shows that he's going to be a threat to Stewart's expected domination over the next few years.
In the Lites class, Pro Circuit finally got out of their own Southwick curse with a solid 1-2 day for Ben Townley and Ryan Villopoto. Townley, like RC, complained that he felt the track was too smooth in the second moto. To hear and see more about that, check out our wrap-up show.
Also deserving of a quick nod here is
Gavin Gracyk
, who again was the fastest privateer, coming home fifth in the first moto, then gutting out 11
th
in the second stanza. Before the race, Gavin told me how stoked he was about the help he's been getting from so many folks around the country following the
Privateer Profile
"Bad" Billy Ursic
did with him after
High Point
. We also named him our first "Racer X Rider of the Week" and made a short film with him.
Check it out
.
Speaking of that film, we forgot to credit the band for hooking us up with the soundtrack. Be sure to check out The Book of Lies' MySpace page. They're releasing a kick-ass EP soon, and you can order it right there if you like their stuff.
From David Bulmer, Mr. AYearInMX.com:
I can finally understand all the fuss made over Southwick now … it is totally different from the previous two Nationals I've been to, both in good and bad ways. Everything that I did over the weekend can be read or seen on my website.
The Southwick Webcast was a blast, with Jo Jo doing the Lites color commentating and Jeff Stanton helping out with the 450 class. Both were insightful and funny! Plus we had the usual suspects: Parts' Steve Matthes, TLD's Sean Beaucar, MXi's Steve Cox, and very special guest Doug Henry. The archived show is up on www.motocross.com.
One funny part: I asked Stanton if it was true that Ben Townley signed with Team Honda. "No comment!" laughed the usually unshakeable Stanton. He also called both 450 motos pretty much spot-on, saying that RC would follow Stewart for 20 minutes in the first and then check out, which is pretty much exactly what happened!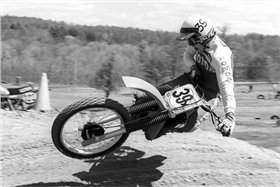 This photo now hangs in the Racer X Office, signed by Jo Jo Keller, Doug Henry and Paul Buckley
photo: Paul Buckley
Seeing and speaking with Henry was the highlight of my weekend at
Southwick
. He's an inspiration to us all, and what his friends did for him—they raised $57,000 in an impromptu auction—speaks volumes for the effect he's had on so many of us over the years. I personally purchased the famous "Jo Jo Scrub" photo by
Paul Buckley
, though I had to get
Steve Cox
and
Steve Matthes
to pitch in to reach the $1,500 it went for!
Did you see our "Buckley Berm" video? It's short and sweet, and yes, that's Paul Buckley making a cameo at the end.
Congrats the Butler Brothers MX team for getting all five riders into the AMA Motocross main event. Unfortunately, it didn't go so well, as four of the five crashed in the same first-moto pile-up! I spoke to Forrest Butler this week about the whole DNA Energy Drink/BTO Sports team for our Between the Motos chat.
The funniest motorcycle "documentary" ever made.
Not sure if you've noticed, but we switched our weekly Motosport Outlet Bench Racing Ammo feature from Tuesdays to Thursdays, and yesterday we touched on fast brothers, since three different sets of brothers qualified at Southwick. We failed to mention some other fast brothers (including Mark and Scott Hinkle, who were amateur champions in the pre-Loretta Lynn's days).
"More fast brothers include Keith and Kevin Johnson and Ivan and Gio Tedesco," wrote Rich Shearing. He added, "Don't forget the Michigan Mafia. Although I'm not sure they qualified for mains at the same time they were fast brothers. Keith and Greg Bowen, Jeff and David Beckington, and Kip and Kreg Bigelow."
Scott Wallenberg added, "There were twin brothers who raced the Nationals in the late 70's: Pete and Tony Wanket. Always very close, they each seemed to earn a top 100 number only 1 digit apart!"
Racer X reader Michael Baker added these:
Brock and Marcus Sellards
Mark and Brett Melton
Joel and Jeremy Albrecht
Jeff and Bryan Emig
Damon and Zack Bradshaw
Ezra and Shane Lusk
Daniel and Vincent Blair
Ryan and Justin Sipes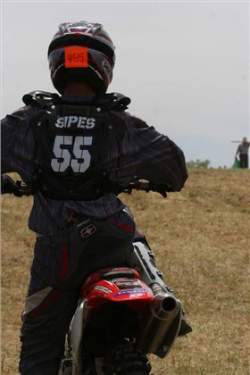 Ryan Sipes competed in the Open A class at the Sparta GNCC on his practice 450.
photo: Jason Hooper
And speaking of
Ryan Sipes
, last weekend Bad Billy caught up with the SoBe No Fear/Samsung Mobile Honda pilot on the starting line of the Open A class at the Weekend Warrior Spartan GNCC in Kentucky.
Ryan, what brings you out to the Weekend Warrior Spartan GNCC?
Ryan Sipes: Well, I just live about two hours down the road, and I just started riding about three days ago, and it just seemed like it would be a good training opportunity for me. I'm just going to go out there and have fun—I'm not going to try and go too fast. I just want to have some fun and go riding in the woods.
For those who forgot, tell us what injury you sustained back at the Orlando supercross.
I broke my fibula pretty bad and ended up having to have two surgeries on it and had some trouble with it. So I'm just getting healthy now.
How does the leg feel now?
It feels good. There's not really any pain, it's just weak. The ankle joint is weak, but I've been doing a lot of cycling, and that's been helping out a lot.
So what are you riding today?
This is my practice 450 that's set up for motocross. I didn't do anything special to it; I just like riding in the woods and I just want to see how it goes.
Have you been following the AMA Toyota nationals at all?
A little bit. There up at Southwick racing today, and it looks like Townley is doing real good. It'll be interesting to see if Villopoto can keep up with him.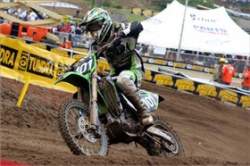 Sipes is impressed by Townley

photo: Jackie Mims

Anyone surprising you so far this year?
Dungey is doing good, as well as Grant. I'm happy for them. But they're finishing about how I thought it'd be.
So when will we see you back at an outdoor national?
I don't want to come back too early, so I'm thinking maybe Unadilla. I came back there last year and it seems it's a pretty good track for me. I'm really just going to come in and see where I'm at. I'm not looking to go top five or anything like that; I just want to ride and have a good time and see what happens.
You know, there's another GNCC in two weeks up in Snowshoe, West Virginia.…
I really want to go, because I like Snowshoe. I've been there before riding mountain bikes and stuff, but it's an eight-hour drive from my house. We'll see what happens.
NASCAR driver Jaime McMurray has a new trainer: It's the same guy who saw his motocross riders sweep both wins at Southwick.
"I hired a trainer, so it's nice to have someone pointing you in the right direction," McMurray said on nascar.com. "My trainer is the same guy who trains Ricky Carmichael. And he's not all about eating power bars and bulking up. I told him I didn't want to look stronger, I just wanted to be fit. He tells me something to do and I believe it. And if someone is going to make you work and run everyday you better like them."
Haines City, Florida, has deemed it James Stewart Week after "reigning world motocross champ" James Stewart.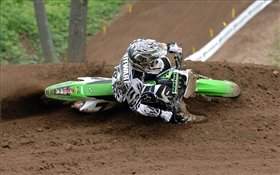 Stewart got some hometown love this week
photo: Carl Stone
It's
Ping
Time!
We've been trying to figure out for a while just who the Joe Gibbs MX Racing team is going to hire for next season. I've now heard from several good sources that Josh Hansen and Michael Byrne are all but signed with the team. I called Hanny to confirm the rumor but he would only say, "Dude, I just want to do good next year." Thanks for the insight, Hanny.
It was originally thought that the team would have one Lites rider under the awning, and local Carolina boy Austin Stroupe seemed like an easy fit. However, it seems that Stroupe has signed with the Monster Energy/Pro Circuit Kawasaki team for 2008. Stroupe has been a Team Green rider for years, so that transition was a natural one. As for Hansen and Byrne, both riders will compete on 450s in supercross AND, wait for it… the entire AMA Toyota Motocross Championship. So all you Hansen fans out there will finally get to see "C-Note" competing in the great outdoors once again. It also appears that team riders are encouraged to move to the Charlotte area to be near the team's facilities.
We're hearing loud and clear that Australian rider Daniel Reardon has signed with the Sobe No Fear/Samsung/Factory Connection Honda team for next year. After trying out with several different teams, that is apparently where the super-talented Reardon felt the most comfortable. Dan won another round last weekend at the Nokia nationals in his home country and extended his points lead. We will see him back here in the states around September to start riding and testing with his new team.
I know there are a lot of former racers that get involved in car racing when their bike careers end.
Carmichael
,
McGrath
,
Pastrana
,
Ricky Johnson
, and
Mike Metzger
are a few of those. But one guy that is having success on four wheels is flying a little under the radar.
Robert Naughton
, or "Fig," as we call him, is currently winning races and working on a Prolites championship in CORR truck racing.
Fig was a Honda-supported 125 SX rider in the late 1980s. He grew up in Arizona, leading the way for Jimmy Button and myself into professional racing. Fig lost the 1987 125cc West Region SX Series by two points but still had his best season of racing, yet he was dropped by Honda. He raced for several more years but never won a championship. Halfway into the CORR series, Fig is looking good to finally get a number one plate. Good luck, Robert.
Eric Sorby had his first days of Supermoto this week. The friendly French rider is trying out with the TLD/Red Bull Honda team for next year. Since Eric finished the SX season inside the top twenty, he no longer has Lites class eligibility. Sorby is hoping to ride some (or all) of the '08 SX series on a 450 and then join the AMA Supermoto series for the summer. Sorby looked good at a team test session this week at Apex Raceway in Perris. He has ridden some Supermoto events before in Europe.
Here's a piece on RJ's and Tortelli's deal.
There's been some talk about the "new"
Budds Creek
layout, much of which was mandated by Grand Prix organizer Youthstream as they look ahead to the 2007 Motocross des Nations there. Many were questioning why they "Euro up" the track rather than leave it the way it is. That led our own TFS to weigh in:
"They wanted the start moved so more people can see it, spectator areas moved closer to track, stuff like that. The GPs like to move the crowd up close and tight behind hard fencing. Pics look good and the energy is high (and its pretty safe with the hard fencing), but the people that like to spread out won't like it as much. Plus he has to make sure the AMA agrees with the changes and its own priorities are met. You also have to be able to get a medic Mule to anywhere on the track. This will be an important weekend to sort stuff like that out. People from Youthstream will be here to help and check it out too.

"We don't really know if Americans will like standing in larger, tighter groups. I think people don't like to hang out all day jammed that tight, but if there is good racing in the motos, everyone forgets and just jams in and cheers and they forget about being elbow to elbow. I'm just guessing here; I haven't seen Budds yet. If moving the crowd Euro-style happens and it works, it can look really awesome on TV and in photos."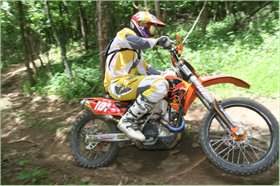 David Knight is back to his winning ways in the Can-Am GNCC Series
photo: Jason Hooper
This is from
Jason Weigandt
:
David Knight turned back the momentum of young rival Charlie Mullins by winning that Weekend Warrior Spartan GNCC in Kentucky. Knighter was a busy guy last week. He's the defending champion several times over of the crazy Erzberg Rodeo in Austria (the one Travis Pastrana and the Nitro Circus gang usually compete in), but this year's event took place on the same day as GNCC here in the U.S. But Knight still entered the special twin-cylinder event on Thursday on a KTM 950 (!),
and posted the fastest time overall. But Erzberg rules give the win to the rider who logged the fastest lap, and that was Finn Simo Kirssi, who was riding a BMW. Knight took second and then headed to the airport to get to Kentucky and race GNCC on Sunday - and win! Mullins and his teammate Barry Hawk finished second and third.
The next GNCC promises to be an instant classic, as the series heads to the Snowshoe Mountain Ski Resort for the first time. This takes the place of the Wisp GNCC, which ran quite successfully for five years, but Snowshoe is much bigger and even more spectacular as far as the facilities are concerned (Snowshoe has 15 bars to hang out in. Suffice it to say that plenty of Racer X staffers are going to the GNCC next weekend). For the Snowshoe event, the course will be extended beyond the normal GNCC length to bring the race near 100 miles in total length, and with the huge rocks and hills involved, it will be a true torture test. Also, the race will start in the Snowshoe village, which is the main intersection of the shops, restaurants, and hotels on the mountain. Starting in town and running 100 miles over the biggest boulders in West Virginia? Sounds familiar.

Knighter, often referred to as the World Best Extreme Enduro Rider, is probably pumped thinking about that. And if you want to check out the big man from the Isle of Man, Snowshoe is a good place to do it. They will have a ski lift running that takes you down to a lake, which has a beach, a restaurant and a bar on it, and the race track will wrap around it. Check out www.gnccracing.com.

Kirssi, the guy who won the twin-cylinder class at Erzberg, is no slouch. He finished fifth at the first GNCC this season in Florida, and has spent the last few months developing BMW's 450cc enduro bike in the German Cross Country (GCC) Series. Yes, BMW is working on and racing a 450cc single-cylinder enduro bike. Kirssi handles half of the development chores, and the rest of the test riding is taken by none other than multi-time World Motocross Champion Joel Smets. Could a full motocross version of the Bimmer 450 be far behind?
Here are photos of Snowshoe. First one is of the ski lift heading down to the lake. Second is of the village that the race will start right next to.
Oh, if you have a spare minute, take this Racer X reader survey. You can win some new Kicker speakers for your ride!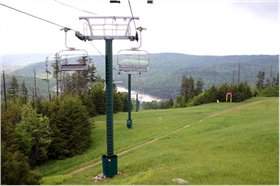 The Snowshoe ski lifts
photo: Jason Weigandt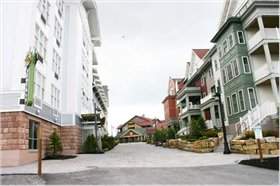 The village on top of the mountain
photo: Jason Weigandt
Okay, time to get to work on tomorrow's Racer X Motocross Show. Thanks for reading our stuff. Now get ready to watch some motocross this Sunday, live and then later on! See you at the races.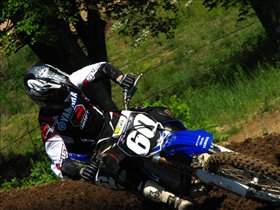 Team Yamaha's Broc Hepler is in training
photo: Becky Polaski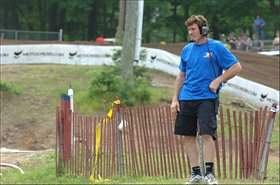 Barry Carsten helped out the AMA at Southwick
photo: Carl Stone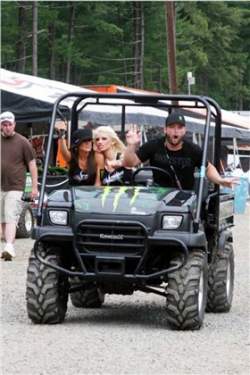 Toast always has the chicks
photo: Jackie Mims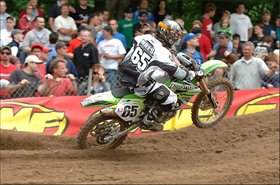 Ryan Mills is back in America and is racing the Motocross class
photo: Carl Stone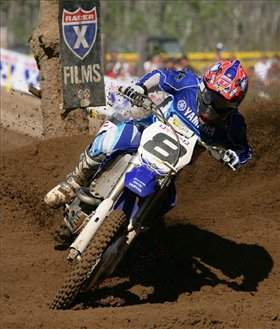 Can Langston keep the momentum rolling in Maryland?
photo: Simon Cudby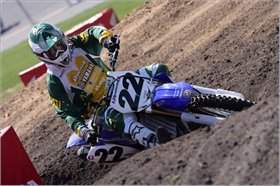 It'll be nice seeing the #22 out there again this weekend!
photo: Simon Cudby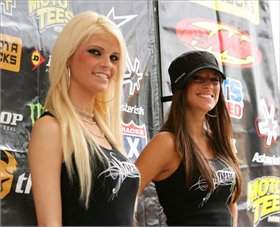 Trophy girls rule
photo: Simon Cudby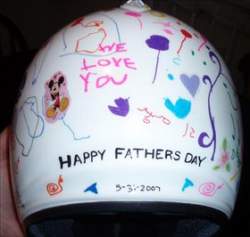 Happy Father's Day
photo: Erica Vuillemin