Privateer Profile: Billy Ainsworth
You got to love the Southwick National. Every year we see at least one amazing performance put in by a local rider that not many people know about. For the second consecutive season, Columbia, Connecticut's Billy Ainsworth caught our attention by putting in a very solid performance. This year Billy put in the ride of his life, going 12-11 for ninth overall in the AMA Motocross Lites class. So be sure to show Billy and his sponsors some love by clicking the links below. Also, check out this cool cribs-style video of Billy's house, put together by Robb Swiatek of RS Films.

Racer X: Billy, a ninth overall at an AMA National and you're getting no love. What's up with that?
Billy Ainsworth: I don't know! I'm starting to get some love now; it just took a few days. I think I may have jumped the gun a bit by going on Mototalk, but maybe it's just because it's Southwick, and us local guys always seem to do good there. I don't think people appreciate it as much.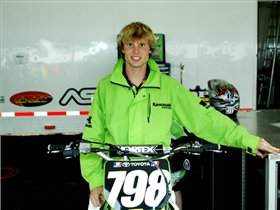 photo: Tom Ferriter

How is the response from the guys on Mototalk?
Everyone has been really positive. I just threw it out there, to see what people would say. I just wanted to get my name out there so people would see it.
What is it with Southwick and the local guys doing so well? Do you guys ride that track everyday or something?
I don't know. We usually race there like four times before the national, and we get it pretty dialed in. But this weekend was weird and we didn't have that much of an advantage because they made it so smooth all day long.
So you're with Ben Townley in the fact that you wish the track was rougher?
Oh, definitely. It was a joke how smooth it was. A few of the sections that are supposed to be rough were perfectly groomed for the second moto. My second moto lap times were on average two seconds faster than the first moto. It shouldn't be like that.
Well, it didn't seem to matter in the results, as you stayed pretty consistent in both motos with a 12 and a 11.
Yeah, I had pretty good starts both motos.
What gate pick did you have?
18th. The second moto I ended up lining up between Townley and Dungey—right in the hot spot of the gate, so I kind of lucked out getting that spot.
We took notice of you after Southwick last year because you finished 14th in one moto. But unfortunately that wasn't enough to get you that coveted national number.
Yeah, I missed out last year, but this year I should be good, and I'm pretty excited about that.
So take us through your day last Sunday.
I just told myself at the beginning of the day that as far as conditioning goes, it wasn't even an issue—I was really confident with that. I just knew that I needed to get good starts and I had to try and run the pace for the first half of the moto the best I could, because all of those guys just sprint so fast. Both motos I was getting passed, but I knew towards the end that I would get guys back, and some bikes are going to break and guys are going to fall. I just wanted to try and hold my ground.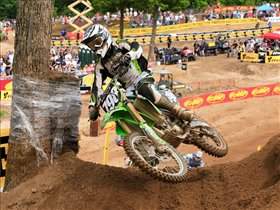 Billy went 12-11 for ninth overall in the Lites class

photo: Tom Ferriter

Did you start up front and get passed, or did you have to work your way up?
The first moto I started around 15th on the first lap and I think I faded back to 22nd or so, and then I ended up making some passes at the end of the moto and worked my way back up to 12th. The second moto I came around 10th the first moto and fell back to 14th, maybe, and then came back to 11th.
Did you have any good battles with anyone?
I really didn't have any battles where I went back and forth a bunch, but in the first moto me and Michael Willard kind of had a little battle going. In the second moto Chris Pugrab was behind me for like half the race, and then he passed me and pulled away a little bit, and then I ended up coming back at him and got around him. That was cool, because I race him every weekend.
You guys were on the same team, but after reading your post on Mototalk, I guess you're not with Chaplin Kawasaki any longer.
No, I'm not with Chaplin any longer. We had a mutual agreement on me leaving, so a shop that is helping Chris out is actually helping me out now—Coastline Motorsports. So now we're on the same team again.
Where is that shop located at?
They're down in Old Saybrook, Connecticut.
A few weeks back you raced High Point. How did that go?
I think that went really good. I never been there and I was super nervous about qualifying with the new timed format, and I barely qualified—like 37th. I ended up going 20-22, so I scored one point. I was happy I did that before Southwick, because it proves I can at least be a top 20 contender on tracks outside of Southwick. I feel now, after High Point and Southwick, half the game is mental, and I definitely have some confidence now that I can run up there with those guys.
It seems your conditioning isn't a problem.
No, I ride a ton and do a lot of training. I do ride a lot with John Dowd, and he's known for being the guy who is one of the strongest at the end of the race, so that helps a ton.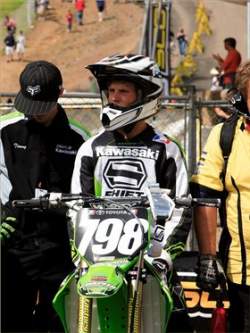 Ainsworth plans on racing the remaining East coast nationals in 2007

photo: Tom Ferriter

And speaking of Dowd, it looks like he's the only Southwick local that had a better finish than you.
Yeah. And I'm kind of the same way where I'm not known for being the fastest guy on the track, so I have to make up for it by trying to be the fastest guy at the end of the race.
What are your plans looking like for the rest of the summer?
I plan on doing four or five more nationals—more of the eastern ones. I'll be at Budds Creek, Unadilla, Red Bud and Steel City. And depending on how those go, I might go out to Millville.
How are you getting to the races?
This weekend my dad and I will take my van down, but by Red Bud I'd like to get a Funmover to travel in.
So is motocross racing your full-time job right now?
Yeah, this is pretty much the first year that it has been like that, and I think that has been helping me a lot with being in shape and being able to ride so much.
Finally, has it sunk in yet that you finished in the top 10?
I don't know! I did it, and it feels awesome, but now I just want to try and use that to keep my confidence up. My goal is to be top 15 or top 20 at other tracks—that's where I want to be.
Billy Ainsworth's sponsors:


Titan MX Graphics