There's really not much more anyone can say about the masterpiece of a career that
Ricky Carmichael
is putting the final touches on. He has gone way beyond what anyone expected of him this season, including RC himself, as our own Steve Bruhn found out after
Southwick
. Behind him, there was a fierce battle between
James Stewart
and
Grant Langston
that seemed to appear out of nowhere, as Langston—finally getting back to 100 percent on the bike—put in an inspired ride in the second moto. But there were two other men out of the racetrack Sunday who were just as interesting as what was going on between the podium finishers.
Gavin Gracyk
got a lot of virtual love after his top-ten rides at
High Point
. His tragic situation—he lost his fiancée due to illness, and then his father was diagnosed with the cruel Lou Gehrig's disease—an inspirational attempt to make it in motocross as a privateer had a lot more folks watching out for the #273 Honda CRF450 than might have otherwise been watching. And man did he deliver, posting a rock-solid fifth in the first moto of the men's class and beating a bunch of great riders along the way. When the moto ended, Buddy Antunez, manager of the Rockstar Suzuki team, stood out on the track and waited for Gavin just to give him a pat on the back.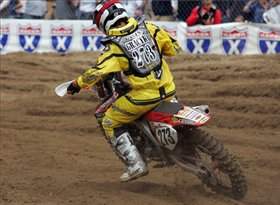 Ohio's Gavin Gracyk finished a very impressive sixth overall
Between motos, as he sat under the tent where the Cycra boys graciously made room for him, it was obvious that he had left almost everything out on the racetrack—battling the factory boys on a store-bought 450 on such a rough track is not easy work. Gavin slipped to 11th in the second moto, but it was still good enough for a career-best sixth overall. Any new help he has coming (and the privateer heroes at Moto XXX might have a permanent home for him) is well-earned.
And then there's
John Dowd
. His day started with a ride around
Southwick
with his fallen friend Doug Henry in the passenger seat. Dowd, going on 42, is not a full-time racer, but he is a full-time friend to his New England neighbor. Henry's terrible luck this year must have certainly weighed on Dowd, and that's not the kind of thing you want to be thinking about—especially when you're about to go out and race on America's toughest track yourself. But when Doug asked, John said, "Heck yeah! Of course I will drive you. That was so cool of him to ask."
Dowd didn't make it far in the first moto before crashing with
Antonio Balbi
, leaving himself with a deep hole to dig out of—he was almost dead last! But he dug deep, just as he always has, and he somehow made it all the way up to tenth—tenth!—by the end of the moto.
The second moto went even better, and he very nearly caught 19-year-old
Mike Alessi
, the Red Bull KTM factory rider, at the end for eighth. Add up his scores, and the old man of the sand finished seventh overall. No one in motocross has ever gone faster at the age of 41 than
John Dowd
, who was also the world's fastest 40-year-old, and before that the world's fastest 39-year-old, and before that….