Monday Conversation 2: Ricky Carmichael
RC is having a perfect part-time season, if there is such a thing. He's 3-0 so far this summer, and he's won the last five motos in a row, underscoring his endurance and ability to sort out problems and just keep on winning. But this weekend was more troublesome than most. He almost didn't go since he could use a break, but he said he would do Southwick and the city was going to hand him a proclamation of thanks and he "manned up" and went. (Hear more about that on the Racer X "Wrap-Up" Show on Motocross.com)
Then things really got tough. His team and Pro Circuit struggled with an overheating silencer all weekend! The thing would glow nearly red hot, and even though they went back to some older parts for the races, the problem came back in moto 2 and he had to think about losing power, or even a bike on fire—literally.
Still in the end, RC found a way. He won a great battle with Stewart in moto 1, and checked out in the second, with his biggest worry the extra heat under the seat.
If that weren't enough, a re-occurring health problem resurfaced. He just had to tough that out, but when it was time for the interviews afterwards, he was noticeably tired and a little more outspoken that usual, so let's let him do the talking….

Racer X: Ricky, you said in the press conference you almost missed this race, were you serious?
Ricky Carmichael: Yeah, I wasn't going to race here. I didn't say anything because I was going to wait until the last second (to decide).

Are you tired? You seem like it today…
Yeah, I didn't feel good after that first moto. My stomach acted up. We struggled with the bike setup until the last practice. That kind of took the fun out of it. It was the IBS. I took my medicine for it like I always do. It does it under really extreme conditions. I was going to pull the plug on the race and just take (the weekend) off. But, that proclamation (from the city) and I planned on doing it from the start. So I already said that is what I am going to do, and I wanted to be a man of my words and do it.

It must have been weird with a bike problem like an overheating silencer to worry about. Did it worry you that it would burn up?
Yeah, or blow up! I was scared of that too. Stuff like that, that took the fun right out of it. That was so weird.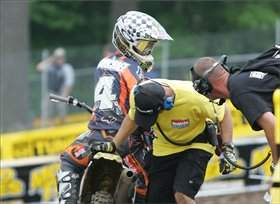 RC was having issues with his silencer heating up

Someone was even waving a towel at the silencer one time when you pulled off like it was too hot.
Yeah, did you ever get a picture of it? It was glowing like it was just welded or something!

Did anyone ever find out what it was, like running lean somehow?
It wasn't lean. We had it jetting really rich. We wanted to preserve the engine. But, I would really love to know. I have great sponsors but that is unacceptable. You can't have nothing like, that, like come on! Mitch [Payton] was over helping out too. I always appreciate what he does for me. Maybe it was the part, maybe it was something the engine was doing. You can't have stuff like that happening.
We are going to go back and work on it. I am sure [Suzuki's] Ian Harrison will sniff it out and get it better. We ended up losing power because the packing went out and it was about to catch on fire.

So you had some close racing in moto 1 and took off in the second; is that the Aldon Baker magic kicking in? You and Ben have won every second moto.
Obviously there is some Aldon magic there.

You get to explain that.
[Laughs] Okay, he is a big, big benefit. There is no doubt about it! He does a great job. I am 100 percent confident in what he does and I am very thankful for it. I did have some good speed. My bike felt great chassis-wise in the second moto. I don't know if it was because we got some time on it or what, but that in combination with my fitness was good.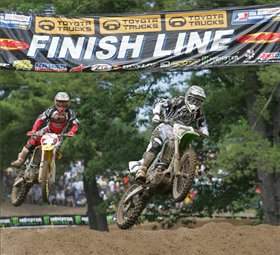 RC and Stewart had a good battle in the first moto

With the racing good like in the first moto, was that one of the "lines and bike setup" motos like you talked about in supercross?
No, he was riding well, but it was so hard to pass. You just ride behind people. You can't really pass. I just said 'Screw it, I am just going to wait until he makes a mistake or he runs out of steam.' When we got to some lappers I was like 'All right, we are going to get it done,' and that's when I passed him.

One month ago, did you think you would have won the first three nationals, even though you are part time?
Absolutely not. No way. I didn't expect to do that.

Will there be anything special about Budds Creek next weekend knowing that also this is a bit of a warm-up for the Motocross des Nations there too?
It would be sweet to get 100 wins there. I know that it is going to be hard work. James rides well there. I am going to have to ride really, really focused and picture perfect. I will have to rely on speed. Like he said, we both want to win every time we get out there.

You said you worked on endurance before this race and not speed, just riding a lot. What about next week, is it endurance or speed?
It will be speed. I have enough motos in. I did motos and motos and motos before the weekend. I just said to myself, "I don't know why I am doing this, putting myself through this misery!' But it was worth it. I knew that is what it would take and it paid off.