Hello, everyone, and welcome to the Rev Up. With another break in the schedule I wanted to rap about the current state of the AMA Toyota Motocross Championships as they are two races young and so far, so great! Seriously, it really can't get much better than how enjoyable Hangtown and High Point were these past two weeks.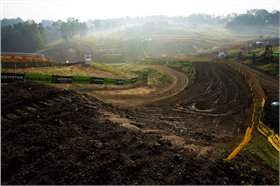 photo: Roddy Macleod
Like any outdoor sport, the weather plays the ultimate factor in the outcome of the event. Be that as it may, clear sunny skies and 80-degree temperatures do not equate the guaranteed success of an outdoor national. There are other elements and ingredients that have to mesh in to provide the ultimate motocross experience. Among other things, there needs to be big crowds, the track needs to be good, and there has to be some drama and excitement. I wanted to use this week's column to talk about what's working, because it really is working, folks. In my opinion, outdoor motocross has grown its running legs in the past few years and has become something truly special. Let's get Revved Up about why the 2007 AMA Toyota Motocross Championship presented by FMF is the hottest ticket of the summer.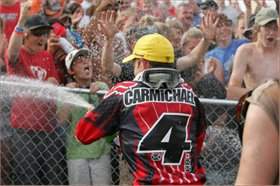 More champagne for RC
photo: Steve Bruhn
When I walked into
High Point
Raceway last weekend I kind of chuckled to myself as my mind recoiled back a couple years ago when it seemed the outdoor nationals were doomed. There was a widespread panic that the nationals were losing steam and seemed to be on a path of extinction. The racing was boring, the coverage was hurting, and the overall magic was not what it used to be. On came the startling crackle of thunder that manifested the incredible 2006 outdoor season. The culmination of outside industry involvement from Forbes 400 companies like Makita, Toyota, and Monster Energy drink gave the motocross pits an unprecedented professional appearance. I mean, there is so much more to do than just drink beer and scream at dirt bikes. The fan interactive elements like the Makita truck, which allows you to actually test out their power tools by drilling through a real piece of wood and the elaborate Toyota Display where you can sit on a real bike and have your picture taken doing a whip are things that are helping make the races more enjoyable for the whole family.
Things have been ramped up on the track as well. A lot of the tracks have been using concert-style PA systems that blast music in between motos and allow the announcers to be heard over the drone of the bikes when they are on the track. And how about the tracks themselves?
Hangtown
looked absolutely perfect. Last weekend at
High Point
the only dust that could be seen was on the trail to where Leticia Cline was signing autographs.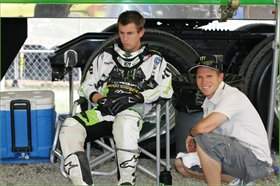 Lethal combination
photo: Steve Bruhn
And things are really looking good on the track. We seem to have that golden element that makes it all happen—it's what prompts families to load up and drive 4-5 hours for the weekend. We finally have parity. Of course, RC and James are a minute ahead of everyone else but watching those two lock horns is worth the trip themselves! Like Bad Billy said in the Scott USA
Sign of the Lap Times
, "The Lites class has seen two different winners in two weeks, and the champ hasn't even won yet."
A lot of you may be bumming thinking that James is going to run off when Ricky leaves us, but if you have seen Ben Townley ride outdoor motocross, or
Ryan Villopoto
ride a 450, or how much quicker Millsaps and Short seem to be getting as the season goes on, you will know that there is no need to fret just yet.
The nationals seem to be a very well oiled machine. What can we do to make them even better? Is there a nighttime national in the future? As cool as the Racer X Motocross Show on
www.motocross.com
is, how far away is the day that will be watching some motos via live feed? What about the live or same-day broadcasts on SPEED?
It's hard not to look at these possibilities when things are going as well as they are right now. But, as the saying goes, Rome wasn't built in a day… it's taken a ton of hard work and four decades of development to allow us to enjoy the outdoor nationals the way they are right now. Ricky may be leaving soon, and SX specialists like
Chad Reed
and
Heath Voss
may be off doing other things this summer, but the series goes on, and the crowds are growing.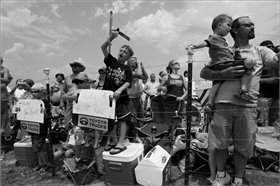 photo: Roddy Macleod
If you're any kind of fan at all, you need to mark off a couple weekends this summer and go see a race. Get there the night before so you can get up early and experience what it's like to see and hear an outdoor national come to life at 7:00 a.m. Enjoy your coffee while the steam rises out of the disked up terrafirma. Then throw on some sun block and dark glasses, and grab a cold beverage. Soak in the tension that blankets the venue when the 30-second card goes sideways and watch the goosebumps race up your arms. You won't need your t-shirt, except for swinging it over your head as the pack charges by!
Thanks for reading, see you next week.