Monday Conversation: Mike Fisher
Right after the awards part of the 2007 Amp'd Mobile Supercross Banquet last week, Monster Energy Kawasaki team manager Mike Fisher said that no brand has done a sweep in AMA Supercross like Kawasaki did this season this since 1991, but I didn't verify that. (What, do I look like Larry Lawrence?) Since then, we have verified that—he's right!
Fisher had the best possible night at the banquet. His brand picked up every championship, and after a really cool goodbye speech, the GOAT himself looked over at Kawasaki's James Stewart and said "The sport is in your hands now."
Fisher has been managing Kawasaki's factory team for 2 ½ years, and before that he was an ex-racer working in development for the company, which would soon come in handy when the team finally got the KX450Fs to race. Their success this season has been remarkable, not just because of Stewart's wins, but Ferry's takeover of vacant real estate on the podium for Kawasaki as well.
Before Fisher and his team get focused on outdoors—the AMA Toyota Motocross Series begins this weekend at Hangtown—we cornered him for a look back at the SX season, as well as what's ahead for his company.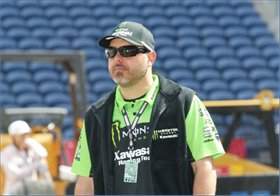 Mike Fisher

Racer X: Mike, you must be feeling like you are at the best awards banquet ever for Kawasaki, right?
Mike Fisher: It was special because of the uniqueness of winning all of the championships, and it shows where our work pays off. Two of the guys, James Stewart and Ryan Villopoto, came through the Team Green program. Kawasaki looks at that as the maintenance program for riders—"the farm." We spend the time and effort to help those riders come up, and it's a lot. You work on these guys for a long time and I think that is really important. It's certainly showing in our ability to keep these riders on our teams. I don't know if we will always be able to do that, it just depends on Kawasaki's will to win. At this point we are all very happy with what we have done. We want to try to continue to keep our riders as much as we can.

You mentioned Team Green, but how close are you really to Pro Circuit?
Kawasaki works really hard with Mitch. Mitch works really hard maintaining his team. Every one on his staff is a hard worker. It's not that one stands out—it's a team. I actually learn a lot from Mitch myself, the way he runs his team. We talk a lot of the phone and work together. He is very competitive and wants to win. He uses all of the resources we give him, then he goes far and wide to find his own resources too. He's tireless. He will get it done. He has taught me a lot. I only have done this management thing two and a half years or so.
On our side of it, Kawasaki's team, the preparation on our 450 was done even before I was manager. It's our second year on the bike. I worked with development on it before that.

We sure remember that U.S. Open where Burner was all over RC, and it was the bikes first race! What was up with that?
The bike is good out of the box anyway. I guess what I brought to the team was when they got the bike, I knew all the things we had or hadn't done already. If the rider wanted to change how to hit a turn, I kind of already knew what we could do. I worked with our production engineers and racing staff engineers on that bike. Our production engineers are the same as our racing engineers, so I had worked with the guys in Japan on this bike for four years already. We work together well, and if we need to get something done on a production bike so we can race it, we can get it done.

Back in December when we started, if the bosses sat you down and said "We want you to win all three supercross championships, what's it going to take?" would you have told them it's possible?
Last year I would have said no, probably not, but now that we just did it, I still think it's too hard. It's pretty incredible that we were able to do it. Bruce Stjernstrom, in marketing, he says we have to understand this is fragile. It's almost never been done, what we just did. It's just been done once, in 1991, Honda (and Pro Circuit) did it. Now it's been repeated. We are going to try again too.

Has Tim Ferry exceeded your expectations?
Yes, he has. The only thing I knew about him when we hired him is he had a lot of fire and determination. He tries real hard. He put it together, didn't make the wrong moves. He always chose good lines. He chose good starting positions, he's smart.

At the banquet James mentioned J-Bone was going to manage a new team next year so he will be moving on. Does that mean he's finishing the summer with James or something?
I like J-Bone. I'm glad he got an opportunity to do something he has wanted to do for a while. That's awesome. I don't want it to detract from our team at all, so I don't know really any details about it. (Racer X has since posted this exclusive interview with Albrecht, conducted by Steve Matthes.)

James showed some strong emotions after clinching the championship at Seattle. People responded to that positively. I thought, Hey look, he's human and this is heavy duty. Do you see this in the Stewarts?
The Stewarts are real emotional people. I think since I have worked with them at Kawasaki these 2 ½ years, even I have mistaken that for negative emotions. But it's all about trying to do better. Big James, a lot of times his emotions have been really strong, in all ways. Basically their goal is to be the best that they can be. That is what we all want. Over the years we have gotten to know each other better. I feel like we have a good relationship. They are emotional, James even rides with a lot of emotion.

The way top riders are asking for and getting space to have a "crew" around that keeps them focused, and that opens the door for dads to be the crew and stick around after minibike days into pro years. How do you handle this or do you let it be?
James and his dad have a relationship like any father and son—they have a bond and they know each other. Big James knows what little James needs, and vice-versa I think. I don't want to stand in the way of that. They have their own space. As a team manager, I want to try and let them have their space and do their thing. That's one thing we did more this year. It worked so much better. They were able to bond better, more like how they were before. I think that is what has happened.

I walk through your pits right after first practice usually because there is always a good photo op with James sitting on the truck step and everyone makes a big huddle. What's going on there?
We are just de-briefing, what we see, for James. We do it for Timmy too. We look at how the track was, is there anything we need to do based on his feelings? He will tell us what he thinks. We will tell him what we see. Then we will look at video of it. We go over all the lap times, and if there are specific things to work on, we make a team decision right then to work on it. I learned this from Mitch, he lets the team decide with the specialist part of it. We talk to everybody.

Can James find more speed if he has too, and has he had to with Ricky recently? Ricky was saying he did pick his own speed up because racing with James made it necessary. Do you think James noticed this, or anyone else trying to match him?
I don't know if that is even an issue. We never talk about it. Well, people scrub things, I think he started all that. He is probably happy that people do it. That is kind of cool. James is pretty shy, and I don't think he cares about that. I think he will step up if he needs to. Like at Las Vegas, the track was the worst, and he goes, "That track is not fun." He makes it look fun though. Did you watch him ride? He looked like he was the only one that actually had fun out there! He is pretty amazing, basically. He's amazing to watch. Even when we go practice and test, we go watch. I still like watching. He just pulls moves out of nowhere and you are like, Where did that come from? I've never seen him get hurt doing it either.