Racer X Exclusive Interview
Probably the biggest news out of the Las Vegas SX was that Jeremy "J-Bone" Albrecht was leaving the Monster Energy/ Kawasaki factory team to be the team manager at Gibbs Racing and their brand new SX/MX team in 2008. J-Bone was James Stewart's mechanic for the last few years and before that worked for John Dowd and Jeff Emig. What's cool and most important to me is that when he was Jeff Emig's championship mechanic at Kawasaki and I was National #88's mechanic, he always had time for me and helped me along the way. A real friendly guy and one of the good guys in the pits, I tracked him down for this interview.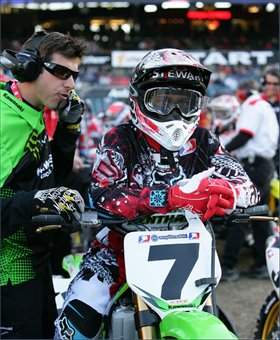 Jeremy and James at Anaheim 1

photo: Simon Cudby

Racer X: Let's talk about your new team and when do you start?
Jeremy Albrecht: I have already! Driving home from Kawasaki, I was already thinking about what I need to get going.
Were you surprised that Kawasaki didn't take you up on the offer to work the first two nationals before leaving?
I was surprised, but I understand what they were thinking. I was surprised because it would make it easier on them if I lent a hand and helped out. I made my decision and it was final; they need to move on I guess. They'll be all right, they have lots of good people over there.
How did the Gibbs Racing offer come about?
Well, I was walking the track at Anaheim 2 and I saw David Evans and Coy Gibbs out there, which I had seen them before, no big deal. I knew they were having a team and I was walking by and talking to them like I always do. They told me they were hiring for their team and if I knew anyone that was interested, to let them know. I didn't really think anything about it, and the next day I was like, I should figure out what this thing is all about, so that if I talk to anyone that is interested, I can give them the details. I found out it was in North Carolina, and I'm glad I didn't know right away or I might've not been interested! I was talking to them and they flew my wife and I out there to check it out. We liked the area, and the facility is awesome, plus all the stuff they can do and the vision that they have is just what you need in a motocross team. With the money they want to spend, they are going to do it right without all the corporate stuff that ties you up.
What prompted you to pick up the phone and call them? Were you not happy at Kawasaki?
You know, I always figured there would be an ending at some point; I have been a mechanic at Kawasaki for 11 ½ years and a mechanic for 17 years. I wouldn't say I was bored, but it was a hard decision because the easiest thing for me to do would be to stay—I know the job, I know the people, and short term it would have been the best for me to stay. I make good money for what I do, but long term it would be better for me to go and learn some new things, something different and have room to grow—start something fresh and help them make their vision grow and for me, because it's cool to do something new. I have been doing the same thing for a while; it's a lot of repetition. I always think I can do a better job then some of the managers that I have had [Laughs] so now I get a chance to prove it. If it doesn't work out, then the next time I get mad at a manager, I know I can't do any better! I have always wanted to do this, and now I have the opportunity to go and try this. I'm pumped.
Yeah, with you being around for so long, I have to think you would be a good manager. You can kind of pick and choose the best of all your managers.
Yeah, for sure. I have had Roy Turner, Bruce Stjernstrom, Mark Johnson and Mike Fisher. I have also dealt with Keith McCarty at Yamaha when I worked for NCY Racing back in the day. I worked factory in-house at Yamaha for a bit, so I also saw how that worked. So, definitely I have seen different styles of managing, and we all know Mitch's style, so I think between all of those guys I have a lot to draw on.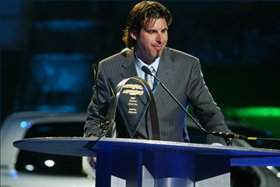 Jeremy Albrecht received the 2007 Mechanic of the Year Award for the Amp'd Mobile SX Series.

photo: Steve Bruhn

So what do you know for sure about your new team? Bikes?
The only thing that I know for sure right now is that I'm working there, how much I am getting paid and that's about it. We don't know about bikes yet, though we're close to deciding between a couple of OEMs. We have flown a couple of riders out to show them the shop and I think next week we are flying somebody else out. Hopefully we'll get some riders soon; it kind of has to come together at the same time—bikes and riders. Today I probably had about 45 voicemails from people wanting a job. I returned about 35 of them today and am working on the rest. It's pretty cool all the interest from people. You're about the only guy that didn't call me! I do know that Coy Gibbs is the CEO of the Moto-X team and JD Gibbs is the president of the NASCAR team, and the dad Joe Gibbs is the owner of the whole thing.
Did you actually meet the legendary NFL coach Joe Gibbs?
Yeah, my wife and I went to dinner with him and his wife! He's a real cool guy. The thing that I liked is that it's the whole family's dream to go dirt bike racing, not just Coy's. A lot of people think that it's just Coy, but the whole company is behind this. A lot of the NASCAR people that race and work there all love Moto-X, they follow it and are into it. The motocross side should be pretty cheap for them compared to NASCAR, and they are going to look at our stuff and think it's no big deal.
How did James Stewart take the news?
He was actually pretty good—better than I thought. He was bummed out a bit, but I was bummed out to have to tell him. At the same time he felt the way that I felt—that it was a good opportunity for me and my family. He knows that it's a step forward for me; we've talked about this kind of thing before. I have had some small issues at Kawasaki, nothing major, nothing that I couldn't overcome, but I figured that it was time. His dad also took the news well, which was nice. They both think I could do a good job, which is good… unless they're lying to me!
Who knows, maybe you'll be hiring him someday.
Yeah, I hope so. I just need to go there and do the best I can. If it all works out the way we planned, then I hope he would want to come there one day.
You have a lot of work in front of you for this team, it must be a little scary.
Well, even though I am the first guy hired, Coy has already been working hard. He has the shop set. He got carpet put in, dropping the ceilings; he has ordered the furniture for the front office. He has got the air compressors and the benches ordered. He has helped out a bunch; he is going to buy all the machines that we need. [MX Edge's] David Evans is looking after the sponsorship side of things; he is calling the sponsors and the riders. The semi is something that all of us Moto-X people worry about and when I brought this up, they laughed at me. They get priority because they order so many, so you just got to go in and check off what you want. Gibbs Racing has a guy that the semi trucks are his only job, he looks after getting them and handling it all.
Are you trying to get factory bikes or more like an MDK deal?
Everything is open, but we are shooting for factory bikes, but that depends on which manufacturer we settle with. Factory bikes could mean something like a Pro Circuit where we do everything in-house. That still has to be worked out, but every rider out there would probably prefer to be on factory bikes so that's what we need to shoot for.
What about you having to move out to North Carolina?
Yeah, I have never lived anywhere else in my life but California. My mom lives in Las Vegas and she has been trying to get us to move there and we were like, "No way!" Now I am going across the country. It's a big step, but it's nice out there. Housing prices are better out there; I will be making some money on that deal.
Are you going to fly into the races on private jets, NASCAR-style?
We are going to try! They have a couple of them. They are talking about getting another one, so we'll see. Not sure how it will all come together, but we can be cool guys and try to fly in on the jet if it all works out.
How strange is that going to be to when the gate drops at Hangtown and you are sitting at home?
Yeah, it will be weird for sure. Actually, I might go. Coy said that if I want to, they will buy me a ticket to go and check it out. Who knows—maybe I can start looking at some riders and other team personnel. Might be a good chance for me to hang back and check things out.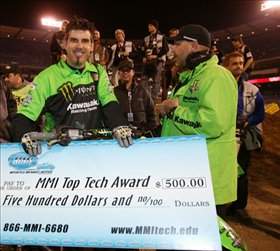 Albrecht collected his fair share of those checks throughout his career

photo: Steve Bruhn

Was there something that stood out for you after all the years at Kawasaki?
James Stewart is the fastest rider I have ever worked for, and the most talented. And Jeff Emig was also real cool—it was my first factory job and he was my buddy. He wasn't expected to win anything, just pull holeshots and then drag his feet! Then when he won, it was awesome. He beat McGrath and that was a highlight for me. John Dowd was one cool dude—nothing bad to say about him. It was more fun having "Muffin" (Brian Berry) make fun of me, because I would send him notes and he would send them back saying that Dowdy was a better mechanic then any of us.
It was good the whole time I was there, even when I was a shop guy flying out to Ricky's house to work on practice bikes—that was fun! I would say all the way until lately, it's been a little different for me. I don't know if it's them or me but it was time to switch it up.
Anybody you want to thank?
My wife and my son, Boost Mobile, Oakley, Fox, MMI and all of their money that they have given me! And Toyota for the trucks.
Thanks J-Bone.
No problem Steve, see you at the races.