It's the calm before the storm.… Next weekend, the 2007 AMA Toyota Motocross Series begins, which means a new battlefront—the last one—for Ricky Carmichael and James Stewart. RC is returning for at least the first five races, and maybe one more later on. He returns to meet a red-hot Stewart, who absolutely demolished everyone the last six weeks of supercross.
The word is that RC has been riding more than one might expect of a pretty-much-retired racer, but then again, #4 always did things the hard way—the right way.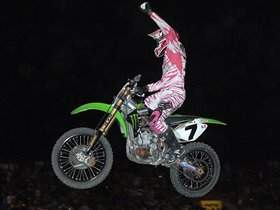 James is the series favorite, but what about Hangtown?
photo: Carl Stone
In the Lites class, it's shaping up as Monster Energy/Pro Circuit Kawasaki—
Ryan Villopoto
,
Ben Townley
, and the returning
Brett Metcalfe
—against Makita Suzuki's
Ryan Dungey,
Yamaha's
Josh Hill
, SoBe No Fear Honda's
Josh Grant
and everyone else.
That's not the only new front being opened. Racer X and Motocross.com have teamed up to cover American motocross like it's never been covered before. Next week will see the world premiere of The Racer X Motocross Show on Motocross.com. It's an online show dedicated to the series and the sport, hosted by Jason Weigandt and featuring a revolving cast of industry friends that includes David Pingree, Denny Stephenson, Sarah Whitmore, DMXS' Kevin Kelly and David Izer, SPEED TV's Jeff Emig, Leticia Cline, Simon Cudby, Rupert X. Pellett, and pretty much anyone else who wants to get involved (hey, it's not a party unless everyone is invited).
We will feature a pair of preview shows beginning next Wednesday evening, then The Racer X Motocross Show will set up in the Hangtown pits and film a Saturday preview show—including exclusive, same-day highlights from practice and timed training, and interviews, as well as Saturday morning's WMA race—that will go up on Saturday evening. We're hoping for a Game Day-type atmosphere, so look for Weege and a few cameramen on the premises, then hold up your "Go (Surfing) Chad Reed!" signs, or whatever floats your boat!
On Sunday afternoon, you will hear the dedicated
Hangtown Webcast on Motocross.com
, just like the well-done
Supercross Live!
webcasts and not just the PA announcers, featuring
Jason Weigandt
as host,
Denny Stephenson
as color analyst, with some interactive features so listeners around the world can send in their questions and comments.
And finally, we will have a Sunday evening wrap-up show, featuring more highlights, interviews, and bench-racing, plus some analysis from well-known pit pundits like MXi's Steve Cox, our very own Steve Bruhn, and anyone else who wants to chime in.
Wait, there's more! Next Saturday, you will see another preview show, this time direct from High Point Raceway, with Hangtown highlights, interviews, and, of course, exclusive High Point practice footage, as The Racer X Motocross Show on Motocross.com moves to its next location.
It's our goal to cover American motocross in a way that it's never been covered before. I truly believe that this is going to change everything. Stay tuned!
Outgoing Parts boss Jeff Fox and Ivan and Teresa Tedesco
photo: Simon Cudby
This week, the sport found out that one of the industry's true giants was stepping down. What RC's retirement meant on the track in America, and what
Stefan Everts
' did in Europe, that's what Parts Unlimited boss
Jeff Fox
's retirement means to the motorcycle industry.
In 25 years at his family's company, Fox grew Janesville, WI-based LeMans Corp. and Parts Unlimited into an industry giant. Parts Unlimited is the biggest distributorship in the motorcycle world, modernizing the supply business while building a massive army of sponsored riders along the way that included everyone from Jeremy McGrath to Josh Coppins, Travis Pastrana to Doug Henry, Chad Reed to Ryan Villopoto, Greg Albertyn to Ben Townley. It was also his vision (along with help of field generals like Hylton Beatty and the late Walker Garrison) he turned hospitality in the pits into a business in and of itself. Parts Unlimited and its affiliates also sponsor pretty much every major motorcycle series and race in North America.
Now Jeff Fox is retiring from day-to-day activities of being the head of the company, though he will remain on the board of directors and continue to attend the big races on the calendar. Hovering right around 50, what were his reasons for such an early retirement? More time with his family, and more time on his motorcycles. Well done, Jeff.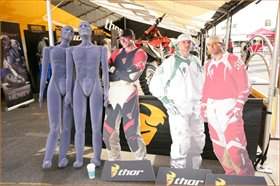 Under Jeff Fox's direction, Parts Unlimited completely overhauled the concept of hospitality
photo: Simon Cudby
Changing gears, the People's Champion,
Jamey Grosser
, hit me with this
"Dirt Bike Concerns" video
on YouTube. It is pretty amazing!
Said Grosser, "I wish I had the balls to ride in a park! I've spotted some nice golf courses I'd love to ride at too—road trip to Baltimore?! We could get Pastrana to show us around his favorite downtown riding spots!"
Actually, Travis was as far away from downtown Baltimore as one can be this week: he was out in the Southwestern desert, going off for Greg Godfrey and crew as they got ready for another Nitro Circus blockbuster. Matt Ware went along and sent us this shirt message by smoke signals:
"I've been stuck in 'the middle of nowhere' literally, on a Navaho Indian Reservation with the Nitro Circus Crew. Cell phones didn't work, nor did they know who what the internet was, but they sure did know the guy who got stuck by all the catci. After a long trip with Randy Richardson and some time in the desert with the Godfrey Films crew, I witnessed some of the most amazing scenery along with some of the most insane, if not idiotic 'stunts' go down. Here's a brief sample of what's to come on the latest Nitro Circus video which should hit sometime early 2008."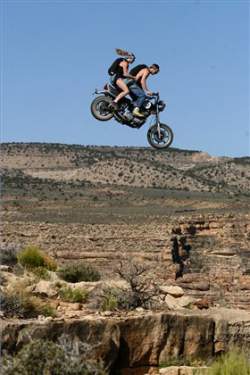 Yes, that's Travis and Jolene Van Vugt!
photo: Matt Ware
By the way, the downtown-motocross thing in Baltimore got a lot of press locally last month, and here's
Fox News' version
of the events.
In a possibly related story, Laurel Allen from Road Racer X sent this inner-office memo around: "I'm being semi-assaulted by a woman via Myspace who wants us to keep eyes and ears open for news concerning some bikes stolen from a McHenry, Maryland, dealership. There is a lot of fodder for intra-office jokes here, because according to her, A) a video tape shows the thieves wearing Racer X hats, and B) police told her that there were 'three suspicious guys from Morgantown in the bar just prior to the robbery.' The bikes stolen were all 2007 models: two YZ85s, a TTR125, a TTR50 (with no key), and a KX65."
Has anyone seen Fubar or FoBro today?
Don't miss our latest contest with DVS Shoes – a chance to win an autographed set of Carey Hart's new clothing line. Visit racerxonline.com/subscribe for more information.
We also have a new way for you to get your monthly fix from Racer X – the Racer X Illustrated Digital Edition! Are you sick of waiting by your mailbox for the new issue to arrive? Subscribe to Racer X Digital and a link with the new issue will be e-mailed to you the day after the magazine ships from the printer. You'll be reading your favorite magazine weeks ahead of time, and it's only $14.98!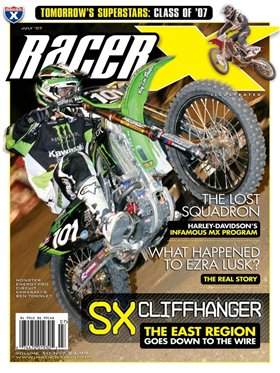 Ben Townley is on the new cover of Racer X Illustrated, which now offers digital subs
This new format is key for our international readers – the digital edition will save you $30 off of the regular subscription price! No more waiting and wondering when the new issue will arrive; you will see it the same day as everyone else in the world, for the same price.
Still enjoy the print magazine but want the digital edition too? We also offer combination pricing so you don't miss out on either.
Go to: racerxonline.com/subscribe.
When I was a kid, one of the coolest things anyone ever gave me was a postcard-size sticker of a '77 Spanish motocross race/magazine poster, and I've held on to it ever since. In fact, anyone coming to the Racer X Open House the Friday afternoon before High Point will see it blown up billboard size in the front lobby of the RX HQ (more on that next week). But I always wanted to make similar stickers to give away if this magazine thing ever took off.…
Well, send us a self-addressed, stamped envelope, and we will hit you back with some free Ricky Carmichael/Racer X stickers: Racer X RC stickers, 122 Vista Del Rio Drive, Morgantown, WV 26508.
Congratulations to Ryan Dungey, not only for winning the East-West Shootout in his rookie season, but also for scoring his first national magazine cover as a pro: Moto Kids! The Cycle News-produced kids' mag (a must for young enthusiasts and their parents) has #62 front and center with the headline "Racer on the Rise." For more info on how to get Moto Kids for your kid, check out www.moto-kids.com.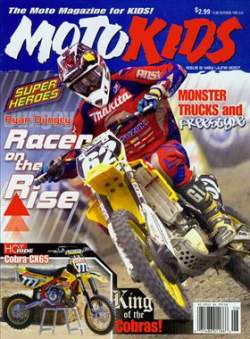 This might be Ryan's first major cover
It had to happen eventually: there's a fashion article shoot in the new
Esquire
with the FMX guys at the Mulisha Compound in the June issue, pp. 126-133. Nothing like wiping out in a $3,000 Prada jacket! Added Bonus: A two-sentence article on "What To Look For in a Dirt Bike" by
Brian Deegan
.
This is from Ed Youngblood's awesome www.motohistory.net:
Imagine our surprise to find on the cover of the new Vanity Fair a picture of Bruce Willis busting a berm aboard a vintage desert sled, standing on the pegs, glaring at us with his best in-your-face face. Inside the magazine one finds a description of the image. We learn that Mr. Willis is wearing a vintage Abercrombie & Fitch shirt and a Calvin Klein Collection T-shirt. His grooming products are by Clinique and Kiehl's, and his grooming is by Gerald Quist (Grooming? What grooming? This is Bruce Willis!) The photo was shot by Annie Leibovitz in Victorville, California. But VF tells us nothing about Mr. Willis's ride.
So let us, with a little help from Triumph historian Lindsay Brooke, take up where VF left off. Mr. Willis's mount is a 1965 Triumph TR6SC with aftermarket air cleaner and exhaust pipe extensions, and a fabricated bash plate.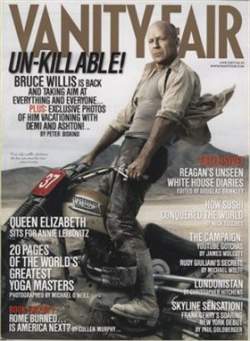 That's pretty cool
Through the
Vanity Fair
website, you can access a video about the Willis and Leibovitz photo sessions. The video shows Willis riding a black Triumph street machine—not the one used on the magazine cover—on a dry lake bed. He poses aboard the same machine for photos that apparently were not selected for publication. The bike used for the
VF
cover shot was mounted in a stationary position, and a fan was used to make Willis's shirt fly out behind. To view the video,
click here
.
The third and final chapter of an astonishing MX trilogy about the 1976 AMA 125cc National Championship between Marty Smith and Bob "Hurricane" Hannah is up on MXWorksBike.com.
Let me turn this over to Ping right here.…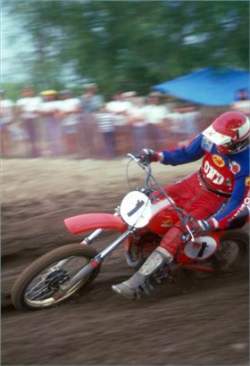 Marty Smith and Honda lost that #1 plate Bob Hannah and Yamaha in 1976
photo: Dick Miller Archives
I know it's Las Vegas and all, but I think we're getting a little out of hand with the female "spokesmodels" at the races. The Amp'd Mobile setup looked like Crazy Horse minus a brass pole, and I think we might have stepped over the line in our see-through shoes here.
Remember when everyone got their panties in a knot over the commercial with the prostitute and the businessman having a heart attack? We've gone to the next level with the whole "perv" marketing thing, and I think we need to pump the brakes…. Softly, at first.
On a less-sexy note, Scott's Bevo Forti has lost 62 pounds in his Biggest Loser challenge. After taking pledges for each pound lost, Bevo raised a hefty sum of cash for his efforts, all of which will go to the Rider Down Foundation. He is also planning on continuing his weight loss with all proceeds made going to help Doug Henry in his rehabilitation efforts.
Jeremy Albrecht is leaving Bubba. The longtime mechanic and all-around good guy has been spinning wrenches for a while, working with guys like Mike Metzger, Pedro Gonzales, Jeff Emig, John Dowd and now James Stewart. His new gig is with the Joe Gibbs race team that is planning on fielding a two-man team, both top-five riders.
Uh, who are they going to hire? As far as I know, Stewart, Reed, Ferry, Tedesco, and Windham are locked up through 2008. So maybe Michael Byrne or Nick Wey or Tyler Evans? Or maybe they will pull from somewhere else?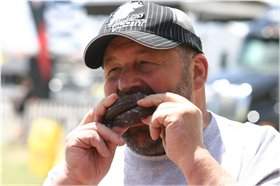 Here Bevo has a weak moment after the weigh-in
photo: Ping
There is an Australian kid that is on his way here. He hasn't made a lot of waves yet and you probably won't recognize the name, but
Daniel Reardon
is the next big thing from Down Under. According to
Timmy Weigand
, who has been racing the series down there, Daniel has been absolutely destroying everyone. Apparently, he can fall in the first turn and still win the moto by big margins. And that is racing against guys like
Darryl Hurley
,
Craig Anderson
, the
King brothers
and many other great riders.
Reardon did have a guest spot with Kawasaki at Glen Helen last year but injured his ankle just days before the race and didn't get to compete. His agents have been running around southern California like chickens with no heads trying to line up a ride, and it sounds like he has several good offers. Chad Reed is headed down to Australia and will race against Daniel in an Aussie MX Championship race. It will be interesting to see how he does.
Stepping in to fill J-Bone's shoes at Bubba's side will be Mike Williamson. Mike worked for Ferry this year and is the next guy in line for the job. Mikey will do a great job.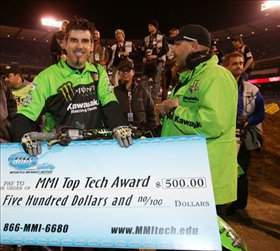 See you on Tobacco Road, J-Bone!
photo: Steve Bruhn
And then there is
Erick "Tecate" Vallejo
. My man rushed the stage at the awards banquet - again - and went into a spiel filled with privateer rhetoric - again - all the while slurring his words like he was doing a bad Cheech and Chong impression. And it was the most entertaining part of the evening, from what I understand. Nice work, Captain Patron. See you onstage next year.
And I can't sign off without a little flick of my chin to Tim Ferry's ex, Steve Matthes. This guy starts doing an "Observations" column for Racer X Canada, gets a few cheap laughs, and all of sudden in his latest Primm Museum tour he's putting me on blast. Listen up, Tons 'O Fun, because I really want you to get this fully completely: You calling me fat is like Kevin Federline telling someone they can't rap; it's like J-Lo telling another chick she has a big ass. There's a reason your nickname is "Sausage Ankles," and it's because your lower leg looks like an elephant foot. The pictures of you riding at the Castillo Ranch look like someone Photoshopped Marty Tripes onto Tim Ferry's bike (and I mean Marty now, not when he was racing). I hear you're wearing Moose gear now—literally.
Looky here, Sausage Ankles, we're buddies and all, but you need to check yourself. Hugs and kisses, and don't make me go all Evie Ferry on you have to get a restraining order for you because Tim didn't want to hurt your feelings.
Wow, Ping is always in a good mood when he comes back from Vegas!
Moving right along, Chad Reed has been riding round Glen Helen, getting ready for the nationals … in Australia. For the first time in three years, Reed is going back home to race outdoors at someone named Raymond Terrace's house (just kidding, mates), which hosts the fourth round of the Nokia MX Nationals next Sunday.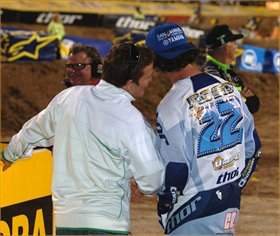 Chad's going home to race in Oz next weekend
photo: Carl Stone
Apparently, we won't be seeing another Yamaha rider at
Hangtown
, as
Broc Hepler
is still trying to come back from that much-more-serious-than-anyone-thought concussion.
TFS weighed in on this (no pun intended) on Mototalk:
"Not everyone measures concussions as smart as he did. Previously, he did a recommended test called Impact at UPMC that measures your reaction times when you are not injured (using software). So after a concussion, he can get a re-test and they know the extent better. My understanding is that this is confirming he isn't ready. That's good, but how many people may have been through a similar injury, not had a reference test, and just went back to riding? Maybe Broc is in the minority that does it right. Maybe the test is too conservative. I don't know of anyone claiming that though."
Pity Jim Sanderson: flies to Vegas for his first SX in years, gets food poisoning, and spends Saturday on the floor of his hotel room, head in a bucket! Maybe we'll see you at Budds Creek, Jim.
AMAMotocross.com and Racer X contributor Jim Kimball's daughter Emily is a big motocross enthusiast, and she proved that she might have some editorial and design skills with a recent MX newsletter she made for school. Turns out Jim isn't the only one in that family with an eye for moto.…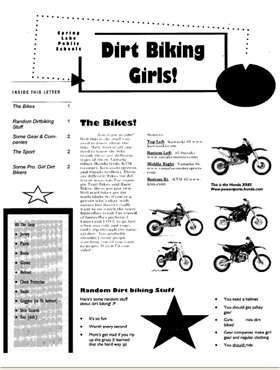 By Emily Kimball
A belated happy birthday to
Shand Garcia
, the publisher of Texas-based
Holeshot Magazine
. His birthday is May 7, which is a date close my heart (
Vance
's birthday) and
Road Racer X
's
Chris Jonnum
(his own), and
Mario Marini
's as well.
Press Release: Three Palms Extreme Sports Park near Houston Texas is offering a chance for two Toyota Trucks to be given away at the conclusion of the Three Palms Triple Crown Series. If a rider wins all three rounds of the series in the Lites Pro class, he will drive home in a brand new 2007 Toyota Tacoma. If a rider wins all three rounds of the series in the Motocross Pro class, he will drive home in a brand new 2007 Toyota Tundra. Round 1 is the Suzuki Memorial Day Classic May 26th-27th. Round 2 is Round 4 of the Pro Circuit Series September 15th-16th. Round 3 is the Parts Unlimited Dealers Challenge October 20th-21st. There will be a $5,000 pro purse per event (minimum 16 riders), and a $5,000 series point fund in the Lites class and a $7,000 series points fund in the Motocross class. All three of these rounds will be held on the Main track at Three Palms. For more information, go to http://www.threepalmsesp.com/Events.html.
If you didn't get enough cool supercross images this week—after the live show on Speed TV, the wrap-up show on CBS, and all of the sites' posting race coverage and wallpaper—here's a way to cut to the chase on some year-in-review photos by Vital MX's Steve Giberson.
Did you hear the one about the jury awarding $41.5 million to a teenager in Nevada whose motocross gear caught on fire after he wrecked his trail bike, ruptured the tank, and then saw the fuel ignite, likely because the bike he was riding had exposed wiring from where his father hot-wired it? Sadly—on every level—it's a true story.
We showed the reports on this case to our friend Michael Stusiak, who is a lawyer as well as a motocross enthusiast. What did Counselor Stusiak think?
"That has me scratching my head," he wrote. "I tried to get more information on the verdict and trial issues, but couldn't find anything that added to the story. I am especially interested in the jury instructions. It's hard to tell what exactly the verdict turns on, but upshot seems to be that gear manufacturers have a duty to sell gear that not just will not burn (or melt), but that will protect against fire. I can't tell from the news report where the judge with the rationale allowing the plaintiff to make that argument. The argument has to be tied to some legal instruction that is not reported, and that's where the case turns. I can think of several distinct analytical paths to get to this result (none of which seems legitimate to me), but the specifics are a bit arcane. I doubt there are many catastrophic dirt-bike burn cases, but you would expect any such case to exploit this decision if it stands. I would be very concerned about it if I was in the gear industry.
"It pretty clearly seems to be a case where a lay jury felt badly for kid and made the defendant the insurance company without a lot of consideration for the underlying principles. I wonder how seriously the defense took this case in terms of exposure. I am a bit surprised the case didn't settle, but I imagine that no one on the defense side expected a $40m hit.
"The verdict is days old. There probably will be post trial motions on this and there is some chance the judge will decide that the evidence doesn't support the verdict or that the damages are excessive (the judge did throw out the case against Yamaha, so she seems not to be excessively plaintiffs' oriented). And, of course, there will be an appeal one way or the other. Hard for me to judge the prospects for the defense without access to the specific legal instructions, but I would be surprised if this stands."
There's another litigious saga that's coming to its conclusion in a courtroom in Texas: Holigan Racing vs. BooKoo.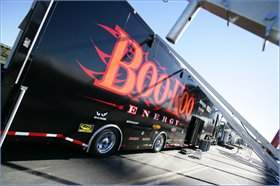 photo: Simon Cudby
Remember how
Michael Holigan
closed his team's doors just before the start of the World Supercross season due to a late breakup with the team's title sponsor, BooKoo? Everyone pointed fingers back and forth, from the riders' camps to Holigan's, and even the BooKoo Arenacross folks had some say. Without being privy to all of the details, it's hard to tell what went wrong here, but a court will soon decide. But as we saw in Las Vegas, they can return shocking verdicts too.
There was a ton activity around the Vegas SX, from the Road 2 Recovery golf to the spectacular banquet on Sunday night, and you can look back on all that stuff with TFS' Weekend Window.
Here's some follow-up stuff:
From Jason Berry: While I was in the Vegas SX pits last week I met up with fellow Brit David Bulmer. David is the guy following the Nationals all over the country this summer. A Year In MX, 1 Man, 1 Year, 1 Sport. I know we mentioned him the other week, but his site is now getting regular updates and any help along the way would be much appreciated, even if it's only a couple of cans of Cider! http://www.ayearinmx.com/.
A quick note from Neil Smith, one of the Las Vegas Racer X Gas Card sponsors: "Just wanted to let you know that we just had a blast at the Vegas SX finals with the Gas Card. It was a great experience for us, and everyone was extremely nice. I only have one complaint: We are now spoiled! Thanks again!"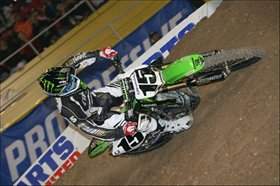 Tim Ferry is staying green for two more years
photo: Simon Cudby
One guy who definitely earned his keep this year was Team Kawasaki's
Tim Ferry
, as the privateer-turned-factory rider (three times) was rewarded with a two-year extension with the green team. Couldn't happen to a nicer guy than
Red Dog
. Somewhere,
Steve Matthes
must be tearing up.…
Dear Racer X:
I just reviewed this week's Top 25 Racer X/Toyota Power Rankings and once again see that Heath Voss is the only privateer on the list. I find this accomplishment to be quite incredible and I find it equally incredible that there has been little to no recognition of this in your magazine or website (and no one else's, for that matter). In watching the races on television, it is apparent that Heath does not have the speed of the frontrunners, but he displays a grit and determination that are second to none. I understand he has been riding since Indianapolis with a broken toe, yet he still managed top 10 overall finishes in both the World and the AMA Supercross Series final point standings. The fact that he did all of this on stock equipment and without the support of a team at the races makes it even more amazing. Kind of reminds me of a kid a long, long time ago that was pretty good with a rock and a sling. I think there is a great story to be had here and I, for one, would sure like to hear it. How about it Racer X?
Brian M. Savage
Thanks for the note, Bryan, and Heath is certainly deserving, though I think David Vuillemin has a good argument that he's a privateer too.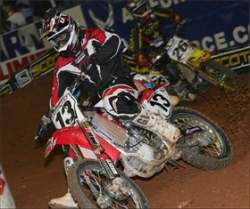 Heath Voss finished the SX season ranked 20th on the Racer X/Toyota Power Rankings
photo: Simon Cudby
Another note from
TFS
:
Eight years ago, motocross hopeful Aaron Baker was given a "million in one" chance of regaining movement in his arms and legs after a devastating spinal-cord injury (SCI). Either he hit a lottery, or someone needs to stop giving out bad advice.
Today he walks with a cane and is an inspiration to SCI victims that get pessimistic advice from doctors. We recently found him sitting with James Marshall at the Road 2 Recovery golf tournament in Las Vegas, telling him never stop trying, never listen to "no you can't do that."
Baker is organizing a "Rise Above" bicycle ride across the country to raise awareness of SCI research and rehabilitation. You can read all about Aaron, his recovery, and his story on his web site, www.aaronbakers.com.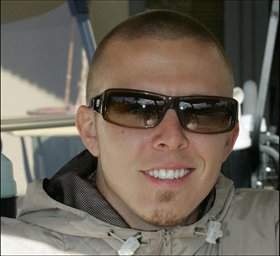 Aaron Baker

photo: Steve Bruhn

Ludo posted this last night on Mototalk:
Suggestion for the AMA:
When 2 riders gets in a fight with, whoever of the two may have started the fight, whoever maybe fighting in self defense or not, any rider grabbing the mouth piece or any part of the other rider's helmet will be DQ'd on the spot and will be suspended for an additional race. I am just tired of seeing wimps grabbing other rider's helmets and risking very severe neck injuries. This should not be tolerated. (It would also make the fight last longer and be fairer..
That led the online-omnipresent DV12 (David Vuillemin) to respond, "Bring back the open-face helmets!"
Catalina Island is on fire. The Pacific Ocean island, which is 26 miles off the coast of Southern California, was once the home to the biggest off-road race in America, the Catalina Grand Prix. The bucolic resort island with the famous casino used to open its arms to the riders in the 1950s for a wild weekend, which race-winner Dave Ekins detailed for Road Racer X a couple of years ago.
But then one year, on the ferry ride back to the island, drunken Hollywood bad boy
Lee Marvin
decided to commandeer the ferry boat to a different docking spot near a favorite bar, which led to a giant scandal and hard feelings. That pretty much spelled the end of the Catalina Grand Prix. And since they've had 2" of rain this season, as compared to the normal 13", well, this might be the end to a lot of beautiful homes in and around the sleepy town of Avalon, which might be the only place in the U.S. with more golf carts than Loretta Lynn's.
And now an update on Johnny O'Mara. The former AMA 125 National MX and AMA Supercross champion, as well as a multi-time Team USA standout, won another NORBA Mountain Bike National over the weekend in Fontana, Calfiornia. Johnny has two kids now, lives in Southern California, and is as fit as he was for much of his legendary motocross career.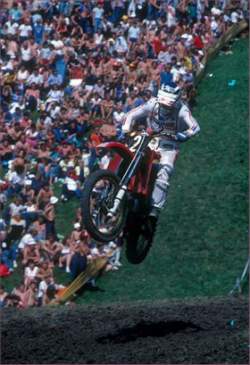 Johnny then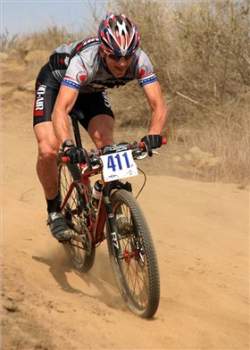 Johnny now
photo: Terry Martin
Finally, Happy Mother's Day to all the moms out there—motocross moms or otherwise—and if you're not a mother, think of yours come Sunday. Thanks for reading Racerhead, see you at the races.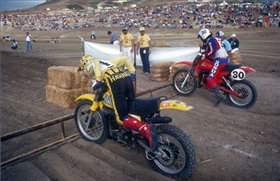 Racer X Trivia Question: What the heck is going on here? Where? When? letters@racerxill.com
photo: Dick Miller Archives