Toyota/Racer X Power Rankings
It's official:
James Stewart
ends the 2007 Amp'd Mobile Supercross Series as the unanimous #1 rider with all of our Racer X/Toyota Power Rankings pollsters. Stewart, 21, dominated the last half of the season, winning the last seven races -- two of which
Ricky Carmichael
rode before making his final exit from the stadium. But the pollsters didn't forget about #4, as he took the runner-up ranking back from
Chad Reed
after the San Manuel Yamaha rider seemed to fade at the end of the schedule. Tops of all the Lites' is no surprise:
Ryan Villopoto
checks in at fourth in our stadium season-ending poll. Rounding out the top five in this Racer X/Toyota Power Ranking is
Tim Ferry
, who had an excellent season on Team Kawasaki.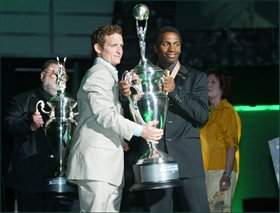 The torch has been passed
photo: Steve Bruhn
Finally, before we turn our attentions to the AMA Toyota Motocross Series and a whole new ranking next week, here's a nod to
Jake Weimer
, who made it into the final poll with his runner-up ride in the East-West Shootout. Thanks to everyone who voted, and get ready to get your outdoor game on next time!
| | | | | | |
| --- | --- | --- | --- | --- | --- |
| | | PTS | # | RIDER | SPONSOR |
| 1. | | 625 | 7 | StewartJames (25) | Monster Energy Kawasaki |
| 2. | | 592 | 4 | CarmichaelRicky | Makita Suzuki |
| 3. | | 564 | 22 | ReedChad | San Manuel Band of Mission Indians Yamaha |
| 4. | | 536 | 51 | VillopotoRyan | Monster Energy/Pro Circuit Kawasaki |
| 5. | | 514 | 15 | FerryTim | Monster Energy Kawasaki |
| 6. | +1 | 488 | 14 | WindhamKevin | Sobe No Fear/Samsung Mobile Honda |
| 7. | -1 | 455 | 101 | TownleyBen | Monster Energy Pro Circuit Kawasaki |
| 8. | +1 | 454 | 62 | DungeyRyan | Makita Suzuki |
| 9. | +1 | 374 | 12 | VuilleminDavid | MDK Motorsports Honda |
| 10. | +1 | 363 | 9 | TedescoIvan | Makita Suzuki |
| 11. | -3 | 338 | 118 | MillsapsDavi | Factory Honda |
| 12. | +1 | 326 | 29 | ShortAndrew | Factory Honda |
| 13. | +2 | 298 | 338 | LawrenceJason | Yamaha of Troy Yamaha |
| 14. | -2 | 298 | 116 | MoraisRyan | Yamaha of Troy Yamaha |
| 15. | -1 | 263 | 105 | LangeDarcy | Monster Energy Pro Circuit Kawasaki |
| 16. | | 212 | 26 | ByrneMichael | Rockstar Suzuki |
| 17. | +1 | 160 | 121 | JessemanBranden | Motoworldracing.com Yamaha |
| 18. | +1 | 150 | 58 | HillJoshua | Factory Yamaha |
| 19. | -2 | 146 | 8 | LangstonGrant | Factory Yamaha |
| 20. | | 118 | 13 | VossHeath | Privateer Honda |
| 21. | +1 | 109 | 24 | GrantJosh | Sobe No Fear/Samsung Mobile Honda |
| 22. | +2 | 96 | 52 | HahnTommy | Factory Honda |
| 23. | | 91 | 37 | CarpenterPaul | Cernic's Kawasaki |
| 24. | -3 | 83 | 11 | PrestonTravis | Sobe No Fear/Samsung Mobile Honda |
| 25. | new | 79 | 73 | WeimerJake | Sobe No Fear/Samsung Mobile Honda |
Total number of votes 25
Linda Ardehali, Vince Arimitsu, John Ayers, Jason Berry, John Bodnar, Chris Bond, Andy Bowyer, Erv Braun, Paul Buckley, Dave Castillo, David Clabaugh, Davey Coombs, Steve Cox, Simon Cudby, Jeff Emig, Mike Farber, Jason Fleming, Steve Giberson, Jason Hooper, Frank Hoppen, Steven Hudson, Chris Hultner, David Izer, Eric Johnson, Jeff Kardas, Jim Kimball, Scotty LaLonde, Stephan Legrand, Brian Leib, Mario Marini, Nick McCabe, David Pingree, Dave Prater, Pat Schutte, Alan Selk, BJ Smith, Bryan Stealey, Denny Stephenson, Carl Stone, Michael Stusiak, Jean Turner, Billy Ursic, Scott Wallenberg, Matt Ware, Jason Weigandt, Billy Wood, Brad Zimmerman