Number Cruncher: James Stewart
Welcome to the Shift Number Cruncher. It's pretty much been "Bubba Week" since Saturday night and with good reason. The name James Stewart has been creating buzz for the better part of two decades, and he finally completed the immaculate cycle when he nailed down the 2007 AMA and World Supercross championships. You want to talk statistics and trivia? Try this one on: No motocross racer has traveled a road as long as James. Stewart became the first rider in the history of the sport to win championships from the 51cc shaft driven class all the way to the supercross crown. Here is a photographic depiction of some of the numbers he carried along his journey.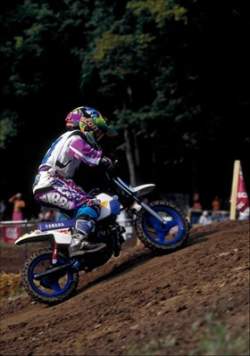 1993
photo: Racer X Archives
When you have your name on the back of your pants in the 51cc division, you are already a very big deal. James actually wore AXO the year before the picture was taken, but the Fox boys quickly snapped him up and their kung fu grip on his services remains steadfast to this day.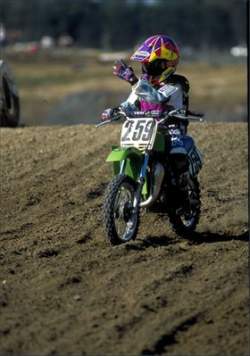 Circa 1994
photo: Racer X Archives
Years before James began riding motorcycles a young up and comer named Tony Haynes raced with #259. At the time, Tony was the only young African American racing and winning on the amateur level. Tragically, Haynes broke his neck while riding at Croome in Florida. When Tony fell, James and his family adopted his number so that it could still stand tall through Stewart's racing career.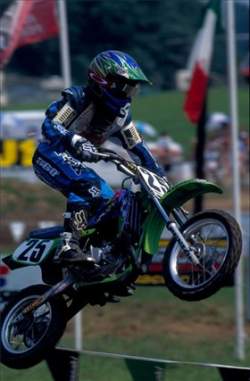 1996
photo: Racer X Archives
With a rule prohibiting three digit numbers at Loretta Lynn's, James would wear a variety of digits on his way to 11 championships. I saw James jump a table top at Reddick, Florida earlier this year. It remains the most air I have ever seen a 60cc machine grab in my entire life.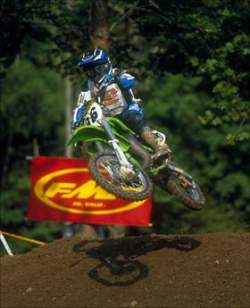 1998
photo: Racer X Archives
Here he races in the 85cc 12-13 stock class. This would be one of the few classes he would lose in his career at Loretta Lynn's as his stock machine would succumb to the extreme Tennessee heat – and James' heavy throttle hand.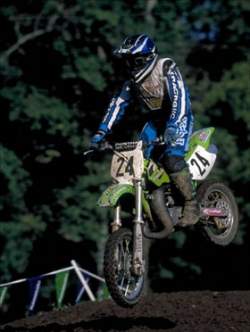 1999
photo: Simon Cudby
The reason James is racing with #24 during his second year in the 85cc 12-13 class is because that is what 1-DNF-1 moto scores will give you overall.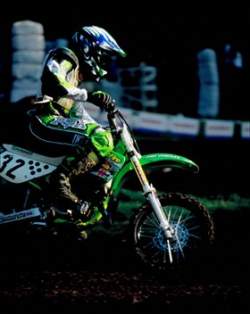 2000
photo: Racer X Archives
James' final year on an 85cc machine. Look how big he has gotten. Check out the Splitfire Pro Circuit replica 85cc, custom airframe and green Fox Boots.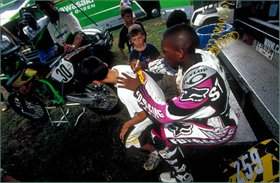 2001
photo: Simon Cudby
Already signing autographs. In this photo he is one year removed from the minicycles and one year away from winning his first supercross. This year he raced the 125 schoolboy and the 125 A classes, winning all six motos by a mile.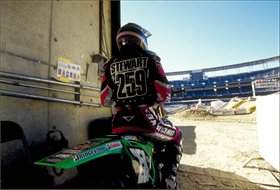 2002
photo: Simon Cudby
Getting ready to ride out into Qualcomm Stadium, in San Diego. When this day was over James would earn the first victory of his professional career.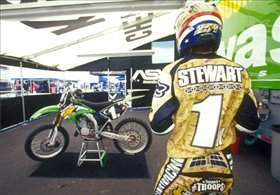 2003
photo: Simon Cudby
This was a weekend that James would rather forget. It was the first time he had raced with the #1 as a professional and he was preparing to march into the outdoor nationals to defend his title.
Fox Racing
made special gear for him and Ricky for this race in honor of Operation Iraqi Freedom. On this evening James blew people's minds by jumping a triple that not even
Chad Reed
or RC attempted. Sadly, he would suffer a huge endo on lap two of the main event that would force him to miss the first three rounds of the outdoor series.
James practically hit rock bottom during the 2005 season. Crashes, injuries, and questionable on track maneuvers had people cursing his name on the internet, in the pits, and just about everywhere else. The motocross community wasn't very easy on the kid that seemed could do no wrong to this point.
It was time for a change. James lined up to the first race in 2006 (which was actually the Toronto Supercross in December, 2005) with number 7 on the plates of his KXF450SR. He pants also sported "New Beginning" on the back. His 2006 season would be better than 2005, as he notched the Amp'd Mobile World SX Title, but his AMA Motocross tour still featured way too many crashes, like this crushing one at
High Point
.
I think this is where James made the turn. It was humbling for Stewart to taste defeat at the hands of Stefan Everts at this event, but for the first time in his career James rode with a big picture mindset. He did what he had to do, and team USA won the Peter Chamberlain trophy.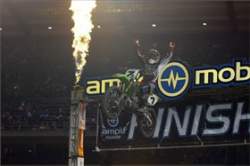 The champ
photo: Steve Bruhn
2007 didn't get off to a very good start. He landed on
Ivan Tedesco
in practice at Toronto, and Ivan broke his hand. He made another questionable call later on in the same night and could have injured
Travis Preston
. But from there, #7 has been pretty good. He needs to chill when lapping riders like
Ryan Clark
, and his off track voice is getting better, but I call them like a see them and I call his run in the 2007 Amp'd Mobile AMA Supercross Series to be about as legit as they come.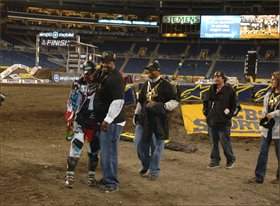 photo: Carl Stone
This is what it is all about. In most cases, your father is with you from the first time you touch a throttle. Together you travel the country and share a vast array of experiences. The good times, the fights, the screaming matches - they all make moments like these so special.
James Stewart
and his father are a wonderful American motocross tale. And it's a tale that won't be finished for many chapters to come.
Congratulations to James Stewart and his family.