Welcome to the Shift Number Cruncher. While the American motocross monster has been dormant for the past two weeks, the action overseas has been hot and heavy. So, while brainstorming for a number to crunch for this week's column I decided to take a look at who is making the most noise abroad. While watching some Grand Prix highlights from the first two rounds, it didn't take much time to figure out what number to roll with. Italy's Antonio Cairoli has been straight crushing it in the MX2 division and bringing a ton of attention to the #222. And while we have been racking our brains trying to find another rider who carried the odd digit, it seems that bad dudes are indigenous to running a three-digit ending with 22. In fact, some of the fastest tiddler pilots of all-time fall into Cairoli's category. Check'em out!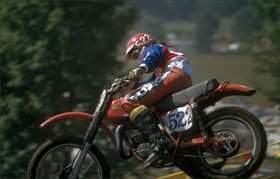 Marty Smith

photo: Dick Miller Archives

Marty Smith is pretty much the first bonafide American motocross idol. He ran surfer-long hair and was stacked like a middleweight boxer, but his biggest attribute was his prowess on a 125. Marty took the #522 to the very first 125 AMA National championship after the AMA added the 125cc class, giving him a place forever in American motocross history.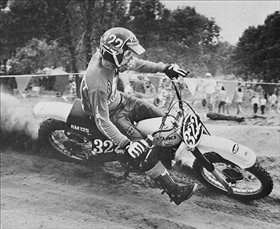 Mark Barnett
photo: Dick Miller Archives
There haven't been many motocross racers that were as bad ass as "
The Bomber
." Mark owns many distinctions and his career still stacks up against some of the greatest motocross racers of all-time. One of his milestones includes winning his very first supercross race (in the 250 class!) and he remains the third most winning 125 outdoor national winner in the history of the sport. Some people still argue that if you lined up Barnett against Stewart and Carmichael in his prime, all on 125cc machines, that he might have been even faster! Check him out in his rookie season running the #322 Moto-X Fox bike, with no cross bar pad, socks folded over the boots, and his signature Jofa.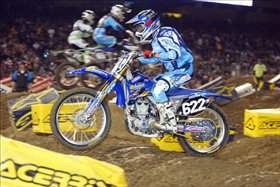 photo: Steve Bruhn
Young
Kyle Cunningham
here certainly has a long ways to go before he can so much as hold Barnett or Smith's jockstrap, but I like the fire this young Texan displays. He comes from a nice family and has a super cool sister named, Kristin. Kyle came out swinging in the 2007 Amp'd Mobile AMA west coast supercross series and let people know that his #622 might be around for a long time to come.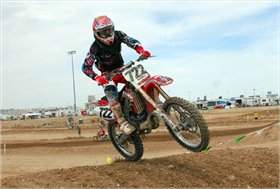 Jase Lewis
photo: Allegiancemx.com
Georgia's
Jase Lewis
is #722 and he deserves a nod because he has been tearing up the major amateur races for the past couple seasons. Jase ran into some good fortune recently as he acquired the services of
Fox Racing
. One of DMXS's favorite riders, Lewis also has one of the hottest girlfriends in the pits. Life doesn't suck for this up and coming amateur standout.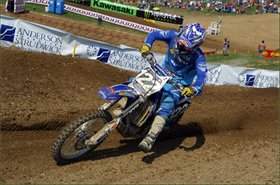 Matt Walker
photo: Steve Bruhn
I always like to throw some love to Georgia's
Matt Walker
whenever I can. While he never won a race with his #122, he always rode his butt off and was never at a loss of words on the microphone. The Stalker is a cool cat and personalities like his make our sport better.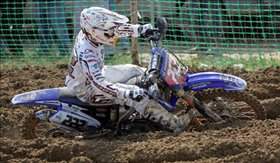 Antonio Cairoli
photo: Steve Bruhn
Now this guy is fast! Not only did he beat
Ryan Villopoto
in a moto at the 2006 MXDN, but he has clicked off two convincing wins in the MX2 division in the World championships. "
Tony
" rides with style and attitude and isn't afraid to throw a nac-nac at the checkered flag. Thus far, we are at a loss for why he races with #222. There is always a story behind a three digit and we are all ears as to why this mega fast Italian runs a triple deuce. He wore it to the 2005 MX2 world title, then switched to #1 last year and lost the crown to
Chris Pourcel
. Now he's back on the gas with the 2-2-2.
All the same, we are proud to dedicate this week's Shift Number Cruncher in his, and the intriguing #222's honor.
Odd find on #222:
When I ran a google search on #222 I came across this behemoth airplane. Like "Tony the Italian," the Alenia G.222 first called Italy home and is very capable in the air. When you take a look at the large size and bulbous shape it's hard to imagine that this thing is capable of performing a flying loop and can stop in less than 300 meters. Pretty cool, I thought.
If you have any more #222's please send them to me at andy@mxsports.com and we'll try to conjure up a redux.