You'll be seeing this in your mailbox pretty soon!
It's Friday the 13
th
, another weekend off for the supercross series, but it's a busy day across the motocross planet. The kids are in Las Vegas for the World Mini GP, the Grand Prix Series riders are gathering in Bellpuig, Spain, for the second round,
Travis Pastrana
is holding the "Summer Games" at his house in Maryland, and much of the California motocross industry is headed to Castillo Ranch for the annual Racer X Ride Day. That's where I am, so my part of this is going to have been short—we've got a track to build!
If you want to see what's going on in Vegas, check out the GK Films' version of the early action, check out www.racerxfilms.com. Stay tuned throughout the weekend for more films from Wes Williams and crew. Also, there's some cool videos at a site called Define the Moment. And we spotted some action over on www.amateurmx.com.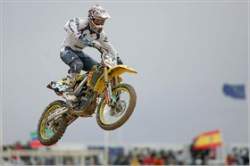 Suzuki's Nico Izzi is flying in Vegas
photo: Andrew Frederickson
Next week is the last round of the 2007 East Region Amp'd Mobile Supercross Championship, the title of which will either go to Yamaha of Troy's
Ryan Morais
or Monster Energy/Pro Circuit's
Ben Townley
(and his teammate
Darcy Lange
still has an outside shot). If you've never been to a last-round showdown like this one, this is a good chance to see it all go down. The East Region has more than delivered the excitement this year, which is great, because with the exception of a few of those never-again supercross battles between
James Stewart
and
Ricky Carmichael
, it's been something of a drama-free season.
The outdoors, however, are shaping up nicely—especially in the Lites class. A lot of people were probably thinking back in January that it was going to be a Ryan Villopoto parade to the podium, but both Townley and Suzuki's Ryan Dungey now look like true title contenders, and YoT's Jason Lawrence should also be in the mix.
Lot of guys are well into testing for the outdoors, as we found out this week here in Central California. We stumbled upon Bridgestone's Doug Sczpensky at the Marriott bar and thought he was here early for the ride day. Turns out he was with Team Suzuki, who were doing a week of outdoor testing up at a bitchin' private track called Zaca Station. So we drove out there the next morning to say hello and see what was going on. Dungey and Ivan Tedesco were hard at work with the rest of the team, all under the watchful eye of Roger DeCoster. We'd show you some pictures, but we promised the team we wouldn't reveal any secrets.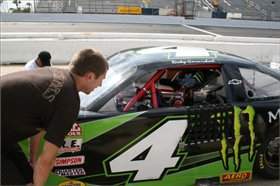 BT101 gives RC some advice
photo: Scott Taylor
One rider who wasn't there was
Ricky Carmichael
. No, he's not taking it easy; his twins finally got to come home this week, so he stayed back to help
Ursula
get the new additions to their family settled.
And speaking of RC, he did take time to head over to New Smyrna Speedway in Florida for some testing for an upcoming race on April 21. RC's NASCAR sponsor Ginn Racing has him competing in Florida so he can race in the "Super Late Model" division; the tracks in North Carolina near the Ginn Racing shop race "Limited" Late Model cars with much less horsepower. The team is trying to get Ricky used to more horsepower so his transition to the next level will be easier.
According to Fox Racing's Scott Taylor, Ricky had his best day ever in a car on Wednesday and continues to improve every time he gets behind the wheel. "My bet is that he will be moving to the next level very soon," said Taylor.
And speaking of Townley, you have to see his garage in the new video Progressive posted on www.holeshotheaven.com. It's pretty funny, especially when you consider that there wasn't a car in his garage!
This week, another motocrosser headed to NASCAR—seven-time AMA Supercross Champion Jeremy McGrath kicked off his new development deal with Dale Earnhardt Jr. in Charlotte. Racer X's Andy Bowyer and Matt Ware were there for the intro and a chance to check out MC's new Monster car. If you missed Andy's Between the Motos interview, check it out.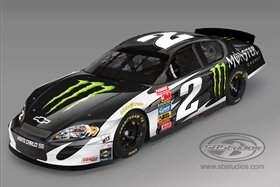 Here's MC's new ride
If that's not enough, there's yet another former motocrosser on four wheels now—
Damon Bradshaw
. The original Beast for the East now drives the Air Force Monster Truck, and he will be featured this Sunday afternoon at noon on CBS's coverage of the Monster Jam World Finals at Las Vegas. Whether you're a Bradshaw fan or a Grave Digger fan, you don't want to miss this! Go to
www.monsterjamonline.com
for more info!
And you think we start 'em young in the US? Uganda's 3-year-old motocrosser.
Here's Ping's stuff:
There are rumors swirling in SoCal that Ricky Johnson and his business partner, Sebastien Tortelli, are in the process of purchasing Perris Raceway. The two motocross legends have a company called MX School of Champions, and Perris Raceway is said to be their new base of operation. Johnson had previously purchased the track formerly known as MX Compound, but that property sits adjacent to the main plaintiff in all of the Riverside County noise drama.
Ricky has not been able to use that track, and he is focusing his efforts on getting the Perris facility. This is pretty exciting news to those of us who live near Perris Raceway. Not only is Perris the oldest motocross track in Southern California, but at times it is the best. The soil there is absolutely amazing when it is prepped properly. When the track was owned by Goat Breker in the nineties, it was phenomenal. Goat prided himself on changing the layout frequently and making sure the course was in perfect condition for practice and race days. Not that the current owners don't take care of the track, but it will be interesting to see what RJ and Seb do with the facility.
Speaking of Breker—the original Goat—I talked with the former factory Kawasaki rider recently at the WORCS race in Lake Havasu. Goat was helping his friend Destry Abbott over the weekend. After building up his Goat Eyewear company and then selling it, Breker has been relaxing and doing "not much of anything." Maybe he'll team up with RJ and help run Perris again. Goat?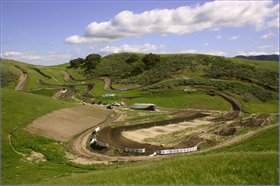 Today is the annual Racer X Ride Day at Castillo Ranch!
photo: Billy Ursic
Speaking of Riverside county noise drama,
Jeremy McGrath
is moving on. The King is putting his land in Riverside County up for sale for a cool $1 million. MC has already purchased some land further south in San Diego county with more acreage and a lake on the property. In your face, Riverside County!
This is the worst week of the year to NOT work in the motocross industry. The annual Racer X Ride Day at the Castillo Ranch is Friday, and the only way you get invited is if you work in the industry. Stop doing what you're doing immediately and get a job working for a motocross company. It will pay off next April, trust me.
But probably the most stoked guy in action sports right now must be Sunny Garcia. The surfing icon just got out of jail after serving three months for income-tax invasion. He really wants to come to the ride day, but he's currently on house arrest and must be in his home by 8:00 p.m. So Peter Adderton, the owner of Amp'd Mobile, is flying Sunny to and from the Castillo Ranch in his personal helicopter, which ensures Garcia that he'll be home before that 8:00 p.m. curfew.
That's it from Ping, who spent last night with Simon Cudby in his camper out at Castillo Ranch. He will be flagging for much of the afternoon.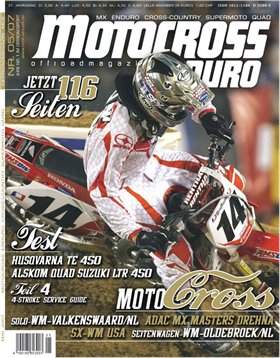 Here's a cover photo by Mario Marini of Kevin Windham running the Leatt
The Leatt-Brace continues to make waves in the motocross world, and other companies are also working on similar products to minimize the possibility of neck injuries. One of those companies is Alpinestars, who have been developing separate prototype versions of a neck brace called the A-CR (Alpinestars Cervical Road/Race) for off-road and road racing/street use (the tuck position employed by road racers necessitates that a brace enables a greater range of head movement). At the recent Jerez MotoGP round, The folks from our sister publication,
Road Racer X
, talked with Alpinestars Press Relations Officer
Jeremy Appleton
about the road race version, which is expected to be released first. Check out their Between the Races interview
right here
.
My friend Mark Homchick sent this really, really cool commercial link. It's amazing.
The story goes like this: "In what was reported to be the most expensive television commercial ever created, Shell filmed a variety of historic Ferrari Formula 1 cars blasting through the streets of some of the world's greatest cities. The crew visited Rome, Monaco, Rio, Sydney, New York and Hong Kong during the month-long shoot. Called "Circuit," the two-minute ad celebrates 60 years of Shell and Ferrari working together (Free stickers work, too!). The incredibly vivid commercial is the brainchild of Partizan's Antoine Bardou Jacquet and producer David Stewart. Make sure you turn your speakers up."
This is serious. It's a company called Urban Supercross that allows you to "bring the supercross experience to your backyard" with some small wooden ramps that are knee-high at best. Actually, it's perfect for little kids without much of a yard, but I would hate to see Adam Cianciarulo on some of these.

And the Bob Hannah eBay find of the week:
It includes a strange story about how this person got both the bike stand and two jerseys, by using his girlfriend's boobs: "Bob takes out a new Jersey, Bevo is shooting pictures, off comes my girlfriends shirt, then Bob takes her bra off, and there she is in all her glory, Bob is kidding around, my girlfriend (sic) is working it, but I get that jersey….once in a lifetime!"

From Kristen Smith, Kelly's wife:
"Suzuki has purchased a new rig and totally taken over the Rockstar team. Buddy Antunez is the new team manager, and while WBR is no longer, Suzuki is honoring the riders' contracts."

Our good friend Shasta from Girlyz Racing needs your help.
Did you see this James Marshall video?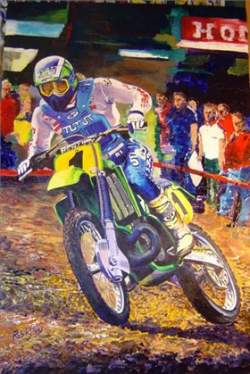 Ron Lechien at the '88 MXdN
Painting by Rob Kinsey
We got this note from
Mike Hoensch
: "The Metropoliton Sports Committee (formerly district 34) recently
lost a great man
in
Sal Benati
. We were hoping you might make mention his obituary in your magazine."
It appears Mike Goodwin has been transferred to Wasco State Prison, south of Fresno. The founding father of supercross was found guilty of double homicide with special circumstances in the death of his former business partner Mickey Thompson and Mickey's wife, Trudy. That's the thing everyone in this generation thinks of when they think about Goodwin now, but here's a reminder of what he did back in the seventies.
We ran across this story on Carey Hart's new tat shop in Orlando.

Earlier this week, Bad Billy Ursic spoke with Mad Mike Jones for a feature he's working on in The Racing Paper. Jones said he was just released by his doctor to ride, after a really bad tib/fib fracture he suffered last year at a jump contest in Canada. Jonesy then said, "The first thing I did was went out and hit my ramp. I pulled off all of my tricks with no dead sailors, so I'm going to Australia tomorrow for the Crusty tour." Jones and the Crusty crew will be in Australia for the next 10 weeks filming yet another insane flick. We can't wait! Oh, and Mike also wanted to let us know abou this new business venture: www.madmikestravel.com. "It's just like travelocity," he said.
Let's turn it over to Jason Weigandt, who just turned 29. He also wrote this epic "Where are they Now" about Andy Bowyer, his beloved roommate, who is at Travis Pastrana's house today for the Beer Olympics. He is teamed up with Dave Brozik and Matt Ware, so stay tuned to Racer X Online for more on that…Anyway, here's what Weege had to say: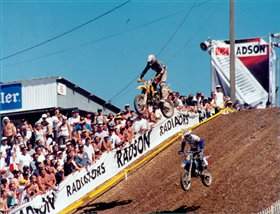 Remember when Travis Pastrana jumped over Roncada at the 2001 MXdN?
photo: DC
What the heck are supercross riders doing right now? After 13 straight weeks of racing, the riders are faced with a second straight week off. Surely it's not really time off, though, since testing for the summer's AMA Toyota Motocross Championship is underway, and there are a few riders who have not quite reached their goals in supercross '07 who must feel the pressure to step up.
Remember when the AMA SX season began at Anaheim? There was the standard hype for the battle between Carmichael, Stewart, and Reed, but a lot of people were looking forward to watching some others duke it out, riders like Ivan Tedesco, Grant Langston, Tim Ferry, Nick Wey, David Vuillemin and Kevin Windham. Then Travis Preston grabbed a pair of fourths at the first two rounds to add his name to the fight club. Unfortunately, injuries have plagued nearly all of these boys, especially the Team Honda tandem of Davi Millsaps and Andrew Short, who weren't even able to race in Anaheim.

Ferry has clearly emerged as the best of this bunch, notching five podiums and holding a 41-point bulge over Windham in the fight for third in AMA series points. Ferry has exceeded any and all expectations this year by logging no less than his best SX season ever, all at the ripe age of 31.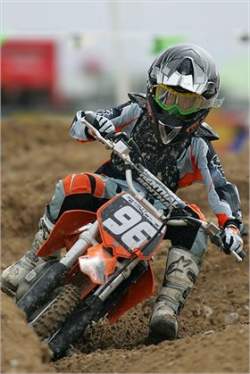 Bradley Taft railing at the World Mini GP
photo: Andrew Frederickson
The rest of the pack is searching. With Carmichael now out, a podium position should be in play even without having to beat Stewart or Reed, but Ferry has locked it up each time since Orlando. Preston is likely done for the season with a dislocated shoulder, but Langston, Short and Millsaps are all back and looking pretty strong, and Tedesco has been in the running for podiums with a bunch of top fives. But all of these guys, especially Tedesco, would have to be bummed if they can't end the season with a podium. They've got three races left to do it.
And then you have that wild, wild East Lites Series, starring Ryan Morais, Ben Townley and Darcy Lange in one last wide-open run for the title next week in Detroit. I doubt any of them were taking much time off from supercross work during this break. For Morias and Lange, winning this title is the chance of a lifetime. For Townley, who is just getting started at racing here in the U.S. and has already won a title on a really big stage, there might not be as much pressure. That could help him. Either way, Detroit should be a good one.
The Can-Am GNCC Series is back on this weekend with the Pirelli Big Buck GNCC in Union, SC. This series hasn't settled down one bit since Shane Watts shocked the troops with his win at the Florida opener. Now there are three winners in three rounds, with Paul Whibley winning round two and Barry Hawk winning a thriller at round three. And Kawasaki privateer Garrett Edmisten is still leading the series, with a one-point lead over Watts. Plus, the world is waiting for David Knight, Glenn Kearney and Charlie Mullins to get their first-ever GNCC wins—they may be the fastest riders on the whole tour, yet the wins have eluded them. It's just wide-open right now, and the Big Buck should deliver more of the same. Check GNCCRacing.com for more.
Oh, and check out these very funny Kawasaki TV commercials.
That's it, that's all we've got. Time to go riding! Thanks for reading Racerhead.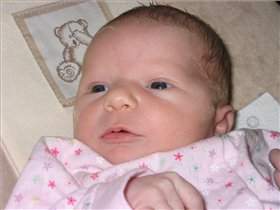 Sophia Deutschen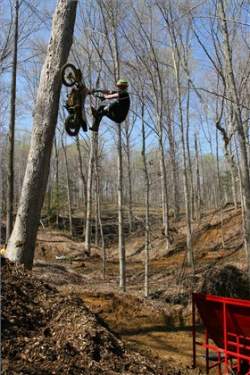 You'll see this on Nitro Circus 4
photo: Matt Ware
Terren O'Dell at the World Mini GP
photo: Andrew Frederickson