Where Are They Now: Andy Bowyer
Once upon a time, an aspiring pro motocrosser was left with an opportunity to build his name and make a mark on the sport he loved. The rider had racing credentials already, thanks to a 65cc National Championship from Loretta Lynn's, but he had found the transition to professional supercross and motocross daunting. Now this young man was in position to put his name square on the map alongside heroes like Jeremy McGrath.
The rider was Andy Bowyer, and the opportunity came via
Fox Racing
. Bowyer was doing time racing in Chile, and the Fox video crew decided to stop in and explore the exotic locale for some filming. The footage would be used in Fox's
Terrafirma 4
video, which would be wilder and crazier than the first three samples of the groundbreaking video series.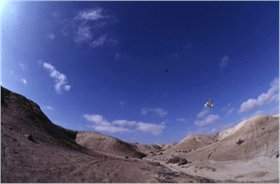 Bowyer goes big in Chile
Bowyer knew this was his chance to make the video, which meant it was his chance to shine. The strategy to do it was simple (in '90s terms): go big or go home.
So Bowyer decided to go big. He spotted a huge gap, let's say something slightly less than 500 feet, and decided he could clear it through a combination of skill, will, and other factors that had yet to be determined. But as determined as Bowyer was as he ran through the gears of his RM, launching into the warm Chile air (yes, warm Chile) to the delight of the video crew catching it all. Unfortunately, Bowyer's plan had been miscalculated - much like many other plans he has made. His bike launched far, but not nearly far enough, and he came crashing down with a thunderous thud, probably a few thousand feet short (give or take a few hundred) of the landing area.
Bowyer was left with approximately 172 broken bones, but his mega-crash made the video. He even returned to the spot to do some riding months later, and Fox got that on the tape too. But the damage inflicted would be hard to recover from fully. Bowyer ran a solid season of AMA Arenacross, where he earned Rookie of the Year honors, but eventually settled into one of those super-cushy industry jobs at Fox that makes getting hurt racing to make money again seem more insane than Bowyer himself does sometimes.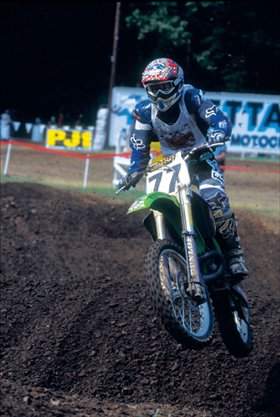 Andy at Loretta Lynn's, circa 1996
photo: Davey Coombs
Today, Bowyer lives in Morgantown, West Virginia, where he answers phone calls and e-mails for MX Sports, the company that produces the Air Nautiques/AMA Amateur Motocross National Championship at Loretta Lynn's. The gaps at that track are much smaller than that one in Chile, so Bowyer can answer questions with confidence.
But his wild side still burns inside. It's usually doused with a trip to downtown MoTown, but just yesterday, Bowyer was again conflicted with the conlifiction to go big or go home.
Bowyer traveled to
Travis Pastrana
's house in Annapolis, Maryland. The Nitro Circus gang was out shooting for the fourth edition of their groundbreaking DVD series, the, um,
Nitro Circus
, and Bowyer saw a chance to jump in the wayback machine and make his name again. So he went big, this time on a minibike, launching some 35 feet into the air in a jump contest. Finally, Bowyer had collected all the data and made the right calculations. His trajectory was correct and the jump was to be a success. Until he hit a tree. Yes, Bowyer launched so high that he was headed straight into timber. He tried to toss the bike away, but it actually ricocheted off of the lumber and bounced back to hit Bowyer in the face, sending both to the ground with a thunderous thud.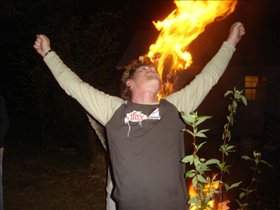 Bowyer is on fire
photo: Dave Brozik
This time Bowyer got up unharmed, no doubt padded by all those nights downtown. He was awarded a gold medal for Best Crash, as well as $500, which he promptly handed over to his landlord, Jason Weigandt, who was demanding overdue rent.
This morning, Bowyer headed back to Annapolis to compete in the next Nitro Circus competition, the Drinking Olympics. With a team consisting of
Racer X
Staffers Matt Ware and Dave "This is What I Was Put on this Earth For" Brozik, chances are good that Bowyer will win another gold at Travis' house. That's where he is now.