Dear Racer X,
At Southwick yesterday, people were still talking about how cool it will be to see Everts racing RC and Bubba this summer. I think everyone really, really wants this to be true. Maybe we can start a fund to raise a million or two to get S.E. over here. I'm in for a hundred.
Paul Buckley
I can't tell you how many letters I got like this over the week, and I apologize for not being a little more clear about the April Fool's video starring Stefan Everts, Bubba, RC, DV12, The Man, Jeff Stanton and Mario Marini (none of whom should quit their day jobs to go into acting). We all wish it were true, but alas, Everts is not riding the nationals. But now Carmichael is thinking about racing Namur in August!
Just kidding.
The last chance for Everts to race in America (for reals) this year would have been Supermoto X at the X Games, which he was invited to do. Everts is a very accomplished Supermoto racer and would probably give Jeff Ward and Mark Burkhart and Chad Reed and whoever else is there all they might want. Unfortunately, the date of the race (first weekend in August) is a conflict for him, as he wrote me this week:
"Not possible, we have the GP from Namur. S---! Maybe next year."
S72
There is one more chance for Everts to race in America this summer: the Vet B/C class at Loretta Lynn's. (That one's for you, RMZ.)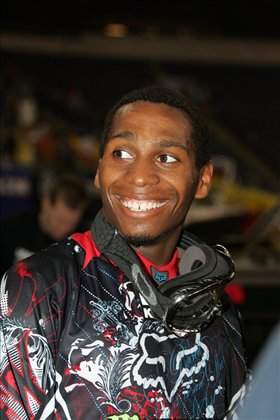 This guy will have a very happy Easter
photo: Steve Bruhn
With Easter on the menu for everyone here in the States, it's been a quiet week. The Amp'd Mobile Supercross tour finally stops for a fortnight to catch its breath. It's been a long grind for everyone, though I believe the series to this point has gone pretty much the way everyone expected:
James Stewart
would be a dominant force, for the most part, though Ricky provided some surprises;
Ryan Villopoto
would be the easy frontrunner out West, which he was, though
J-Law
and especially
Christophe Pourcel
deserve some credit for their results; and the East is still wide open, with
Ryan Morais
still holding on,
Ben Townley
clawing his way back into title contention, and big surprises for many in the speed of
Ryan Dungey
and
Darcy Lange
, plus the upset win by
Branden Jesseman
in Orlando.
That's not to say there haven't been surprises. There have been, but mostly disappointing ones. I truly thought Mike Alessi would be a title contender, that Ivan Tedesco would be a regular podium guy, that Josh Grant would challenge RV51, and that Chad Reed would have more than one win at this point.
Then there's the accident that took out Broc Hepler. This was big news back in January and February, and now not so much. He's still hoping to get back out there—he has a riding session apparently lined up for this week to see how he feels on the bike—but it may not be until Hangtown that we see him again. If even then.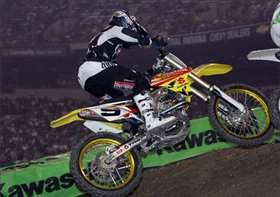 What's wrong with Ivan?
photo: Steve Bruhn
I think I mentioned it here before, but I will say it again: I give Hepler and his family full credit for treating this concussion right, for taking their time in getting back out there only if and when he feels 100 percent. When
Travis Pastrana
was getting all those concussions, many just kind of said, "Okay, whatever." But I know
Doc Bodnar
was adamantly against it, and I recall
MXA
having a strong opinion about him riding with a head injury, only to bang it again and again. Hepler is being patient and doing it right, no matter how the story ends.
And then there's the Doug Henry's story—the most difficult one of all. Yamaha released some info on Doug and how his spirits are, but it was hard to tell just what his situation is. The details are vague, but it sounds like Doug is in for another real challenge here. His accident was heavy, and the damages very serious. He's a fighter, though, and he's one of the toughest, most driven people I will ever know. There's not a person in this industry that's not pulling for him 100 percent and willing to do whatever they can to help.

One person who has been checking in on Doug himself is David Izer of DMXS radio. He wanted to share this update:
"I have been visiting Doug Henry at the Shepard Spinal Center in Atlanta, and he wanted me to update everyone on his status. Doug's spirits remain high and his signature smile is still apparent. He has suffered a "T-12 complete" injury to his spinal cord. The prognosis of such an injury is not good, but he will not go quietly. Doug realizes the seriousness of his injury but has focused his signature grit and determination on the rehabilitation and his goal to walk. He will leave the Shepard Spinal Center on April 20th, and return home to begin the long road toward his goal. Doug wanted to make sure he thanked everyone for their prayers and well wishes since the accident. They have made a difference and are much appreciated."

Going further back in the old school, here's the eBay find of the week, courtesy of Nick McCabe—if you've got about $5300 to spend on the real deal, here it is.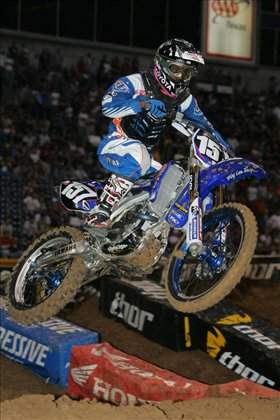 PPG/Motoworldracing.com Yamaha's Sean Hackley is back on track
photo: Steve Bruhn
Do you ever wonder what must go through an old pro's mind when he sees a helmet or jersey he gave to a fan show up on eBay, with a high bid like that? People ask for things all the time in motocross, and sometimes riders feel inclined to give their good stuff away, which is also fine, but then to see them turn around and sell an RC jersey or James' pants or an autographed Reed helmet just doesn't seem right. No wonder those guys wince when they see a hundred Toyota signs every night at supercross that says "Puleaze Gimme UR Goggels!"
Which reminds me, there was a kid at the Indy SX standing at the top of the steps at rider seating all afternoon asking every rider going in or our of the grandstands for his goggles. I saw him get a pair, put them in his coat, then keep asking for more.
Here's an opinion: Every dime for resold rider paraphernalia should go to R2R, or Rider Down, or the Clayton Foundation, or the Brett Downey Foundation.…
Switching directions, I got this from "Concerned Viewer" about the SX races last week on TV:
"(10:49:12 AM): I'm not a prude or anything but did you catch the "Girls Gone Wild" commercials that aired during the Indy broadcast? My son (7 yrs old) stopped in his tracks. People went off last year on the Boost (or Amp'd) commercials but Jesus these made those look like PBS pledge-drive commercials in comparison. Thank God for tivo and fast forwarding…"
I missed the commercials, but I did a couple of calls/e-mails. Look, Live Nation doesn't pick the spots that Speed sells—that's up to Speed. But I am sure they are probably trying to figure out ways to make sure there's a little more thought on the part of the network as to who might be watching which shows. I'm sure a GGW spot would work better on a chopper show than supercross anyway.
So what are the top riders going to do this weekend? We have some suggestions in this week's Things to do in….
Now it's Ping's turn: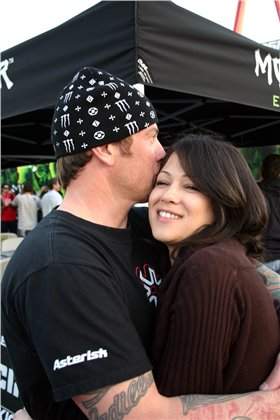 Shaun Palmer is bowing out of the outdoor nationals
photo: Billy Ursic
At what is considered to be the beginning of the supermodel era,
Linda Evangelista
uttered a now-famous remark: "I don't get out of bed for less than $10,000 a day." Well, what do you think it takes to get one of today's top riders out of bed? I don't want to name any names, but a top guy recently got an offer to do a one-day race in Madrid for $150,000. He also had three first-class tickets for his wife and mechanic. His answer? Nope. He only flies that far when he's going home. Apparently, this fellow lives in the southern hemisphere somewhere. Can you imagine turning down that kind of money? I guess, to put it into perspective, you have to realize that this guy has $300,000 and $400,000 checks rolling in every month. Whoa, I just about swallowed my tongue.
Asterisk medical unit staffer Eddie Casillas is getting married this weekend to girlfriend Michelle Sekeres. Eddie has been a great guy to have at the races, and we wish him luck.
Looking forward to watching Shaun Palmer race the nationals this summer? Don't be. It looks like Palm is out for the AMA Toyota Motocross Series. The action-sports star finally had an agreement lined up with YoT to get to the races but has backed out of the deal. It's too bad, because Palm would have added some color to the series, and I think he would have surprised some people with his skills. He is apparently back in Tahoe now hanging out on his boat, though I can't confirm that because he won't call me back.
I got roasted this week by
Shane Garrett
, an Australian FMX fan, for giving misinformation about
Nate Adams
and the Crusty Tour that he just returned from. So I called Nate, again, and tried to straighten out the kinks in my story. Nate was in New Zealand for the past month performing in the Crusty Demons Kiwi Carnage tour with a group of other top freestyle riders. There is no scoring, as it is just a show. The second-place he was telling me about came at the X-Fighters in Mexico. Nate is headed back to Australia for the tour that starts there next week and goes though the next four weeks. He is also dating a girl down there who happens to be a dancer. Not the exotic type, but an actual
dancer
. Whatever you say, Patchy. Does she pay for everything with one-dollar bills? Keep an eye on her.
Speaking of X-Fighters, there are two more rounds coming up this summer. The next one will be in Ireland, right outside of some big castle. Red Bull's Jeremy Mallott didn't know the name of it, but he did say it was going to be insane. If you've been thinking of taking a trip over there, this would be a magically delicious time to do it.
The next event will be in Moscow. Yes, comrade, that's in Russia, and it should be pretty cool too.
Okay, America, Sanjaya isn't even in the bottom three of American Idol contestants. I've learned that Howard Stern (the disk jockey, not the creepy ex-attorney for Anna Nicole who refuses to take a paternity test - sorry, too much US Magazine for me) has publicly told everyone to vote for the worst singer. In that case, you've done a fine job. Ol' sugar shoes will make a fine Idol champion, I'm sure. Still, if it happens I'm off the show for good.
That's it from Ping.
If you like Ping's acid pen, you're going to love Steve Matthes' "Observations From My Couch" report on the Dallas SX over on Racer X Canada's site. Matthes and Ping should team up and do a race report one day, then go to work on The Daily Show. Check it out.
If you have some free time this weekend—and since it's Easter, most of us probably do—go check out www.holeshotheaven.com for a new "What's In Your Garage?" video with Ben Townley. Matt Ware shot it, and it's pretty cool because the day Matt showed up, Ben's truck was getting slammed while his girlfriend had their other car. So there's nothing in the garage! Even so, it's still really cool.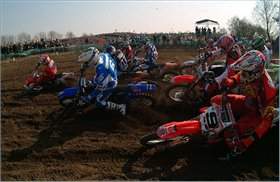 Josh Coppins (6) won his first MXGP with Yamaha
photo: Geoff Meyer
Speaking of Townley, he was surely keeping an eye on what was happening over in Europe last Sunday, as the MotocrossGP World Championships got underway in Valkenswaard, Holland. His new New Zealander
Josh Coppins
started his pursuit of Stefan's MX1 title in a hurry, winning in the sand.
In the MX2 class, Antonio Cairoli was the fastest man there, and the 2005 World Champ showed that he's more than ready to get his championship back from Pourcel. We spotted an excellent five-minute video highlights package online you don't want to miss.
And there is more stock car stuff on the horizon. This week Jeremy McGrath is flying back to Charlotte, North Carolina to be introduced as a development driver for Dale Earnhardt Jr.'s team. He will drive a Monster Chevrolet. Looks like the days of RC versus MC may not be over after all. The all-time King of SX versus the all-time King of MX. All we need is Stefan Everts over here on four wheels! Stay tuned for more.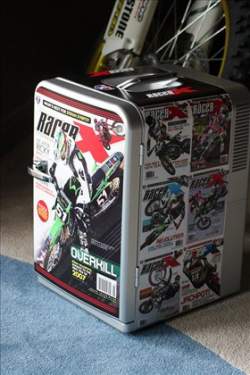 Now that's a cool fridge!
photo: Jason Hooper
Anytime a rider gets on the cover of
Racer X Illustrated
, we like to do something special for him and his sponsors. We usually do posters and those big canvas banners, but at the Indy Tradeshow,
Mike Koger
and the gang at Smooth Industries showed us a cool little refrigerator that could be customized with cool cover graphics. Bitchin'! So here's what
Ryan Villopoto
and his parents and
Mitch Payton
and some others are getting in the mail right now. No, we're not selling them, but maybe we get together with Smooth and donate some cool old stickers or pit passes or retro photos for something cool for your own barroom.
Here's a note from No Fear: The second round of the No Fear Moto X America Tour — dubbed "Spring Mayhem" — will take place on May 5 and 6 at Broome-Tioga in Binghamton, New York. A classic natural terrain motocross circuit in every sense, up until just last year, "Binghamton" (as it is better known), hosted the AMA National Motocross Championship for 26 consecutive years. Visit www.nofearmx.com for more details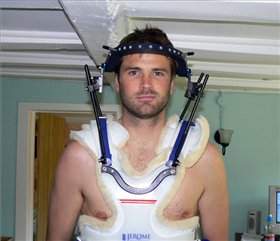 Get well soon, Jody.
Finally, here's a picture of
Langers
' friend
Jody
,
who had a tough crash back in England. According to Langers, "He is out of hospital now and at his folks' place. He will have to wear this Halo for three months but is expected to make a full recovery. He's really very lucky."
Sometimes I think we all are a little lucky. I know I am: Easter at home this weekend, after going big with the Bowyers tonight as Andy celebrates his 30th year on the planet. Happy birthday, Hattica.
Thanks for reading Racerhead, enjoy your weekend.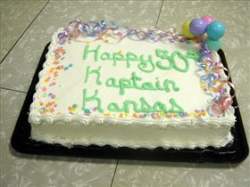 Happy 30th Andy Bowyer!
photo: Dave Brozik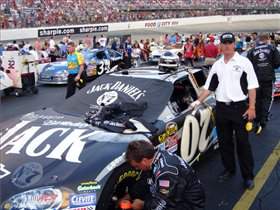 Proud brother
photo: Dave Brozik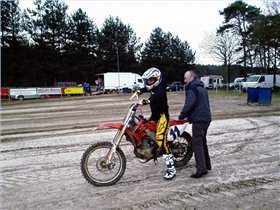 Paul Karsmakers' daughter, Lenny, learns to ride.
photo: Paul Karsmakers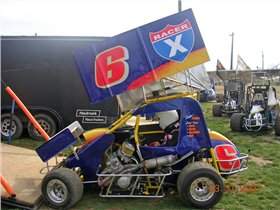 Dave DiMaio's Racer X race car
photo: Dave DiMaio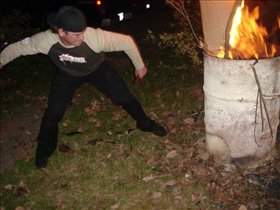 Bowyer's idea of a "bonfire"
photo: Dave Brozik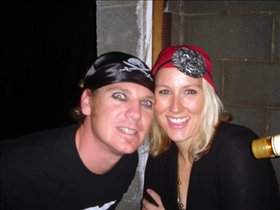 Captain Jack Bowyer and his first mate
photo: Dave Brozik