Ah, finally an off-weekend for the Amp'd Mobile Supercross Series. It's been a while, and this weekend offers a good opportunity to visit with friends and family to celebrate Easter. Since there is no race, we're changing our "Things To Do In…" feature to "Things To Do On… Easter." Here are some suggestions and ideas for you over this holiday weekend. Happy Easter!
Have Sunday dinner with family for once.
Read 12 weeks worth of mail/email; pay 12 weeks worth of bills
Go back and watch every round of Amp'd Mobile Supercross on your TiVo and try to figure out what the guys that are winning are doing, because you're running out of time to reach those pre-season goals. If you're on a 450, that might mean learning how to jump all over again; if you're on a 250F, good starts and staying up the whole time helps.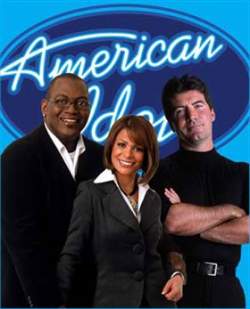 We know what Ping will be doing...
Stay on the couch and heal. By this point in the season most riders are nursing, at the very least, a sore joint or body part. So, hold the sofa down and catch up on everything non-moto you've TiVo'd the last two months:
The Office
,
The Riches
, and, if you're Ping,
American Idol.
Come to Morgantown and be the designated driver for Andy Bowyer's 30th birthday bash.
Find other sock.
Sleep!
Go to church and do the 12 Stations of the Cross, and then tempt fate by listening to some Ozzy on the way home.
Head out to Hangtown or one of the other national tracks, because that's what defending AMA/Toyota Motocross Lites Champion Ryan Villopoto did with a little time off. He's got to be the favorite going into May, and if he's already taking time to practice up for outdoors, maybe some of the other guys should too.
Some Supercross class guys might be dropping down to race Lites this summer. Michael Byrne comes to mind. If that is the case they are going to want to drop some pounds before Hangtown. Your options include extra long road rides or… Lose a limb at your local surgeon! That's right; the fastest way to lose ten pounds is to simply cut your arm off in a safe and controlled operating room environment. Really need to drop some weight? A leg will get you almost 40 pounds!
Now for some personal suggestions:
James Stewart: Relax
Chad Reed: Watch a looping video of James Stewart blasting through the whoops.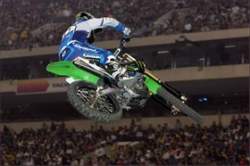 Tim, you need to work on that whip.
photo: Steve Bruhn
Tim Ferry
: Watch that old video of Pros at Play and work on your parade-lap whip.
Ryan Morais: Recycle, open doors for women, help old ladies across the street, attend the Easter service at local church, separate all of the green M&Ms, take a five block/mile detour if you see a black cat, and pay your taxes.
Ben Townley: Don't do anything different, but send Darcy Lange and Ryan Dungey a nice email telling them how much you enjoy riding with them.
Langers, since he's English and they don't celebrate Easter, opens a new set of gear, sniffs all the NEW out of the bag, puts them in the see-through vapor-lock bags that he bought off of midnight TV, then places the unfreshly-sealed gear under his bed with the others.
Ricky Carmichael: Ricky can do whatever the hell he wants to.
Families across the nation: Be outdoors (if it's warm), be together, and do something you'll remember. Easter has special meaning for everyone.