What happens now? Reigning AMA Amp'd Mobile Supercross Champion Ricky Carmichael went out like a lion, putting in what can be described as an incredible effort to beat James Stewart in Orlando, given the circumstances: RC's last SX race, the birth of his two children Kadin and Elise, and a red-hot Stewart. RC didn't win, but for just about everyone—including James—it didn't seem to matter.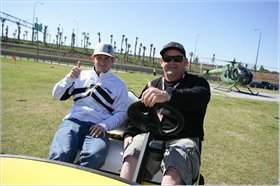 Carmichael and Scott Taylor arrived by helicopter Saturday morning after the birth of RC's twins
photo: Simon Cudby
Now the SX tour heads to Indianapolis and the RCA Dome while Ricky starts racing cars in Florida. Stewart holds a sizeable lead over
Chad Reed
in the rankings, and unless James implodes, it's going to be hard to catch up, even if Reed wins straight-up, because there's no one to get in between the San Manuel Yamaha rider and the points leader. Think about it: If Reed swept the last five rounds, with Stewart second, he would only gain 15 points—that would only get him halfway there.
Of course, Stewart's made big, BIG mistakes before—including one right here at the RCA Dome back in 2004, where he pile-drove himself into the ground (literally right at my feet, as I was standing in front of the starting gate). But lately #7 has looked more and more in control. In fact, check out this startling statistic:
If you count his St. Louis collision with Reed as a tie for the lead, Stewart has either won or crashed while leading the last 17 AMA Supercross races.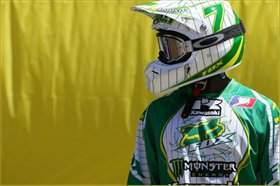 Stewart now controls his own destiny in the chase for the title
photo: Simon Cudby
To listen to tomorrow night's live webcast of the Indianapolis SX, just log onto
www.supercrossonline.com
around 7 p.m. EST. Former Yamaha factory
Jim Holley
and former quadcycle privateer
Jason Weigandt
will call the action. Hopefully,
Mike LaRocco
will drop by the booth and say hello.
Quick note from TFS' Weekend Window: Andrew Short is "in" for Indianapolis.
Also, Nick Wey is looking forward to returning to racing as soon as possible too. He told David Izer of DMXS last night that it might not be until Las Vegas. Right now he is on a week-to-week basis as his thumb continues to heal from the surgery he had four weeks ago. According to MSR's Dave Casella, "Nick had high hopes to return for his home town race (Detroit SX), but he will be unable to confirm until we get a little closer. Worst case scenario Wey will make his comeback at the Hangtown National, but I suspect a Vegas SX appearance for sure. You can also catch Nick at the Tucker Rocky open house for all it's local Dallas dealers Thursday March 29th."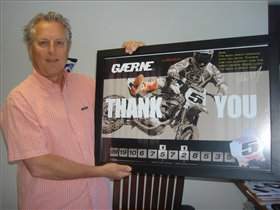 LaRocco's gift to Rathkamp
photo: Scott Wallenberg
Oh, and speaking of Indiana's favorite motocross son,
Mike LaRocco
—always the class act—wanted to thank some of his longtime sponsors. He gave out this memento to
Bob Rathkamp
at Gaerne USA. Nice!
If you're glued to the TV watching March Madness this weekend, don't forget to tune into Amp'd Mobile Supercross as well. The crazy Orlando Lites will be on Saturday at 6:00 P.M. EST on SPEED, and the Indianapolis AMA Supercross main will be on CBS Sunday at 12:00 P.M. EST. Be sure to check your local listings!
What you will see at the beginning of the Lites main event is one of the strangest, most violent crashes you will probably ever witness. It started when some of the riders coming over the first triple jumped and some didn't. It caused Ryan Sipes to come down on Yamaha of Troy's Matt Goerke, which caused his bike to shoot across the track and slam into Ryan Dungey, who was coming the other way in second place.
Furthermore, Sipes' bike went over into MotoworldRacing.com's Branden Jesseman, taking him out. It all brought out a red flag, and by the time things were sorted, Sipes had a broken leg, Dungey's bike was too mangled to continue, and Jesseman's hand, arm, and elbow were scraped up. He got back in the race, then somehow ended up winning for the first time in four years.
Fingers were quickly pointed at everyone, including Red Bull KTM's Mike Alessi for not jumping in traffic, but David Vuillemin placed the blame squarely on the track design. In a post he entitled "Red Card" on Mototalk, DV12 wrote: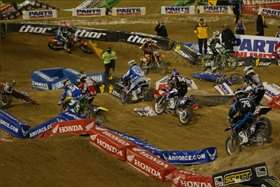 It was mayhem off the start in the Lites' main
photo: TFS
"It's not soccer (real football) but the AMA and Dirt Wurx need a red card for today by not handling a dangerous triple. From practice 1 to the Lites Main event, the first triple caused a lot of injuries. The take off in the middle was so flat and had no lift. The lites guys would case the crap out of it, guys were jumping on each other! Sipes, Marshall, Lange, Goerke (who flew into Dungey who was in the whoops) all crashed and some got really hurt because of that stupid leap!
"I hope they will learn and do the necessary to keep us safe out there," added Vuillemin. "Having a leatt brace is good but having a safe track is way more important..."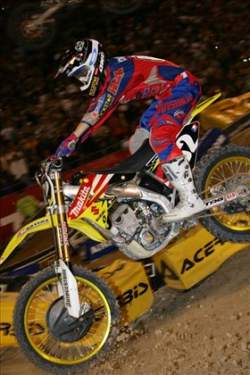 Ryan Dungey got an unlucky break at Orlando
photo: Simon Cudby

EJ caught up with Chad Reed yesterday to talk about all things supercross, James and Ricky, and even the 250F troops. With all of the talk about RC's Talladega transition, many people have forgotten that this is what Chad wants to do as well, only in Australia's version of stock car racing. Last fall, Reed drove a Holden Commodore Australian V8 Supercar (the Holden's power-to-weight ratio is very close to a Nextel Cup car).
"I loved it. I thought it was awesome," said Reed. "To be honest, I'm more excited about that than just about anything. It was so much fun. As soon as supercross is over and my obligations here are fulfilled, I'm going to go right back home [to Australia] to do another test. The team I'm working with—and I'm in with one of the best teams—has a two-day test set up for me.

"I guess my situation is a lot like Ricky Carmichael's. The guy involved with the team I'm working with is a big moto fan and offered me a deal to drive the car and be there with me when I'm driving to tell me when I'm too fast or too slow in certain sections."
To check out the whole interview, click here.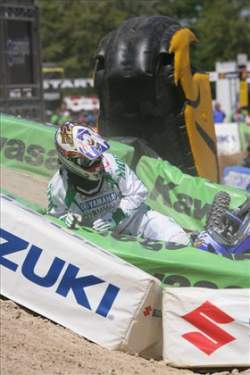 Chad had some trouble in practice at Orlando
photo: Simon Cudby
The more things change, the more they stay the same, right? On Tuesday morning, brand-new SX retiree
Ricky Carmichael
woke up, saw his brand new kids, checked his schedule and realized he was open to pretty much do what he wanted.
So what does a 27-year-old former supercrosser with newfound time and more money than he can ever spend in one lifetime do? He went out and rode some supercross! No mechanics, no pit boards, no one counting laps, just Carmichael and his dirt bike, plus a few friends.
"It was like a championship week," joked Terry, his close friend. "That means we don't want to see him get hurt, and the only thing he has to work on is the goggle toss."
Of course, RC is racing this weekend, at Lake City above Gainesville. It was supposed to be just your basic local stock car race, but that's changing. When motocross TV producer B.J. Smith called the facility about press credentials, they just kind of laughed and said, "We don't care if you walk around with a camera."
But with Bobby Ginn jetting his top drivers in, like Joe Nemechek to watch between Bristol races, and Nextel Cup leader Mark Martin making good on his word that he would not be racing Bristol this weekend so he could watch RC and his son Matt who's also racing, the tiny track will be THE place to be in Florida this Saturday night.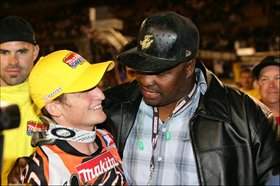 Big James wishes RC luck in his car career
photo: Simon Cudby
"I can tell you, though, that this Late Model race is going to be the most promoted Late Model race ever." said
Jay Frye
, general manager of Ginn Racing.
Here's the deal: There are TWO tracks in Lake City, one dirt and one paved. RC is going to the paved one—Columbia Motorsports Park—but people seem to be calling the other one. If you want to go check it out, pit gates open at 4, racing at 7:30 p.m. RC will be the 25-lap Super Late Models feature. For more, check this out.
One funny thing: RC will be drawing spoons for his starting position on Saturday. When I asked him when the last time he had to draw spoons for gate pick, he laughed, "Loretta's '96!" Good luck, champ.
By the way, Mark Martin, who leads the Nextel Cup points, has not missed a start in 19 years, which means after a Cal Ripken-like streak of 621 straight starts, Martin is parking the No. 01 Army Chevrolet to help Carmichael and his son.
The ever-versatile Jean-Michel Bayle has been working up a new website.
Also, last night we got official word about Moto X joining the X Games in Los Angeles this summer, with Ricky Carmichael participating. The X Games is a huge showcase for action sports athletes, and including a 16-rider motocross race will be interesting.
No sooner did the announcement show up on the Racer X website when I got an IM from JT$: "Who's ass do I have to kiss to get in the X Games? I'm offering incentives! I will wash cars, babysit, whatever!"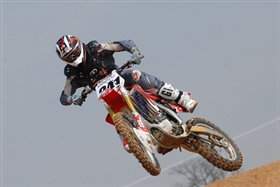 Trey Canard was a revelation at Oak Hill
photo: Greg Bixby
Now here's a note from
Bad Billy
, who spent last weekend in Texas:
It was my first time at the GNC International Motocross Final at Oak Hill MX Park, and after attending the event, it definitely won't be my last! Oak Hill is a top-notch facility near Decatur, Texas, where Tom and Wil Hahn call home. I ran into Wil at the track, and he was wearing a sling on his right shoulder due to a broken collarbone he sustained at Lake Whitney. He told me he was giving Trey Canard all he could handle, and that he was really looking forward to racing at Oak Hill and being able to sleep in his own bed at night. But keep your eyes on the younger Hahn—he's going to be turning some heads later this summer.
But I was overly impressed by the current crop of amateur racers. Seeing riders on 65s do the Bubba Scrub is pretty breathtaking, and there are several A-class racers who we'll be seeing on the starting line of an AMA pro national soon enough. The fastest rider of the week was Canard, and the SoBe No Fear/Samsung Mobile Honda squad already has him signed up for 2008 and beyond. Great call, J.C. Canard won a title, and he would've had a few more if not for some mechanical problems.
Team Green's
Austin Stroupe
was also impressive, taking home a couple championships, along with his teammate
P.J. Larsen
. It was also the first A-class race for Suzuki's
Nico Izzi
. Izzi rode well, but I was really surprised when I saw Oklahoma's
Johnny Marley
catch and pass Izzi in one of the final A-class motos on Sunday. Remember Johnny Marley? Yeah, he's still around and still knows how to go really fast on a Yamaha. I can still picture him on a YZ80 wearing #90 at Loretta Lynn's.
One of the most impressive amateurs of the entire week was KTM's Blake Wharton. His best lap times were just a few seconds off of Canard's, and his riding looked flawless. Wharton rode so many different classes, I lost track! He also showed some amazing versatility by switching from a 105cc supermini to a 125cc two-stroke and then a KTM250SX-F four-stroke!
Back in the January 2007 issue of Racer X I did a feature on the Little Red Rocket—better known as the new Honda CRF150R. Well, it was the first time I actually saw Honda's new CRF150R in action, and all I have to say is WOW. Honda's main guy, Justin Barcia, took the Supermini championship on the bike, and I also saw Mike Craig's son, (yeah, that Mike Craig) Christian, tearing it up on a 150R.
As for the mini classes, the battle in the 85cc (7-11) class between Cooper Webb and Chris Alldredge reminded me of the Carmichael-Stewart battle in Orlando. And in the Vet classes, Shaun Kalos took a championship, as well as New England's Keith S. Johnson. (Remember when Johnson opened up the 2001 outdoor national season with a fifth overall at Glen Helen on a Team EZ-Wider Yamaha?) 1991 250cc World MX Champion Trampas Parker was also in the house on a KTM.
Overall, it was a fantastic week of racing, and hats off to Oak Hill for promoting such a top-notch event. I also hung out Wes Williams, Ben Bixby, Brent Stallo and Ricky Krishart from the GK Films crew a bit - they were doing daily video updates of the event. Those guys worked pretty much non-stop around the clock, and their level of dedication is pretty evident in the quality of the films. Check them out over at www.racerxfilms.com.
Red Bull is also stepping up their support in amateur motocross. I saw several riders wearing Red Bull-painted helmets, and after talking to a few people I learned of the Red Bull Jr. Ams (JAMS) program. The program is made up of six top amateur riders, which includes Justin Barcia, Ashley Fiolek, Brandon Mays, Cooper Webb, Joey Savatgy and Phil Nicoletti.
Now it's Ping's turn:
Last weekend was round three of the WORCS off-road series in Lake Havasu and, unfortunately, I signed up to compete. The track was so rough it made Southwick look like a peewee track, and the temperature was hovering right around the 100-degree mark! I didn't exactly set the world on fire (though it was hot enough there to combust spontaneously). I'm still getting cramps in my calves when I walk up stairs, and despite the fact that I didn't touch a beer, green or otherwise, on St. Patrick's Day, my urine is the color of a pint of Guinness. It's a dehydration thing and the doctors say I should be fine after I get some fluids replaced intravenously.
Ryan Hughes won the event, and after two hours of riding wide open through the desert, the current points leader stumbled off his bike and showed everyone near his pit area what projectile vomiting looks like. He looked like Skeletor walking up to the podium to get his trophy. I don't want to give too much away because you'll see the whole story in an upcoming issue of Racer X Illustrated, but it was an interesting weekend.
I talked with the King of Supercross this week, Jeremy McGrath. MC is finally back on a bike and made his first visit back to the Honda test track this week.
"It was weird at first," said Jeremy. "I haven't ridden in almost six months, so I was pretty rusty. I don't think I've ever been off a bike for that long. It was a strange feeling. But after I got my timing back I was having a blast."
The seven-time supercross champion has been given an opportunity to race stock cars, and he's going to take it. Dale Earnhardt Jr. offered him a ride in a late model series in North Carolina. MC says that if things go well there he will move on to ARCA, a Canadian series, and then eventually into Busch series and then Nextel Cup racing.
"It's a great opportunity that doesn't come around very often. I'm going to give it my best shot and see what happens," MC said.
So now we have two of the best motocross/supercross riders headed for NASCAR, and others like Mike Metzger and Kevin Windham thinking about following them there. It will be interesting to see if any of them make it all the way to Nextel Cup racing. It's going to be a long road for all of them.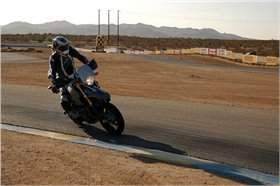 Micky Dymond on his new ride
photo: Ping
Check out this photo I got from former motocross and Supermoto champion
Micky Dymond
. Micky has signed on with BMW to help develop an off-road motorcycle. Their first step is to build something that Micky can race at the Pikes Peak event in Colorado, a race Dymond has won in the past. This photo was taken during a test session at Grange cart track in the desert outside of Victorville. I guess the bike currently weighs around 400 lbs and is a handful. Micky will compete on Hondas on his own team, All Access Racing. He and his team manager,
Erik Eastland
, have done a great job with their race team and have a Supermoto Unlimited national championship to hang on their door.
Congratulations to Jeff Emig, who is going to be a dad for the second time. I got this cute pic of his daughter, Presley, earlier this week. It took me a minute, but I figured it out.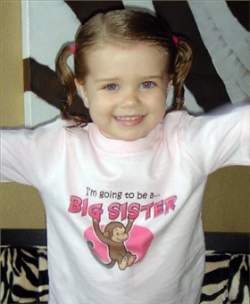 Little Miss Presley Emig is going to have a younger sibling
photo courtesy of Fro
I visited a couple of Carlsbad companies this week, Spy and Dragon Optics. I had never been through the Spy headquarters and
Bob Ketchum
was kind enough to give me a quick tour. He also told me that they won't be there long because they've already outgrown the building that they've been in for just four years.
"We never thought we'd have to move out of here," said Bob. "The building that we are looking at is twice the size, so hopefully we can outgrow that one in time too."
Their trademark orange is splattered throughout the building. It's always fun to pop into the designers' rooms and see what kind of stuff they're working on. I didn't get to see anything too top-secret, but they are perpetually developing new products.
Next it was off to Dragon to visit Kenny Adams. Kenny is in charge of all the wheeled sports at Dragon. I caught him in his cubicle, nestled snugly up to a cow, or a portion of one at least. He didn't give me an explanation for the cow's purpose and I didn't ask. The cow was everywhere, though. We dropped by Will's office (The Boss) and he was hard at work. Then it was down to the pit to visit the production line. Kenny jumped in with his bovine pal and started fabricating glasses with the rest of the crew. He is as committed as any employee I've ever known. He muttered something about a two-martini lunch, and he was off. That was the end of my Carlsbad tour. Thanks for taking the time to show me around guys.
Thanks, Ping. Back to the regular Racerhead stuff.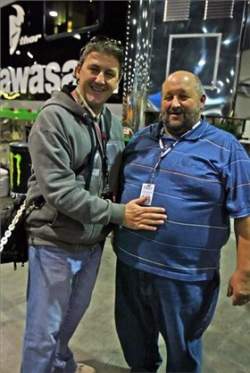 Ludo is backing Bevo's weight loss
photo: Steve Bruhn
Anyone who has been at the races lately has noticed that
Bevo Forti
is slowly disappearing. No, the eternal "Czar of Motocross" is not leaving his post anytime soon. Rather, his commitment to lose weight during the Amp'd Mobile Supercross tour as a way to raise money for the Rider Down Foundation has him running out of holes on his belt—the tighter holes, not the ones at the end of the belt!
Bevo hasn't told anyone how much weight he's lost—that will happen at opening ceremonies of the Las Vegas SX —but Ludo from One Industries was astonished at how much had came off the big guy. Besides, he's betting on Bevo: $50 a pound! If you haven't gotten involved with this, it's a cool thing to do for your fellow riders. Check it out.
As you certainly heard or saw by now, Stefan Everts showed up at Ricky's last SX in Orlando, and he had a great time meeting the fans and talking shop—including a brief visit with James Stewart, where they laughed about the '06 MXdN. Turns out that Stewart carries a grudge a long, long time, but it's not what you think. James told Stefan that he didn't mind not winning the individual overall, so long as he beat Kevin Strijbos! Strijbos, from Belgium, beat Stewart back in the late 1990s at the FIM Junior World Cup. Stewart's wanted to put a whipping on him ever since, and the '06 MXdN marked the first time they've raced together since.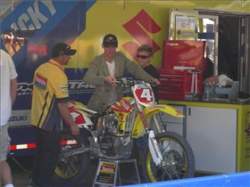 That's not the GOAT, that's the King!
photo: Rune Nysted
And James got a laugh when Everts had to admit that his son
Liam
's favorite rider is—you guessed it—Stewart, and he wanted to take a jersey home to him. James was glad to oblige.
So will Stefan and James ever match up again on a motocross track? Hey, anything's possible, right?
While you're dreaming about what may come, want to see something funny? This week's YouTube video find comes from "Rohleder149" on Mototalk. It's Stefan Everts trying to make something happen on a YZ125. It's some funny stuff!
http://www.youtube.com/watch?v=hA-X3Ex-bV8
http://www.youtube.com/watch?v=UtfrRco—yc
This from Ludo:
Just in case you're wondering why you haven't heard from Jimmy Hicks from TAG this week, here's a look at his leg. Note to self: file all teeth off of prototype footpegs…....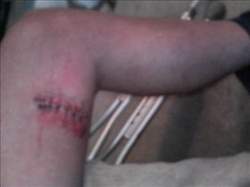 That really, really must have hurt
photo courtesy of Jimmy Hicks

And now for something totally different…. "
Bubba
's Night at Ricky Week" by
Rupert X. Pellett
is a really cool, different take on the happenings of last weekend, written as only the dean of ex-Navy-turned-bench-racing-gurus could write it. Check it out on the
AMA's website
.
The Can-Am GNCC Series is back on this weekend for the FMF Steele Creek GNCC in Morganton, North Carolina. This puts the pack back on familiar GNCC turf—rocks, mud, trees, hills—and such after swinging through the wide-open Florida sand the the fast, rough, rutted General GNCC in Georgia. Like Ping, the GNCCers are surely pumped to be done with the heat and the sand whoops! The series is still mixed up, though, with privateer Garrett Edmisten leading the points, a rejuvinated Shane Watts looking like the real deal, Scott Summers' prospect Paul Whibley finally getting a win, and David Knight coming back from a hand injury that has plagued him at the first two rounds.
I saw KTM North America boss Kurt Nicoll at Orlando and asked about Knighter's condition, and he said he will be ready for this weekend. But also ready is Am-Pro Yamaha's Charlie Mullins, who worked on some major YZ250 suspension surgery with Factory Connection, and is said to be really on the gas now. And then there's the new XC2 Lites class. Red Bull KTM's Kurt Caselli won the first two rounds, but he's a WORCS racer and won't compete in the rest of the GNCCs. So now that class is wide-open again, too!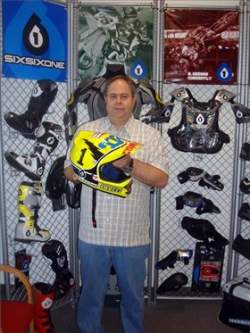 Eddie Cole with the new
Bob Hannah replica lid

photo: Scott Wallenberg
Our esteemed publisher
Scott Wallenberg
made a swing through Valencia, CA, last week and noticed the amount of cool retro memorabilia being displayed in corporate offices. At the bottom you can see N-Style's
Rob Healy
with his '75 Honda Elsinore,
Bob Rathkamp
with his '82 Husky 420 Automatic,
Eddie Cole
with a
Bob Hannah
replica 661 helmet, and how about
Dick Miller
with one of his original Bell Helmets painted in Checkers M/C colors!
Wallenberg also reported "Flying" Mike Brown is proud to announce his association with the SE 4 life Special Events from Houston, Texas, a complete source for Trophies, plaques and awards. Event and race promoters can contact Flying Mike Brown at 661 212 – 3657 for a custom quote. Visit the Special Events website at www.mx4life.com.
And this from none other than Jimmy "The Greek" Gianatsis, the iconic motocross photographer/reporter of the 1970s: "I'm looking to buy any back issues of Cycle News from the 1970s with my stuff in it, if you ever know of anyone selling them! My memory is so bad now I don't remember most of what I did." If anyone wants to send stuff Jimmy's way, contact us: letters@racerxill.com.
Rich Van Every sent this note: "The Mulisha did a photo shoot for Esquire last week. It was classic. They cleaned up real nice! Here they are in Brian's garage."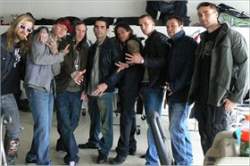 The Mulisha boys try not to look
like a boy band
photo: Rich Van Every
"The mag featured nine of the team members:
Brian Deegan
,
Ronnie Faisst
,
Jeremy Stenberg
,
Jeff Kargola
,
Ryan Hagy
,
Todd Potter
,
Jeremy Lusk
,
Colin Morrison
and
Beau Manley
. World-renowned photographer
Julian Broad
was flown in from London to do the shoot. Remaining fashion and photo crew were brought in from NYC. In addition to Metal Mulisha fashions, the MM team members were Hugo Boss, Valentino, Dolce & Gabana and many other high-fashion design house pieces. The shoot took place at Brian Deegan's home, took almost 10 hours to shoot, and will be featured in the June 2007 issue of
Esquire
magazine!"
Dear Racer X,
First off let me say thanks for the great mag, and site. Now that I have kissed up a bit, let me get to the question. I have been trying to separate history from lore. Supposedly back in the 70's a small area called Manning, in rural (and I do mean rural) Utah, played host to a national motocross (it may have been a qualifier). I have talked with former racers who have verified this, and even ridden on the remnants of the old whooped out track, but I have been unsuccessful in finding any hard evidence that my home state ever had a national outdoor race held here. I realize this is pretty low priority stuff, but if you or anyone at the magazine have any info that would be helpful in getting to the bottom of this I would really appreciate it. Thank you.
Dan Nelson. Salt Lake City
Dan, I think I can clear the mystery up for you. It wasn't a national, but rather an Inter-AMA, which were actually bigger than nationals back in the day. The races were held in '73 at a town called Tooele, and in '74 on top of a farmer's mountain near Salt Lake City. Both races were won by Yamaha-mounted Pierre Karsmakers, though the '74 race was also a 125 National which was won by Marty Smith.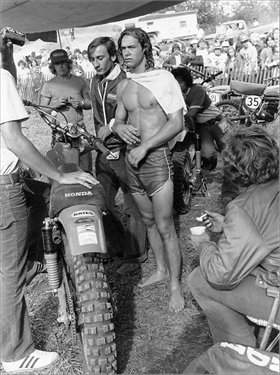 Marty Smith won the 125 class in Utah in '74
photo: Dick Miller Archives
The second one would prove to be the last one, though, as it became an unmitigated disaster. The story goes that everything was really dry and brittle in the '74 race, which was held on June 30. They had skydivers come in for opening ceremonies, and one had a smoke bomb attached to his feet to make big white trails in the sky. But the device fell off, and when it landed it set one of the parking fields on fire. About 70 cars went up in flames, as police and firefighters were breaking windows out of locked cars and trying to roll them down off the hills to get away from the fire. That caused another huge problem and in the end, the farmer said he'd had enough. That's the story, anyway, as told to me by the promoter, the late
C.E. Altman
of PACE Motorsports.
Finally, yesterday in the Rev-Up, Andy Bowyer asked anyone who wanted to participate to check out the really cool new One Industries poster and see how many pro total titles—AMA and FIM, in either class—were represented by the featured riders. The first five to get them right would get one of the posters. Well, two got them right, and one—Mark Rodgers—listed out the titles for everyone:
Grant Langston: 4 (2000 125 World MX, 2003 125 AMA MX, 2005 125 East SX & 2006 125 West SX)
Tim Ferry: 1 (1997 125 East SX)
Kevin Windham: 2 (1996 and '97 125 West SX)
James Stewart: 5 ('02 125 MX, '03 125 West SX, '04 125 East SX, '04 125 MX & '06 250 World SX)
Travis Preston: 1 ('02 125 West SX)
RC: 17 ('97-'99 125 MX, '98 125 East SX, '00-'06 250 MX, '01-'03 & '05 and '06 250 SX & '05 World SX)
Chad Reed: 3 ('02 125 East SX, '03 World SX, '04 250 SX)
Ivan Tedesco: 3 ('04-'05 125 West SX & '05 125 MX)
The total: 36.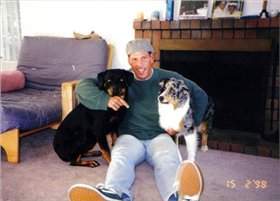 Craig "Moko" Vasper
photo: Kevan Carman
Finally, a sad farewell to
Craig "Moko" Vasper
. Vasper of Cardiff-by-the-Sea, a coastal suburb outside of San Diego, was tragically killed in an unfortunate accident at Cahuilla Creek MX Park on Friday March 16, 2007. Craig was 47 years old and is survived by his wife of eight years,
Trish Vasper
, his mother
Lani Vasper
, his brother
Buz
, sister
Joclyn Granier
and dog
Ernie
. Craig was born and raised in Oahu, Hawaii, and he was the brother-in-law of Amp'd Mobile Supercross announcer
Terry Boyd
. He was also a longtime friend and surf companion of World Champion surfer
Sunny Garcia
. According to his close friend Kevin, Craig celebrated each minute of his life. He celebrated life with his family, dogs and friends including many in the motocross community. Always one for a good story, Craig's contagious smile and energy will be sorely missed. Aloha, our friend….
With that, I better wrap it up. Thanks for reading Racerhead.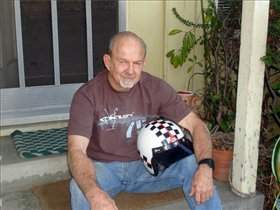 The Dick Miller
photo: Scott Wallenberg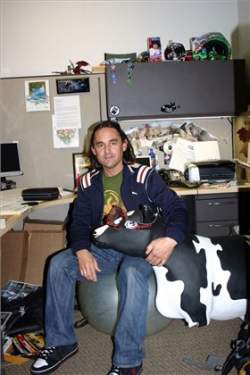 Kenny Adams and friend
photo: Ping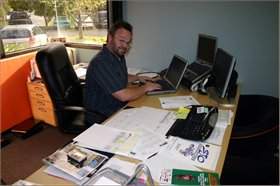 Bob Ketchum works the computer tri-fecta
photo: Ping