5 Minutes With ... Chad Reed
Although he has only won one race to James Stewart's eight and led 40 laps to Stewart's 159, eleven races into the 2007 AMA Amp'd Mobile Supercross Series, Chad Reed is still only 29 points adrift of the number one slot atop the point standings. And with Ricky Carmichael — who forced Reed back to third in all seven races they competed together in this winter— now officially retired from the stadium motocross, it's down to a two-man race to the wire between the American and Australian for the #1 plate (which Stewart says he likely will run). It should prove to be quite interesting because while Stewart and his mercurial speed are seemingly invincible at times, Reed's quiet consistency — he's been on the podium in every single main this year — is also the stuff championships are made from.
Can James hold it together? Can Reed run him down and, perhaps, force a mistake? All appetizing food for thought. Factor in the variable that the two have been at odds with each other for the better part of a month now, and you have what adds up to a hell of a title fight.
How does Chad Reed weigh-in on all of this? On the fringe of the spotlight due to all the attention paid to both RC and James as of late, we tracked down Chad and got his read on things.
Racer X: How do you feel about the Ricky Carmichael retirement tour coming to an end?
It's not really over with. It's not done. I don't know… It is what it is…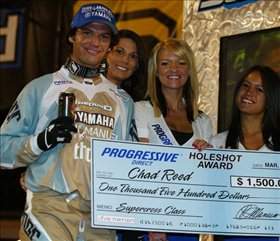 Reed was happy to pull the Progressive Direct Holeshot in Orlando

You placed third in all seven races Carmichael competed in. Did that bother you at all?
For me, it was fine. There were some opportunities where he could have been just as good for me as he could have been bad. I wasn't happy that I lost a lot of points because of him, but there were times where he helped me by taking points away from Stewart, too. I've struggled at a few races lately, though. There are all things I need to work on myself. There were some races that didn't go as well for any other reason than me. At this point, I'm working on doing some different stuff to help me out in the last five races.
What have you been working on?
Just trying to get back on top of things and get healthy.
Are you 100 percent healthy now?
I'm not too bad. I took a fall at Atlanta. It was a pretty small, stupid crash, but in the way I landed, I tweaked my ribs that made breathing hard and I also hit my head and saw some stars. But that's not an excuse for why I've been riding poorly. I feel like my riding comes and goes; I'll be riding good during the week, then struggle on the weekend. It's difficult to show up at the races and do awesome in practice and bad in the race. I'm sort of struggling to find a good push or a rhythm.
Then again, your consistency has had you on the podium at every single race…
I feel good about being on the podium at every race. I was nervous coming into Anaheim I. Not too long before that race, I was afraid I was going to be out four-to-six weeks. But I was lucky I was able to work with good doctors and get healthy as fast as possible. I did all that I could do to get in the race and get as many points as possible. This year I had hoped to be on the podium in every single main event, and so far, I have been. It's been a good deal for me.
How do you like having your own race team?
It's a good deal for me. I have a new team and new people and I love it. I think I have the best bike. It's all been awesome. I work with amazing people who work really hard. They work really hard, but they also like to have fun. We work hard and play hard. The team is not just straight up-and-down and I enjoy that side of it. Larry [Brooks] is amazing to work with. He is everything I would ask for in a team manager. Larry reminds me of Jan de Groot (for whom Reed rode for in the 250cc World Championship Series prior to coming to America). He will do whatever it takes to win.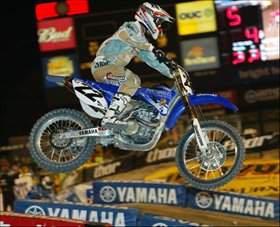 Reed is 29 points behind Stewart

There are five races left and you're 29 points behind James Stewart. Do you have enough time to reel him in for the championship?
I hope so. For us, we need a mistake on his part. At this point, we'll do whatever we can to try and win it. We'll leave no rock unturned. As long as we do that, I can live with it. I'm not going to pull my hair out; we'll just work at it.
What's with your practice track in Florida? It took out your teammate, Nathan Ramsey, and then Andrew McFarlane hit the dirt and hurt his back…
With Nathan, he got hurt crashing over a simple jump. It was at the end of the day and Nathan wasn't feeling so good. The track had dried out and he made a mistake when he got some wheel-spin and came up short on a jump. I guess things can just happen.
The incident you had with James Stewart in St. Louis was certainly well documented. How are things between you and James now?
I don't know… I mean… It's not worth going into.
Can you still win the 2007 AMA Amp'd Mobile Supercross Championship?
I really do feel that I can. I feel good and competitive on the bike. If I do what I know I can do, the wins will come. I mean, I don't even think I would show up if I didn't think I could win it. I have other things in my life I could do. I'm here to win races and win championships.
Okay. For many reasons, the 250F class has been a beautiful mess in 2007. Who do you see being the next guy in supercross?
It's hard to say. So many of them are good. [Ben] Townley is already proven on a 450 in Europe. Villopoto's style, at least at this point, isn't really suited to a 450. But that can definitely change over the years. [Ryan] Dungey is really young… It's so hard to say. I don't think it's anything about the competition not being as good or as deep in the 250F class, but the 450F is a much more difficult bike to ride. I think that what guys struggle with the most on the 450 is the speed and how fast you go on it. I rode a 250F on an outdoor track the other day and was really surprised how much faster a 450F is.
At Daytona, you were flying the Australian colors on your race gear. Was that sending any sort of signal that you'll do the Motocross of Nations later this year?
Yeah, if the team chooses me, for sure I'll do it. I think we'd have a great team. We have four guys racing here full-time in the United States now and I believe all four guys would want to be on it. I think we'd have a great chance to be on the podium.
What will you do when the series is over?
I'm looking forward to the summer and doing some different things. I want to get back in the racecar, do some supermoto, do some rally. I want to have some fun. My whole life is about motorcycles, so it'll be nice to take a break and step away and re-motivate myself for the next season.
Chad, I know you're into MotoGP, so I wanted to ask you what you thought about your countryman, Casey Stoner, winning the opening round of the World Championship.
You know, I grew up less than a half a mile from him.
Really? Did you know one another well?
No, not really. It was weird. As far as the city we lived in goes, we lived in different districts and we went to different schools. Also, he went to a Catholic school while I went to a district school.
Did you race motorcycles against one another at all?
Not really. He was really more of a flat track racer and not into motocross. I did a little bit of flat track racing when I was young, but I was a motocross racer.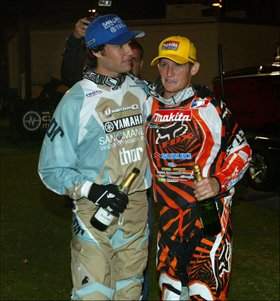 Similar to RC, Reed enjoys car racing.

Last autumn, you were able to get in and drive a Holden Commodore Australian V8 Supercar (the Holden's power-to-weight ratio is very close to a Nextel Cup car). How did you find the experience?
I loved it. I thought it was awesome. To be honest, I'm more excited about that than just about anything. It was so much fun. As soon as supercross is over and my obligations here are fulfilled, I'm going to go right back home [Australia] to do another test. The team I'm working with—and I'm in with one of the best teams—has a two-day test set-up for me. I guess my situation is a lot like Ricky Carmichael's. The guy involved with the team I'm working with is a big moto fan and offered me a deal to drive the car and be there with me when I'm driving to tell me when I'm too fast or too slow in certain sections.
How did you feel driving the car itself?
I felt fine. My lines and braking and shifting and things like that came to me pretty naturally. It was easy for me. I felt comfortable in the car.
Right on. Good luck in Indy, and thanks for talking with us.
No problem, Eric.