It's a busy week in motocross. Ricky Carmichael's last AMA supercross is this weekend in Orlando, where it might be raining come race time. In Texas, there are thousands of youth and amateur riders mixing it up at the Team Green Spring Nationals at Oak Hill. And over in Europe, they are two weeks away from the start of the 2007 Grand Prix season—the first of the post-Stefan Everts era. (Everts himself, the consummate class act, is on his way to Florida to see RC's last ride and visit with his friend Ben Townley, who has a modest little winning streak going right now at two in a row in the East Region Lites.) So Racerhead will start in the Sunshine State.
Just as we were getting ready to post this, the word out of Tallahassee is that Ursula and Ricky are parents—the twins came early! It's a boy and a girl, and look for more news on this in Breaking News. Congratulations to the Carmichaels—all four of them now, plus Big Rick and Jeannie! How will this affect RC's weekend plans? I have no idea.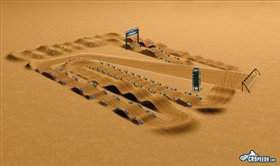 Here's a peak at what the riders will be seeing in Orlando
You can watch tomorrow night's Orlando SX at 6 p.m. (EST) Sunday on Speed TV. Also, the
Supercross Live!
webcast is back, beginning on Saturday at 7 p.m. on
www.supercross.cc.com
. And the AMA will be clicking off all the laps and results on
www.amamotocross.com
.
Right now (9 a.m.), looking out my window at the Grand Bohemian Hotel in downtown O'town, it's raining. Here's the weather watch.
Practice in Florida. That's been a pretty hot topic all week. With most of the riders and teams staying down there for the long week between Daytona and Orlando, guys are spread from Tallassee all the way down to Seminole in the south, looking for places to practice and hang out. There's Ricky's house, the Millsaps Training Facility and Georgia Practice Facility, which are all actually in Georgia, then James Stewart's track, Tim Ferry's house, Jason Thomas' track, Dade City, the Butler Brothers' place, and many more riding areas.
In fact, Simon Cudby went to James' place on Wednesday to check things out. He ended up filming Stewart, Eric Sorby (on a four-stroke this weekend, by the way, so Rupert's offer is still on the table), Michael Byrne, Zach Osbourne and Billy Laninovich and James' little brother Malcolm. It looked like they were having a blast—especially series points leader Stewart, who was doing long look-overs in the whoops at his buddy Sorby, and even doing stoppies into some corners. If you missed Simon's film, it's well worth the watch—makes all of us wish we were there riding!
Simon also got some footage of Carmichael riding with Ben Townley on his track. It's no wonder Ben has adapted to supercross so quickly after having missed all of 2006 with that knee injury—riding around with the GOAT has to be helping!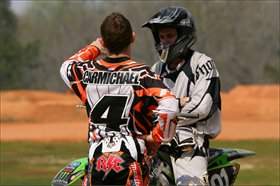 The practice tracks in Florida were busy this week
photo: Simon Cudby
And then there's
Chad Reed
's track, which has become notorious in the last two weeks for guys crashing and getting hurt. First it was his San Manuel Mission Indians' Yamaha teammate
Nathan Ramsey
breaking his wrist, then this Monday it was Rockstar Suzuki's
Andrew McFarlane
jamming his back in a crash (which led someone on Mototalk to suggest that Chad invite James over to ride).
Steve Matthes added this bit:
"This week I was in Florida and ended up at Tim Ferry's—I know this is a great shock to many but it was a lot of fun. Reed and Langston were going to show up but Chad had outdoor testing, and nobody really knows what happened to GL. Moto XXX's Josh Summey was also going to show but was under the weather, so he didn't come by either.
"We did have Jason Thomas and Troy Adams, however. Troy was on his 450 getting ready for the outdoors—he busted out some laps on the supercross track as well, with his outdoor suspension! Timmy did a couple of 20-lappers, looking sharp as usual. JT$ was there with his new mechanic, whom he is very familiar with, because it's the one and only Frank Thomas. (Did you know Frank holeshot a moto at the St. Pete pro national? Neither did I until he filled me in.) They were testing some suspension looking to get JT back on track."
Meanwhile, over in Texas, rain dampened the early part of the 31st Annual Team Green Spring Nationals, but Craig Martin and his crew were going all out to get caught back up. Racer X Films has teamed up with GK Films to show the rest of the world what's really happening in Texas—and those two kids definitely know what they're doing with a camera and an editing bay! Check out the four films they've posted so far over on Racer X Films, and catch a glimpse of Trey Canard, the Wharton brothers, Austin Stroupe, Brandon Mays and a bunch of the other top kids in North America right now.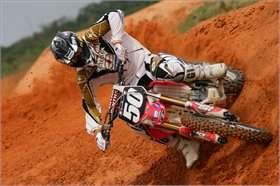 Lano was practicing at Stewart's house
photo: Simon Cudby
Look for more from GL Films this summer when they go pro, working with Racer X Films on our expanded coverage of the Toyota AMA Motocross Series.
The Daytona Supercross was a good show, but the riders were almost unanimous with their dislike of the track. Daytona has always been problematic in this regard because there's just not a lot of room on the infield for the circuit, and what's there is limited by sprinklers and water pipes, as well as the off-limits Daytona logo smack-dab in the middle. But even if the track wasn't popular, the results were mostly spot-on: the top five in the 450 class were the usual suspects, pretty much in order, while Townley repeated as Lites winner.
But the East has been wild for sure. While Townley, Tommy Hahn and Mike Alessi—the Daytona podium—each have zero-point races in these first three rounds, so does round-one winner Ryan Dungey, since he failed to qualify after two crashes ruined his title chances. Having finished in the back at St. Louis after a late-race crash, Dungey's brief SX career has already seen him reach the top of the box and rock bottom (not qualifying).
So the ever-steady Ryan Morais is the surprising points leader, and he's done it with just one podium so far on his Yamaha of Troy motorcycle. This is a short series, and if he stays up there while the other guys (including Darcy Lange) keep having trouble staying up or finishing, Morais just might pull off one of the biggest title upsets in Lites SX history.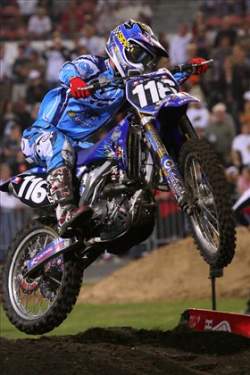 The quiet points leader in the east is Ryan Morais
photo: Matt Ware
Racer X reader
Sid Sidwell
picked up on that, and he wrote in this letter:
"The Ryan Morais story is shaping up similarly to the East Coast battle of 10 years ago. Remember the players? Factory Yamaha's John Dowd, that blazing fast redhead that rode for Pro-Circuit…. Gosh, what was his name? Yet Tim Ferry won the title despite not winning a single race. I was at the Orlando round that year. Remember how hard #70 whipped it off that triple? RC was in a league of his own, but just couldn't keep it on two wheels. Ferry won with patience and consistency. How did Team Suzuki reward him, you ask? They fired him!"
Good stuff! So I asked RC about the East when we spoke on Wednesday for the Suzuki Between the Motos feature.
"It's been a wild East for sure," offered Carmichael. "At first, I didn't think there was really a stand-out guy, but I think the two best guys are Ryan and Ben. They're ahead of the pack, and Ryan has made some mistakes, but they're the best two guys out there, no doubt about it."
Ricky also said he's pleased with the work he put into his partial supercross season, as well as the results: "I just wanted to go out swinging. I really think I elevated my game from last year. Bubba was walking away and leaving me in supercrosses last year, and I've been hanging pretty close and kept him honest and got a couple wins, so I can't ask for anytime more than that. You can't do it half-assed, and this should show you how good my program is, along with all of my sponsors."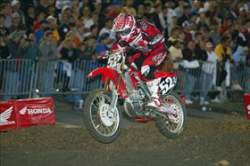 Tommy Hahn as Mr. Hahnda in Daytona
photo: Steve Bruhn
Who would have thought that
Tommy Hahn
would help save the week for Honda in Daytona? Though he didn't win the main, Hahn followed up a heat-race win with a solid second behind BT101. But in the next day's grand finale—the Daytona 200—pretty much every Honda contender dropped out due to fuel starvation, which was apparently caused by a quick-fill fuel system that caused some kind of vapor lock. With all of the Honda brass there, Daytona was a nice moment for Hahn to start showing his potential.
Simon did a video with Tommy this week while he was at Davi Millsaps' place, doing some riding while showing off his Guitar Hero skills. Check it out at Racer X Films.
Hahn's teammate Andrew Short was on hand, still trying to figure out when he's coming back from his knee injury. And West Region champion Ryan Villopoto also showed up to check out Daytona firsthand. RV51 could end up on the East Coast next year in a bid to learn all of the tracks and towns as he gets ready to move up to the 450 class full-time in 2009.
I'm probably not alone in saying that Villopoto is the obvious favorite to repeat outdoors as Lites champion, but I think Townley and Dungey and Hahn will all be chasing right after him. While the 450 class could be a real runaway in the races that RC misses, the Lites might be the place for some title fights this summer.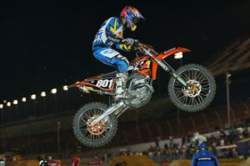 Alessi the younger was caught on camera twice on Friday night

photo: Steve Bruhn

Jeff Alessi had a tough night in the spotlight at Daytona. In his heat race, after tangling somewhat with Townley, the younger Alessi appeared to flip Townley off over one of the big jumps on the last lap. Then, in the main, the Speed TV cameras showed him move way over to make way for big brother Mike as #800 was coming up through the pack. Still, #801 managed a second straight top-ten finish as he learns supercross this season.
The fireworks some expected between Reed and Stewart never materialized in Daytona. After Reed laid down the fastest lap time, many thought he might get in there and maybe grab a win, just as he did back in 2005 when many expected RC to dominate. But then Reed didn't get off the gate with Stewart—only Kyle Lewis did, showing a flash of his old holeshot brilliance—and then wasn't close to the pace #7 and #4 were setting out front. He ended up finishing 48 seconds behind Stewart.
Reed did have some very cool Australia-themed gear on, just like the kit he'll hopefully wear at the 2007 Motocross des Nations at Budds Creek this September. And RC confirmed that he's in for Team USA, and it will likely be his last motorcycle race. If you aren't planning on going, you might want to reconsider, because the race is going to be epic.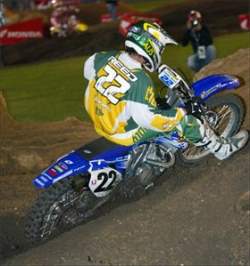 Chad was running his Down Under colours
photo: Steve Bruhn
With Daytona as the backdrop, the Buell motocross story first broken by
Steve Cox
of MXi began taking shape. The company's founder
Erik Buell
announced that they've been telling dealers about their plans to bring an "off-road, closed-course competition motorcycle to market within the next two years." Buell, which is owned by Harley-Davidson, has asked
Dave Osterman
, the former Yamaha of Troy team manager, to help with the roll-out. He is playing a role similar to what former GP rider
Mike Guerra
did with Cannondale a half-dozen years ago, when the bicycle giant made its ill-fated attempt to break into the motorcycle market.
Buell and Harley probably hate to be mentioned in the same breath as Cannondale, but it's still fresh in everyone's minds. Harley has its own history in motocross, going back to the 1970s and factory motocross racers like "Rocket" Rex Staten, Marty Tripes, Rich Eierstadt, Rick O'Brien, and a few others. It didn't work out, but even then—before Harley-Davidson's amazing turnaround in the 1980s—they got a lot further than Cannondale did.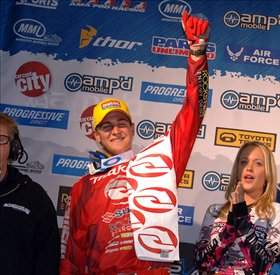 This kid had a tough night in Daytona
photo: Carl Stone
Speaking of the 1970s, did anyone notice the Can-Am commercial on the stock car race last weekend? It showed footage of
Jimmy Ellis
winning the 1975 Superbowl of Motocross on that white bike. "From a past paved with victory comes a future filled with glory," was the tagline. And then mentioned the name change, from Bombardier back to Can-Am: "Can-Am: The name is back but the passion never left." Will they be next to return to the motocross market? Stay tuned.
Props to Racer X Canada and Steve Matthes for a great interview with six-time AMA motocross/supercross champion Jeff Stanton. It went up this week, and Stanton talks about the rock-star attitudes of some Lites riders, his relationship with Jean-Michel Bayle, and why you will never see him racing at Loretta Lynn's. It's good stuff!
How many times do you think a guy has had a NASCAR T-shirt before he ever raced a car? Racer X Managing Editor Bryan Stealey saw this in the NASCAR online store.
As the Leatt-Brace keeps gaining popularity with riders here in the U.S., the company itself has been ensnarled in a spam e-mail scandal, along with 34 other companies. That led founder Chris Leatt to issue a statement that the company "has neither participated in nor condoned any SPAM e-mail campaigns involving the company, its common shares or any of products." The company also plans to cooperate fully in the investigation to the SEC, which temporarily halted trading yesterday in 35 "Pink Sheet-traded stocks" including the Leatt Company.
Michael James, a regular Cycle News contributor from the New York area, has a son named Brian who studies the stock market closely, and he offered this of the Leatt-Brace situation: "So the ban is for 10 days. After that you can buy the stock again. It'll be interesting to see how it reacts on the open. I'm still convinced that the stock will drop at least initially because that's what always happens in situations like this. If the stock goes up after trading reopens I'd be shocked."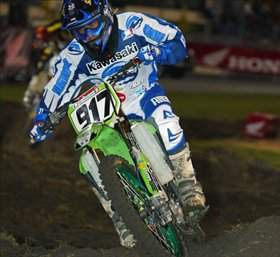 With Sorby riding a thumper, Rupert's two-stroke challenge money is still safe
photo: Steve Bruhn
Regardless of what's going on with the stocks, take time to consider this device for your own protection. It's now being worn by
Kevin Windham
,
Travis Preston
,
Broc Tickle
,
Zach Osborne
,
Ryan Sipes
,
Ryan Clark
and more and more professional riders. And I'm guessing that as supercross winds down and guys have some time off—two weeks—before the first Toyota AMA Motocross race at
Hangtown
, we will see even more riders wearing the Leatt.
Drummer Jason Bonham is a longtime motocross fan, and he had this Foreigner bike on display at the Suzuki booth in Daytona. If Bonham, the son of late Led Zeppelin drummer John Bonham, ever makes it to Loretta Lynn's, he's a cinch to win the talent show!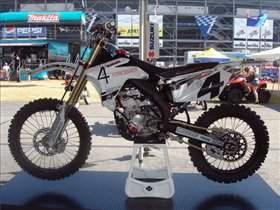 This Foreigner bike was under the Makita Suzuki awning in Daytona
photo: Scott Wallenberg
Keep an eye out for the new Monster ad featuring
Ken Block
's
record-breaking 171 ft. jump for the Discovery Channel show
Stunt Junkies
. Creative Deployment designed the ad for Monster as a congratulations to Ken on his amazing season in rally cars, where he won a bronze medal at the X Games, was second overall to his teammate
Travis Pastrana
in the Rally America National Championship, and then finished up with his 171-foot jump.
You may recall last week's mention of Block and Pastrana racing the World Rally Championships down in Mexico last week. Well, Block ended up rolling his Subaru, but Travis managed a top-five finish in his debut on the world circuit. It's looking more and more like Travis has found himself something he can do for years to come.
How cool is it that Jo Jo Keller is back racing? Keller showed up at the Budds Creek Area Qualifier last weekend and rode the +40 and +45 classes, transferring him on to the Regional in June and a track he's a little more familiar with: Unadilla! Jo Jo is now getting some help from Ziggy at Factory Connection, as well as Jeff Surwall at No Fear, and the man who helped get him back in to motocross, Eric Johnson, who wrote that amazing story on Keller in Racer X a couple issues ago. Jo Jo called the office yesterday to tell us about his reborn passion to moto, as well as his real job: shoeing horses. It's a must-read.
Here's a good spot to turn this over to Ping:
Enjoy the Orlando Supercross this weekend, folks, because this could be the last great race of the series. Without RC on the line, Bubba could potentially make things a little snoozy from Indy until Vegas. We could have Speed TV camera workers falling asleep at the wheel. If Camera 3 slowly fades to a shot of the ground, don't worry, he's just become bored into REM sleep.
The Lites class on the East Coast is just starting to get good. Lange, Townley, Morais, and even Goerke have the ability and the opportunity to win the title at this point. It's a shame about Dungey not qualifying, because he certainly has the speed to win again. However, he is out of championship contention even in the up-and-down series that the East Region has been. Throw in Hahn, Laninovich, Sipes, and the Alessi boys, all of whom have failed to meet their own expectations this year—and will now likely hang it out to get a win—and you have a handful of really exciting races left.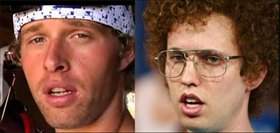 Napoleon Hahn?
Their close SX battle is going to be a disadvantage for them going into the AMA outdoor national series. The West Region riders have almost two months right now to prepare, train, and test for the season opener in Sacramento. To make matters worse, Villopoto has already wrapped up the title and told me today that he is pretty much done riding supercross. He will jump back on the Kawasaki test track the week before Seattle (April 28), but until then he is 100 percent focused on motocross.
Villo's rival, Yamaha of Troy's Jason Lawrence, is doing the same. He figures that Seattle will probably be muddy anyway, so he isn't going to ride supercross at all either. Again, he is focusing on outdoor racing. And after watching him in the stadiums this year, Jason could really be a player in this year's AMA national motocross series. He likes motocross much better than supercross and he has the next six weeks to get ready.
Meanwhile, the top East Region guys - including Townley, who is expected to be a title contender outdoors - will have to stay focused on the tighter tracks until two weeks before Sacramento, when their series ends. It is a significant downside to riding the East Region series.
And as DC wrote above, many riders are heading back east now that the series has left the West Coast. Florida is a popular spot for professional riders, and it may become even more so in the future. The reason so many riders are looking for property in Florida and Texas and other places outside California is that the riding out here has been getting worse and worse. Master planned communities now sit over many of the acres that were once epic riding spots. Even the local tracks have been struggling to prep the tracks properly because of the unusually dry, windy weather we've had lately.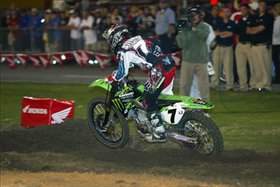 James is riding on a rail right now
photo: Steve Bruhn
Glen Helen
is one of the more popular riding spots on Thursdays when they have open practice. This week, the entire Pro Circuit team (minus
Ben Townley
and
Darcy Lange
) was busy working on their outdoor setups. Villopoto is back from his vacation in Washington, where his dad said he "got soft." While he did do a good bit of complaining about the motos that
Randy Lawrence
had him doing, he looked anything but soft on the track. He is ridiculously fast.
Chris Gosselaar and Bret Metcalfe were also riding motos. Bret is hoping to make a few supercross races before the series ends. He is still having a little bit of soreness riding supercross, but he looked good on the rough Glen Helen circuit. He was also sporting the new line of Thor Denim gear, which, interestingly enough, doubles as a tuxedo in Canada.
Speaking of Glen Helen, the track was awful this week because there is a quad national coming up next weekend and the four-wheelers were out in force. There wasn't a single rut or inside line on the track; just hard, polished dirt with a powdery berm along the outside edge. Attention track owners: Quads and motorcycles do not belong on the same track at the same time. Not for any reason, ever. The quad guys would likely tell you the same.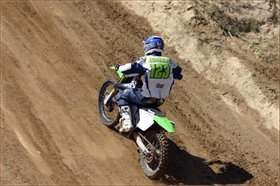 Metcalfe is rocking Thor's Canadian Tuxedo gear—which is actually pretty cool—as he makes his comeback
photo: Ping
I'm heading to Lake Havasu, AZ, this weekend. It's spring break at the river and the beer will be flowing like wine, no doubt. But that isn't what I'm going for. Somehow I got roped into doing the WORCS race there this Sunday. If two hours of sand whoops in 100-degree heat sounds like a good time, then you should join me this weekend. Since current champion
Ricky Dietrich
is out with an injury, I will be riding his Monster Energy Kawasaki. Look for the whole story in an upcoming issue of
Racer X
. If I survive, I'm heading straight to the nearest kegger.
Thanks, Ping.
As you probably saw above, Ricky and Ursula Carmichael became parents early this morning when Ursula went into early labor of the twins. When she went into contractions, according to Fox Racing's Scott Taylor, RC was in Orlando. He did press day for Live Nation, then was enjoying dinner with his car racing boss Bobby Ginn. There was a helicopter on standby - Greg Arnet's - in case something happened back home. Well, it did! But there was a storm in Florida last night, and the helicopter couldn't go. So RC jumped in his truck with Taylor and J.H. Leale and off they went on a frantic three-and-a-half-hour drive from Orlando to Tallahassee. How fast were they going? Taylor joked that RC's car-racing skills definitely came into play. The cool thing is, they made it to the hospital at 2:30 a.m., which gave them an hour to spare. Ursula gave birth at 3:31 and 3:33!
RC is at the hospital right now but still planning on helicoptering back down to Orlando in the morning and racing the supercross tomorrow night. Ursula is doing fine, and so are the kids. The names? Kadin and Elise.
And while one well-known family celebrates its good fortune in Florida, another is still dealing with their less-fortunate situation. Doug Henry has moved to Atlanta and, from what we understand, he's already hard at work trying to come back from his devastating injury of last Sunday, when he broke his back at a Supermoto race in New Smyrna. There has been no word on any change in his condition, but it goes without saying that everyone in the sport is hoping for the best for Doug and Stacey. We will let you know more as soon as we know more.
That's it. Thanks for reading Racerhead.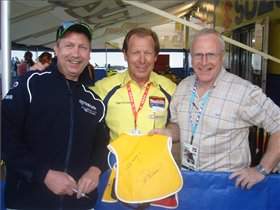 There's a lucky fan!
photo: Scott Wallenberg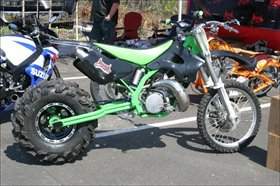 Only in Daytona
photo: Scott Wallenberg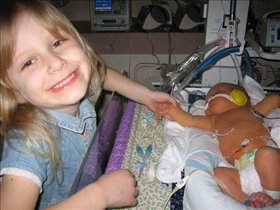 Liea and Annika Fleming
photo: Jason Fleming