Between the Motos: Ricky Carmichael
In case you've been hiding under a stack of old Inside Motocross magazines, you are aware that this weekend marks the last AMA Amp'd Mobile Supercross for Ricky Carmichael. The five-time series champion will be entering his first stock car race next weekend, a local event in Florida. His next race on a dirt bike will not come until the Hangtown opener of the 2007 Toyota AMA Motocross Series. Before RC gets too busy with his farewell weekend, we thought we would give him a call to see how it's all shaping up for the GOAT.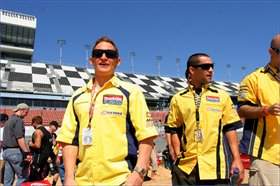 Ricky Carmichael (left) will be saying goodbye to supercross this weekend

photo: Matt Ware

Racer X: Well, this is it for supercross—you have about 72 hours left in your career.
Ricky Carmichael: Yeah, this is it for my supercross career. It's exciting, and it's been a great journey. It's going to be a hectic weekend, both emotionally and mentally. Physically, it shouldn't be too bad. It's going to be tough to stay focused for the race, because there's going to be so much stuff going on.
Even your friendly rival, Stefan Everts, is flying over from Belgium to see you off. Counting Joel Smets' visit to Atlanta, that's two multi-time world champions in three weeks—you've still got some star power.
[Laughs] Yeah, that's awesome. Actually, Ruben, Stefan's brother-in-law, told me at the track this morning when I showed up to ride, so that's very cool.
Are you changing your preparation any at all this week? I mean, are you still putting in the work at the practice track and is your mom still out there with the stop watch?
Of course! Yesterday was the last day she did that, so she's definitely going to be missing it. It was a pretty normal week, but it's been short because I had press day, so I'm not on my normal schedule. But I rode all three days, and as far as my training and cardio, I had to scale back because I ended up getting a virus in Daytona—almost like a flu, but not as bad. So I'm finally starting to feel a little better, so that's nice. But everything has pretty much been the same, except for my cardio.
Does your mom get the stop watch out with the race cars?
[Laughs] Well, she never been to a test and hasn't seen me drive a car, so I guess we'll find out next weekend, but I wouldn't put it past her.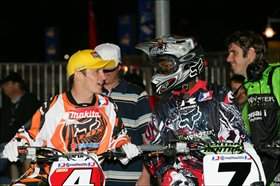 RC and James Stewart have provided some great racing over the past few years.

photo: Simon Cudby

I always wanted to ask a racecar driver this: When you're driving down the road, are you thinking, 'Man, I could pass this guy here on the inside' or are you just driving?
No, I'm just driving. I'm kicked back with the top down just rolling down the road. I don't get road rage really—I just roll with the traffic.
There aren't a lot of people out there in the southwestern part of Georgia to yell at anyway.
There's not! It's just me and the road and the trees!
One of the guys who has been hooking up with you down there—Ben Townley—you got to be stoked for the kid these last two weeks.
Yeah, it's coming around. These last two weeks have been good, and that's what you work for. It looks like it's going to come down to the end, and he just needs to keep doing what he's doing.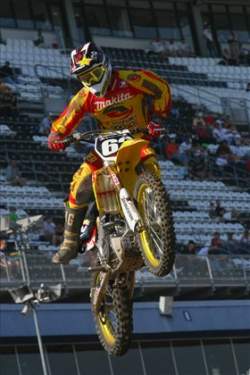 Not qualifying at Daytona doesn't bode well for Ryan Dungey's title hopes

photo: Matt Ware

Do you find yourself torn a little bit between him and your teammate Ryan Dungey?
You know, I don't now because Ryan pretty much put himself out of the title. It definitely can put you in a pinch, but they're both good guys and I don't really get in the middle of it. I help them when they're in need, and what goes on between them is between them.
This is kind of funny: A Racer X reader named Sid Sidwell sent in a letter and said "Hey, doesn't this year's Lites east look like '97, whenever RC was crashing and Tim Ferry just rode around and won." Only it's kind of like that for Ryan Morais.
It's been a wild east for sure. At first, I didn't think there was really a stand-out guy, but I think the two best guys are Ryan and Ben. They're ahead of the pack, and Ryan has made some mistakes, but they're the best two guys out there, no doubt about it.
Looking ahead to this weekend, surely Live Nation will have some neat things and you're going to have a lot of old friends there. But Saturday night, I'm sure you're looking forward to drinking a beer after this race.
I'm looking forward to having a good time, there's no doubt about it. I'm sure my man Scott Taylor has got it lined up for Saturday after the race so everyone can have a good time and be safe. I'm looking forward to it. A lot of people don't understand that I'm still doing six outdoor nationals, plus the Motocross des Nations—making it seven total races. I'm going to be busy, and you can't really do it half-assed, so I'll still be doing a lot of riding. I will take next week off and kind of gear up towards my car race. But as far as the training, I think I'll still be doing the training and everything, but the nice thing that I'm going to like is that mentally it'll be a lot easier for me.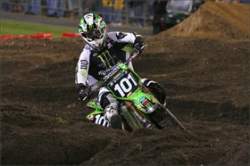 Ben Townley is a title contender

photo: Matt Ware

I know that your mentor, so to speak, in car racing—Mark Martin—strangely, he is winning his series but also pulling off after this weekend.
Dude, if you were to write a book, we can have the same book and just change the name! I'm sure Bobby Ginn is going to be opening up his wallet for him, there's no doubt about it, if Mark wins this weekend (at the Nextel Cup in Atlanta). But Mark is in the same situation that I'm in. When you're winning, everything is good, and you're in the point's lead. But what happens in the hard times? For us, if it's a muddy race and the bike isn't running right, you just have a tough weekend. And you know that it's going to come down with Mark eventually. So, with him keeping that in mind, I know he's ecstatic about just doing a limited schedule, so I'm sure he's going to walk away from it. I would think that he's going to be at that first race for his son and myself, and he won't be at Bristol. We shall find out, though! If something goes down in Atlanta, I would say that maybe there is a 25 percent chance he'll be in Bristol.
Well, for what it's worth, I'm really impressed by the way you approached this whole supercross season. For what it's worth, as a fan, I sure appreciate you showing up this season.
I appreciate it, man. I just wanted to go out swinging. I really think I elevated my game from last year. Bubba was walking away and leaving me in supercrosses last year, and I've been hanging pretty close and kept him honest and got a couple wins, so I can't ask for anytime more than that. You can't do it half-assed, and this should show you how good my program is, along with all of my sponsors.
Well done, RC.
Thanks DC.