Daytona is what it is, which is a little bit of everything. I remember hearing someone describe it once as a supercross race in the middle of a giant midlife-crisis festival, where doctors, lawyers, business chiefs, teachers, and the like get to dress up like Mad Max and go putt around on the machines they trailer or ship down from suburbia. Throw in the real bikers, the extreme stunt-bikers, all the Spring Breakers, and maybe 3,000 racers (Tuesday's GNCC had more than a thousand alone) and you have America's motorcycle melting pot.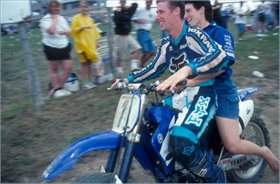 Doug and Stacey are facing yet another challenge. Don't bet against them!
photo: Paul Buckley
Sadly, there's some drama too. The Everyman hero of American motorcycling,
Doug Henry
, suffered a terrible crash while practicing for the Supermoto in New Smyrna on Sunday evening. He broke his back again, and this time he's got paralysis, which the doctors hope is only temporary. The break is right above that cage that the doctors built around Henry's spine when he broke it at
Budds Creek
back in 1995 with his infamous launch off what's come to be known as Henry's Hill.
Like everything Doug does, he's accepted his fate, but not his situation. He's already organized a move to a more aggressive hospital for spinal injuries in Atlanta, and he and his wife, Stacey, are absolutely on it. The Yamaha folks are doing all they can to help Henry, and the entire sport is no doubt pulling for a complete recovery. If anyone can do it, Doug Henry can.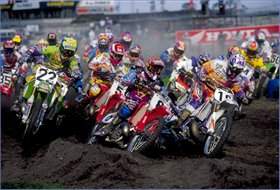 Doug Henry (8) pulling the holeshot on his Factory Honda at Daytona back in the day
photo: Paul Buckley
Right now might be a good time to click on
www.amasupercross.com
to check out the lap times from practice, because Friday means Supercross night in Daytona! There's no live webcast tonight, but Speed TV's same-day coverage is on a two-hour delay, starting at 9:30 p.m. EST (and something like 4:30 in Hawaii). So if you're not there—like myself,
Bill Ursic
,
Andy Bowyer
,
Brozik
,
Fleming
and
Hoopstar
—turn off your cell phone and laptops at 7 and wait for the racing to come on later and watch it "live!"
TFS snapped this preview shot last night

photo: Steve Bruhn

TFS is on the scene in Daytona, and after a little snafu with his photo pass, he's out and about on the infield. Check out his always-entertaining Weekend Window for more on Henry and the whole supercross scene.
Last weekend, the fellow from the southern hemisphere who used to be a Grand Prix racer got his first win on U.S. soil. Okay, it wasn't the premier class, but it was after an impressive battle with his teammate that he managed to survive. This is only his first full year—and very early in that year—so how will he do at Daytona?
We already know: 40th. Dead last.
That's because the imported hero I'm talking about is Juan Pablo Montoya, not BT101. But I couldn't help but notice the similarities as each won their first race in North America last weekend. You know all about Townley's St. Louis success, but Montoya, the Columbian who moved over to stock car racing from Formula 1, came from behind in the Busch race in Mexico, knocked his teammate for a spin while battling for the lead, then took his first win. But at Daytona, which held its 500 three weeks ago, Montoya struggled to 40th place in the Busch race. Here's betting that Ben does better!
(Sorry I went all Andy Bowyer on you there; as I wrote in my Reason for Being column in the last magazine, I am trying to get more into NASCAR!)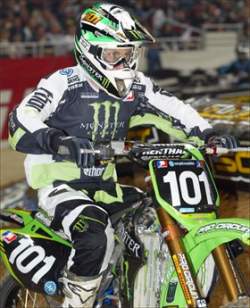 St. Louis was Ben's first win since the middle moto at the '05 MX des Nations
photo: Steve Bruhn
So what would the AMA Supercross points look like if they only counted the races Ricky's ridden in? It's a good bench-racing topic, but I wanted to check it before Daytona. The leader? It would still be Stewart, with 119 points in those five races to RC's 116. Reed would have threes across the board—he's finished third in all five AMA races that Ricky has ridden so far—for a total of 100 points.
As far as the World Supercross standings go, Carmichael would actually be leading Stewart by two points (163 to 161).
With his crash last week, another strange stat continues for Stewart: He has crashed in every AMA Supercross race he's ever lost. The one exception comes in World Supercross, where he rode Vancouver injured and was passed by Carmichael in the late going.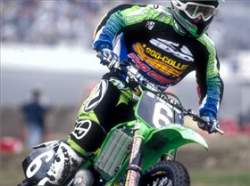 Tonight marks RC's last Daytona as a motorcycle racer
photo: Fran Kuhn
We've been enjoying
Racer X Canada
's
Steve Matthes
' "Observations" columns on Mondays, and one of his points this week really caught our attention:
"Speaking of [Ryan] Dungey, this just in: he's fast and will be one of three to win this title (Lange and BT being the others). I have been reading a lot of internet and magazine stuff praising Roger DeCoster with finding this kid. Do these people think RD was out there with a notepad and binoculars scouting the B class last summer? From what I understand talking to people, Big E from Answer racing was one of the key guys pushing for Suzuki to look at this kid, Ian Harrison was also in on it. Sure RD had the final call, but he didn't see something in the kid that nobody else did, he was presented the final package and authorized the signing. I think that it is funny how RC and IT and all these guys are guided under RD's watchful eye, but when he hires guys that suck (LaRocco, Pichon, Riddle, Bess, etc.) you don't hear any criticism."
Fair enough, but DeCoster did take some criticism for those signings—particularly Riddle and Bess. His difficulty is that, until RC came along, few people probably thought they could go all the way to the top with Suzuki, so Roger didn't get to pick the best Lites riders. That's all changing now, of course, as Carmichael has handed The Man two straight seasons of sweeping both AMA Supercross and AMA Motocross titles.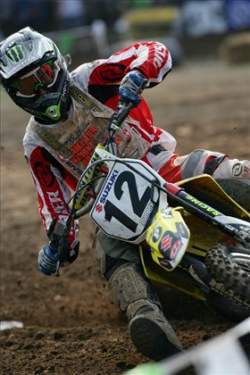 This was Ryan Dungey, about 20 months ago at Loretta Lynn's
photo: Simon Cudby
As for Dungey, I think
Cole Gress
deserves some credit here too. He's the guy who put the kid on one of his RM125s two years ago, even though he was getting beaten in the 85 classes regularly.
Check this out: In 2003 at Loretta Lynn's, Dungey was riding a Honda CR85 in the 85cc Stock and Mod. He finished ninth in both classes, with a best moto of seventh place all week. Among the riders who beat him all week were: Dominic Izzi (his future teammate), Austin Stroupe, Zach Osborne, Jeff Alessi, Sean Hackley, Broc Tickle, Phil Nicoletti, Matt Lemoine, P.J. Larsen, and four-moto winner Josh Hill.
Izzi and Stroupe are still in the amateur ranks, and this week they are at the big Spring Nationals at Lake Whitney. You can see video and photos and updates of the event at the big amateur mags: www.amateurmx.com and www.motoplayground.com as well as live scoring from Trackside.
Congratulations to Mike and Missy Brown, who now have a new baby boy. He was born on Feb. 7, weighing 8 pounds and 3 ounces. They also have Brandon, who is 4 now. "Everyone is doing great and Mike has now left for England to start the GP series," wrote Missy. "We will keep you informed on his results."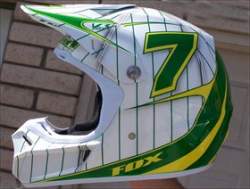 Bubba's Daytona lid
photo: John Fox
From
Jason Weigandt
down at Daytona:
Now that the Amp'd Mobile Supercross tour has moved east, the riders have moved with it. Florida can once again claim "fastest state in the union" honors as Ricky Carmichael, James Stewart, Chad Reed, Tim Ferry, Grant Langston and Jason Thomas all call the state home, and Josh Grant is down here this week working on a deal to move here himself. The action during the week from the Reed/Langston/Ferry/Thomas gang is probably just as epic as anything that goes on during the races, as the riders routinely ride together, rotating from one rider's place to another. Reed even had the Team San Manuel semi at his house for testing.
Unfortunately, the riding got cut short when Nathan Ramsey cased a jump and broke his wrists. Supposedly, the one wrist is really bad, while they suspect a broken navicular in the other. Reed took Ramsey to the airport on Wednesday morning so Nate could get surgery in California, and they had to stuff Nate's ID into his casts so he could show the airport security people during check in! Ouch.
Back to Langston for a second, who expects to be solid this weekend. He was hoping to ride last week in St. Louis, but Yamaha Team Manager
Jim Perry
thought it would be better to hold off and get in more testing to ensure GL would be ready. So Langston tested for hours on end, then drove cross-country form California to Florida, then rode some more this week. He should be ready, although he admits he's fallen behind since most of his competition has been racing and improving every week. He doesn't know where his fitness will be until he actually races, since racing and practicing are different, but he's confident he will put in a decent result.
Matt Ware hooked up with Langston in Florida this week for this cool Racer X Film. Langston looks pretty comfortable on the bike, not to mention really comfortable being a dad.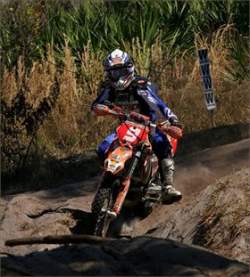 Shane Watts was amazing in the sand—again—on Tuesday
photo: Matt Ware
The off-road world is still buzzing over
Shane "#17" Watts'
amazing win at the Parts Unlimited Triton GNCC. Yes, Shane is an amazing sand rider, but he's been way, way down for the last few years with enough injuries to rival Travis himself, and now he's even lost support from KTM. In fact, in some ways, his 17th ranking on the
Dirt Bike
mag list may have been generous. But in Florida, it looked like Shane was riding a time machine instead of a KTM 250XC, because he rode flawlessly, never faded, and then won, to the cheers of thousands of fans who haven't lost their love for the 2000 GNCC Champion. Much like Travis, when Shane is good, he is great. But those moments just don't happen often enough.
Which leads us to the second GNCC round this weekend, the Maxxis General GNCC in Washington, GA. The last time Shane won a GNCC, in Ohio back in the fall of 2003, he immediately dislocated his shoulder practicing a few days after the race. That shouldn't be a problem this time, as he won't have time to do any riding between these events. In fact, Shane says he only rides once during the week now, and he hits the gym three times a week. He's figured out that any more riding just burns him out, and in addition, it saves him money since he has to buy his own bikes and parts now! In fact, Shane decided not to do his trademark smoking burnout on the podium because he wanted to save the top end of his bike!
Knight started his U.S. campaign off with a second-place on Tuesday
photo: Matt Ware
So how will he do in the Georgia clay? Well, Shane knew the question was coming, so he immediately answered it on the podium by telling everyone the KTM 250XC makes him feel awesome on clay, so it's on this year. Is it? We'll know by Sunday afternoon.
For all the info, visit www.gnccracing.com, and check out the Thursday Quick Fill column, which has a ton a info on the events down in Florida. And don't forget www.shanewatts.com, which is the official site of the Ktmhutt/Fun Mart Cycles/Maxxis rider (just giving a privateer some love).
That's it for now from Weege. Enjoy Daytona!
Meanwhile, back here in Morgantown, the National Trust named Morgantown, WV, the home of Racer X, Racer Productions and, best of all, West Virginia University, as one of America's "Dozen Distinctive Destinations," which is an annual list promoting heritage tourism. Our town is more than 200 years old, and it's full of cool old buildings and historic houses. It's truly a beautiful town.
Morgantown also has some hidden history that probably won't make the National Trust travel tips, such as all-but-over Sunnyside, which was the site of many a post-football-game couch burnings, and Mario's Fishbowl, where Dave Brozik once drank an entire bottle of peach-flavored Mad Dog that had been warmed by the popcorn machine. There's also the Holiday Inn parking lot where Damon Bradshaw almost shot his teammate Jeff Emig after Fro and friends thought it would be funny late one night after the race to "steal" the Yamaha out of the back of Damon's pickup truck and hide it in the bushes, only to wake Damon in his room. And no trip to Morgantown is complete for moto folks without visiting Matt "MegaWatt" Watson's Team Honda-meets-Ken-and-Barbie-themed basement (by appointment only).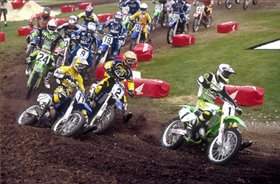 Past Daytona winner Jeff Emig (1) will be on Speed TV tonight with Ralph and Erin
photo: Fran Kuhn
Grant Langston
is one guy who made good on a chance to move over to the Monster Energy/Pro Circuit team and revitalize his career three years ago. Now Canada's best indoor rider,
Darcy Lange,
is being given the same chance. Two races into his replacement ride (he's got
Brett Metcalfe
's bike), Darcy is winning hearts and minds with his SX skills and his drive to win.
Eric Johnson
hooked up with Lange last night when he landed in Daytona for
this short interview
.
Must-see TV this weekend includes the St. Louis Lites race on Speed. Even though this race will be shown after the Daytona race goes off tonight, it's still worth watching. The frantic battle for the lead between Lange and Townley, along with Atlanta winner Ryan Dungey, makes this race an instant classic! Make sure you TiVo this one. It airs at 6 p.m. on Saturday evening, according to the Speed listings.

Must-read internet this weekend includes the Daytona/Morgantown blog, courtesy of the Racer X staff.
And if you missed Townley's post-race interview with Racer X, you might want to check that out too. He's definitely living a dream here right now, though it was more of a nightmare all last year. But now he's got his second AMA trophy (he earned third at the Red Bud National last year).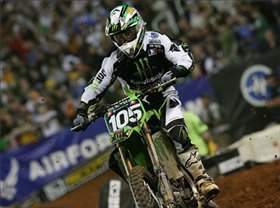 Lange just might become the top Canadian supercrosser ever
photo: Simon Cudby
I feel bad for
Joel Smets
. He flew all the way to Atlanta from Belgium to see Townley's first SX, only to watch his old friend and fellow world champion DNF when his bike seized. Smets flies home, and Townley wins six days later. Joel, you missed it!
It will be nice to see Andrew McFarlane back in action. Like fellow former Grand Prix rider Langston, "Sharky" has decided to use the motocross-friendly Daytona race to make his comeback from injury. McFarlane will be racing for the Rockstar/WBR Suzuki team for the first time, alongside his teammates Michael Byrne (450 class) and Kelly Smith (Lites).
Racer X Canada has an exceptional interview with Ron Lechien up this week, and the Dogger goes deep with some of his life stories. It's a great weekend read.
Stairway to Glory has become another Stefan Everts success story with the Double DVD selling beyond all expectations around the world. To celebrate this success, a limited edition collector's item will now be available on the official website www.stairwaytoglory.com. The 30 first orders registered will receive a personally signed double DVD in gold etching.
The 256 full-color photo book "My Last Fight" and the Double DVD "Stairway to Glory" are also now available as a combo. Fans who order the pack online at
www.stairwaytoglory.com
will automatically receive a Stefan Everts "Goodbye Tour" T-shirt. All info available at
www.stairwaytoglory.com
This week's cool old-school video find came from our friend David Villalpando, better known as Burrito913. It's the '97 Las Vegas East-West Shootout, featuring the very first RC-vs.-K-Dub battle (with #57 David Pingree thrown in for good measure, at least in the early laps). You'll also hear David Bailey, as well as those golden pipes of Art Eckman! Good stuff.
Ping saw this and wrote, "Eckman and Bailey were focused on RC and KW but I actually finished 3rd that night in Vegas in 1997. And RC cried his his eyes out. Man, was he pissed. If I remember correctly, Mama C. made him work on whoops for a long time after that."
Ping, it was a fine role you played that night in Vegas a decade ago, and I am sure you gave it your all, but it's mostly been lost to history. Sort of like the true dramatic triumph of Titanic, which came not from Leo or Kate, but rather the other person on that last iceberg—the one in the back. Or the amazing boxer that somehow lost in a split decision on the undercard of Ali-Frazier 3. Or maybe it's like how you've heard of both Hall & Oates, but everyone always forgets about Seymour on tambourine….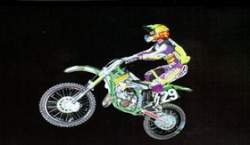 Here's Pingree during his boy-band phase

photo: Courtesy of Team Green

Travis Pastrana is not in Daytona, in case you missed it. After last year's ambitious but short run through Bike Week, Pastrana is spending this week at the World Rally Championships in Mexico with his Subaru Rally teammate Ken Block. The team is doing some extra coverage (photos section, blog, news, etc.) for this big event on the rally.subaru site. If you want to see what Pastrana, the 2000 and '01 Daytona 125 SX winner is doing this weekend, check it out here.
I for one will miss Pastrana's incredible style down there on the infield. No, not the botched backflip, but rather his stand-up wheelies over the softer whoops, or even his banzai runs through the steeper ones. With the top three so far removed from the rest of the field now, it really is a shame that Travis got injured so much over the last five years, because he certainly would have been up there with the Big Three, in my opinion.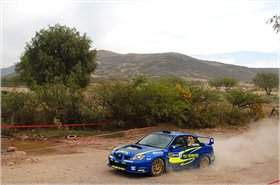 Travis is racing rally cars this weekend down in Mexico
photo: Courtesy of Subaru
According to the press release from Subaru Rally Team USA, Mexico is going to be a steep learning curve for Pastrana and Block as they grapple with some fundamental differences between the WRC and the Rally America Championship. For instance, World Rally drivers and co-drivers perform reconnaissance of the stage roads, writing their own stage notes with their co-drivers; in the states, the drivers are supplied stage notes, and do not perform any reconnaissance. "We need the experience and that is why we are here," explained Pastrana in the release. "We are not here to try and win or go flat out and risk everything, we need to finish. It's a steep learning curve but we are enjoying the challenge."
Last summer, all-American dirt track hero Chris Carr went to the Bonneville Salt Flat's and proceeded to break the world land-speed record for a motorcycle rider, using AMA Hall of Famer Denis Manning's BUB #7 Streamliner to go an astonishing 350 mph! Now you can watch all of the drama and fun that went down late last summer. Produced by Ignition3 and Chet Burkes Productions, "The World's Fastest Motorcycle" is available through the BUB Racing website, www.bubspeedtrials.com, for a retail price of $24.95.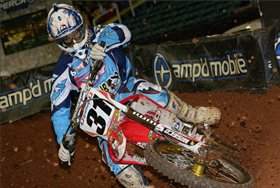 Jason Thomas was not exactly thrilled with the mid-season grade Matthes gave him
photo: Simon Cudby
Steve Matthes posted another interesting deal this week. The
Racer X Canada
columnist thought it would be fun to grade all of the teams on their 2007 seasons to date, based on the expectations each had going into Anaheim. Some guys were stoked with their grades (
Paul Lindsey
's MotoworldRacing.com Yamaha team, for instance, earned a B- for their efforts) and some were not (Matthes got grief from both MDK/XYience Honda rider
David Vuillemin
and
Jason "Butler Brother 4" Thomas
for their average grades).
Have a look
and then feel free to send us angry letters so we can pass them on to the talented Mr. Matthes.
Matt Wozney put together a new video for Shift Racing which features Tyler Bowers and Zach Ames from the BooKoo Arenacross Series. Matt does nice work, and the video gives a nice glimpse of what we will be seeing when Bowers is allowed to race again.
Now it's Ping's turn, and we'll start with a letter:
Dear Racer X,
With all the new AMA requirement surrounding Pro Licenses, it got me thinking…. how did Shaun Palmer get one?
Best Regards,
Chris Lubas
Dear Chris,
I believe it had something to do with his six gold medals at the winter X Games and his Action Sports Athlete of the Year ESPY award. Actually, Shaun has held a pro license for over a decade since he raced at the Hangtown national for the first time back in 1993. And being a part of the Yamaha of Troy team ensures him a spot at the season opener at Hangtown.
PING
I spent Monday at the Castillo Ranch riding and talking with action sports icon Shaun Palmer. "Palm" has a deal with YoT and is excited about finally getting to realize his dream of racing the nationals. Simon Cudby made a very cool video for Racer X Films that you can see right here. Shaun has been living and riding at the Castillo Ranch for the past few weeks in preparation for this summer. He plans on racing any and every local race in southern California from now until Sacramento to get his speed up.
(This from Langers: I saw Palmer at the Gold Cup round at Competitive Edge last Sunday. I was wondering who the guy dressed up as a YoT rider was! He looked pretty good too!)
With safety at the forefront of every conversation lately, I've been paying a little more attention to some issues other than protective equipment. The first thing, and this is kind of the elephant in the room when you start talking about four-strokes, is the bogging problem. It is something that has been accepted as a characteristic of four-strokes, but there are a few things that can be done to remedy the problem. Trust me, the first thing factory race teams do is eliminate any bog that their bikes have. You can't feel comfortable jumping through a rhythm section if your bike bogs sporadically. And I know more than a few riders that have been hurt because of this issue.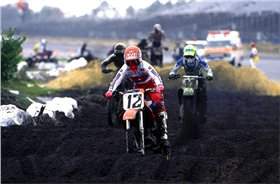 #12 won the 1987 Daytona 250cc SX. Do you know who this is? (Scroll down for the answer)
photo: Courtesy of Moto Verte
One product that helps significantly is Ready Racing's Rapid Response system. This small piece bolts on to your carburetor, increases throttle response, and decreases bogging occurrences.
Check out www.readyracing.com for more information about the Rapid Response system.
Another new product on the market is the Power Bowl, a product recently released by R&D Racing. Owner and designer Dean Dickerson explains his product like this: "With the advent of high performance 4 stroke engines, carburetor hesitation is a far too common occurrence. Temporary lack of fuel supply, caused by air pockets finding their way to jet passages, also cavitation in the accelerator pump, can quickly deflate a rider's confidence in his machine. The R&D Power Bowl is a sure fix for these problems. During hard landings and high speed impacts, excessive fuel splash currently exists. Splashing coupled with excessive clearance around the production fuel baffle, allows air pockets to reach the main and pilot jet, resulting in an extreme lean condition, commonly known as bogging.
"This new carburetor bowl, designed with our new Zero Tolerance Jet Chamber, minimizes existing clearances eliminating the possibility of fuel evacuation around the main and pilot jet area. (no bog)."
Most of that reads like Chinese to a mechanically retarded person like me, but Dean insists that his product is the answer until all production bikes have electronic fuel injection figured out.
For more info on the Power Bowl, go to www.randdracing.com.
And finally, if you have some free time and want to see something really, really out there, check out our old friend The MotoClown. For those of you who aren't anywhere near the new PAMX scene and don't know what I'm talking about, check out this short introductory video.
Okay, time to turn off the laptops and watch Daytona "Live" later on tonight! Thanks for reading Racerhead.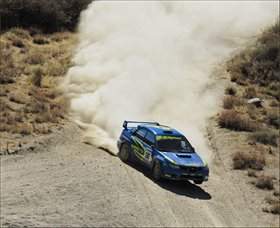 Last year he was backflipping the Daytona SX finish line...
photo: Courtesy of Subaru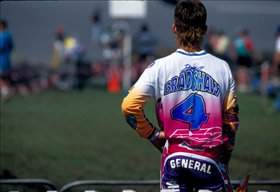 Damon Bradshaw never won the Daytona SX 250cc main event; He did win the 125cc main there in '89
photo: Fran Kuhn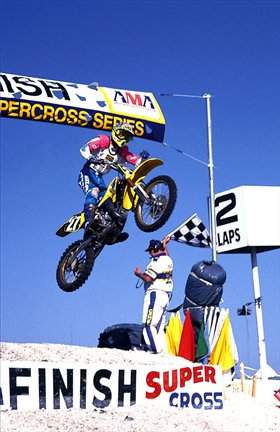 Denny Stephenson won the 125cc Daytona SX in 1990
photo: Racer X Archives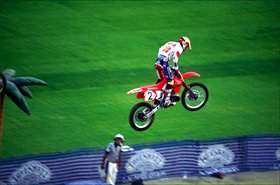 Jeff Stanton won the Daytona SX four consecutive years (1989 - '92)
photo: Courtesy of Moto Verte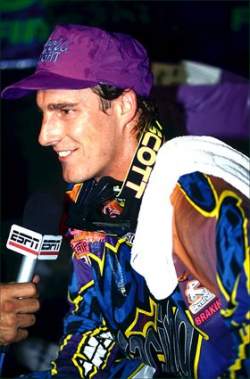 Mike Kiedrowski has three wins at the Daytona SX
photo: Courtesy of Moto Verte
The winner of the 1987 Daytona 250cc SX was privateer Rick Ryan.