5 Minutes With ... Darcy Lange
In 1987 a Canadian rider from Medicine Hat, Alberta named Ross "Rollerball" Pederson placed ninth overall in the AMA Supercross Series. To this day, it's the best overall result a citizen from the Great White North has earned in the world's premiere stadium motocross tour.
Interestingly, last year, a Canadian rider named Darcy Lange came ever so close to matching Pederson's feat when he placed 10th overall in the AMA West Region Supercross Series. Pederson's high-water mark (which came in the premier class, by the way) may have been kept safely in check for a time if not for a phone call placed by Team Monster Energy/Pro Circuit/Kawasaki ringmaster Mitch Payton a few days after the 2007 BooKoo U.S. Open of Arenacross. The young man who picked up the call with the "951" area code was Darcy Lange. Payton was inviting him to audition for his legendary race team, as Brett Metcalfe, slated to race for Payton in the 2007 East Region Supercross Series, was on the injured reserve list. So the day after the final race of the BooKoo tour, the 24-year-old Lange boarded a plane, flew to Ontario, California, and drove straight to Pro Circuit in nearby Corona. He tested well, got the gig, and two races into the '07 East Region Series the pride and joy of Vancouver Island, British Columbia quickly become the sensation of the young season.
Racer X: Darcy, what are you up to today?
Well, we just landed here in Florida and now we're going to go get set-up and get ready for tomorrow.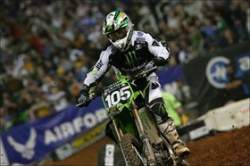 Tonight is Lange's first time racing Daytona

Have you competed in the Daytona Supercross before?
No, I have not.
Have you watched the race on TV or read about it when you were younger?
I've definitely watched it on TV a few times and read stories about it. It looks really gnarly. You know, it definitely looks like it gets really rough and rutty, but I ride good in the ruts, so I'm okay with that.
You placed second in Atlanta and almost won in St Louis last Saturday night. Did you expect to be doing so well so quickly?
Definitely not. I mean, two weeks before the East Region started, I wasn't even planning on doing it. But then I got a call from Mitch asking me if I'd be interested in riding for him and I was like, 'Whoa! If you're asking, of course I'd like to be on your team!' Being asked to be on his team was a real confidence booster for me.
How did Mitch get a hold of you? Was it completely out of the blue?
I remember I was driving down the road one day and the phone rang and it was Mitch and he came right out and asked me if I wanted to race for him. I told him I would love to. When Mitch contacted me it really motivated me to do a lot of riding. I had already ridden a lot due to the arenacross series, so I was already pretty prepared. I had been staying in California over the winter so I could ride and where I am staying is only an hour away from Pro Circuit, so when Mitch called I told him I just had to get my Arenacross deal done. The Monday after the U.S. Open (of AX) I flew back to California on Monday and was riding a Pro Circuit bike by Tuesday on the Kawasaki track.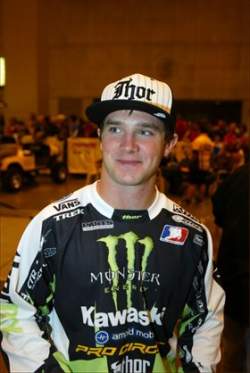 Darcy Lange has good reason to be smiling

photo: Steve Bruhn

Had you ridden on it before?
Oh, yeah. Since I've been riding Kawasakis in Arenacross, I've been on the track a lot.
What did you think of the bike when you got on it?
The bike was super-fast. In fact, when I rode down the first straight, I was like, 'Oh shit!' The bike was so fast that I grabbed for the brakes and almost went over the bars. It took me the entire first day to get used to the bike and get everything down.
When compared to your Arenacross bike, what on the Pro Circuit bike was different?
Everything. The power, the suspension, and the tires — even the handlebars were different. Then there was the fact that I was just super-excited to be there.
Did you expect to do so well at the opening round in Atlanta?
[Laughs] You know, I wasn't even sure what to expect. I had no idea of how I was going to do. I didn't even really know what the team expected. When I pulled off the track after the race I was not sure how I did. I knew I was in third for a while, but I stalled the bike and it took me a little while to get going again and get back up there. When I found out I finished second I was super-excited. It was my best supercross finish ever.
How did the team react to your result?
They were pretty excited. But again, they didn't really know what to expect from me. But then last week I backed it up until I threw myself in the ground on the last lap.
But you came a few turns away from winning the thing!
Yeah, I had the lead up to the corner leading into the whoops. I messed up a little and kind of left the door open for Townley. At that point I thought it was all or nothing. Maybe I should have simmered down and settled for second, but what's done is done. It was a cool battle.
How was the team after the race?
They were excited, but I was bummed. I didn't talk to too many people after the race.
What's the plan for Daytona?
To keep my place on the box. That's what it's going to take to win this thing. If you want to win the championship, you can't make stupid mistakes. You need to stay in the top three and getting points. Who knows? There are still five rounds to go. It's early. I need to stay on the podium.
Has there been any talk of you riding the Nationals for the Monster Energy/Pro Circuit/Kawasaki team?
No, I will not be doing the nationals. I'm just filling in for [Brett] Metcalfe for supercross. I don't have any plans to do the nationals. I seem to get hurt a lot in the outdoors, so I'm not a fan of them. I've been riding and racing a lot since September, so it's been a while since I've had some downtime.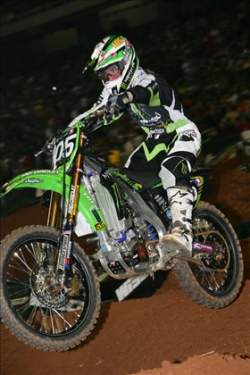 Lange is living a dream

You're only thee points out of the championship points lead and you're riding a Monster/Pro Circuit/Kawasaki 250F. Are you living the dream?
Definitely. Coming into this year, I didn't even plan on doing supercross. It's always been my dream to be one of the best supercross riders and now I have this great opportunity and my family and all my friends are really pumped. You know before this season started, some people doubted me, but now they are cheering me on.
How big would it be for Canadian motocross if you won the title?
It would definitely be cool! It would also be a long shot. I'm just going to put my head down and hopefully I'll be in the running.
Riders like Ross "Rollerball" Pederson, Jean-Sebastien Roy and Carl "The Drumondville Flier" Vaillancourt have all come down from Canada and experienced some success here in the United States. Did you look up to those guys as a kid?
Yeah, Roy, Pederson, and Carl Vaillancourt — all those guys have been cool to me. I used to look up to them while growing up. To be doing this good in the U.S. is the coolest thing.
Well, best of luck in Daytona, Darcy. We wish you nothing but the best.
Thanks a lot for the call, Eric. I appreciate it.