Wear the grudge like a crown
Of negativity
Calculate what you will
Will not tolerate
Desperate to control
All and everything
Unable to forgive
Your scarlet letterman
Hello, everyone, and welcome to the Rev-Up. In less than 24 hours we are going to see one of the biggest moments in our sport's history. Wow, how is that for a bold statement? But think about it; what else could be bigger than the Daytona Supercross, round 10 of the 2007 Amp'd Mobile AMA Supercross Series? Maybe bigger isn't the correct word, because size really doesn't have anything to do with this race. Yes, it is going to air on a two-hour-delayed TV broadcast, and there will surely be a large turnout, just as there has been for every round thus far. But what makes this Friday night so great are the recent events that lead us into it. And adding to the theme of this week's column, there are some serious grudges between the key participants that almost guarantee this year's running of the Daytona SX to be an instant classic.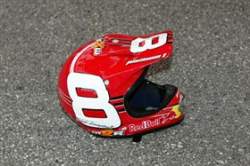 Langston is back!
photo: Steve Bruhn
As we march into the majestic infield of the Daytona International Speedway, we sit on the precipice of a supercross battle. Throw in one of the burliest posse of Lites competitors we have seen, and we have a great show in store for us.
Supercross Lites
I don't know if these boys will be able to top last week's barnburner, but they certainly have all the tools to try! Makita Suzuki's Ryan Dungey almost did everything right in his bid for a second consecutive Lites victory. Instead, he found out how much difference two small mistakes can make - the difference between 1st and 18th. I would be looking for the newbie to be riding with a little extra, as he now faces championship desperation.

Yet Darcy Lange is the rider that has me pumped up the most. The reigning king of arenacross was straight coming with it last weekend! His checkers-or-wreckers effort on the last lap had me jumping up and down like a lunatic.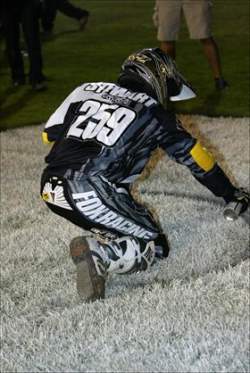 Stewart salutes The Intimidator
photo: Steve Bruhn
I also want to give a special nod to the boys in YoT blue. The resurgence of Yamaha of Troy has been most impressive. While I am happy for the team, I am really stoked for the men who now share the points lead.
Matt Goerke
and
Ryan Morais
have been through quite a bit in their still young careers. I know both of them well. They are both really good guys from super-nice families, and it's refreshing to see them finally getting some back for what they have put in. Their bikes are strong, they've been consistent, and if Goerke's wrist isn't too banged up from last week, he'll be a threat to win. (And somewhere, I hope Dave Osterman is smiling at what's become of the team.)
Ryan Sipes
is getting stronger too. He is my dark-horse pick for the podium Friday night. So who's going to win? Outdoors? Florida? See this week's
Shift Number Cruncher
for my not-such-a-long-shot pick.
Supercross
This is it. This is what it's all about. They say they're bringing back the real track, this is Ricky Carmichael's last appearance at the race he has mostly ruled with an iron fist, and "ding-ding-ding," James and Chad have a little score to settle! How bout ol' Reedy? Does he have a chance? Oh, I think he does. Chad has been really strong at this place in years past. His win in 2005 wasn't just chance; he led all 20 laps and RC went sprawling across the pavement trying to catch him. But you have to take into consideration that his strength at Daytona has been on the shorter, more supercross-style design. Will he be as nasty on a track with more of an outdoor theme? Man, I sure hope so, but we all know he doesn't think much of the outdoors.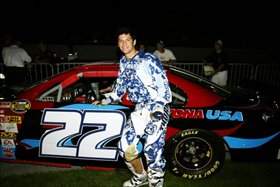 Can Reedy repeat his 2005 performance?
photo: Steve Bruhn
And how about James? He is in a difficult situation because he has to keep his eye on the title, but he really wants to win. And that is exactly where his problem lies, because
Ricky Carmichael
also really wants to win—but he doesn't care about the title.
You know, when I woke up this morning, I was smiling really big because I knew today was Rev-Up day and I was going to get to write about Daytona. I had my system on blast the whole way to work, and Fleming (our online manager) has banged on my wall two times telling me to turn down my headphones. I can't help it. I feel like standing on my desk and swinging my shirt over my head like a crazy person. There's so much reason to be shadowboxing for this race! Both classes will be shown tomorrow night, which means three of the fastest supercross racers the world has ever known, and all three of them are riding with different agendas. Plus a whole pack full of East Coast hopefuls? This is great! I really can't wait.
But before I go, let me explain the title of this week's column. It pertains to two things. The first of which is obviously the grudge between #22 and #7. And the second part, the excerpt from the TOOL song, is for some of you overly sensitive fans out there. Let go of the grudge you guys have against Chad and/or James! Put down that can of Haterade and pick up a beer or have a Pepsi and a smile. This week I've been accused of being a fan of one guy, a hater of the other, and an instigator of injury-causing crashes. Come on! I saw what I saw, and I reported it. Period. I raced, I have been on either end of that collision, so I had an opinion of what happened. If you don't like it, by all means disagree. But leave the name-calling to the pee-wee class.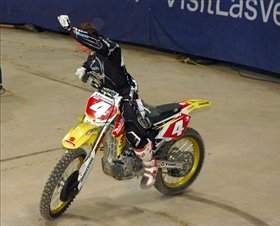 Will RC be celebrating tomorrow night?
photo: Chris Favro
My text in this week's 450 Words column was an unbiased account of the biggest part of the race. Did I write about
Racer X
's own
Ryan Clark
getting unceremoniously mowed down by James later in the main? Did I dewll on the fact that Reed shoving Stewart in the back isn't the noblest way to attack someone you feel wronged you? Nope, but both instances happened and are contributing factors to making the 2007 Daytona Supercross very, very big.
Who is going to win? Who cares? Be stoked about the fact that we have three guys that can win. Get together with your bros and watch the race. Call up the local rib guy and have him get a couple of slabs smoking, tell your pal with the biggest TV that you are coming over with the boys (we already commandeered DC's 72" plasma), and get ready for some supercross—Daytona style!
Thanks for reading, see you next week.