There's nothing like the start of a new season, and that's exactly what Atlanta felt like last weekend. Not only was the East Region kicking off, with no less than 10 guys with a legitimate shot at the win, but Ricky Carmichael was back in the mix, Chad Reed was back in the title hunt after James Stewart's disastrous crash at San Diego, and the jam-packed Georgia Dome was rocking like Anaheim 1.
Of course, what we saw was more of the same in the 450 class, as Stewart put together a superb race, with Carmichael breathing down his neck for much of the main yet never able to get a wheel in on the #7 Monster Kawasaki. Maybe that's because Stewart had that incredible overhead route on the infield rhythm section, not to mention his bombastic blasts through the whoops on either side of the racetrack.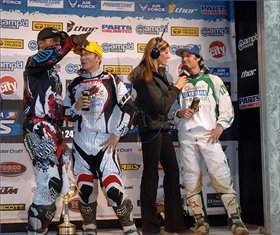 James is asking where RC went in that particular corner
photo: Carl Stone
Carmichael finishing second did no good for Reed's title hopes, which took a further hit when RC spent the downtime on the podium telling James exactly where he was catching him (bowl turns). And his "I was wearing a skirt" admission about the rhythm section was good stuff!
Now we head to St. Louis, where both Stewart and Carmichael had terrible luck (though when you think back to RC's heat-race endo, maybe he was really, really lucky in the whole big scheme of things). Reed got a win here, but he needs to win again if he wants to stay in this thing. Losing five points again this weekend could be fatal to his title hopes, because when RC's gone after Orlando, who's going to get between him and Stewart and help him pull those points back?
Six o'clock Eastern is again the magic time this weekend for SX on TV. Catch the Atlanta Lites Saturday at that time—if you've never seen Ryan Dungey or Ben Townley race before, you're going to be impressed—and then watch the St. Louis SX main on Sunday at that time. Again, make sure to check your local listings, or visit www.speedtv.com for more information.
And if you can't stand to stay away from the computer or answer your cell phone all day Sunday, might as well listen to the
Supercross Live!
webcast of
Jason Weigandt
and
Jim Holley
, which starts up at 8 p.m. EST (5 out West), from St. Louis. And the AMA's always interested @The Wire Live! timing and scoring will be rolling throughout the day tomorrow.
One rider who won't be in St. Louis is Nick Wey. I spoke to the Xyience/MDK Motorsport Honda rider this morning after he was back at home following surgery on his thumb. He hopes to be back for the last three races, and then Toyota AMA Motocross Series. He and wife Nicole and new baby Ava Marie, now six days old, are doing great. Want to read more about NYK? Check out this Racer X Online interview.
It should be no surprise that Wey's problems have him sliding down in the Racer X Power Rankings, which has a brand new sponsor: Toyota! Also, based on his impressive speed even after a three-week layoff, RC has passed Reed for second, with the idle Ryan Villopoto fourth. Where it gets really interesting is where the East Region guys come in. Makita Suzuki's Ryan Dungey landed tenth in his debut on the poll, which makes his third-highest of all Lites riders behind RV51 and eighth-ranked Jason Lawrence.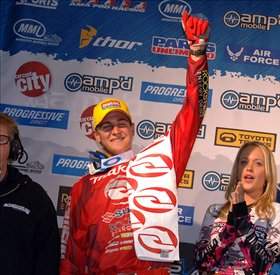 Ryan Dungey's solid work in Atlanta sees him move into the Toyota Power Rankings in the 10th spot
photo: Carl Stone
Also,
Darcy Lange
debuts at 15
th
based on his second-place ride—he was moving to the front, fell, then got back up there again. Lange's effort earned the
Racer X Canada
crew an extra day of work; keep an eye on
www.racerxcanada.com
to see why. (And speaking of
RXC
,
Steve Matthes
—
Tim Ferry
's "man-friend temp" from the U.S. Open and a regular columnist for the world's best moto hockey team—put together a different kind of race wrap-up online with his "
Observations from Atlanta
." If you missed it, check it out—it's good stuff. (And don't forget to check out
Danny Brault
's
Frid'Eh Update
, which should have some good stuff from Georgia today.)
What is surprising to some here in the office is that Townley, who DNF'd, moved into the rankings at #19, even though his engine let go when he was chasing after Dungey halfway through the race. After all of the injuries and delays that BT101 has had in the last year and a half, it was cool to see him riding so well.
And then there's Matt Goerke, who I actually picked to win the night before the race at the DMXS party. The YoT rider got a little gassed toward the end because he was hanging on too hard, but on the podium after the race, he basically said, "I'm going to win next week." If he gets a good start, rides forward, and races the track, he just might.
Anyway, Goerke came in 22nd in the Toyota Power Rankings, which means only four East guys made the Top 25, and fourth-place Ryan Morais was not among them. Nor was fast practice man Jeff Alessi or big brother Mike, who really didn't look very comfortable during his heat or the main before crashing out when his shoulder popped out. He should be back this weekend, though.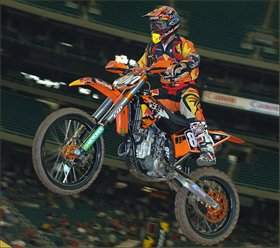 Mike Alessi had a night he'd rather forget in Altanta
photo: Carl Stone
By the way, I said Goerke was my dark-horse pick, but "Dangerous"
Dave Deringer
of Sano and
Cycle News
fame said Dungey and Lange. Together, we had the trifecta—but he had 1-2 covered.
Did you catch www.racerxfilms.com earlier this week? Eric Johnson takes you through No Fear. Very cool, though it would have been sweet to see the '08 stuff before Skip Norfolk wisely shut Simon and EJ down before they could get in the "war room."
Time for a non-commercial break: Suzuki has a very cool video with some old- school footage of Mark Barnett, Guy Cooper and others here. It's narrated by Denny Stephenson and Suzuki's own Cole "Lone Star" Gress.
British moto artist Rob Kinsey has done it again. After his David Bailey painting of the same historic day was such a success, this canvas painting of Ricky Johnson at the 1986 Motocross des Nations is stunning.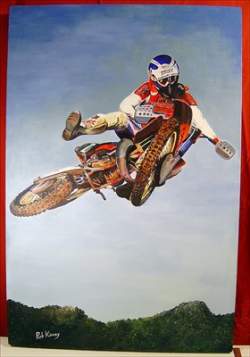 The new painting by Rob Kinsey
According to Kinsey, these will be available as a limited edition of 50 canvas-block-mounted prints, size 20" x 30". They are £95 GB pounds each and £35 shipping by courier, door-to-door to USA. They will be protected in specially made cartons, double bubble-wrapped to ensure safe delivery. The final painting in this series will be of
Johnny O'Mara
on his works Honda 125 to complete the U.S.A. "dream team" of 86!
Racer X hopes to sort out a way to be the distributor for Kinsey's work here in the U.S., just to try to get these prints into more people's hands. We may also end up bringing over Stefan Everts' Stairway to Glory DVD, which is an amazing piece of Grand Prix motocross history.
And speaking of the GPs, it was good to have five-time World Champ Joel Smets on hand last week in Atlanta. He brought his family over to visit his old friends Townley and Carmichael in Tallahassee, plus make the trek over to Walt Disney World. Smets got the red carpet treatment from Live Nation (thank you, Mrs. LaRocco!) and watched from the press box. (And if you heard his story about showing up at the wrong Unadilla on Supercross Live! you know he had an eye-opening trip.)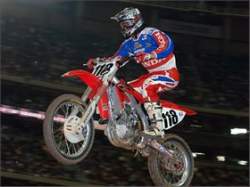 Davi did a little jetting around last week
photo: Carl Stone
Team Honda returned to action at the Georgia Dome for the first time since last fall, but the results—18
th
for
Davi Millsaps
and 18
th
for
Tommy Hahn
—were not what anyone expected. Both riders fell early, and Hahn had his brake rotor bent. Look for strong rebounds from both this week.
But Millsaps did more than race last week. Some of the Joe Gibbs Racing and Carolina-based David Evans crew flew down to Millsaps Training Facility last week to check it out in the Gibbs Lear jet. Then they flew Davi and his mom, Colleen, up to Charlotte, NC, along with Pete Brewer (the MTF manager) and Lance Langston (Millsaps' agent). Before the rumor mill grinds this to a pulp, remember that Davi will be with Honda a while, as he has two years left on his contract and they surely have a right of first refusal at that point. But the Gibbs folks are very interested in getting into motocross in the future, so this was more like the time they brought in Ryan Villopoto and his family before Steel City last year—they are just trying to create affinity with the top stars, plus they may want to use MTF in the winter once they start into motocross.
Monster Energy/Pro Circuit Kawasaki had a decent weekend in the East opener, even without the man who was supposed to be there, Brett Metcalfe. Metty pulled out early with the shoulder injury that was carried over from the Motocross des Nations, where he rode for his native Australia. Now he's back on the bike and going "pretty damn fast already," according to his trainer Ryan Hughes. When asked when Metcalfe might make his '07 racing debut, Ryno guessed Orlando.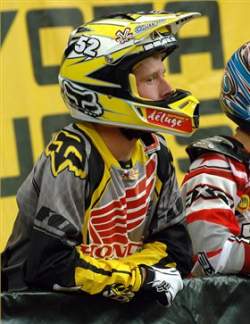 Tommy's 18th is nowhere near where anyone thought #52 would be last weekend
photo: Carl Stone
Let me turn this over to
Ping
right here:
The East Coast Lites opener certainly didn't play out the way most thought it would. Top contenders Townley, Alessi, Hahn, and Laninovich had problems, opening the door for others to have a breakthrough race. But that might just be how this series is going to be: The talent is so deep that we may not be able to guess which rider is going to win with any certainty. Wow, I've almost forgotten what that's like.
I personally think Townley would have made a race out of it with Dungey. He turned the fastest lap of the night before his bike grenaded, and I know he's fit. Makita Suzuki's Dungey was impressive, though, and there is no question now that he is for real.


Where would Broc Hepler have played into all of this? It doesn't really matter, as the Yamaha rider still hasn't gotten the green light from his doctor after his nasty concussion a few weeks ago. The topic of concussions came up recently while I was talking with Troy Lee, a guy who not only paints helmets but also makes them. He explained to me one of his biggest concerns, especially among non-pro riders.
Ryan and Tim enjoy the thrill of victory
photo: Carl Stone
"We see so many helmets that riders have crashed in, and they don't realize the integrity of the helmet has been compromised," Lee says. "Just because there isn't any cracks or dents in the shell, doesn't mean that the helmet is okay to keep using. The foam liner is designed to absorb an impact and crush in the process. You have to pull the liner out to really see it, but after any kind of crash where your head hits the ground, the foam in your helmet has probably been compressed. If you crash again and hit that same spot, the foam doesn't give the way it's supposed to because it has already been compressed. If it's relatively minor, the foam can be replaced. If not, we suggest replacing the helmet."
As far as Hepler is concerned, I don't know if the helmet he was wearing had a previous crash on it. Most pro riders are pretty good about rotating helmets on a regular basis. Broc is certainly missed at the races, so I hope he's recovering quickly.
On a sad note, I just found out last night that I am, in fact, NOT smarter than a fifth-grader. Who cares how many sides a trapezoid has, anyway?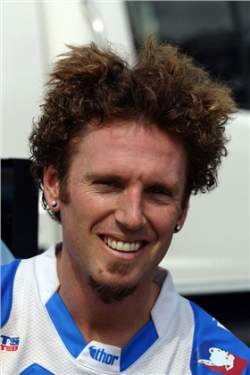 Check out Ramsey's hair!
photo: Ping
Check out this picture of
Nathan Ramsey
's new hairdo. Nate wanted to throw some curls in, so he went ahead and got a perm. I can't tell if he looks like pro surfer
Rob Machado
,
Napoleon Dynamite
, or
Screech
from
Saved By the Bell
. Come on, Nate, throw a pick in that fro for this weekend's track walk in St. Louis.
And now a quick note from Matt Ware:
On Wednesday, we made the trek down to Charleston, WV, for the state's annual Tourism Day. After a late start and some smooth talking from Carrie Coombs, we walked into the capitol building minutes before Governor Joe Manchin's press conference on West Virginia's third-largest industry, tourism. During the conference, Manchin announced the partnership between "two of West Virginia's world-class companies (Racer Productions and Snowshoe Mountain Resort)" to bring the Can Am Grand National Cross Country Series to West Virginia." For more information on the event check out www.gnccracing.com.

After the press conference, Racer Productions' Tim Cotter and Carrie Coombs, along with Snowshoe Resort's Bill Rock, presented Manchin and the commissioner of tourism, Betty Carver with racing jerseys. Chuck Weir from the AMA was also in attendance.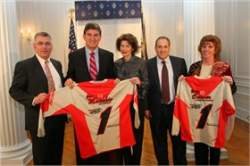 West Virginia Governor Joe Manchin welcomed GNCC Racing back to the state where it all started with open arms
photo: Matt Ware
By the way, in the debate to see who has the coolest governor in the USA, we've got Utah's moto-loving
Gov.
Jon Huntsman Jr.
running neck-and-neck at the top with our own Gov. Manchin! Now would that be a great Two Tribes for the magazine or what?
Last week, James Stewart and Ricky Carmichael took time out of their busy schedules to spend with a young man battling cancer. Here's a letter and a photo we received from a very thankful family:
Dear Racer X,
This is just a brief note to say thank you to all you kind folks that helped make the Atlanta SX so special for Drew. He will remember this trip for the rest of his life. He is still sleeping nights with the number plate from James Stewart's bike. Monday morning I had to go get our photos developed and 8×10s printed for his walls. He was "Big Man on Campus" yesterday at school in his autographed RC4 t-shirt and autographed Monster Kawasaki hat.
Meeting Ricky and James was huge for Drew and it could not have happened without the assistance you Suzuki and Kawasaki provided. Drew has been through more than you would believe in his fight with cancer. It is our hope that this is all behind us. He will continue to be scanned thoroughly on a monthly basis for the next couple years. We are operating on the assumption that this ordeal is in our rear view mirror.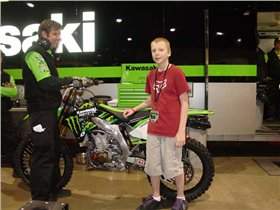 Drew Horsey and his family had a weekend to remember in the ATL)
photo: David Evans
Please pass along our thanks and deepest gratitude to Mike Fisher,
Timmy Ferry
,
James Stewart
,
Ricky Carmichael
, Jeremy Albrecht, the Monster Energy folks, Mike Gosselaar and I am sure I missed some people. Thanks again. We are eternally grateful to you all.
Regards,
Dan, Connie, Taylor, Tori & Drew Horsey
Something unique from top moto photographer Jeff Kardas: He scored a cover Down Under of Chad Reed for the 7th Day Adventist Church's magazine.
And now some baby news: Our old friend "Windshields" Loran and his lovely wife, Jen, have a new boy named Michael Phoenix Nicholas Loran, who was born on February 24, 2007. Well done, Windshields!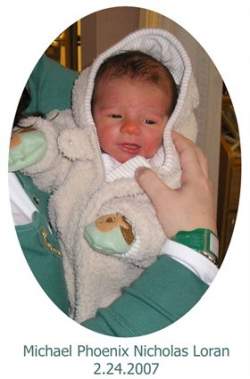 MIke Loran's new arrival
Also, look for
Brayden Thomas Muye
, the son of Live Nation's
Dave Muye
, at a supercross soon. He entered the world at 8 lbs., 9 oz. and was 21 inches long. "He is healthy as is his mom, both are doing great. Thank you all for your concern, support and advice along the way," wrote Dave. Right on, and good luck!
And this from Andrew Bauer:
"I am James Povolny's race team manager and mechanic. James and I have been trying to figure out if he is the longest carrying national numbered rider at the present time? Can any of you help with this or maybe something you can post the site? We both think so but aren't 100% sure. Thanks for all you help on this."
At first we all thought it would be Jeremy McGrath, but then we remembered that he scored no points in 2003, so he's out. I really don't know the answer to this. Anybody want to help Bauer and Povolny out with some bench-racing ammo? Write us: Letters@racerxill.com.


We're also kicking off a new online feature, and we've decided to get it rolling right here. It's Toyota Flash Trivia, and it'll be on a different day each week! The fine folks at
Toyota
will reward the first five entrants who submit the correct answer each week with a very cool Toyota prize pack, which includes a Toyota t-shirt, TMX water bottle, TMX socks and a key chain. It's a cool feature you'll definitely want to check out to test your moto-knowledge!
For our first Toyota Flash Trivia question, name the rider wearing #11, the year and the location of in the photo below: Submit your answers right here. Good luck!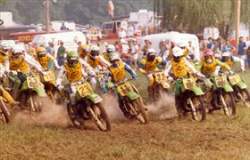 Who is #11, and where is he at? Submit your guess here!
photo: Racer X Archives
Etnies' Ryan Cropley sent over a very cool sequence of FMXer Todd Potter that is very BMX in nature.
How would like to fly across the Atlantic Ocean for a race and then get food poisoning the night before the event, miss it because you're in the hotel room throwing up, and then fly home the next day? That pretty much sums up our man Duncan Smith's Atlanta weekend. He was diagnosed with salmonella poisoning when he got back to England on Monday. Sorry, lad!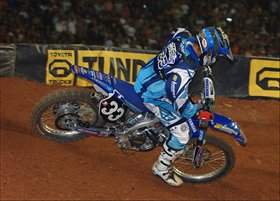 Yamaha of Troy's Matt Goerke is fast and confident going into St. Louis
photo: Carl Stone
Now this from the
Weege
:
The off-road world will be watching next Tuesday when David Knight begins his assault on U.S. off-road racing with the kickoff of the Can-Am Grand National Cross Country Series, Tuesday, March 6 at the new Parts Unlimited Triton GNCC in Vero Beach, Florida. Vero Beach is just over an hour south of Daytona on I-95, and the track is right off the exit, so it's an easy drive (or ride) for you Daytona types. Knight has been the most dominant off-road racer in the world over the last two years, winning everything all over the place except for GNCCs, which have been dominated by Juha Salminen. But the dynamic duo switched places this year, Salminen taking his two GNCC crowns back to Europe and Knight bringing his two World Enduro Championships here.
So Knight has big shoes to fill under the Red Bull KTM tent, but he's a big guy with amazing skills, so if anyone can do it, he can. Plus, Knighter is one heck of a personality who should really light up the scene here…if he wins. There are a lot of guys trying to make sure that doesn't happen. The powerful Am-Pro Yamaha off-road team is packing serious heat with Barry Hawk and Charlie Mullins, and with the oft-injured Jason Raines now acting as training and coach for the squad, they're both going to be strong.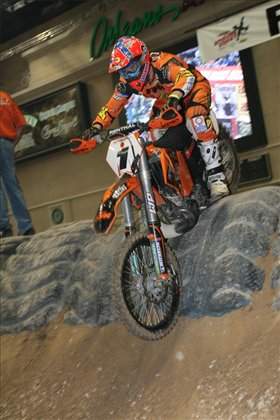 David Knight at last November's Maxxis EnduroCross
photo: Kristen Cheatwood
Also look for FMF Suzuki's Australian
Glenn Kearney
to be a factor. And don't forget there's a whole new GNCC class this year called XC2 Lites, which is essentially the 250F class. If the XC1 pro division doesn't deliver some battles, this class certainly will, because it's packed with some hungry young talent. Two years ago, Salminen shocked the GNCC field by dominating as soon as he started racing here. The pack will be much more prepared to take on Knight, but from what we're hearing, he's hauling right now. Should be a fun season to watch. The GNCC weekend starts with ATV practice on Saturday and ATV racing on Sunday, and bike practice takes place Monday and racing runs on Tuesday. Tickets are just $12 for Sat/Sun and Mon/Tues passes. As always, GNCCRacing.com is your place for info.
It was a great week for supercross in mainstream media. First, the front-page USA Today feature from Atlanta and then this from the Atlanta Constitution Journal.
According to the report, RC's first car race will be this month, "A regular Saturday night feature at the relatively obscure Columbia Motorsports Park, a 1/2-mile oval in Lake City, Fla. A few thousand are expected to attend."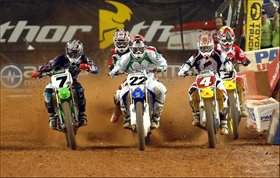 #4 has three supercross races left in his career
photo: Carl Stone
If you checked our
Things to Do in St. Louis
, we missed a couple of great spots. Reader
Steven Douglas
suggests
this amazing tour
for aviation enthusiasts. And
Keith Meyer
wrote: "There was one major attraction missing from your list of things to do in St.Louis, The St. Louis Zoo in Forrest Park. It is one of the best zoos in the country and the best thing about it is admission is FREE! Keep it in mind when you do the list for next year."
If you're going to Daytona for the big Daytona Supercross, the Honda Rider's Club of America is offering special-access passes that allows them to watch from the Pit Road Red Zone of Daytona International Speedway. Just stop by the HRCA tent at the Honda display area in front of the speedway to purchase your passes. Participants will still need supercross admission tickets to get in the gate.
While most of the motocross world is getting ready to head down to Daytona for Bike Week, aspiring photographer Kelly Moore is back home in Alaska, where she's dealing with minus-37-degree weather. Damn, no wonder Ben Lamay and Victor Sheldon moved south.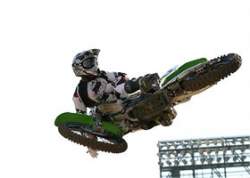 Here's one of Kelly Moore's photos from A3...
photo: Kelly Moore
Anyone looking for a passionate employee? Check out this e-mail we received from
Brandon Butler
(no, not
that
one):
I don't know if you get this kind of question all the time, but I am shooting for the "Go big or stay in NY" approach to this, I am trying to find a good job in the MX industry. I have been working in dealerships for the past 5 years, I had an internship with a Harley dealer while I was still in High School, and know my way around the parts counter like a seasoned pro. I can not find a good job with a good company, whether it be a sales rep for Parts-Unlimited, WPS, rider support with ANY company, I can not find a thing. I was hoping you could point me in the right direction (I already watch ww.motorcycleindustryjobs.com and www.cyclecareers.com like a hawk.), I am willing to move just about anywhere, I have a resume ready to go, and enough drive and passion for the sport and industry to put a smile on any employers face. Let me know if theres anything please,
Thanks,
Brandon Butler (brandonesm@yahoo.com)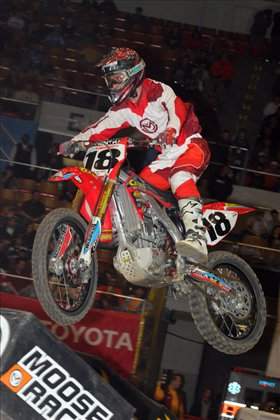 Brock Sellards had a very interesting night at the last AMA AX
photo: Matt Ware
Okay, now it gets interesting. I wasn't at the last AMA National Arenacross race at Nashville, where
Danny Smith
and
Robbie Reynard
were vying for the title. But I did hear some pretty incredible stories about what happened between Smith and his teammate
Brock Sellards
and 15-year-old
Tyler Bowers
and his father. Sellards told myself and Motocross.com's
Tim Olson
and
Chris Williams
all about it at the Indy Trade Show, and then I spoke to
Racer X
photographer
Matt Ware
, who was there, as well as one of the Live Nation crew. It just sounded plain ugly.
This week, the AMA announced a 90-day suspension for young Bowers, which puts him out of the Hangtown and High Point MX Nationals he planned to run. He was also levied a $2,500 fine for a whole range of violations. That got the Mototalkers taking, some implying the steep penalty was a revenge fine because Bowers rides the BooKoo AX Series rather than the AMA tour.
Mike Kidd, the BooKoo promoter, defended his young rider, posting, "This is the same Tyler Bowers that raced 40 heats and 40 mains during the BooKoo AX series without any incidents. Tyler was well respected by our staff and riders throughout the series."
That brought a response from Marcus Sellards, Brock's older brother: "I give you credit Mike, you stick by your guys even when they are in the wrong."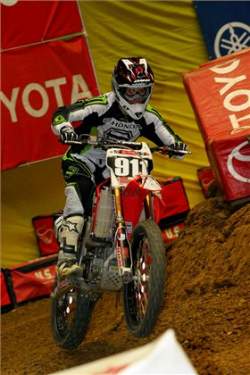 The young man in the middle of arena controversy, Tyler Bowers
photo: Matt Ware
Bowers' agent,
Jimmy Button
, wrote, "What law can you break in the United States of America that slaps you with a fine of $250,000. I cannot really think of one. Although that is pretty much what the AMA has done. This will cost Tyler hundreds of thousands of dollars, period. It will effect him for quite a while…."
So what the heck happened? I can offer this firsthand, unbiased account from yet another Mototalker, Daniel Blair, who was there in Nashville and had a front-row seat (with a few typo corrections):
"Yo guys, I was there and I saw every single thing that happened that night, on and off the track. For those of you who were not there, you should stop assuming you know the situation. Now I am not saying I agree with the punishment, but just so it is clear, it was probably the most un-professional thing I have ever seen in person.
"Here is exactly what happened:
"First, [Tyler] took Sellards out Friday night pretty dirty. It was not a T-bone pass but he used his big azz body to pretty much remove Brock from his bike! Then on Saturday night Brock returned the favor on the first lap of the main. I am not sure if it was dirty, it was pretty aggressive and I am sure Brock doesn't care how people clarify the pass, but either way Bowers went down. When he got up, I watched him ride to the mechanics area to talk to his dad. He never got off the track though, he was right in the way of the race just sitting on the track talking to his dad who told him to take #18 out of the race. So he gets on the track in front of the leaders. He slowed down and let Reynard, Smith and Johnson by. Then he let brock go by and tried drilling him in every corner. He tried a bunch of times to take him out but finally fell himself…. Brock took a bunch of takeout attempts and stayed up which was pretty impressive. Anyways, he gets up and goes to the mechanics again and his dad tells him to take Smith out. (I have no idea why???) So he pulls onto the start slowly and Smith goes by and Bowers squares up the first turn and 'slammed' Smith pretty hard. I am surprised Smith stayed up. So [Bowers] is now riding pretty slow and holding Smith up on purpose. Danny just sat behind him, which was pretty smart. So then some guy eats crap in this corner and Reynard goes down. When smith tried to get by the pileup, Bowers cuts him off and stalls his bike on purpose, blocking Danny in the corner. Eventually Danny gets by and that is it from what I know.
"After the race, Bowers goes to Sellards and grabs him by the facemask and is screaming and pushing him around. Now I dont know the rules about attacking a minor but Brock obviously did not want to do anything illegal so he just kind of shrugged it off. The officials got Bowers off of Sellards and he immediately comes over to Danny Smith and gets in his face for no reason. Then they removed Bowers and his dad from the track and that is all she wrote!
"That's the story, take it how you want it."

Fortunately, we'll all get to make our own decisions regarding this when th race airs on TV. Sounds like it's going to be must-see TV!
That's it for Racerhead. Enjoy the weekend, and see you at the races.

Talon Michael Joynt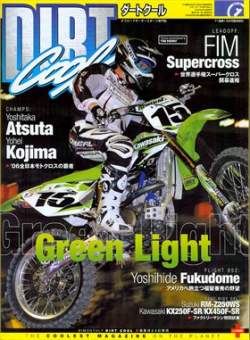 Ferry on the cover of Dirt Cool!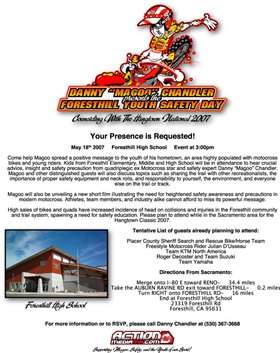 Check this out.