Racer X Top 25 Power Rankings
The new Racer X Power Rankings are out, and we have some big changes. First, our panel of pollsters felt that
Ricky Carmichael
's efforts in his return race at Atlanta were worthy of moving him back ahead of
Chad Reed
, who finished a distant third in the Georgia Dome behind #1-ranked
James Stewart
and Carmichael.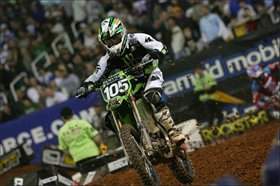 Darcy Lange debuts at 15th
photo: Simon Cudby
Also, the East Region guys are in the mix now, and Makita Suzuki's
Ryan Dungey
debuts at #10 after his strong win. That makes him the third-ranked Lites rider of all, as
Ryan Villopoto
holds on to fourth while
Jason Lawrence
sits in eighth. Also, Darcy Lange comes in at #15 after his own strong ride. The biggest surprise may be Ben Townley, who looked like he had a great chance of winning in his U.S. Supercross debut before his motor let go halfway through the main. Even though he was almost last in the results, "BT101" is #19 in our weekly rankings. Here's the whole rankings, as well as a list of all the folks who voted this week.
| | | | | | |
| --- | --- | --- | --- | --- | --- |
| | | PTS | # | RIDER | SPONSOR |
| 1. | | 696 | 7 | StewartJames | Monster Energy Kawasaki |
| 2. | +1 | 674 | 4 | CarmichaelRicky | Makita Suzuki |
| 3. | -1 | 638 | 22 | ReedChad | San Manuel Band of Mission Indians Yamaha |
| 4. | | 611 | 51 | VillopotoRyan | Monster Energy/Pro Circuit Kawasaki |
| 5. | | 573 | 15 | FerryTim | Monster Energy Kawasaki |
| 6. | | 530 | 14 | WindhamKevin | Sobe No Fear/Samsung Mobile Honda |
| 7. | +3 | 475 | 9 | TedescoIvan | Makita Suzuki |
| 8. | -1 | 459 | 338 | LawrenceJason | Yamaha of Troy Yamaha |
| 9. | -1 | 415 | 11 | PrestonTravis | Sobe No Fear/Samsung Mobile Honda |
| 10. | New Entry | 398 | 62 | DungeyRyan | Makita Suzuki |
| 11. | | 366 | 12 | VuilleminDavid | MDK Motorsports Honda |
| 12. | -3 | 350 | 26 | ByrneMichael | Rockstar Suzuki |
| 13. | | 323 | 24 | GrantJosh | Sobe No Fear/Samsung Mobile Honda |
| 14. | -2 | 237 | 27 | WeyNicholas | MDK Motorsports Honda |
| 15. | New Entry | 237 | 105 | LangeDarcy | Monster Energy Pro Circuit Kawasaki |
| 16. | | 234 | 58 | HillJoshua | Factory Yamaha |
| 17. | -3 | 227 | 13 | VossHeath | Privateer Honda |
| 18. | -3 | 209 | 102 | GosselaarChristopher | Monster Energy/Pro Circuit Kawasaki |
| 19. | New Entry | 200 | 101 | TownleyBen | Monster Energy Pro Circuit Kawasaki |
| 20. | -3 | 161 | 37 | CarpenterPaul | Cernic's Kawasaki |
| 21. | -2 | 152 | 377 | PourcelChristophe | Monster Energy/Pro Circuit Kawasaki |
| 22. | New Entry | 150 | 33 | GoerkeMatt | Yamaha of Troy Yamaha |
| 23. | -5 | 129 | 73 | WeimerJake | Sobe No Fear/Samsung Mobile Honda |
| 24. | -3 | 112 | 40 | GibsonJeff | Cernic's Kawasaki |
| 25. | -5 | 89 | 577 | DavalosMartin | Red Bull KTM |
Total number of votes 28
Linda Ardehali, Vince Arimitsu, John Ayers, Jason Berry, John Bodnar, Chris Bond, Andy Bowyer, Paul Buckley, Dave Castillo, David Clabaugh, Davey Coombs, Steve Cox, Simon Cudby, Jeff Emig, Mike Farber, Jason Fleming, Steve Giberson, Jason Hooper, Frank Hoppen, Steven Hudson, Chris Hultner, David Izer, Eric Johnson, Jeff Kardas, Jim Kimball, Scotty LaLonde, Stephan Legrand, Mario Marini, Nick McCabe, David Pingree, Dave Prater, Pat Schutte, Alan Selk, BJ Smith, Bryan Stealey, Denny Stephenson, Carl Stone, Michael Stusiak, Jean Turner, Billy Ursic, Scott Wallenberg, Matt Ware, Jason Weigandt, Billy Wood