Bench Racing Ammo: Atlanta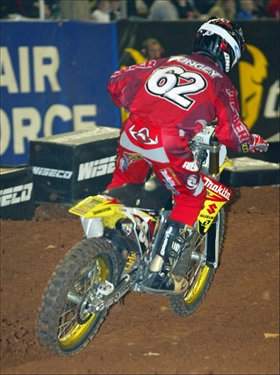 Dungey put Answer Racing on top of the podium
photo: Steve Bruhn
Were you one of the fans that was a taken aback by seeing young
Ryan Dungey
take the win in the Lites class this past Saturday night in Atlanta? I think a lot of people were. In fact, in last week's
Racer X Online Poll
, we asked who you thought would win, and
Ryan Dungey
tied for fourth with slightly more than 12 percent of the votes, behind Ben Townley,
Billy Laninovich
and
Mike Alessi
. (And they finished 22nd, 12th and 21st, respectively.)
Anyway, Dungey's win was impressive, to say the least, and it was only the second time that a Minnesota-native has won a supercross. The first? That's none other than the late, great Donny Schmit, who won a total of four 125cc Western Region supercrosses in 1986 and '87. Schmit also won three 125cc MX Nationals, two of which came at his hometown track—Spring Creek MX Park in
Millville
, MN.
Another interesting highlight of Dungey's win was the fact that he was wearing Answer gear. Who was the last rider to win wearing Answer? Any guesses? *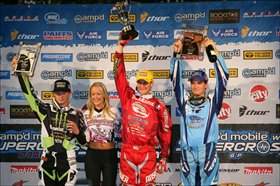 This was the first podium appearnace for all three of these riders
photo: Simon Cudby
Looking at the Lites-class podium, all three riders were up on the box for the first time in their careers! Dungey has the least experience, obviously, as this was his first AMA supercross ever! Second-place finisher Darcy Lange has had some supercross experience in the past, along with a boatload of arenacross experience—including wins and championships. As for third-place finisher
Matt Goerke
, he told us earlier today in
this interview
that this was only his third supercross ever: "I launched into the stands (at Indy) my first year, then last year I broke my shoulder and missed everything," he said.
If Atlanta was any indication, I think we're in for a wild, wild east!
* Editor's Note: DC's guess—with help from Motocross.com's Tim Olson—is Larry Ward, Tampa '98.