5 Minutes With ... Matt Goerke
After a few tumultuous and disappointing seasons, Yamaha of Troy has made a huge early impression on the 2007 season. Out West, Jason Lawrence has put in some strong rides and has placed his YZ250F on the podium in almost every race. When the gate dropped on the East series in Atlanta last weekend, it was young Matt Goerke quietly riding his way to the box and solidifying the speculation that Yamaha of Troy, the "Fifth Dragon," is on its way back to the top.
Racer X: First off, great ride, Matt. That was a stacked class and you looked strong out there.
Matt Goerke: Thanks a lot. It feels so good to finally be on a good team. My bike is so good, and the team has been working so hard. Everything is so organized and professional.
Really? You know, that really hasn't been the word coming from that camp in recent years.
I know. Yamaha of Troy hasn't been the best the past couple of years, but whatever problems they had, I don't see anything like that now. All of the mechanics work together and work hard in to the night to give us good bikes. Everyone just seems to be working together as a team. It's the best thing I've ever been around, that's for sure.
Awesome. You sure do sound confident! As a matter of fact, in your post-race interview, you said you were going to win St. Louis. Wow.
I rode like crap in Atlanta. Really, I know that sounds bad, but I rode so tight. I just needed to loosen up, and I know I would have had what it took to get up there and win that race.
Where do you feel the best?
The whoops. The ones in Atlanta got a huge groove in them, so it was like riding in a slot. I want to get some bigger ones because my bike works so well in those types of whoops. I don't know, my motor is really strong too. I should have been getting good starts, but I kept bringing up the front tire.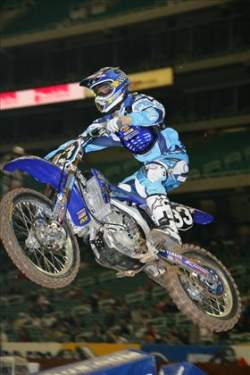 Atlanta was only Matt's third supercross!

Other than the team, what else has been working for you?
Not very many people know, but I broke my leg two months ago, and I went down to Dr. Medsker and he had me back in business in no time. He was such a good help. He's done a lot for my mind and motivation too.
Two months off a broken leg and you made the steps? Unreal.
Yep. Broke it on a trampoline.
You guys really need to stick to the safe stuff like riding supercross.
Yeah, it's not been easy! Do you know that was only the third supercross I've ever finished? I launched into the stands my first year, then last year I broke my shoulder and missed everything. I wasn't about to miss this chance.

Did anybody surprise you out there?
Not really. I knew Darcy would be fast from racing arenacross all winter and then getting to ride a PC bike. He was surprising, though. But to be honest, I knew the class was going to be stacked, so I didn't even think about who was racing it. I just worked as hard as I could to make sure I was ready myself. I feel like I'm more than ready.
It's good to see you making it happen. Anything else to say?
I really want to thank my team and all my sponsors: Yamaha of Troy, Boost Mobile, Fly, Dunlop, Bell, UGP clothes, Dr. Medsker, and my mom and dad. They're still behind me 100 percent.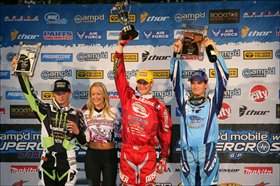 Matt feels he can win St. Louis this weekend