What a week. It started with everyone talking about David Bailey's extraordinary video asking the top riders to please consider wearing the Leatt neck brace, then turned into a raging debate about making the safety devices mandatory. The online forums turned up the volume with pressure groups, some taking it upon themselves to shame and guilt guys into wearing the Leatt. Lists were formed for those wearing it and those not, and where each rider called out in David's video—James Stewart, Ricky Carmichael, Jeremy McGrath, Kevin Windham and more—and their answers (in Stewart's father's case) dissected and disputed. It was like "Sneetches on the Beaches" from Dr. Seuss—"Some had stars on their bellies, some did not…."—until finally calming down a little yesterday.
What caused the whole discussion to begin to even out? I think it was when Stewart, the runaway points leader in supercross this year, was reported to be trying the brace on Thursday at the Kawasaki test track in order to make an educated decision on his own about the revolutionary device.
That was followed by Carmichael, who has been pondering the piece ever since he started wearing a HANS device in his racecars. RC, like Stewart, had not actually watched the video the last I heard, nor had Chad Reed. But all of the SoBe Samsung riders, Team Honda's guys, McGrath, the Butler brothers, the Alessi boys, Yamaha of Troy and Motoworld Yamaha, Brock Sellards—they are all considering the devices, which is a great development. And Windham could be wearing it this weekend.
Really, I think that's all we can ask as fans. It is my opinion that new or even extreme safety measures are an individual decision. How fast do you go on a highway? Do you wear a helmet on a Harley when it's optional? Do you keep a gun in your house or in your car? Do you always wear a seatbelt? Do you wear knee braces? Do you wear a neck brace?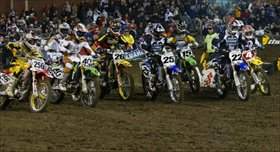 How many guys will be wearing braces by the end of the series?
photo: Steve Bruhn
Professional racers know their limits, and they know the risks. We all probably wish they would wear chest protectors, but many don't. We wish they would not jump the triples on the very first lap of practice (a pet peeve of mine), but they pretty much all do. The power of a 450 seems too much for me at times, but that's what they are racing now.
As new safety measures come about—and there will and should be more—there will be more pressure on the riders to try these products, and I'm sure they will, but on their own terms. The next product might be a full-body airbag or a lower-back brace to protect what the Leatt does not, or maybe just the implementation of the Hats-Off device that Doc Bodnar has been talking about for a while now.
Each product will need new testing, new product development, new awareness. The Leatt is different, however, in that it is meant to prevent such a drastic, terrible injury. As a result, there really was no "grace" period, especially after the high-profile injuries to James Marshall and Ernesto Fonseca, as well the sad death of our friend Ron Boyas in North Carolina last week. People were up in arms, and the riders were kind of in the crossfire, getting the shame- and guilt trips from the concerned folks and fans who want it mandatory, right now, as is, without further testing or discussion. Suddenly, the Leatt was not a suggestion but a demand.
That was not The Icon's intention.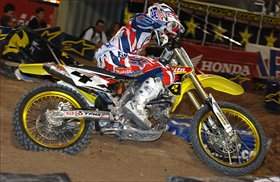 Ricky will test the Leatt next week
photo: Carl Stone
"It's the riders' choice!" Bailey wrote me yesterday, upon hearing that both Stewart and Carmichael had decided to join the growing number who are going to try the Leatt. "As far as testing, of course there will be more and more information as more people wear it. But I believe [Andre] Malherbe would have had a much better chance if he had this on. I believe Button would've been okay. Fonz, Carletta and Marshall and maybe even Dono would've had a better chance too. This thing can be improved, but for a start, it's really good—I truly believe it's the best piece of equipment for riders at the moment."
"As far as shaming the riders into it, that's just people caring, but stretching it too far as always," he added. "It's not a dare or scare tactic, just common sense. The response I was looking for has come back to me and I'm stoked people took me serious."
And with that, it's time to let this thing take its own course. The Leatt company's phones are ringing off the hook, demand is high, and the company stock was rising like Ryan Villopoto's.
Bailey took a stand, and the motocross world listened. Once a champion, always a champion. And his message? Loud and clear.
By the way, check out this Honda Rincon that some of the guys at Honda put together and pimped out for Bailey, who was the face of Team Honda from 1982 through '87. The formerly yellow rig has a lowered seat, Trophy Truck SUS, and a return to Honda red. Works Performance helped out, as did some other folks. Well done, boys.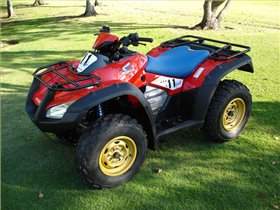 David Bailey's tricked out Honda Rincon
photo: Steve Porter
Obviously, Bailey is not the only man with a deep desire to see the safety conversation keep going.
Ludo
from One Industries is helping lead the charge online, and the work of the whole Asterisk Mobile Medics team speaks for itself. Europe has a champion of this cause too, and his name is
Heinz Kinigadner
.
RRX
's
Chis Jonnum
spoke to the 1984 FIM 250cc World MX Champion about Wings for Life, a program he heads up with backing from Red Bull. The goal? Getting people who have suffered spinal injuries—including his brother and his son—back on their feet. If you missed the interview, please
give it a look
.
Looking ahead to this weekend's race in San Diego—the last in California for the 2007 Amp'd Mobile Supercross season—you can watch the race Sunday at 6 p.m. on SPEED, but also listen to The Weege and Hollywood as they make the call on www.supercrossonline.com. Also, make sure you visit www.amasupercross.com to watch lap times and results throughout Saturday.
And always click in on TFS' Weekend Window to find out what's going on in and around Jack Murphy Stadium (or whatever it's called now). He's also reporting that Team Yamaha's Broc Hepler has not been cleared to ride yet (from a concussion he sustained) and he is questionable for the Atlanta Supercross. Get well soon, Broc. District 5 is rooting for you!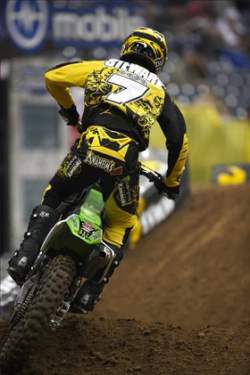 Check those off the list!

photo: Mario Marini

James Stewart showed up last weekend for practice in some black-and-yellow Fox Racing gear with "Anaheims" and a check mark on the butt. Obviously, sweeping all three races under the Big A was one of those 2007 goals for him that he didn't want to talk about because he was afraid it would get everyone all riled up.
What other goals could Stewart have? Leading the most laps ever? Starting another heat-race winning streak? A perfect summer? Whatever it is, it seems reachable the way he's riding right now. I just hope his last goal is to win the Motocross des Nations at Budds Creek, with RC right there with him in his last professional motocross race. It could happen!
In the 250F class, Ryan Villopoto could clinch the West Region title this weekend at San Diego. The kid has been incredible throughout the SX season, and every team is obviously talking about his future. But right now, the inside line appears to belong to the same team he's on now—Monster Energy/Pro Circuit Kawasaki. Villopoto plans on defending his assumed title in the West in 2007.
RV51 has been dominant all year, so it was refreshing to see Jason Lawrence give him a challenge last Saturday night. They made some contact, and fingers were pointed afterward, but then everyone calmed down.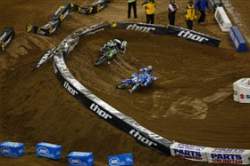 Moments before impact, J-Law and Villo
photo: Steve Bruhn
The way I saw it, it wasn't that big of a deal—kind of like Stewart and Reed at A3 —but it does remind me of basketball. When an offensive player drives into the lane on the dribble and a defensive player steps in and holds his position and causes a collision, it's up to the referee to decide whether it's a charging foul on the offensive player or reaching in or tripping on the defense. And a lot of times, it depends on who the player is as to whether they get the call or not:
Michael Jordan
usually got good calls;
Ron Artest
seems to get the bad ones.
Well, in this case, while there's no fouls to be charged, it's up to fans and the riders to decide who was there first and caused the crash. By the looks of the photo, there was room on the inside for J-Law, but he certainly knew Villo would be coming across him. Thankfully, they both stayed up and raced on.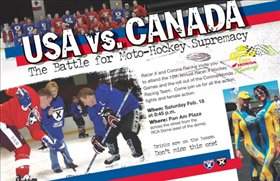 If you're in Indy Saturday night, you have to check this out! Did we mention there's free Corona?
Speaking of basketball, a large part of the
Racer X
crew is headed to the Indianapolis Trade Show and tonight's Parts Unlimited Basketball conducted by
Larry Hughes
. Tomorrow night will give everyone a chance to check out the new Team Corona Honda racing team intro and the Racer X Hockey Tournament: Saturday night 8:45pm at Pan-Am Ice Plaza right across the street from the Convention Center.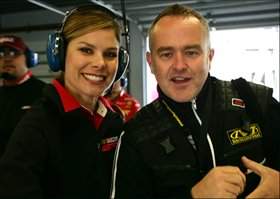 Simon and Jamie Little at Daytona on Thursday
Enjoy a nice, cold Corona, as served by the famous Corona girls, and see if Team USA can upset perennial winners Team Canada. Team USA will surely be inspired by the coaching presence of Motocross PR whiz
Pat Schutte
.
You can keep up with all of the happenings at the motorcycle industry's biggest annual get-together with the Racer X On The Spot Blog, where assistant editor Billy Ursic will be posting pictures and words and trying to keep everyone who can't make the show informed and envious of what they're missing! Jason Hooper, Dave Brozik, and a few others will be contributing as well.
A few members of the Racer X crew are in Daytona this weekend too, where NASCAR is hosting its own sort of Super Bowl week with the season-opening Daytona 500. Andy Bowyer is there to root on his brother Clint; Simon Cudby is there shooting for Mechanix Wear; Eric Johnson is helping the SoBe/Samsung/No Fear effort of Boris Said.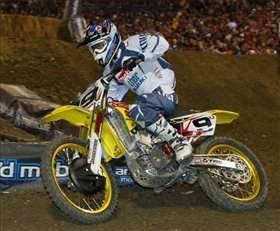 Ivan's effort in Houston brought some criticism from Carmichael
photo: Steve Bruhn
Andy called last night from his brother's infield motor home, where an all-time bench-racing session was going down that included Clint,
Ricky Carmichael
and
Ken Schroeder
.
Carmichael was out in California testing with his teammate Ivan Tedesco this week, flying back and forth to Florida as he continues to straddle the supercross world and the stock car world. RC was tough on Tedesco on last week's CBS show, but he was honest too, and he's following up by trying to get Tedesco back up there in the standings.
RC was also spot-on with Windham, who showed some old flashes of brilliance and speed, only to pump up in the closing laps and end up fourth. Hopefully, it was the spark that Kevin needed to get back up there too.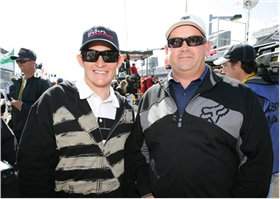 Ricky and Scott Taylor are also on the infield
photo: Simon Cudby
Speaking of bench-racing, did you check out our latest online feature, the
Racer X Top 25 Power Rankings
? It's a college-football-style poll where we will ask a select group of race-watchers to give us their top 25 each week. Look for things to get interesting when the East starts up next weekend in Atlanta.
The European season got underway last weekend—the first in the post-Stefan Everts era. The race was in Montova, Italy, and all three moto winners were on KTMs and had come straight from the training camp Everts himself is running in Spain for the Orangemen.
"He is working them hard, and many say too hard, but we will see in the near future if his riders burn out, or keep performing," MXLarge.com's Geoff Meyer wrote me. "I was in Spain for his riding school, very impressive."
The overall winner at Montova was Max Nagl, a teenager from Germany that everyone should keep an eye on in 2007.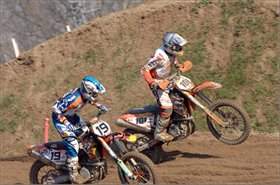 Max Nagl is getting pointers from The King himself
photo: Mario Marini
A note from
Weege
:
It's official! Team Manager Larry Brooks has confirmed that the San Manuel Band of Mission Indians Yamaha team can now be called Team San Manuel. That should make it easier on writers (and announcers).
This past weekend in Houston, "The Spaniard" Manu Rivas rode under the Cernic's Kawasaki tent. Mechanic Derek Sorenson told Fubar that Manu really didn't have a way or the funds to go to the race, so they helped him out. It was a one-race deal and he wore the Cernic's graphics. Jeff Cernic and Billy Whitley: well done.
Monday night was a good one to be a couch potato. At 10:00 PM EST on the Discovery Channel's Stunt Junkies, DC Shoes co-founder Ken Block was featured, jumping his Subaru Rally Car! They build a custom double and Block ended up sailing his Monster Energy-backed Impreza 171 feet for a new world record! There was plenty of MX on the show as well, and the jump builder was former freestyler Jesse Olson.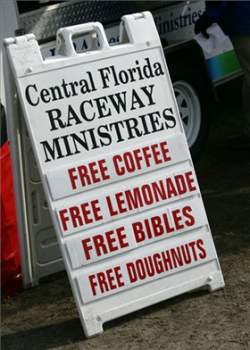 Free coffee? Free donuts? Free spirit?
photo: Simon Cudby
Following that show was yet another episode of
Stunt Junkies
, this time featuring the one and only
Seth Enslow
. Enslow was attempting to fulfill a dream of his—jumping over an airplane! There were plenty of old clips of the original
Crusty Demons of Dirt
video shown throughout the episode, and the one co-host,
Jeb
, even tried his hand at riding a dirt bike. But what really caught my eye was he was riding a Honda with custom
Racer X
graphics! Anyway, Seth was successful at the jump and has lived to see another day. It was a great show! For more information, click
here
.
Bryan Stealey was checking out a vintage clothing site, and one of the first things he ran across was an old Rick Burgett jersey, from '76/'77! It was running at $70 last time we checked. They actually have an entire vintage motorcycle section, which includes some other old jerseys. Have a look yourself.
Let me turn it over to Ping here:
I spoke with Red Bull KTM team manager Kurt Nicoll this week. The fancy British gentleman explained that they are going to be changing things up quite a bit next year as far as their race teams go. The factory team will consist of one or two 450 riders (one of which will be Mike Alessi) and one or two 250 riders. They will also contract out a Lites team that will feature four riders. The word on the street is that FMF is interested in running the team. That makes sense since the Flying Machine Factory has been working with KTM and building their race team exhaust systems since they started a race team here in the U.S.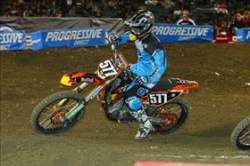 Will Martin Davalos be on bigger KaTooMs next year?
photo: Steve Bruhn
It's obvious that
David Bailey
's video has had an impact on our sport; anyone who's seen it knows why. This week at
Glen Helen
I spotted
Broc Tickle
turning some laps in the Leatt Brace. I spoke with young amateur rider
Blake Baggett
, who already runs the brace, and he said you hardly even know it's there.
"I can't even tell I have it on," Blake said. "The only way you even know it's there is if you lift your head way up like you were looking into the sky or something."
There were a few other interesting sightings out at Glen Helen this week. Mike LaRocco was there on a CR250R two-stroke, keeping it real—maybe he's after Rupert's money (more on that later). I actually stopped for a minute and listened to Mike's bike while he was riding. Man, I really miss that sound! The Rock was there riding with one of his buddies, and he is apparently living in California now. His wife likes it in Southern California and doesn't want to go back to their spread back in Indiana just yet. Tough break, Mike.
DC NOTE: I am in Indiana right now and it's 9 degrees. I do not blame Beth.


A slew of amateur riders were at
Glen Helen
preparing for the big races in Texas next month.
Michael Hall
was looking fast as he worked with his trainer,
Steve Kwait
. Hall is a favorite to win some titles in the B classes this year.
Suzuki's Nico Izzi showed up later in the day also. He had his super-agent, Bobby Nichols, in tow and was shaking down his race bikes. Nicco has moved up to the A class for this year and plans on racing that class all season and then racing the last four pro nationals after Loretta Lynn's. He also bought some land down in Albany, Georgia, and has built tracks and trails all over it. Whatever he's doing seems to be working, because the kid was hauling the mail. I hadn't seen him ride a big bike before, but I was impressed.
Dunlop was there with him, and I talked Jay Clark into letting me try a set of the new race compound tires that Nico and the rest of Dunlop's riders will be using at big races this year. The 756 RR is their latest race version of the classic 756 tire. The compound is softer and offers noticeably better traction, especially on transitions from soft- to hard-pack. The downside is that they will wear out a little quicker, but that's the price you pay for good traction. These tires are actually available to the public at any dealership that sells Dunlop tires.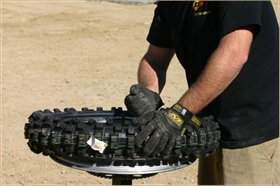 The new Dunlop 756 RR soft compound race tire is now available to the public
photo: Ping
Thanks, Ping, now go work that booth in the San Diego pits!
Be sure to tune into WGN Superstation this Saturday at 1:00 PM EST for the NASCAR Angels show, with Rusty Wallace and Shannon Wiseman. The show description is as follows:
Episode #113: Motocross – Phoenix – Stanton Barrett- Week of 02/12/2007 NASCAR is the hottest motor sport out there. Motocross is on the fast-track, too. The greatest motocross racer of all time, Ricky Carmichael, made headlines when he announced he's moving to NASCAR in 2007. Motocross shares NASCAR's roots as a family sport. Just ask Tony Martinez and his son Damian. As a single dad, Tony works two jobs to make ends meet, but on any given weekend, you'll find father and son at a favorite place like Arizona Cycle Park sharing time and the sport they both love. Just getting there can be an adventure. Tony's only transportation, a 1989 Caravan he uses to transport Damian's bike, needs serious help and NASCAR Angels is racing to the rescue!
This weekend at the final round of the Toyota AMA Arenacross Series in Nashville (Tenn.), Kevin Johnson (Team Faith/Yamaha) and Keith Johnson (Bobby J's/Yamaha) will make history as they become the first brothers to battle for an overall series podium spot in a major motocross championship. There's a hefty bonus check to make the overall AMA Arenacross class podium, not to mention the prestige. That being said, one might ask if these two might any way try and "rig" the outcome. Said KJ: "I told my brother I'd split it [the bonus] with him if he let me win. So he said, 'Well, what if I let you win, but I don't tell you I did until after the race?'" All jokes aside, it's going to be one heck of a battle between the two for the third and final overall Toyota AMA Arenacross Series Arenacross-class podium position this weekend in Nashville.
If you're one of the many people who really enjoy the little pleasures derived from racing motocross, you don't want to miss Robert Beaupre's latest essay, titled "The Extras." Robert writes about the off-track things that make the sport so special to him, and a lot of other motocrossers will be able to relate. It's definitely a good read.
Also check out
David Langran
's
online test
he did on the Hot Cams, Tokyo Mods, MB1 Suspension RM-Z450 that he will try to get Loretta Lynn's on Langers will be updating us all spring and summer long in his quest to get to the ranch in the +30 B class.
Okay, that's all I've got. We're at a truck stop right outside of Columbus and I need to get back behind the wheel so my road-trip partner
Julie Kramer
can scheme the next big magazine out. By the way, here's the cover of the brand new
Racer X
, which we will be pulling around the trade show in a wagon, as it weighs in at something like 400 pages (gulp!). It's packed with great stories, including a visit with the original
Crusty Demons of Dirt
—the video that really changed everything—and
Eric Johnson
's "Extraordinary Machine," which is all about
Johnny O'Mara
and the Mugen Honda of 1980.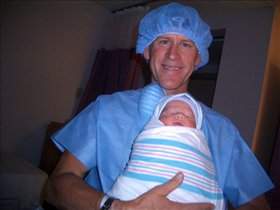 Johnny O' and JJ O'
photo: Courtesy of O'Mara
And congratulations to O'Mara and his wife,
Gina
, on the birth of
JJ
, their brand-new little boy. He weighed in at 8.9 pounds this week.
Which leads me to Rupert X. Pellett and his two-stroke challenge: Rupert says he's going to five "five American dollars" to the first man, woman, or child who makes a main on a two-stroke.
Other Mototalkers jumped in, and now there's a tidy sum and a lot of fun for anyone who tries this challenge and makes it. Stay tuned—this could get interesting!
Carl Stone is on assignment in Australia, of all places, working on one of those super-cool Red Bull FNX contests. Here's a little update:
"Just got back to my hotel from the free-ride track out in the country where I had no internet! The event went off great. Everyone rode their butts off yesterday and were sore as can be today but they still got the contest finished. Everyone here has been great to work with and has done an awesome job. Although I was a total outsider, all the riders made me feel extremely welcome and we had a great time. Great bunch of kids out here.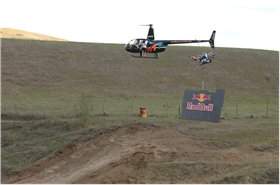 That's Renner whipping it in Oz
photo: Carl Stone
"Poor Renner was so beat up! He finished riding today at like 12:30 and had to take his bike apart and make it to the airport for a 4:30 flight—with no shower! "
Thanks for reading Racerhead; see you at the races (or the trade show).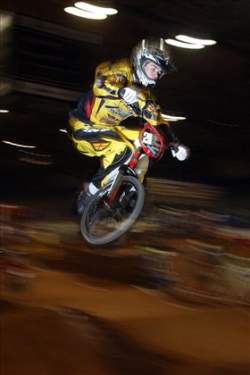 Matt Baisley son of FLY Racing's Terry Baisley finished 2nd overall in the BMX Nationals in Guthrie, OK.
photo: Courtesy of Baisley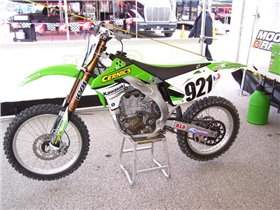 Manuel Rivas got a one-race ride with Cernic's Kawasaki last weekend in Houston
photo: Mike Farber