Between the Motos: Heinz Kinigadner
(With all the talk of neck braces and severe injuries and the growing debate over mandatory safety devices, we thought it would be a good time to present this recent interview with former world motocross champion Heinz Kinigadner, which also appeared on Roadracerx.com. Editor Chris Jonnum spoke to Heinz recently on the subject of paralysis and finding cures—a subject very close to his heart, as you are about to read.)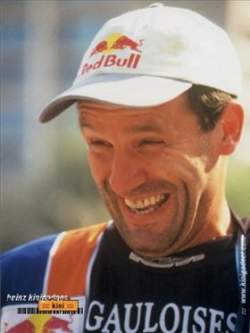 Heinz Kinigadner

If there's anyone with four healthy limbs who understands the importance of research for cures to spinal-cord injury, it's Heinz Kinigadner, a former motocross world champion and successful rally racer, as well as the head of KTM's racing activities. The big Austrian has a brother and a son who are paralyzed, and he works alongside former motocrosser Pit Beirer—another SCI victim. It should come as no surprise, then, that with the help of Red Bull, Kini set up the Wings for Life foundation, which is dedicated to finding a cure for the injury that all motorcycle racers dread.
Racer X: Tell me about the background of Wings for Life.
Heinz Kinigadner: I started the foundation after the accident of my son, Hannis, when I was trying to find out what cures might be possible. I spoke with really a lot of doctors and researchers, and the outcome was that there are a lot of things that promise help for the future, but it's not going forward.
Has it made progress in the past?
The one who really pushed it forward a lot was Christopher Reeve (the late actor who suffered a neck injury riding horses). He really did a lot, but lately, his foundation isn't as focused as they used to be. There are quite a lot of big doctors involved, which means that sometimes progress is slow, and they're not always working toward the same topic. They have really big money, but that was thanks to Christopher Reeve, so I don't know how they're doing now. I imagine it's a little more difficult now.
Our foundation is quite similar to his, but it's focused on spinal-cord injury only. We do not work on, say, items that make life for injured people easier, because we want to be completely focused on a cure. This is what I'm looking for, and I believe, myself—100 percent—that it's possible. I have a few really good doctors. The doctor who's basically running the foundation on the research side was in Harvard for one year and got a professorship. His name is Jan Schwab, and he knows all the big names worldwide. We were in a very good article in Nature Neuroscience, which is one of the leading magazines in this field. There are definitely a lot of things going on—especially with stem cells and all cells, really. Five years ago, nobody knew how to work with cells, but now almost every small university is doing some projects or studies with cells. This gives us a lot of hope that somebody will make the lucky break and find the right way.
We also have a lot of help from the outside—especially multiple sclerosis, which is very similar. MS comes from a sickness and a spinal-cord injury comes from an impact, but in both cases, the nerves are no longer able to work.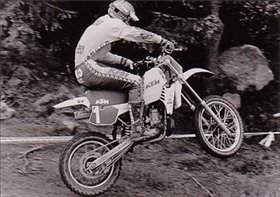 Heinz Kinigadner wore #1 in the 1985 250cc World MX Championships

So if a breakthrough is made in one area, it might benefit the other?
Yes, definitely. It benefits both areas. When my son had his accident, I brought together a few top names from America, Israel, and Europe. We contacted them and brought them to Salzburg, Austria, which is near where his accident was. I was at the Sachsenring (in Germany) for the MotoGP when the accident happened, and I phoned one of my best friends, Dietrich Mateschitz [founder and owner of Red Bull], said I needed his help, and asked him to please look for good doctors. He has been deeply involved from the beginning. He saw research as necessary too, and it was clear to us when we saw the problem what we had to do—which is definitely supporting research in this field.
Are there certain countries where the environment is friendlier for research?
Yeah, there are a few. I sent three doctors around to see all these approaches that aren't really officially approved. One is in Portugal; Dr. Lima is using cells from the nose. A lot of Americans are going over there, and at that time, he had done about 60 operations with cells. Then, I sent them to China, where they saw Dr. Wang, who has already done more than 200 operations, using real fetal stem cells. Those cells are the most promising, but they're also the riskiest. You can put them wherever you want—be it a bone, a muscle, a nerve, whatever—and they'll grow, but the risk with it is that you can suffer a tumor. They have to bring the antibodies, which push foreign bodies away, down to zero. These cells grow wherever you put them, so it creates a high risk for tumors.
We also sent [the doctors] to northern Russia, where they do a bit of a mix of both types of cells. It seems that none of the procedures are really dangerous, but none of them is showing really clear success. Of course Russians have said they have so many possibilities because they have many injured people—especially shooting accidents—from their Afghanistan war, and very often they have spinal-cord injuries. They don't have [medical] laws like we have, and they're just trying and doing. We looked very carefully at how they're operating: Do they have the modern, state-of-the-art style? Is it clean? What is their rate of success? For that last one, it's difficult to say, because you have to check patients after two or three years to really see the outcome. Many of them say they have regained feeling back.
We also have some [injured] motocross riders who we checked with doctors in Switzerland and then followed to Portugal and China, and then checked again half a year after the operation. Honestly speaking, there was no improvement to see.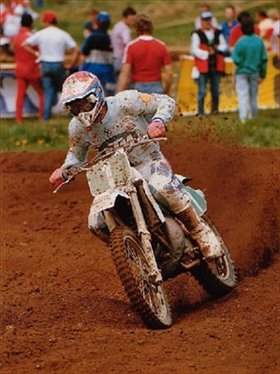 Kinigadner remains a powerful force in global motorcycling

Has your son tried anything experimental?
With Hannis, I'm still waiting. When we started, my doctors said that the first-ever heart transplantation patient lived three days or so, I believe, and now they're living 35 years or whatever. There are the first steps, and then there are advances. Definitely, what we need is a mixture of not only cells, but of different things. For example, we need things that make scars go down. Within two months, every spinal-cord injury develops a scar that doesn't allow the nerves to grow. They've already found some things that help make the scar soft again. A combination of these different things will help.
What is the biggest obstacle to progress?
The problem is finding people who are interested in this area. The pharmaceutical industry has no interest because the number of spinal-cord-injury patients is quite low. Worldwide, I believe there are 2 million registered, so it's not a very high number. With governments, the attitude is about the same. Slowly, I think they're beginning to think about it, because the medicine at the moment is so good. For example, 15 years ago, the rule was that someone with a neck injury at the three level lived no more than three days. From the sixth one on, you were able to live, because you have most use of your hands. Christopher Reeve and others were very lucky. Especially now, if you go to a rehab center, everyone is surviving because the medicine is so good that the initial help is terrific. But here's the thing: When I was at the rehab center with my son for six months, there were eight young boys who had dived into shallow water. These boys have 40 or 50 years ahead of them, and I believe strongly, from a humanitarian side, that if you make the first step, you also have to make the second one. Just keeping them alive isn't enough—that's not a life anymore.
There are many examples of things that haven't worked. Are there any particular bright spots?
Yes. The really big names now, like Steven Strittmatter from Yale, are preparing combination studies. Those are the ones we like to support. We 100-percent believe that this is the way. These researchers need our help, because otherwise, where will they get it? They get it from people who are involved and suffering from these injuries. This is a field where the research is very serious. I mentioned before the three places we visited. If you ask one of these serious, big names, they're not very keen to talk about those places. They say they're not doing real studies; they're not doing it in a very controlled way. But you never know; sometimes some of those guys go forward more quickly by jumping some of the steps.
Until 25 years ago, which isn't so long ago, when the doctors went to school, they were told that if the nerves are broken, that was forever. Since then, they've found that it's not forever. There are some proteins that work on the nerves and make them try to grow after the accident. After a while, though, they give up. You have to work with these proteins. One guy in Switzerland—another doctor named Schwab—has found two of them, and he's running a study at the moment in Europe. He's very serious, and such a study takes at least three years, which is a horrible wait for everybody who believes in it.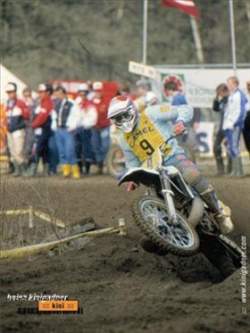 1986

Tell me a little about your main doctor, Jan Schwab.
He's a young doctor. When I got Red Bull behind me and started the foundations, I had a lot of professors phoning me. I had no idea what to do, because I didn't know the area yet. Then [rally rider] Alfie Cox—who is quite a good friend of Hannis and myself—phoned me from South Africa. He said, "A short while ago, there was a doctor from Germany who did an adventure tour with us. He's a young man, and this area is his area. Please phone him." That's what I did, and he's the guy who is now running my foundation. It was really good. One reason I like him is that he's only 35 years old, but he has a professorship at Harvard, and he just started a professorship in Berlin. He was offered one in Salzburg, but he said it's too much for now. Anyway, he was the only one who was open to everything I asked him. All the others had their own ideas, and that was it—nothing else. I was completely unsure, but when I spoke with Jan, I said, "Hey, you are my man, and nobody else."
How is Wings for Life funded?
Through donations. At the moment, it's mainly Red Bull. I have my own auctions, but 95 percent of it is Red Bull. The good thing about having Red Bull is that we can honestly say that every dollar or euro that comes in goes into research, because all the overhead costs—the office, two doctors, travel expenses, everything—are covered 100-percent by Red Bull. We started three years ago, and last year was the first year where we really spent money for projects. We had nine projects, and we spent a little more than $1 million, which was just the beginning. If we were to do studies like I mentioned before, where we do it from the beginning, with different phases, it goes up to $50 million—really enormous money. It's not easy, but I believe very strongly that it will end in success. This isn't just because I have a son at home, who I see every day with these problems. My experience tells me there will be a cure.
The main point for me is the tremendous help I have from Red Bull. We had all the marketing leaders, from all the countries worldwide, were in Salzburg in December for a yearly meeting. We presented the projects, and Mr. Mateschitz said, "Everything you're doing out there, you have to have Wings for Life displayed—every sportsman, every action, every organization we support." For example, the four factory Volkswagen who are in the Paris-Dakar have a big sticker saying Wings for Life. We have an idea to have the Formula One cars run in only one color for one race, and to have the Wings for Life logo. We have the idea to do that with road racing—have the Wings for Life logo on our bikes—and maybe in NASCAR. Wherever Red Bull is involved—air racing, America's Cup, everywhere—I hope we can promote Wings for Life. Dietrich is a really clever guy. He can spend his money, but he wants to set up something that will continue after he's gone. This coming year, I hope really that we'll make a big step forward toward being able to find a cure.

For more information about Wings for Life, click here.