Remember last year when Roger DeCoster got the call? He was sitting on an airplane, getting ready to fly to the Atlanta Supercross, when his phone rang. It was Steve Whitelock, with the news that Ricky Carmichael had failed his fuel test from the San Diego SX, and that meant he was going to lose 25 AMA Championshi—
"The captain has asked that all cell phones, computers, listening devices, and electronic instruments be turned off."
Before Roger could say, "What the fuel?!" he had to turn it off for a cross-country flight.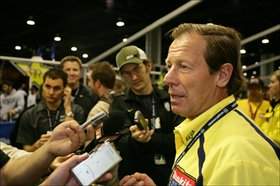 Roger DeCoster isn't involved this time
photo: Simon Cudby
Well, last night at 6:14 p.m., we sat on the runway at the Pittsburgh airport. Just as the door closed on the plane, I got a call from
"Bad" Billy Ursic
, who had received a clandestine IM that a fuel penalty was coming. He said it was three guys with bad gas, two of whom were on the po—
"The captain has asked that all cell phones, computers, listening devices, and electronic instruments be turned off."
For the first time in five years, I was on a plane that was taking off on time—on a five-hour cross-country flight. But I wasn't alone: Jason Weigandt and Mike Farber were with me too, and so was "Transponder" Craig from the AMA. Five hours thinking, Wow, was it Stewart? Was it Reed? Was it Villopoto and J-Law?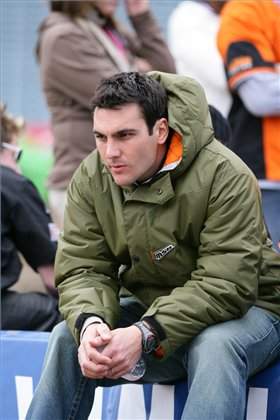 No podium points for Nick
photo: Simon Cudby
By the time we landed, a full-on gas fire was burning up the sport, as official word came out at something like 6:40 p.m. EST that
Nick Wey
,
Josh Hill
and
Jason Thomas
had all be found to have bad gas. The first person I thought of was the AMA's Whitelock. I could only imagine what kind of abuse he was taking—and about to take at San Francisco.
(By the way, it's now Friday at 1 p.m. here on the 101, 22 miles south of San Francisco, and it's raining like hell. Isn't that exactly what J-Law wanted? Check him out on this very cool Racer X Film by Simon Cudby.
The official word reads like this:
AMA Racing has announced that riders Joshua Hill, Jason Thomas and Nick Wey have been penalized for using illegal fuel at round three of the Amp'd Mobile AMA Supercross Series at Angel Stadium in Anaheim, Calif., on Jan. 20.
Fuel samples from nine motorcycles were collected at the Anaheim 2 round and the samples from the motorcycles of Hill, Thomas and Wey were found to be in non-compliance. Fuel from the motorcycles of Steve Boniface, Michael Byrne, Kyle Partridge, Chad Reed, James Stewart and Jake Weimer was found to be in compliance.
As is required by the AMA Supercross/Motocross rulebook, the samples were sent to a certified testing lab which confirmed the results of the testing.
Hill, Thomas and Wey have been disqualified from the event and have forfeited their event points and purse (and not sure if Nick has to give back the $1,500 Progressive Holeshot money, which would be a real bummer because he lost the same amount at Phoenix when the main was red-flagged, not to mention losing a podium).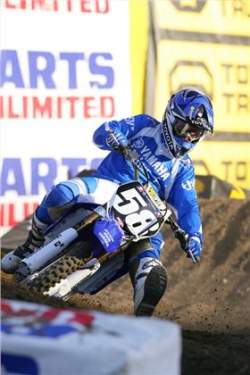 Josh Hill got his first podium finish taken away
photo: Simon Cudby
As for Team Yamaha's Hill, this erases his first career podium last weekend. The result of this moves Monster Energy Kawasaki's
Tim Ferry
into a podium position in the Supercross class, and SoBe/Samsung Mobile Honda's
Josh Grant
was moved up to third in the Lites class.
As one might expect, we've already received a TON of e-mail about this. People are angry that it's happening again—Chad Reed/David Vuillemin/Tyson Hadsell in '04, James Stewart/Michael Byrne in '05, RC in '06—and it's causing a backlash and some hard feelings about what happened last year when RC penalty was overturned after an appeal was made to the FIM. Check out this email from Aaron Buffo:
Carmichael gets fined but every other rider gets DQ'd? I don't
know if I'm sending this to the right person but I just had to ask the question. I also need to say that Stewart is now the real champ of 2006 in my eyes because Carmichael clearly paid someone off not to get his points taken away. GOAT or not, all rules should apply the same to everybody. Just a thought.
Steve Sagerson wrote:
I wish somebody could explain to me why the AMA continues to keep this rule on the books when it has caused nothing but controversy over the last three years? All three of the biggest names have been accused of this rule in the past and in two cases lost points. Now fan favorite Nick Wey gets disqualified after having a podium finish. For what? Because the specific gravity of his fuel was too high? From what I understand this is a technical issue that has no noticeable performance effects for a motocross bike? If it has no performance effects why would a team attempt to "cheat" by putting this fuel in their bikes? Enough is enough already. This rule needs to be changed so that it makes sense or done away with completely.

And here's an interesting take from Tom Jackson, another reader:
I'm sending this in regards to the recent fuel penalties handed out by the AMA. Not to say that they are picking on anyone but if they are going to test fuel and be so concerned about a possible illegal advantage then maybe the AMA should be looking into a NASCAR like community fuel distribution truck to be at each event. This would somewhat eliminate the opportunity to "cheat". Yes, additives could still be used on site, but i think it is safe to say that our teams in this sport are distinguished enough to use the fuel "as is" from the distributer. As we all know, fuel cannot make up for talent and preparation! Thanks for letting me vent and keep up the good work.
Ironically, approximately 42 minutes after we get the fuel penalty news in our in-boxes, we got a TMX release on how proud Toyota is of the podium for Josh Hill, but then it had to be recalled. Don't worry, Josh, there will be many, many more podiums soon!
Jason Thomas' team manager, Forrest Butler, went straight to the airwaves with his dissatisfaction for what happened:
Jason Thomas's race bike was fuel tested at both the Phoenix and Anaheim 2 rounds. The same exact fuel was used both weekends and came from the same brand new 15 gallon drum that stays on the team semi. Jason was only disqualified from the Anaheim 2 race. Neither Jason or the team has been notified by AMA Pro Racing's series manager, Steve Whitelock, if the fuel tested at Phoenix was legal or illegal at the time of this post.
The urgent purpose of this news release is to assure all that the team, nor JT, were cheating. We have still not been notified of anything more than our fuel was over the Specific Gravity limit, both Lead and Oxygen content were both fine. This now marks the 4th time in the past 3 seasons that AMA Pro has had fuel issues with riders and each time they are increments that don't even make a performance difference. It makes both the team and team affiliates look like we are bending the rules when we are not. We are actually doing our best to follow them by using AMA Pro approved race fuel.
Butler concluded with an apology to all of the fans and sponsors for this unfortunate turn of events.
I tried to call Whitelock this afternoon to find out just how bad the fuel samples were, but he was in transit. I have a feeling this is going to be a hot issue all weekend long here in SF. Stay tuned to TFS' Weekend Window and our Breaking News right here.
One last note on this: With Wey DQ'd from the podium, we thought we'd show you what the results were of our Troy Lee Designs Online Poll were last week as to who our readers guessed would be on the box in third:
From 3,946 total votes, Travis Preston had the most, with 34.7%; Ferry was second with 16.9%; Windham was next with 14.7%, and Wey was next with 13%. Unfortunately, Preston was hurt in practice.
Tomorrow night's race can be heard live on the internet, beginning at 7 p.m. in the West and 10 p.m. back East via www.supercrossonline.com Also check out the AMA's live timing and scoring throughout the day and night: www.AMAmotocross.com.
And speaking of RC, here's some more RC press.
Also, there's this.
As for last week's A2 races, they really weren't that different from Anaheim 1 or Phoenix, except that there was really no drama at all in the 450 class because Stewart is absolutely on-song and RC wasn't there to challenge him. James is now 3-for-3 and the whispers of a perfect season are getting a little louder. We know he can ride in the mud too, as he proved last year here at AT&T Park, the Seattle SX and also Hangtown. But Carmichael proved at Millville that he can ride the mud too.… And with him back, this might prove to be a real showdown tomorrow night.
Also looking up for the fight finally is Chad Reed, who spoke to TFS for Parts Magazine yesterday:
"We are back to being close to 100%," said Chad, who's gone 3-3-2 since his injury, but Stewart is 1-1-1. "That's all we can ask for at this point. When we sat down and thought about what the plan was (after the injury) we gave ourselves about a 4-week plan. We are right about in that area. It's good for us. Things are coming around and my riding is better. It's more fun when you can go out and enjoy it rather than grit your teeth. At this point I am in no pain and we are ready to go race."
Not on the gate this weekend will be French sensation Christophe Pourcel, who injured his leg at Anaheim 2. We literally just received this update from his Kawasaki team in France:
Just after his arrival in Marseille, Christophe moved to Aix en Provence and met Olivier Dufour, the famous ostheopath who take care of numerous French sportsmen. Christophe had another examination to clarify the situation. "Chris had a radio and then a scanner in Aix. Both confirmed that his right tibia was not broken, but damaged in his lower part with a crack in the bone. Fortunately the bone didn't moved and the ligaments are not damaged," explained his father Roger. "Doctor Dufour put a splint that he will keep for a few weeks, and of course Christophe can't train and must stay quiet. May be he will be able to go swimming later. Olivier told him that he will have to rest for six weeks, and of course he will check carefully the injury," said the father of the MX2 World Champion.
That's heavy metal
photo: Courtesy of Salcedo
This morning, we made a quick trip down to
Fox Racing
to visit with
Todd Hicks
,
Sandy Egger
and Shift Racing's
Rob Salcedo
. Everyone was in good spirits and excited about the race, though Rob is still moving slowly from that broken leg he suffered when he didn't even crash! He showed us the X-rays—ouch!
Ludo checked in today to tell us about that there are already 2,000 entries in for the Leatt Brace with David Bailey's Full Circle Foundation and One industries' giveaway. If you haven't entered, you want to check it out.
And speaking of David Bailey, I spoke to David on the phone this week and he sounded great. He was on his way to the doctor, and he's really turning the corner. He is not out of the woods yet, but he was glad to finally be out of the house, even if just for a little while. He promised to let me get with him for an interview, and he wanted to just tell everyone thanks for thinking of him.
My brother has a good take on the latest fuel controversy: "Isn't that whole rule just a leftover two-stroke thing? If the lead was more about two-strokes, and no one is riding two-strokes anymore, why don't they get rid of it?"
By the way, if you're in town and you have a hard card from the supercross series, this looks like THE party to go to tonight! (see flyer to your right)
Let me turn this over to Ping for some words on Anaheim 2:
Attendance at last week's round in Anaheim was noticeably down from the opener and from years past. It's probably a good thing, too, because the main events were both complete blowouts. In fact, eight laps in to the 450 main event I took off sprinting for my truck like Jackie Joyner-Kersee and it looked like the start of the Boston marathon out in the parking lot; everyone had the same idea. Bubba had a ten-second lead by the end of the second lap.
I was really happy for Nick Wey, who earned a solid third on the podium and Josh Hill, who rode great and scored his first podium…. But I guess that's all out the window, for now anyway.
And Jason Lawrence didn't let me down. He came from way back to finish third and then kept grabbing his crotch repeatedly while doing his interviews on the podium. That kid is entertaining.
I bumped into Mike Parsons in the Anaheim pits. Mike, or "Snips" as he's known in the surf industry, is one of the best big wave surfers in the business and just a really nice guy. He told me that Sunny Garcia just went into prison in Lompoc, California, last week to serve time for his issues with the IRS. Initially slated to serve three years, his sentence was dropped to one year and then three months after countless letters poured in from people about the good things Sunny has done for the sport of surfing. So, barring any scuffles behind bars that would add to his sentence, Sunny should be out in time to catch some late-spring surf.
The Knothole Club was bustling once again with stars, former stars, and hangers-on at A2. Matt LeBlanc showed up to take in some of the action. The Friends star told me he is currently just taking some time off. He's been grinding out sitcoms for over ten years and earning as much as a million dollars per episode toward the end of the Friends era. I'd say he's earned a break.
Jamie Little was also back at the supercross races. The former supercross pit reporter is signed up to work the NASCAR pits all season long. It's a huge career move for Jamie, obviously. Albertyn, Langston, Max Biaggi and many others circulated through the club between heat races and the main events. One more round to go. Hey, Pamela, are you coming out this year or not? Geez.
That's it from Ping, and Weege just IM'd us that the track at AT&T Stadium is now completely covered in plastic.
And check out this note about a strange incident for
Josh Grant
and his dad this week:
Yesterday I went to Josh Grants private test track out in the Redlands. He called and said he was going out there with teammate Jake Weimer so I grabbed my camera gear and headed out.
As we were waiting for his dad Mike to finish building some of the jumps on the track we went up on a hill nearby that has a huge hit that's awesome for pics. Josh hit it a few times and as we stood there talking all of a sudden one of the guys with us yelled "Holy shit!"
We all turned around and looked down the hill only to see the Bobcat his dad was working on flipped upside down on the face of one of the jumps covered in smoke. We all ran down to him but Josh had hauled ass on his bike and got to him first and helped him get out of the rig.
It was a scary moment for sure but Mike was okay; he was just shaken up a bit and more mad off than anything that it happened. Ten minutes later he had a huge bucket loader over there picking it back up and was working on it to get it running again.

So for me the shooting was over but i did happen to grab some cool pics of Josh and Jake before this all went down. I called Mike today and he said he was sore from head to toe but he was okay and worked on the track all day today.
Okay, that's it—I have to work on some deadline stuff. Bill's going to close this out with some other stuff we received this week. Thanks for reading Racerhead and see you at the races.
Travis Pastrana recently claimed "Athlete of the Year" at this year's Lat34.com X-Dance Action Sports Film Festival for the Lock 'N Load video. In its second year of competition, Studio411, along with their production partners, led the pack with seven nominated films, including Sipping Jetstreams, Lock 'N Load, 1st & Hope, Show & Prove, PUSH, Sentenced to Life and Secret Machine.
And speaking of Travis, who did an excellent job on the Supecross Live! broadcast last weekend, check out this feature on him in the February 2007 issue of Maxim.
Former pro MXer Chris Wheeler has a new gig, helping Nike with the moto side in their new division, Nike 6.0. It's their multi-action-sports brand including Moto, Skate, Snow, Wake, Surf and Bike. "My title is 'Moto Mentor,' and basically I'm their eyes and ears into the Moto world," says Chris. We checked out nike.com and clicked over to the 6.0 website, where we saw all of the action-sports athletes that they sponsor. The only MX riders we spotted on their team page is amateur Landon Currier, and Makita Suzuki rookie Ryan Dungey.
There's a new team in the supercross pits called Wyvern Racing. It's a strange name, but we found out the logic behind it from team manager Brandon Thomas, who says it means Strength, Power and Endurance. The riders are solid: Cole Siebler #90, Leighton Lillie #627, and Daryl Ecklund # 312. Siebler just finished 14th at A2 in the 450s, while Lillie crashed pretty hard in the whoops and missed the main (the crash was so hard that even Travis Pastrana, who was helping call the action on Supercross Live!, was forced to say, "I'm glad I'm not out there anymore after seeing crashes like that!"). Luckily, Leighton will be okay. The team also just picked up Kevin Urquhart, who has put in some good runs in the Toyota AMA Arenacross Series and now has enough points to go supercross racing, so he'll be in the Lites class at A3. Keep and eye out for these boys.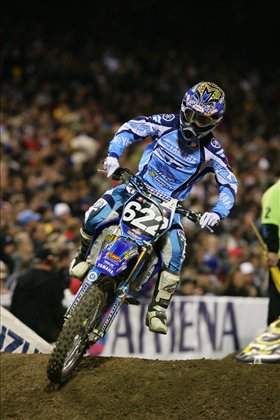 Get well soon, Kyle!
photo: Simon Cudby
It was a rough week for Yamaha 250F riders this past week. The first rider to go down was Yamaha of Troy's
Kyle Cunningham
. The message boards were saying he was in the ER in Murrieta, California, with collapsed lungs and some injuries to either his head or face. The next day we heard that Team Yamaha's
Broc Hepler
took a digger and suffered a concussion, but he'll be okay. Get well soon, guys.
Did you check out our "Things To Do In…San Francisco" feature on Thursday? There are a ton of great things to do in SF, and here's another tip, from Racer X reader Kirk Kandt:
Check this out—it's a "must see" if you live in the San Francisco bay area or visit it. It's not for kids.
But if you're not going to San Francisco, you might want to check it out on TV. Here's when it's on:
Jan. 27 Lites - Phoenix SPEED 6:00 PM EST
Jan. 28 SX - San Francisco CBS 12:00 PM EST
Jan. 28 Lites - Anaheim 2 SPEED 6:00 PM ES
It may be another mudder. The forecast for tomorrow (from weather.com) reads like this: rain showers in the morning becoming more intermittent in the afternoon. High 56F. Winds light and variable. Chance of rain 40%.
Our in-house photographer, Matt Ware, just got back yesterday from Aspen, Colorado. He was out there for some sort of Red Bull contest. Well, here, I'll let him tell you about it.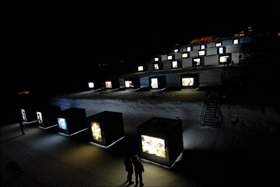 Red Bull Illume contest
photo: Courtesy of Red Bull
This Wednesday evening, Red Bull kicked off the first ever Illume contest. Aspen, Colorado, was home to the first of a five-city U.S. tour, with that tour continuing on to Europe. In true Red Bull fashion, Illume was a true celebration. A large space was cut out the mountain, housing giant cubes displaying photos from 50 finalists. Congratulations to Racer X contributor John Clark for making it to that final round of 50 out of over 7,000 entries. For more info check out www.redbullillume.com.
Thanks, Matt.
And here's a note from Scott Wallenberg, who is sharpening up his ice skates.
The Indy trade show is only a few weeks away but the behind the scene action is intense as The USA squad gets ready to challenge Team Canada for bragging rights in the 12th Annual Racer X Hockey tournament at the 2007 Powersports Expo at Indianapolis' Pan-Am Ice Center. This year we welcome Corona Beer as a sponsor who will unveil their new road race team bikes and riders in a pre-game ceremony on the ice at 8:00 p.m. on Saturday Feb 17th. This event is open to all show attendees and our favorite beer (Corona of course!) will be available as well. Teams are made up of motorcycle industry personnel only, so this is action you won't want to miss!

For more information e-mail Greg Brannick at
BrannickG@drivesinc.com
Finally, we want to send a get-well wish to our former intern Zach Abbott. Zach was an accounting intern for several months with us, and he recently had some surgery and is going crazy because he can't leave the house. He's just glued to the TV, watching reruns of Sanford and Son.
Hey Zach, you've got to see this F1 crash.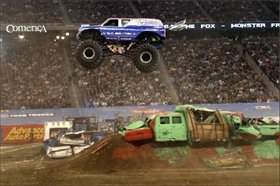 Damon Bradshaw is getting the hang of it
photo: Courtesy of T.D. Lovett
And for all of you local District 5 racers, be sure to go and check out the IFMA Freestyle MX that is coming to Pittsburgh this weekend. For more information, check out
www.freestylemotocrossonline.com
.
See you at the races!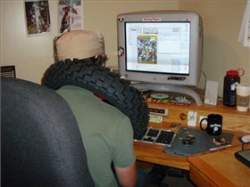 Matt Ware was a bit jet-lagged from his trip to Aspen
photo: Dave Brozik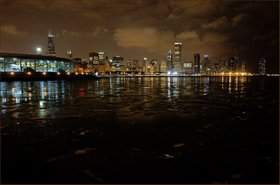 Check out this cool shot that John Hanson took the night before Da Bears played Da Saints last weekend.
photo: John Hanson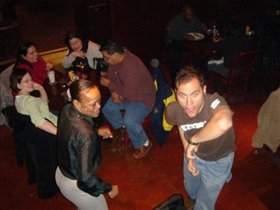 Breakin' it down
photo: Dave Brozik